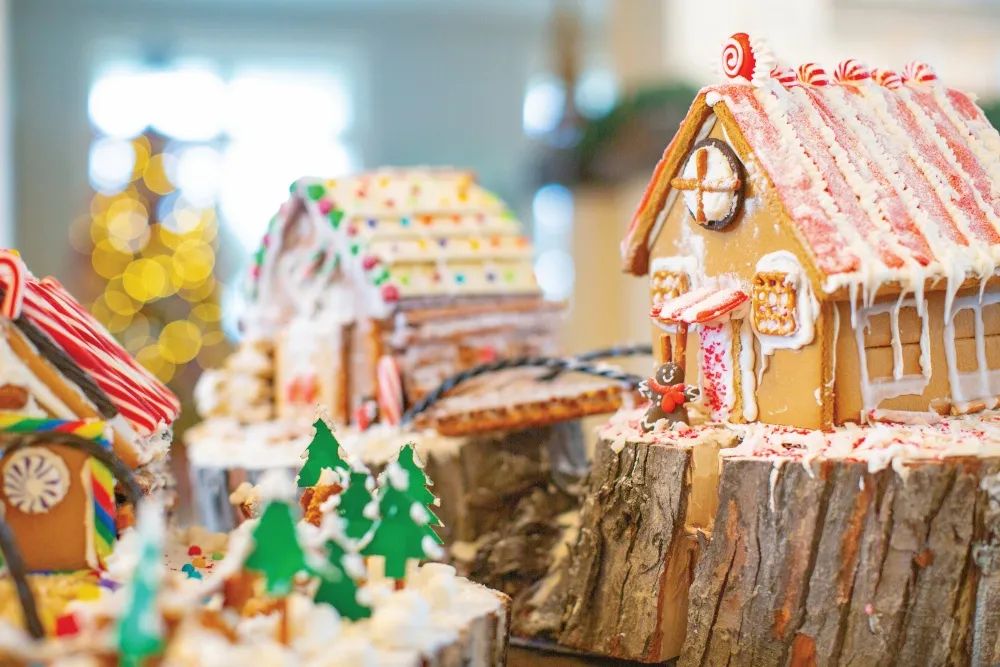 A Sweet Tradition
December 2022
article & photos by lovely hitchcock
Before you know it, those gingerbread house kits are back! Every year, I am curious to check out the new designs. Aren't they just so enticing?
The first time I saw decorated gingerbread houses was at a Christmas event many years ago. My first impression was Hansel and Gretel. It immediately reminded me of the night I watched a black-and-white marathon of folktales on the telly. It left a remarkable impression on me as a little girl, which led me to believe that folktales were not just bedtime stories. A forest cottage with a roof of frosted pretzels, a rain gutter made of icing, walls of cookies sprinkled with peanut brittle, marshmallows everywhere, and other sweet things. You don't tell a little girl with the worst sweet tooth this kind of story.
So, as I wandered around the banquet hall examining each sweetly adorned masterpiece, too embarrassed to ask anyone, I quietly asked myself, "Can I eat them? But who would want to? They are so lovely!" Growing up in the Philippines, gingerbread was not something I was familiar with, so I was fascinated.
History tells us that an Armenian monk brought gingerbread houses back to Europe in the 10th century. He taught the Christians and French priests gingerbread baking skills. Decorating gingerbread houses started trending with the first publishing of Hansel and Gretel by the Brothers Grimm. When I found this out, I realized I was correct in my original folktale theory, which made me proud!
I would decorate a gingerbread house anywhere in the world if I could! It is one of my favorite things to do, and I love it more than decorating a Christmas tree. I know how odd this might seem, but I rarely get to decorate a gingerbread house. When I do, it's always one for the memory books. One particular year, my youngest daughter decorated a mini gingerbread house with her friend, and we put it in a glass jar. Whenever I recall that memory, I want to cry as it is such a happy memory!
When my kids were little, my best friend Julie and I would always find excuses to gather together with our children. We soon discovered we shared the same love for gingerbread houses, so we started a gingerbread house decorating tradition with the children. Since Julie loves to cook, she always had soup simmering when we arrived, and the delicious aroma permeated the whole house while we all worked together to decorate the gingerbread houses. As you can imagine, the children would get their hands on constructing the four corners of the houses, piecing them together with royal icing while licking it off their fingers, and munching on the pretzels and candies. At the same time, they waited impatiently for the icing to harden and secure the house together. The children's participation always resulted in imaginative, fun, and interesting designs. There is magic to building gingerbread houses in the presence of a Christmas tree surrounded by presents, an evergreen garland with berries hung on the fireplace mantle, and nutcrackers arranged in place, ready for the holiday.
Julie's family eventually left Montana, and our gingerbread house tradition was put on pause. But, after many years, a miracle happened, and my best friend moved back to Montana. We immediately gathered together without missing a beat, but this time it became a decorating stand-off with friends and family joining in the fun. We had buckets of royal icing, a variety of candies, chocolates, and other props involved, and the houses became even more elaborate and decorative. It was as if I was living my childhood dream!
We had three competitive groups, but everyone ensured that Julie and I were not in the same group! Over the next few hours, everyone was so engrossed in working together, building their respective masterpieces, that they forgot they owned a mobile phone; a modern-day Christmas miracle! Nothing else mattered. It was just a group of people in the same room exchanging friendly, competitive trash-talk, random jokes, and sharing stories. The results of our labor did not disappoint, and the overall creativity surpassed everyone's expectations. Nobody could decide who could go home with a trophy, so we eventually had to share a post on social media and ask our friends and family to vote.
Ultimately, we didn't care who won the award for creating the best piece. Personally, it was the soup, the undercooked cornbread, the joy of being with family and friends, and the waves of laughter mixed with tears of hilarity and sore sides. While those gingerbread houses have since crumbled and are now long gone, the memories will remain for a lifetime.
Oh, by the way, I finally found out, you can, in fact, eat a gingerbread house, but you might not want to.
Originally printed in the December 2022 issue of Simply Local Magazine
Never miss an issue, check out SLM's digital editions here!