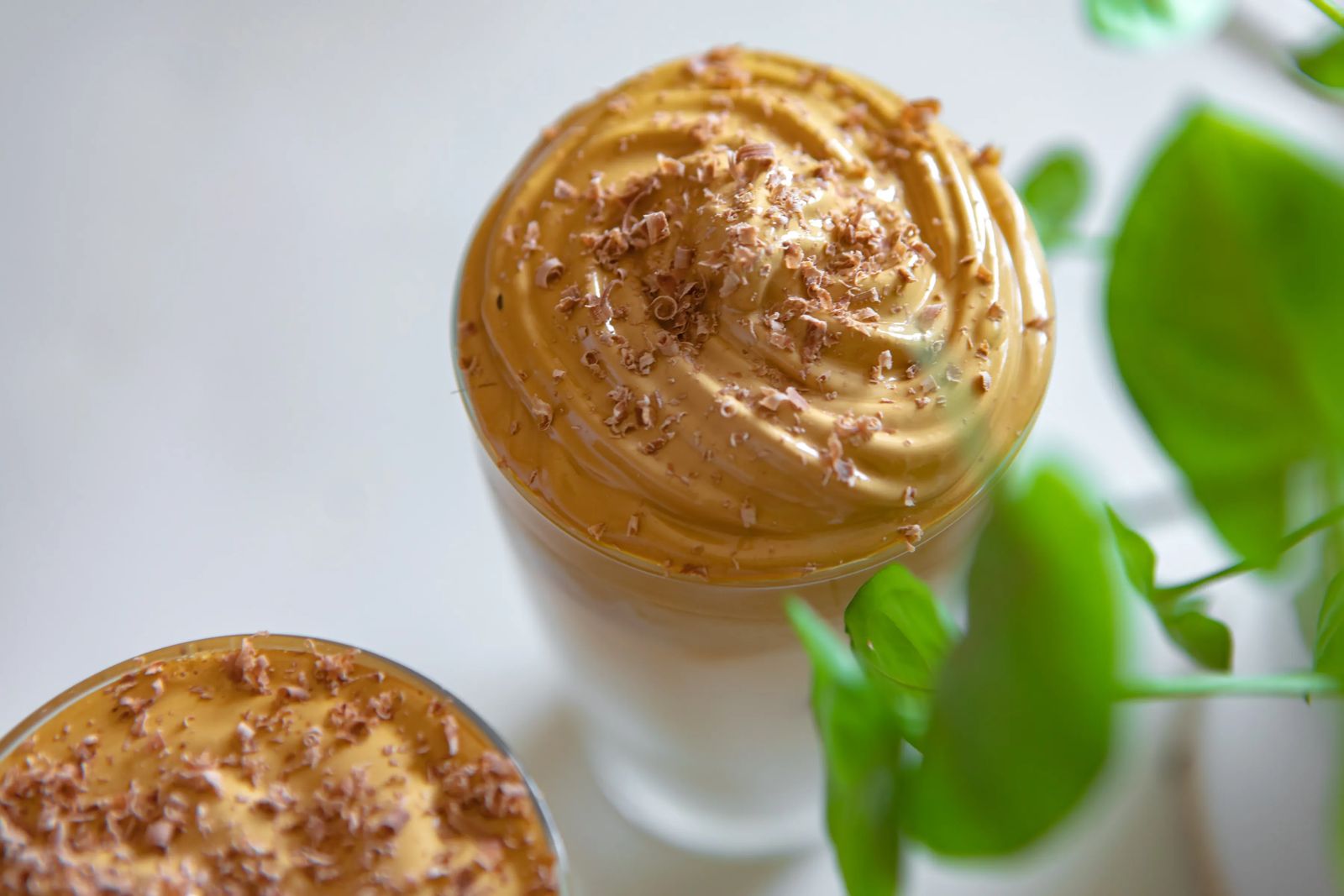 May 2020 | by lovely hitchcock
I have seen this concoction everywhere, and it seems like everyone is making it. The New York Times recently sported a piece about it. What is Dalgona coffee? In my own words, it's the coffee form of pineapple upside-down cake.
Armed with some extra time on my hands, and a never-ending desire for caffeine, I set out to create this masterpiece.
The coffee literally sits on top of a glassful of your choice of cold or hot milk. This is essentially a whipped coffee drink, quite popular in places like India, Pakistan, Macau, and now in the States. Some sources claim that this unique version of layered coffee originated in South Korea as a trendy street refreshment. It was eventually dubbed as Dalgona because of how much it tastes like the old-fashioned, toffee-like candy called "Dalgona." Other sources assert that a specific Korean actor encountered it in Macau and dubbed it Dalgona. Regardless of where it originated or who named it, I'm just happy to share how to make it!
What comprises Dalgona coffee? It consists of equal portions of:
hot water
sugar
instant coffee (Nescafè style).
Note: You can use 1/3 cup of each or equal measurements depending on how large you want your batch to be.
1. Put these three ingredients into a mixing bowl and vigorously whip them until they form stiff peaks (just like heavy cream).
Note: You can make it very stiff or runnier to your taste. Feel free to whisk it by hand (if you've got the stamina) or pull out your stand mixer and let the electric company do the work.
2. Spoon the result into your glass of milk and drink the milk through the cloud of Dalgona foam.
One variant I experimented with was adding a bit of heavy whipping cream and adding instant chocolate mix (think Ovaltine) to the instant coffee. When this thickened, I scooped the mixture over a tall cup of hot coffee rather than milk. It was delicious, creamy science.
Can we store it? Yes, we can! You can pop it into an airtight container without the milk or coffee, just the topping. It can be refrigerated for a couple of days.
For more variations and perhaps some inspiration, do some research on the Internet and see what you can come up with. If you've got some time on your hands (who am I kidding?), have fun experimenting with unique ways to enjoy coffee.
Originally printed in the May 2020 issue of Simply Local Magazine
Never miss an issue, check out SLM's digital editions here!