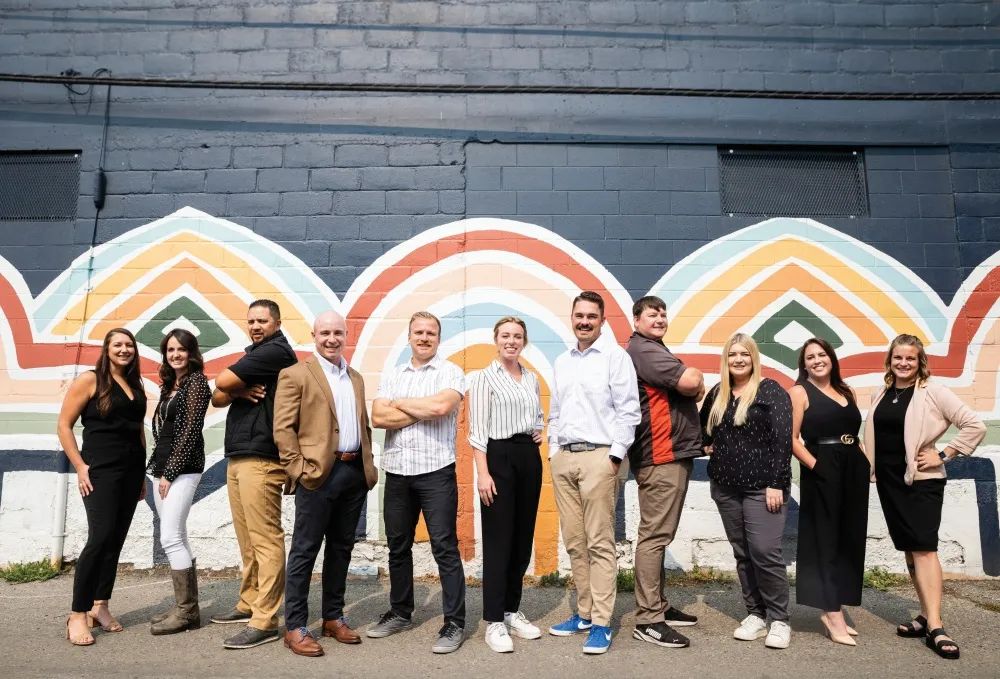 2022-2023 NextGEN Leadership Team-- Sonya Scheetz, Sarah Gunn, D'Vaughn Hayes, Colton Welhaven, Bo Bruinsma, Sarah Schroefel, Reilly Parisot, Cody Reitz, Jaidyn Simmons, Abbey Wink, Hannah Olson. Not pictured: Kennedy Langel.
4 Ways NextGEN Engages Young Professionals
November 2022
by Cathy Grider, Workforce Development Manager
Young professionals are the future building blocks for your organization and our business community. They are eager to effect change and contribute meaningfully to their communities.
1. Meaningful Connections and Purpose-Driven Content
Just over eight years ago, the Billings Chamber of Commerce recognized the opportunity to serve as a convener of motivated young professionals who would soon play a significant role in championing issues that would impact not only their generation but future generations. This is Billings NextGEN, a Billings Chamber of Commerce program and the leading social and business networking group dedicated to building a better Billings. The NextGEN network exists to foster relationships among young professionals, develop business opportunities, and promote an overall investment in the future of our community. Comprised of motivated, energetic young professionals, NextGEN offers a variety of events for professional development growth, community engagement, and opportunities for personal interaction to truly network and develop friendships. The NextGEN impact can be seen throughout the community and is evident in many businesses.
2. Talent Retention
NextGEN serves as a talent engagement and retention strategy for many organizations as we work diligently to help young professionals build relationships within the community, making them more likely to stay. NextGEN unites individuals with experiences that elevate their connection to Billings and allow them to flourish while aligning their career ambitions with opportunities and programs like the NextGEN Mentorship Program. Mentorship assists young professionals in expanding their network and offers resources that aid in professional development and personal growth. This program is an incredible opportunity for both mentors and mentees to invest in the future of our workforce and community. NextGEN has an established full-circle mentoring program also allowing NextGENers to serve as mentors to high school and college students.
3. Investing in Professional Development for Young Professionals
Professional development opportunities are imperative for your career at every stage. Educational development and learning opportunities should be built into your career plan and regularly sought out when you are a young professional just starting out. NextGEN has crafted an entire annual educational series targeted at developing leadership skills and helping individuals grow in ways that can help them advance in their careers. Through this five-month series, young professionals learn a variety of topics designed to give you personal and professional enrichment. The topics focus on elevating your professional skills while better understanding your personal strengths. Professional development is extremely important, especially for young people who are early in their careers and looking for guidance and training.
4. A Long-Term Commitment
Many young professionals have used NextGEN as a springboard to further involvement in the Chamber and the broader community. Young professionals appreciate feeling valued and that their voices are heard. A sense of belonging with opportunities to contribute and advance community projects and initiatives keeps them engaged. This creates an increased purpose for their involvement.
If you are interested in learning more about getting involved in NextGEN, please visit BillingsNextgen.com.
NextGEN Leadership Team:
Co-Chairs:
Colton Welhaven – Buchanan Capital
Abbey Wink – PayneWest Insurance
Connect:
Reilly Parisot – Stockman Bank Insurance
Jaidyn Simmons – Treasure Realty Group
Grow:
Sarah Gunn - Vensure
Sarah Schroefel – St. Johns United
Cody Reitz – MetraPark
Learn:
Kennedy Langel – Merrill Lynch
Sonya Scheetz – Alpha-Omega Disaster Restoration
Inspire:
Hannah Olsen – Billings Chamber of Commerce
Bo Bruinsma – Billings Public Schools
Chamber Ambassador Liaison: D'Vaughn Hayes
Chamber Board Liaison: Stefani Hicswa
Chamber Staff Liaison: Cathy Grider
Originally printed in the November 2022 issue of Simply Local Magazine
Never miss an issue, check out SLM's digital editions here!