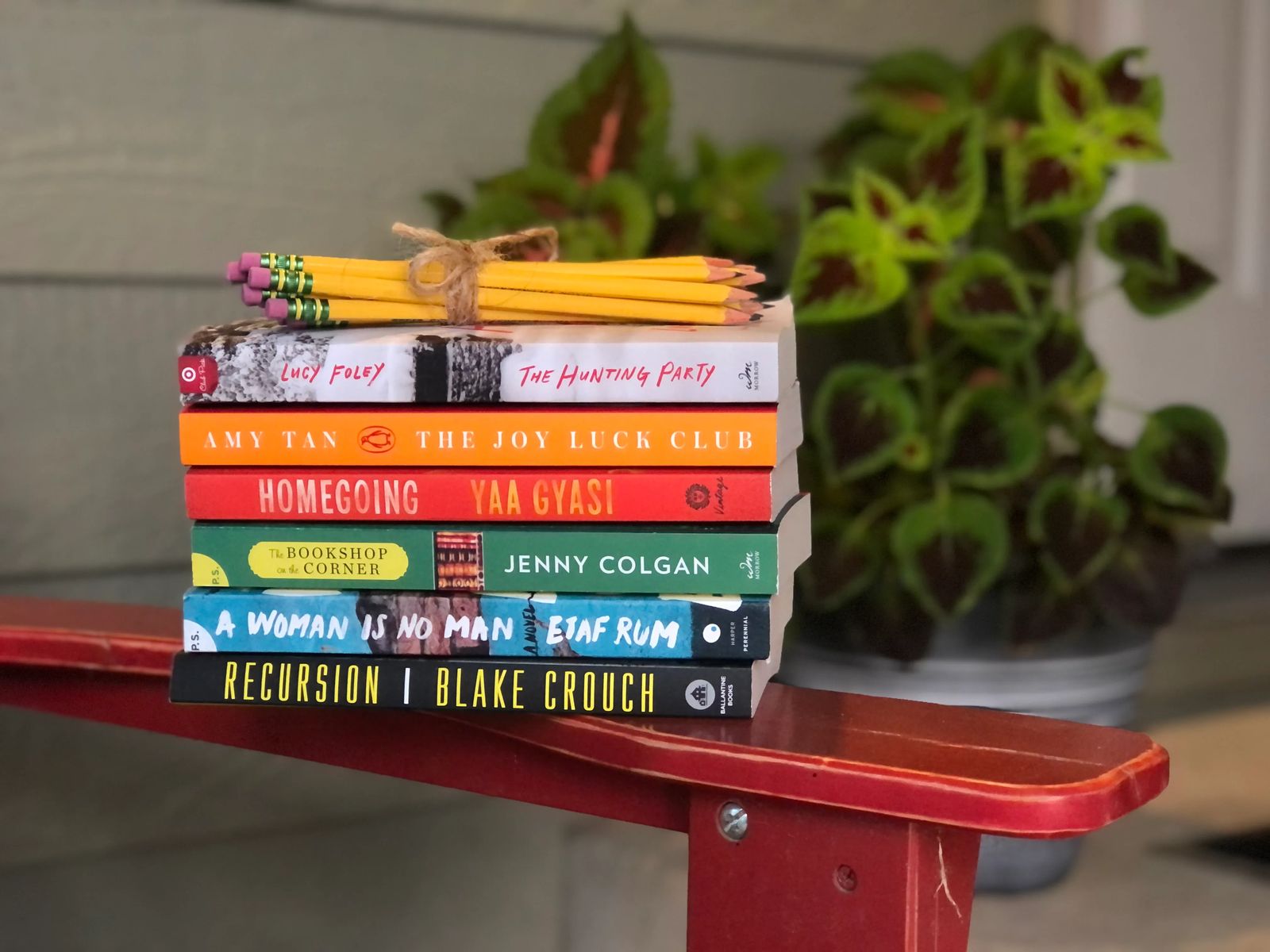 When a Reading Slump Hits: Tips for Getting Back in the Groove
September 3, 2021
article & photo by lindsay blackburn
Hello readers! Welcome to Lindsay's Library. I'll be sharing book reviews, reading tips, and other related content for the Simply Local community. I hope my recommendations will spark engaging online discussions, just as if we're new friends sitting across the table from one another in my home library. Whether you're an avid bookworm, an occasional reader or a reluctant one, pull up a seat and get cozy. You're invited to join the conversation.
Let's chat about changes in our reading lives.
Have you ever been in a reading slump?
I switched gears and started a new job as an elementary school secretary last month. I'm enjoying the work and find it personally fulfilling. Each day, I help students, assist families, and provide support to our teachers and principal. I'm learning different systems, meeting hundreds of new people, and slowly but steadily figuring out my new job, one phone call, band-aid, or invoice at a time.
One thing is for certain: working at a school is non-stop action. At the end of each work day, I'm spent. As I adjust, reading has rightly taken a backseat. I simply don't have the capacity right now. After dinner, I sit down, crack open my book, and poof! I fall asleep on my couch.
Reader friends, I didn't finish a single book this past month…and that's okay.
Hobbies are wonderful and important to a well-rounded life. To me, reading stories that entertain, expand my horizon, inspire, or transport me to other places and times is meaningful. I like when I'm in a daily reading routine.
Do you know what's also true? I have other hobbies that don't require as much brain space. For example, I appreciate a good TV series. In August, I finally caught up on The Crown. I watched Season Four on Netflix (with frequent pauses to Google search all of the things - if you know, you know!) in my free time. It was wonderful.
If you've been in a reading slump too, for whatever reason, it's okay! I know it can be challenging for bookworms. Extend to yourself plenty of grace in busy or stressful seasons of life. The books on your shelves aren't going anywhere. Someday, you'll have the time and mental energy to be a voracious reader once again.
When you are ready to re-engage with reading, here are a few tips.
Switch formats.
My plan is to start listening to audiobooks on my commute. A good narrator provides a unique layer to the story with his or her performance. It's a productive way to utilize the 50 minutes I spend in my car each day.
Re-read a favorite book.
You already know how the story ends. Re-reading a book you love will be comforting. It's also easier to engage in something familiar. Give it a try!
Be mindful of the genre.
Start with accessible reads, as opposed to high literary fiction. A well-written middle grade book is a fun place to start. I recommend Pax by Sara Pennypacker and The Vanderbeekers of 141st Street by Karina Yan Glaser. They are delightful!
Set a timer or use tabs.
Start with 15 minutes/day and adjust over time. To finish one book a week, utilize a timer, setting it for 60 minutes to read each day. Or, divide a book into seven equal sections and read from one tab to the next until you're done.
Consider the time and location.
I can't read in my usual spot right now. But, I'd like to try early mornings at a nearby coffee shop. It's quiet when they first open at 5:00am, and I can't think of a better way to start the day than with a book, a cup of coffee, and solitude before the start of a busy work day.
Have you ever experienced a reading slump? Do you have any ideas for me and others who'd like to re-establish a reading habit?
Share your reading tips on Simply Local's Facebook post. If you'd like to explore a new genre or pick up a comfort read, please visit our local bookstore, This House of Books, in the heart of downtown Billings.