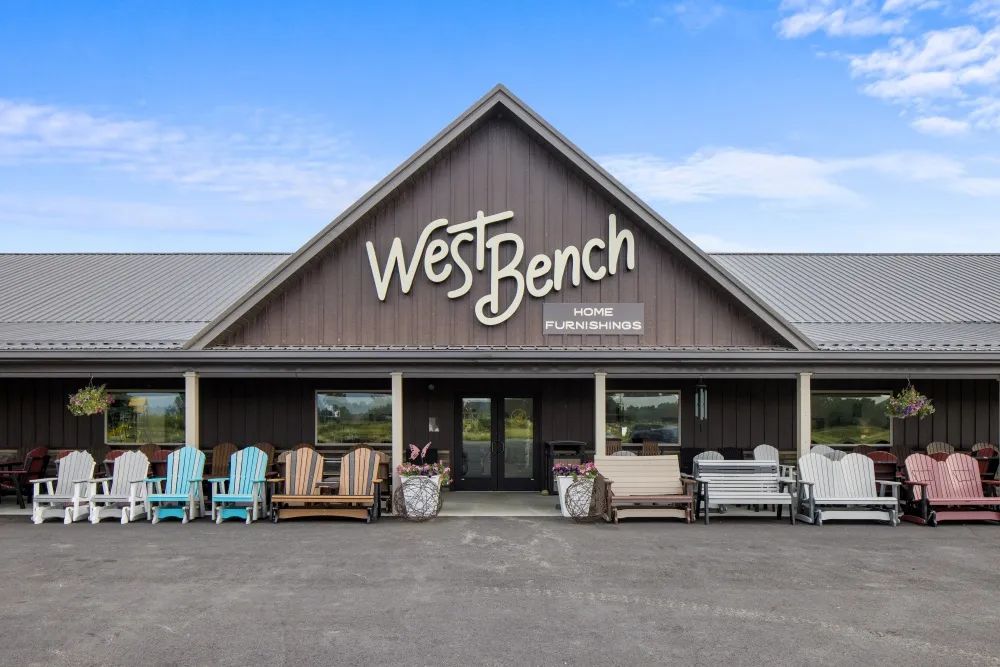 West Bench Home Furnishings: Handcrafted, High-Quality Furniture Fit for Montana
September 2023
by maria weidich | photos by nathan satran
With a front porch full of gliders, rockers, and brightly colored Adirondack-style chairs, it's hard to miss West Bench Home Furnishings along US Highway 212, just south of Roberts. Nestled near the banks of Rock Creek on the south end of town, West Bench Home Furnishings has been specializing in high-quality, handcrafted indoor and outdoor furniture since 2020. 
Owner Mahlon Mullett, his wife, Katie Marie, and their four young children moved to southeastern Montana three years ago from Colorado to pursue a new venture. "We needed an occupation; retail looked appealing to us, so we decided to pursue this option and went from there," Mahlon said.
When customers step into the store, they are often greeted by either Mahlon himself or Katie Marie. Their number one mission: delight their customers by offering exemplary service and the perfect products to fit their needs.
"We go through samples, find their choice of wood, their desired color and try to provide them with exactly what they need," Mahlon said.
The store displays a wide range of dining room sets, bedroom furniture, living room sets, and stylish accent pieces, all handcrafted and made of solid hardwood. From classic to rustic, the furniture reflects rural Montana's Western charm and natural beauty.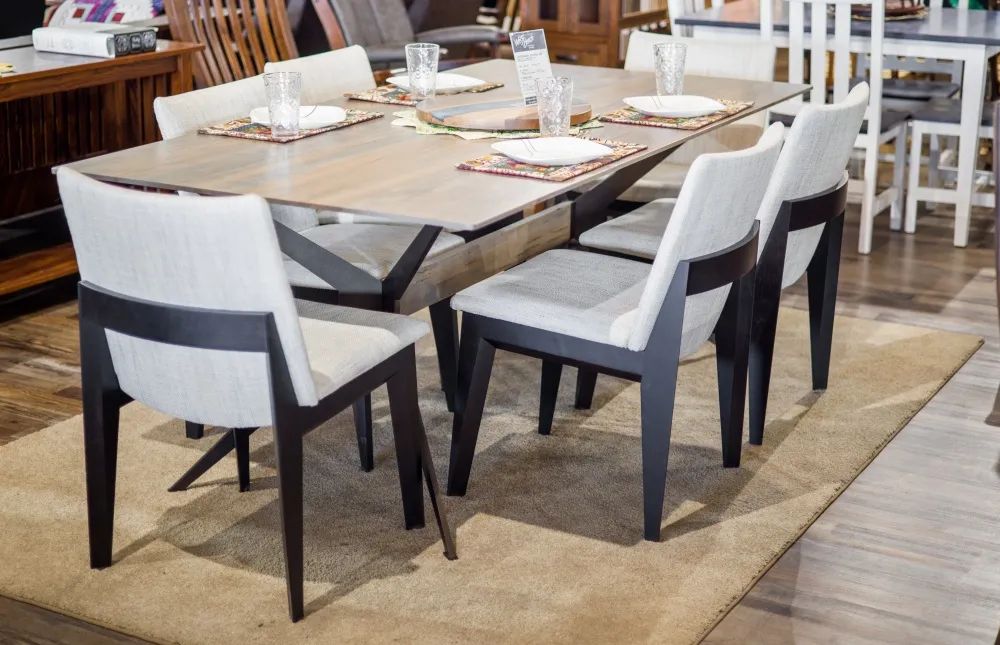 "We have everything from mission-style furniture to rustic to modern," Mahlon said.
Using durable hardwoods like red oak, cherry, maple, hickory, and even reclaimed barn wood, West Bench is confident customers will find the perfect collection for their home. Especially popular is the store's rustic style furniture, with its natural and rough edge features that create a sense of warmth and comfort.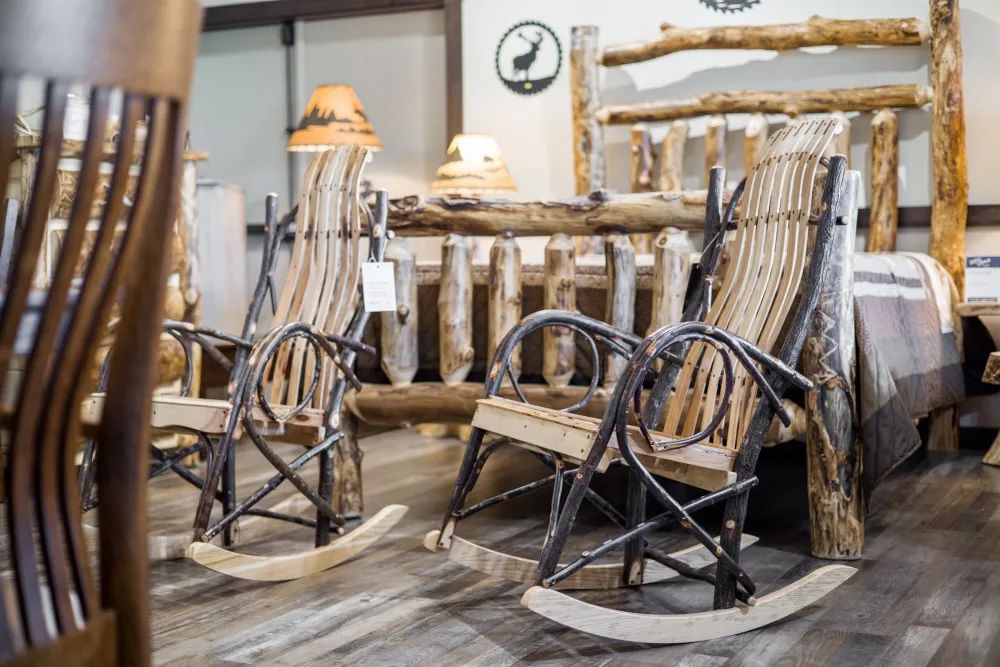 The products found at West Bench Home Furnishings are all made in the USA by skilled, rural craftsmen using traditional techniques and the highest quality materials. Their commitment to quality and attention to detail make the furniture at West Bench stand apart from the rest. "It's all handcrafted by builders that are really good at what they do," Mahlon said of his store's offerings.  
Montanans love spending time outdoors, and that includes barbecues, picnics, and campfires, too. Displayed at the front entrance, West Bench helps make these memories with its eclectic outdoor furniture offerings.  
All exterior furniture is made of fade-resistant poly lumber, an extremely durable material designed to withstand the sun, rain, and snow. Often outdoor furniture looks attractive but is cheaply made and won't hold up to the elements. West Bench is confident that their low-maintenance outdoor furniture will stand up to Montana's extreme weather, maintain its integrity, and help families create memories for years to come.
The idea that West Bench Home Furnishings provides products that bring family and friends together, whether for a meal, a board game, or a fireside chat, is not lost on Mahlon and his family. "I enjoy doing that," he said of cultivating quality time through the furniture he sells. "It makes me feel good providing customers with a product that meets their needs."
Don't see exactly what you want on the display floor? West Bench specializes in custom orders, which make up for roughly half of their business. Customers can choose the wood type, stain, and fabric and even alter furniture dimensions or add unique features. 
West Bench also boasts a variety of general housewares, handcrafted games, and unique gifts. Creating the ambiance of a country general store, they offer interior decor, kitchen items, and even cuckoo clocks. Mahlon said the wooden rocking horses, puzzles, and marble runs are always a hit when children enter the store. With inventory constantly changing, it makes for an exciting visit, time and time again.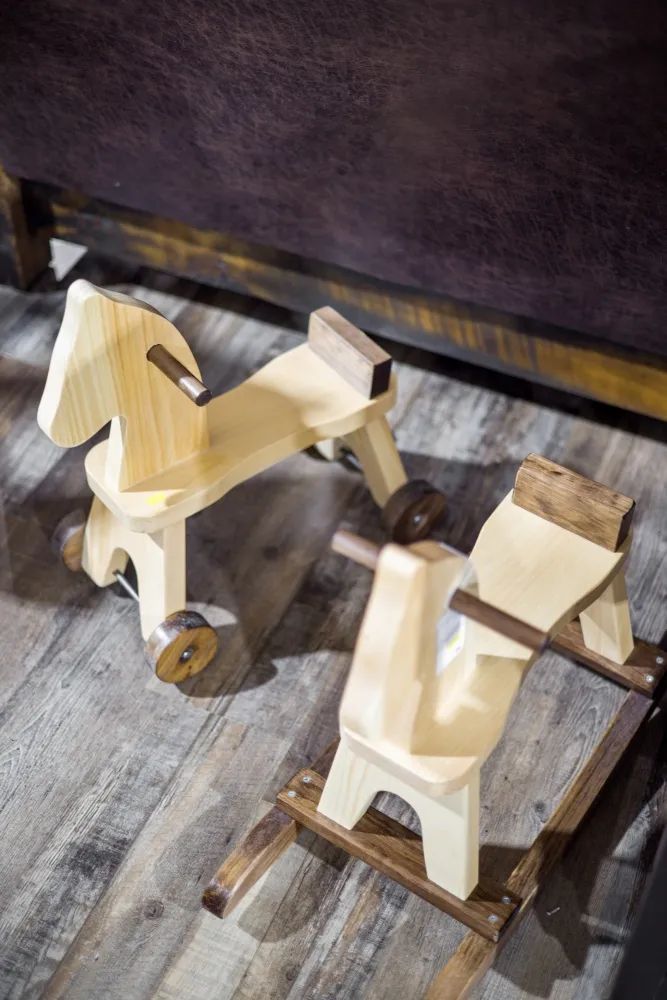 Mahlon and his family enjoy their rural lifestyle in Roberts so much that they chose to build their home right behind the store. "We hope to provide great service and high-quality furniture that will last a long time; that's the goal," Mahlon said. "We'd be happy to have anyone stop in and visit us."
West Bench Home Furnishings is located at 749 West Bench Road, Roberts, MT, and is open Monday-Friday from 9am-5pm and Saturdays 9am-4pm. 
Originally printed in the September 2023 issue of Simply Local Magazine
Never miss an issue, check out SLM's digital editions here!