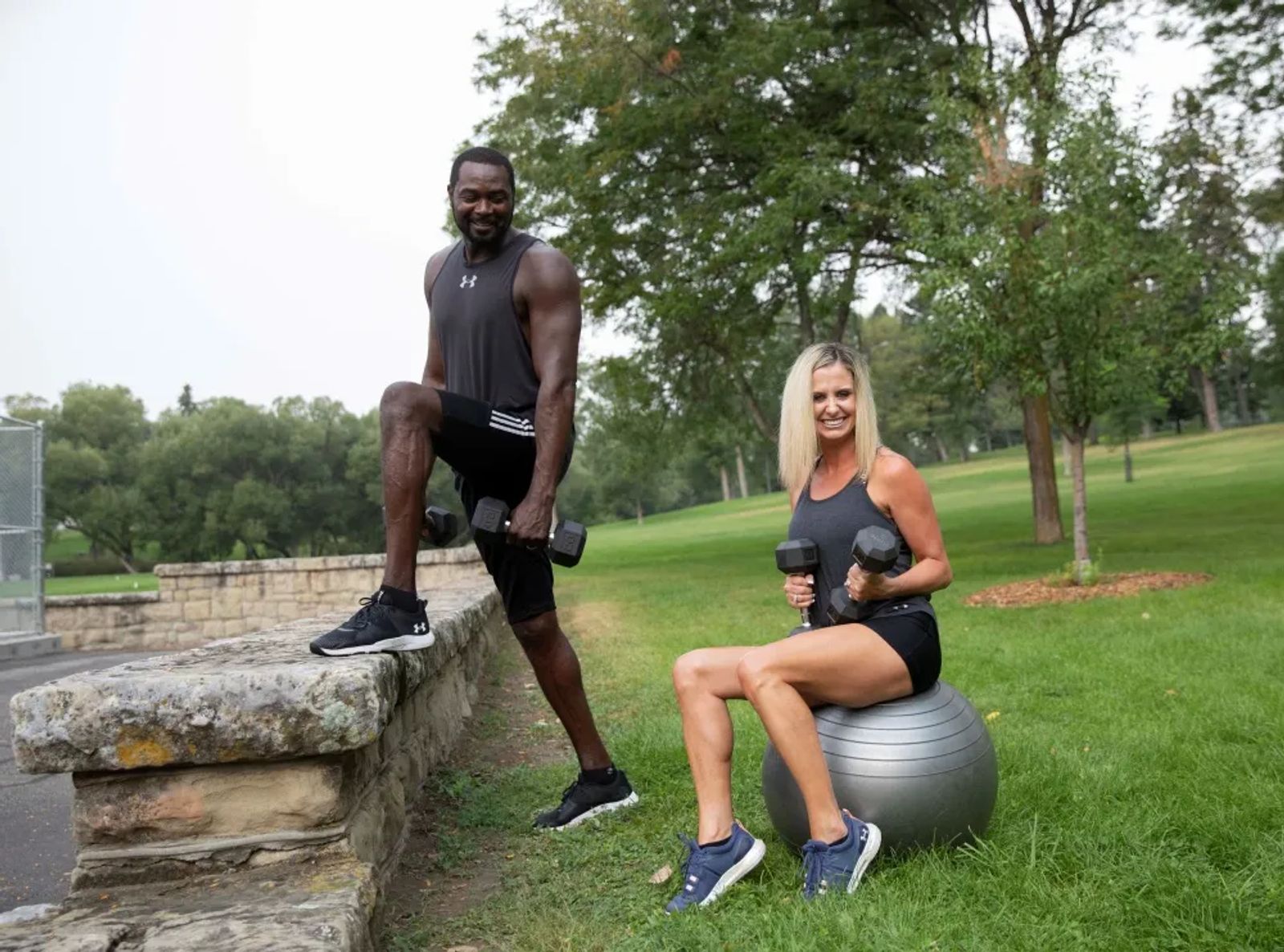 October 2020 | by brooke wagner, photos by jana graham
Billings is a great place to put into practice the words of Olivia Newton-John: "Let's get physical!" With year-round outdoor recreation options as far as the eye can see, and indoor opportunities ranging from ice-skating to rock climbing to traditional gyms, it can be hard to find a reason NOT to move your body in the Magic City.
Two Billings residents, Jaysun and Mistie Mims, not only inspire others to become physically active and fit, but they have so much fun doing it. This power couple owns and operates Mims Fit, specializing in corporate wellness programs uniquely designed to suit each company's needs. Their motto is "Exercise is King, Nutrition is Queen. Put them together, and you've got a Kingdom." Jaysun and Mistie have certainly earned their spot among Billings' health and wellness royalty! 
Q: You both have a long history in the Billings community as members of the fitness industry. How did your journey to health and wellness begin, and what were some of those early years like?
A: Physical activity has played a key role in our lives since we were very young. We have both been involved in sports, and Jaysun even played professional basketball overseas. We have always been passionate about helping others, and once we started our careers at the YMCA, we grew a stronger passion for helping people reach their goals. We both taught various classes, did personal training, and reached a management level in the YMCA fitness department before deciding to branch out and open our own company. Our early years were spent gaining experience and obtaining our certifications, of which we hold over 30 together today!
Q: What makes you so passionate about health and wellness for yourself and the community you serve?
A: We want to live the healthiest life not only for ourselves and our family but to teach our community along the way. We want to lead by example, that we actually walk the walk. That's a huge value in our family! When the community sees us achieving and living out our goals, they are more open to committing to making steps to better their health.
Q: What are some challenges you face regarding your family's health and fitness, and how have you navigated them?
A: We are probably a lot like most families. We have to run through the week and look at everyone's schedules. This is where meal planning really saves us. We pick a day on the weekend and plan out our entire week. Yes, it is time-consuming, but it definitely helps us eat healthy during the week and avoid fast food. Of course, with this planning comes balance. Our son is 11, and our grandbaby is 2 1/2, and they both LOVE sugar! We try to let them enjoy life and be kids, but show them that it's all about moderation. Our goal is to give them tools to have a healthy relationship with food both now and down the road.
Q: What are some of the services your business provides?
A: One of our passions is called "Workplace Wellness Coaching." We design programs for companies to help create a culture of health and wellness. This involves coaching employees through their health goals and the necessary life changes or even taking them to the next level with their fitness. By offering onsite fitness classes, we hope to make it easy for anyone to focus on their health. This is a huge benefit for employers and employees alike. When you invest in your employees, they will invest back in you.
We also offer in-home personal and nutritional training. We come to you! No equipment? No problem - we bring everything you need for a healthy lifestyle.
Another high-energy option we offer is youth sport conditioning. With this service, we help student athletes gain strength, speed, agility, coordination, balance, flexibility, and, most of all, confidence.
When it comes to helping people optimize their health, Mistie offers online Fitness and Wellness Coaching for women. She specializes in helping women build their confidence in their bodies back during all phases of menopause, from peri to post. Her genuine and inspirational approach encourages women while also helping them become the best version of themselves. Jaysun enjoys working with people 60 and over, and conditioning kids 15 and under. He has a special knack for engaging youngsters who are often mesmerized by his deep voice and substantial height. He uses humor and a deep love of fitness to gently push clients beyond the realm of what they thought they could accomplish.
Although the COVID pandemic changed the way Mims Fit does business, they rose to the challenge with their typical positivity and can-do attitude. Focusing on the benefits of spending more time with their kids at home while still growing their business, both Jaysun and Mistie have been able to find a silver lining to the challenges posed to the fitness industry. Through Zoom meetings and creative strategies, they note that they can give clients even more individualized attention than during previous one-on-one personal training sessions. Mistie says that the challenges have strengthened both their relationship and their company. "We were and still are a powerful team and love working together. This is part of what makes us a strong couple. We see the same picture and share the same goals."
For more information about how the Mims couple can help you reach your goals, contact Jaysun and Mistie at www.mimsfitllc.net.
Originally printed in the October 2020 issue of Simply Local Magazine
Never miss an issue, check out SLM's digital editions here!