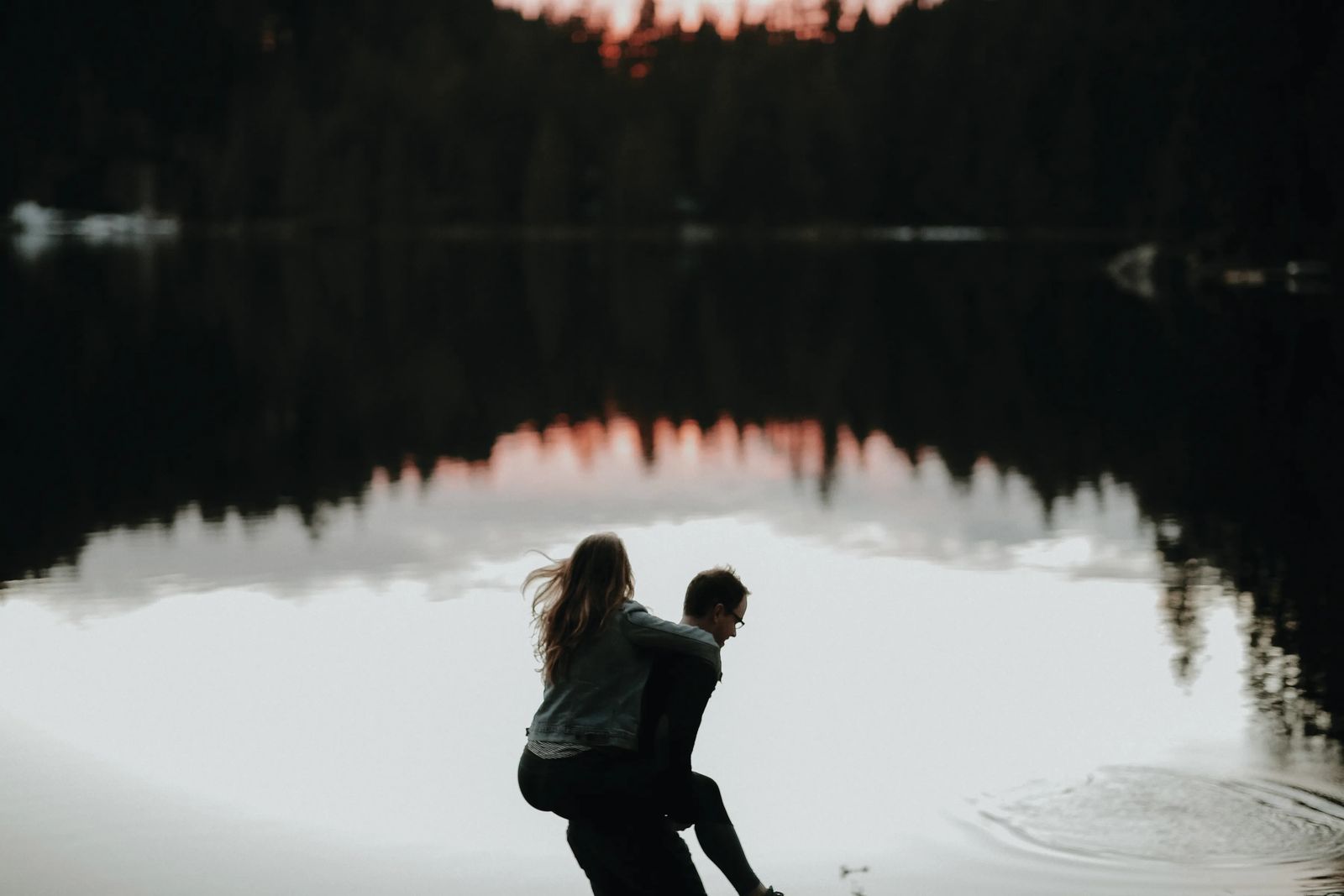 Not Just Another Night Out
October 2020 | article and photos by holly netz
Another Friday night approaches and the never-ending question looms, "What are we going to do this weekend?" Whether with your group of friends, your significant other, or your family, it's all too easy to stick with the familiar as you tick through the options. Many of us have fallen into the same old routine of dinner and drinks or grilling out. It's hard to step out of our comfort zone and mix things up. Even if we want to try something new, it's hard to find those things, and then even more deterring is that first step. "We are going to do what? Throw axes? Um... Who else is going to be there?" Humans are creatures of habit, and we often use comfort to turn a blind eye to new experiences. Next time you find yourself flipping a coin to decide which of your regular places to spend your free time, consider changing it up and trying out one of these under-the-radar Billings gems!
Wild Rose Paintball and Airsoft Park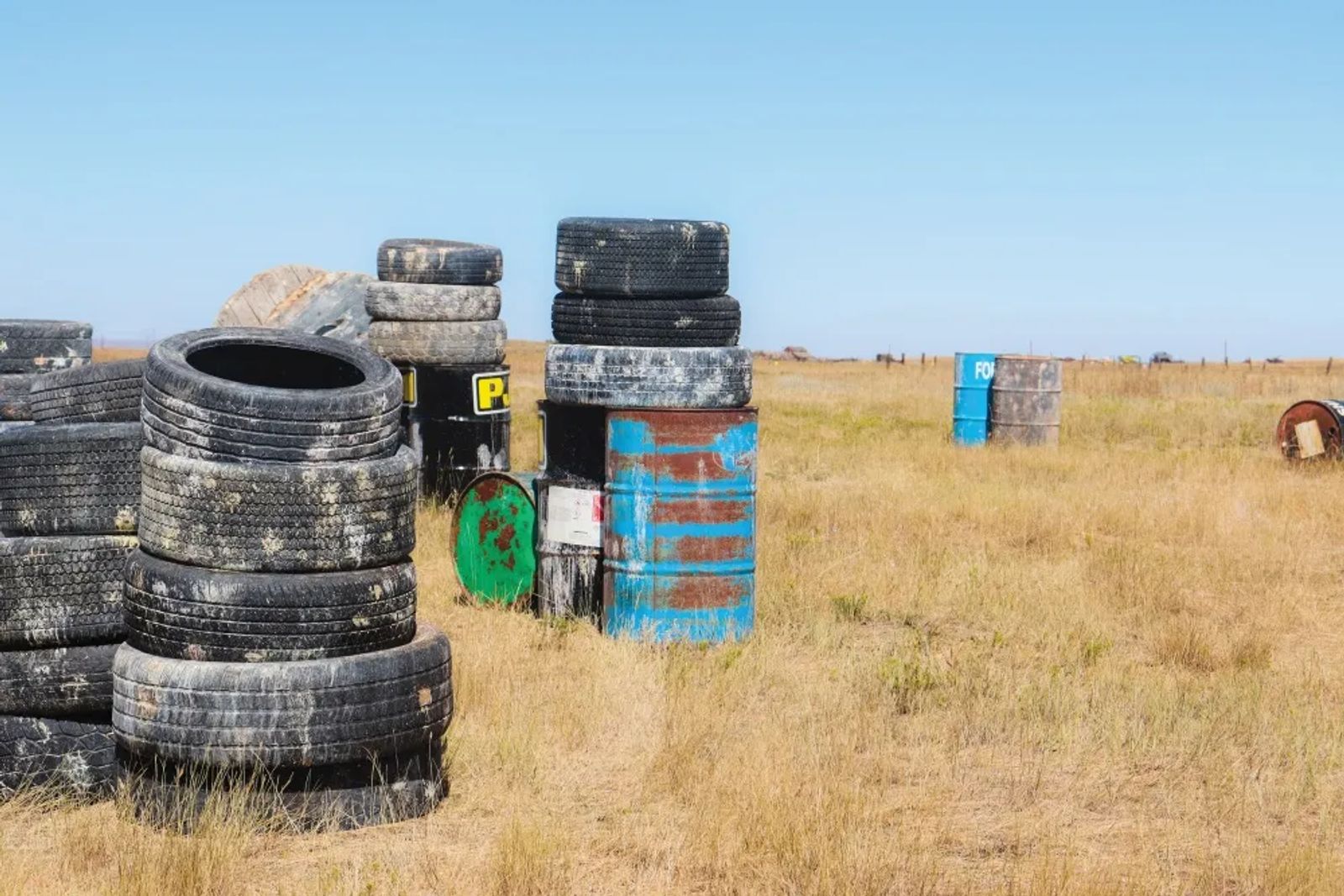 On the short drive to Acton, a field appears off to the south. From a distance, clusters of what look like wooden spools, pallet stacks, and tire formations don't immediately seem movie-set impressive. Walking into the main building, you find yourself surrounded by curiosity-piquing equipment and some very passionate owners. Richard Darling and his wife initially started playing paintball after moving here in 2015. In 2018, seeing the potential to introduce others to their hobby, they purchased Wild Rose Paintball and in 2019 moved it out to a 90-acre piece of land with plans for growth.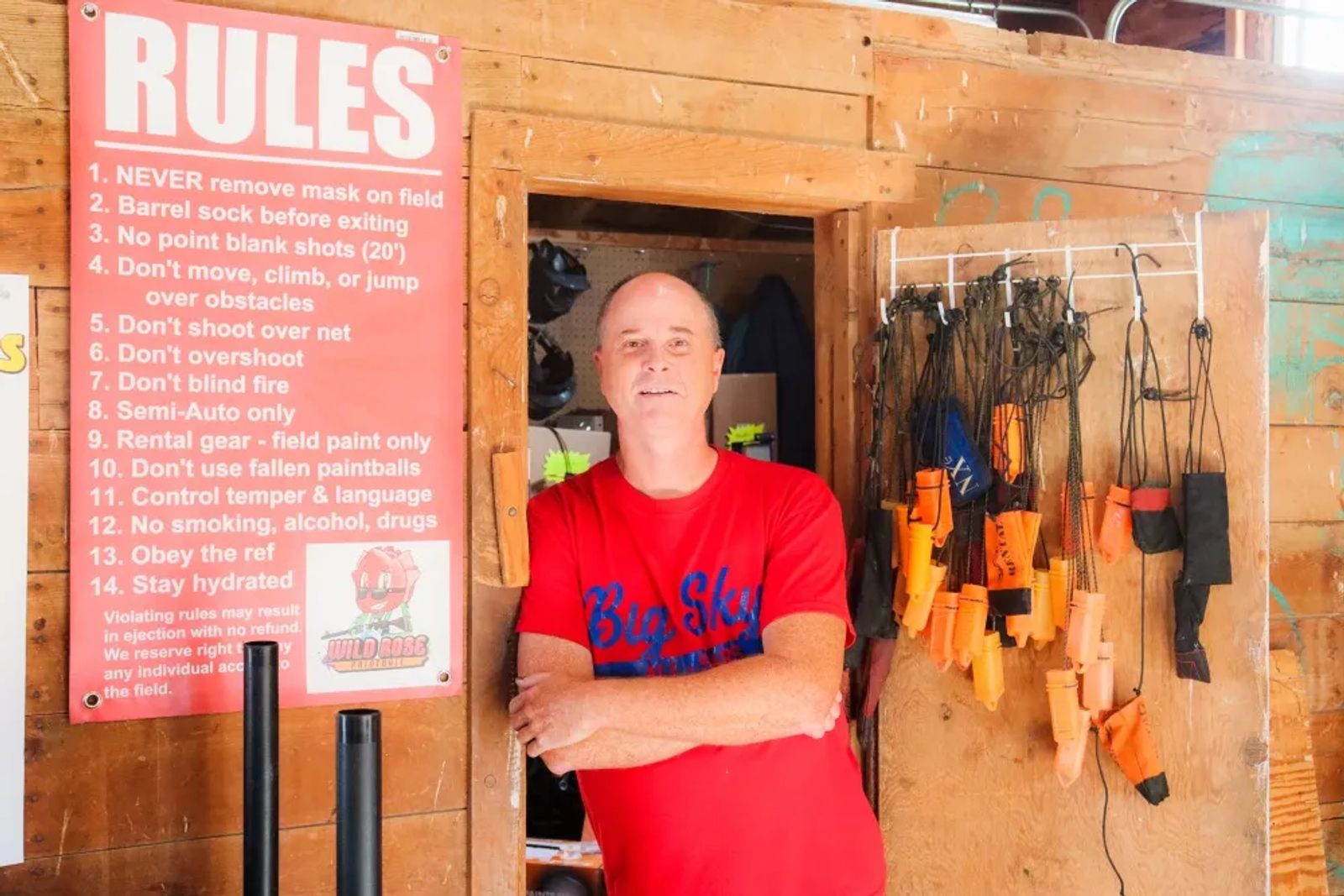 Paintball may bring thoughts of hard-core players to mind for most, but Wild Rose isn't that kind of place. With open play every weekend, they are very conscious of mixing experienced and novel players. Not only does every person get instruction on both technique and safety, but the owners are also proud that their "regulars" are eager to help teach those new to the sport. Players take the field (one of three right now) for 5-10 minutes, play intensely, rest, and do it again. Richard talks about people coming off the field for the first or fifteenth time, with a light in their eyes similar to someone getting off a roller coaster. The motto of Wild Rose is "Have the time of your life," and that is what players feel after each round: a rush of adrenaline and the immediate urge to go back for more.
With not only paintball but gellyball and airsoft mixed in, there is something for everyone. The website touts "ages 4-60," but the owners talk of grandparents coming to watch and then suiting up to play!
In addition to open-play on the weekends, anyone can make reservations for other days. They have had bachelor parties, birthday parties, and families. One of the most unique reservations they have had was a would-have-been bride who wanted to do a "smash party," bringing a photographer along. A therapeutic paintball session involved demolishing a wedding cake, the dress, and documenting the entire experience. The owners also work with local therapists who use the activity with clients. They have even developed a therapeutic-type group session as an event.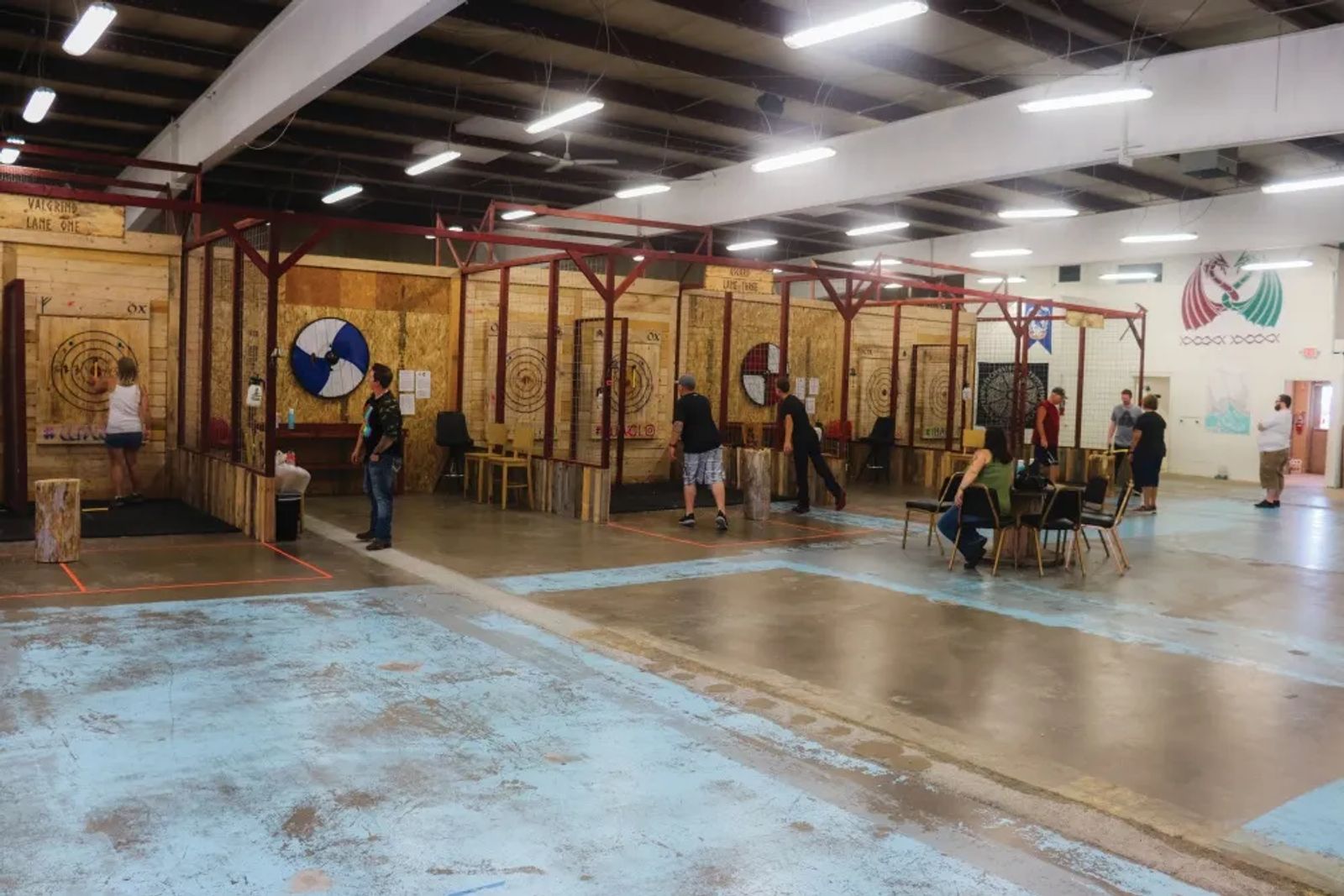 Does anything sound cooler than throwing an ax with a mix of Metallica and Johnny Cash in the background and a cold beer at your side? Maybe cool isn't your instant reaction. Perhaps it sounds intimidating -- but at Öx Indoor Axe Throwing, friendly, knowledgeable staff quickly alleviate jitters as they walk you through the process and then give you space to have fun. 
Discovering the sport while traveling for work, Becky Richardson, husband Mark Coxwell, and son Nick immediately felt the urge to bring the sport to Billings. A member of the World Axe Throwing League that started in Canada 15 years ago, Öx Axe offers leagues and the ability to participate in world competitions. It is also open for the first-time ax thrower. Groups of friends and families use the space to exert some energy and get a little competitive, but mostly to have fun, laugh, and bond.
Online reservations are recommended, and 12x12 lanes designed for six people fill their new 11,000 square foot location. Lanes are rented by the hour and come with as much or little instruction as you need. Öx-perts take you to your lane, provide you with equipment, safety guidelines, and general instruction. The staff spends time watching you throw and gives tips on your technique until you successfully hit the targets. They then let you at it, stopping by to check-in, allowing for more assistance as needed. Becky is quick to emphasize that "Ax throwing doesn't take a lot of strength; it's more about motion." Recommended ages are 12 and up, but kids as young as six have participated, and the facility has 89 and 93-year-old clients come in regularly! They also have insurance that allows guests to BYOB.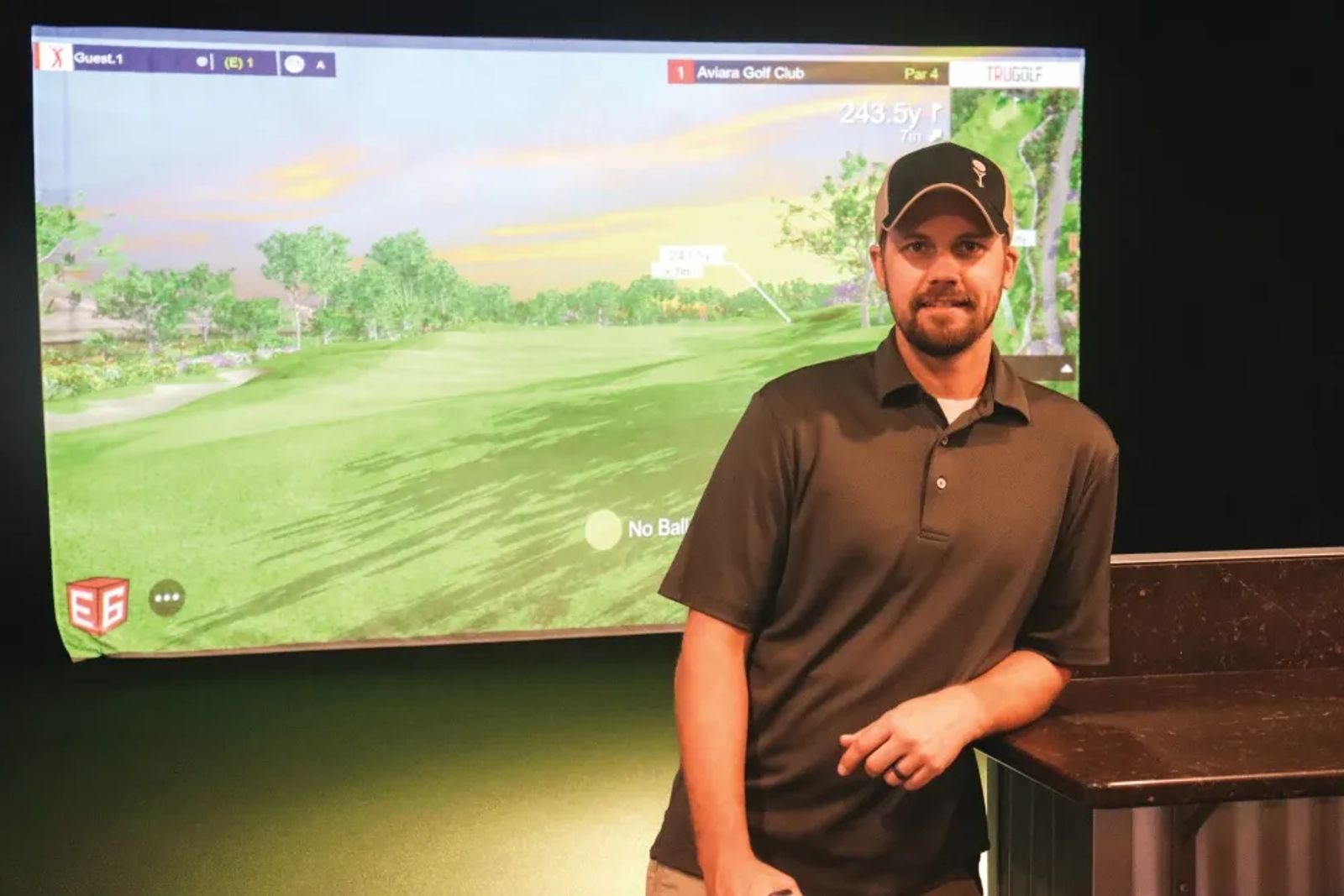 As a non-golfer, I expected Back 9 Lounge would be a place for golfers to hang out and "golf" during the off-season. After 5 minutes with owner TJ Wrobel, I realized just how wrong I was. 
TJ is a Billings native who lived in Texas for a decade before returning to his hometown. Frustrated with a lack of "active" options to hang out with friends, he modeled Back 9 after larger outdoor business models in metro areas.
With five "suites" and a party room, Back 9 Lounge is a virtual golf experience where participants use real golf equipment and "play" on one of 95 virtual courses that are 3D models of renowned courses nationwide. Prior golfing experience is not required. TJ is quick to point out that a good portion of his business consists of groups of friends who want a fun, interactive way to hang out beyond the bar or casino.
Suites rent by the hour, and 4-6 people are recommended but can accommodate up to 8. Basic instruction is provided and available as much as needed, but the staff are not official golf pros. Beer, wine, soda, and food are available, and there is even a suite that offers multi-sports (baseball, hockey, soccer) for kids 8-12.
In addition to a different way to hang out with friends, Back 9 also offers leagues in October and April. Back 9 has been rented out for company parties and is a great place to watch sports games while having fun. 
The common refrain, "There is nothing fun to do in Billings," is prevalent. In reality, there is not a lack of things to do, but a lack of willingness on our part to step out of our comfort zone and try something new. While dinner and drinks feel comfortable, we all crave a little excitement once in a while. Billings continues to add new options for fun outings; unless we support those ventures as a community, they won't be around when we decide to jump in.
While ax throwing and virtual golf offer a new twist on classics like bowling and darts, it may be time that those old pastimes get a reboot as well. Paintball is akin to active fun like mini-golf and roller-skating. New pastimes with a bit of culture such as ballroom dancing, paint-n-sips, and indie films may feel uncomfortable, but once given a try can become a new favorite. So, the next time you find yourself wondering what to do this weekend, remember to take a look around at the many options. Lace up a pair of skates, talk your non-golfing friends into taking a swing at virtual golf, or convince your book club to take a shot at throwing an ax. Cool things to do can only continue if we take part!
Discover more cool things to do coming on simplylocalbillings.com and Simply Local social media:
Ballroom Dancing
Paint-n-Sips
Local Cinema
Roller skating
Bowling
And more!
Did we miss a hidden gem that you'd like to see us cover? Email editor@simplyfamilymagazine.com with your ideas.
Originally printed in the October 2020 issue of Simply Local Magazine
Never miss an issue, check out SLM's digital editions here!