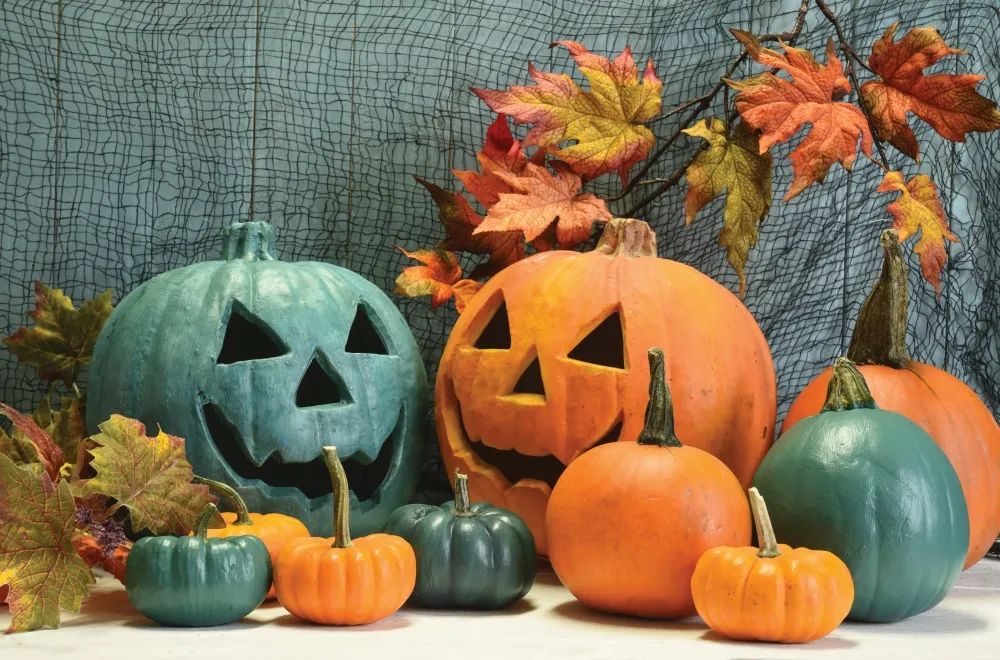 The Teal Pumpkin Project: Making Halloween Safe for All
October 2023
However Halloween might have begun initially, we have always known it to be an opportunity to don costumes – scary or merry - and collect copious amounts of candy from neighbors and strangers alike. (Just one of life's many glorious mixed messages.) Fun and merriment for one and all, right? Not necessarily.
As parents, it's almost a guarantee that, at some point, we've worried about something on All Hallow's Eve. From overstimulation from all the merriment and sweets to sending our kiddos out trick-or-treating on their own for the first (or fourth time), we're (over)thinking about everything that might take this day from fun to failure. For some parents, though, their concerns live on a whole other level. For parents with children with food allergies, Halloween and trick-or-treating can be especially stressful and downright scary (in a not-fun way).
When it comes to food allergies, we know that there are people out there who take a hard, "Not my kid, not my problem," stance. And, sure, if we're being exceedingly literal, that's true, but we're also out here trying to teach our kids what it means to be a good neighbor. We hold strong to the idea that it takes a village to raise a child and that it's important to operate from a place of empathy. So, how can you be a good neighbor this Halloween?
Allow us to introduce you to the Teal Pumpkin Project, which started in 2012 as a local initiative by a food allergy group in Tennessee and was later taken to the national level by FARE (Food Allergy Research & Education), the world's leading non-governmental organization engaged in food allergy advocacy and largest private funder of food allergy research. The Teal Pumpkin Project's mission is simple: to make trick-or-treating safer and more inclusive for the one in 13 children with food allergies and many others impacted by intolerances and other conditions. 
How can I participate in the Teal Pumpkin Project?
Simply place a teal-colored pumpkin on your doorstep to indicate that, in addition to candy (or instead of, it's your call), you offer non-food trinkets and treats that are safe for all trick-or-treaters. It's recommended that you keep your sweet treats in a separate container from your allergy-safe items to avoid cross-contamination. The FARE website also has colorful and informational printable posters and signs you can hang on your door/house. To peruse the many resources, check out https://www.foodallergy.org/our-initiatives/awareness-campaigns/living-teal/teal-pumpkin-project (or scan the QR code below).
Maybe you're thinking, "But I don't want to be that house where none of the kids want to stop." Remember, you don't have to give up handing out candy altogether, and you know we've got your back with some ideas (that won't break the bank) that will help you up your non-candy option game.
Fun Alternatives to Food:
No shade to the houses that already try to offer a healthy option on Halloween, but we're going outside of the candy bar, the apple, and the toothbrush to give you some fun alternatives to offer our trick-or-treaters with food allergies. Locally, you can check out Party America or the Spirit Halloween Store. In a pinch, Oriental Trading is a great option for fun little trinkets that mom and dad might not enjoy having underfoot, but the kiddos are sure to love.
Slap Bracelets- In case you haven't noticed, the '90s are back, baby!
Stickers- We're talking good ones. You know, water bottle worthy.
Glow Sticks- Even better if they're wearable.
Fidget Toys- Especially the push and pop bubble fidgets.
Novelty Glasses- I mean, come on…They're a scream!
Slime- See also: Mini Play-Doh
Honestly, think mini carnival game type prizes; you can't go wrong.
This Halloween, let's join the Teal Pumpkin Project and put our energy into being a good neighbor and doing our part in making trick-or-treating adventures fun, safe, and inclusive for all!
Originally printed in the October 2023 issue of Simply Local Magazine
Never miss an issue, check out SLM's digital editions here!