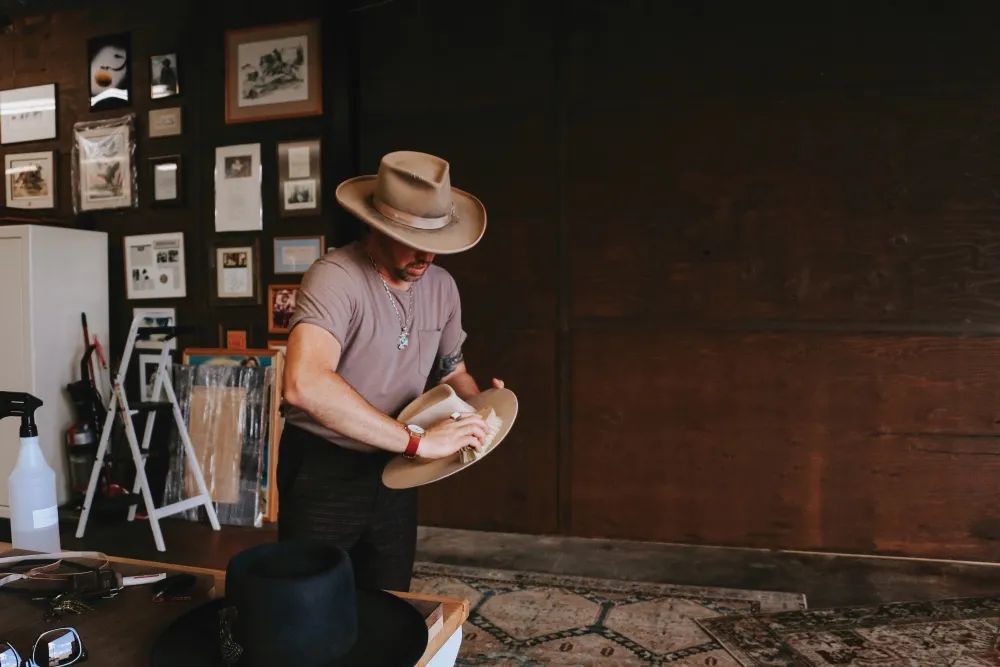 The Finishing Touch: Luxury Hats by D. James
August 2022
by brooke wagner | photos by 1864 Photography
From the beanie to the beret, the baseball cap to the bowler, hats create a statement and style all their own. Darren James, founder and creator of D. James A Fine Hat Co. believes in the power of topping off a look with a one-of-a-kind creation. James designs and creates custom Western-style hats from his shop in Billings. His hats include handmade elements that are far from ready-made. Every detail is carefully thought out to reflect a customer's vision as James incorporates timeless style and craftsmanship with a modern flair. 
The birth of D. James as a company was a milestone James didn't anticipate even five years ago. He was enjoying a successful career as a highly trained physical therapist, earning a doctorate in the field, practicing at the prestigious Mayo Clinic, and having worked in Chicago and San Antonio. His specialty was orthopedics and post-surgical care, but James found himself with time to pursue other passions when the pandemic canceled elective surgeries. He was tasked with sewing masks for patients and healthcare providers and enjoyed the hands-on, creative aspect of the job. It was a natural transition for James to begin exploring what else he could add that unique touch to, and his foray into the world of hat-making began.
He quickly learned that the craft is historically guarded and hard to break into. He says, "There really isn't a YouTube channel where you can go to learn how to make a hat!" Veteran hatmakers can be hesitant to take on an apprentice and share the time-tested tricks of the trade. After landing an apprenticeship with an experienced hat-maker, James was sought out by another local craftsman whom he credits with "...really taking my art to the next level." James can now access materials and products that might otherwise be off-limits to someone with fewer years in the industry through this designer. 
James' primary materials are rabbit and beaver fur, which are felted to create the body of each hat. Other elements such as ribbons, bows, sweatbands, and liners are also personalized to create a one-of-a-kind, wearable work of art. James specializes in western-style shapes but tailors each creation to what his client wants. An initial order might consist of a sit-down chat over a glass of bourbon or beer, allowing James to hone in on exactly what his customer is envisioning. His hats are luxury products that spare no expense, weaving top-of-the-line embellishments into the highest quality materials. James says that even the hat blocks that form the base of each design are art forms in their own right, beautifully crafted from antique wood.
The hats that come out of the shop are as unique as those wearing them. James is an accomplished musician and often finds inspiration from a song or artist. He dreams of one day designing a hat that a singer might wear on a worldwide tour, bringing the beauty and functionality of his creation to an audience far beyond the boundaries of Billings.
Originally printed in the August 2022 issue of Simply Local Magazine
Never miss an issue, check out SLM's digital editions here!