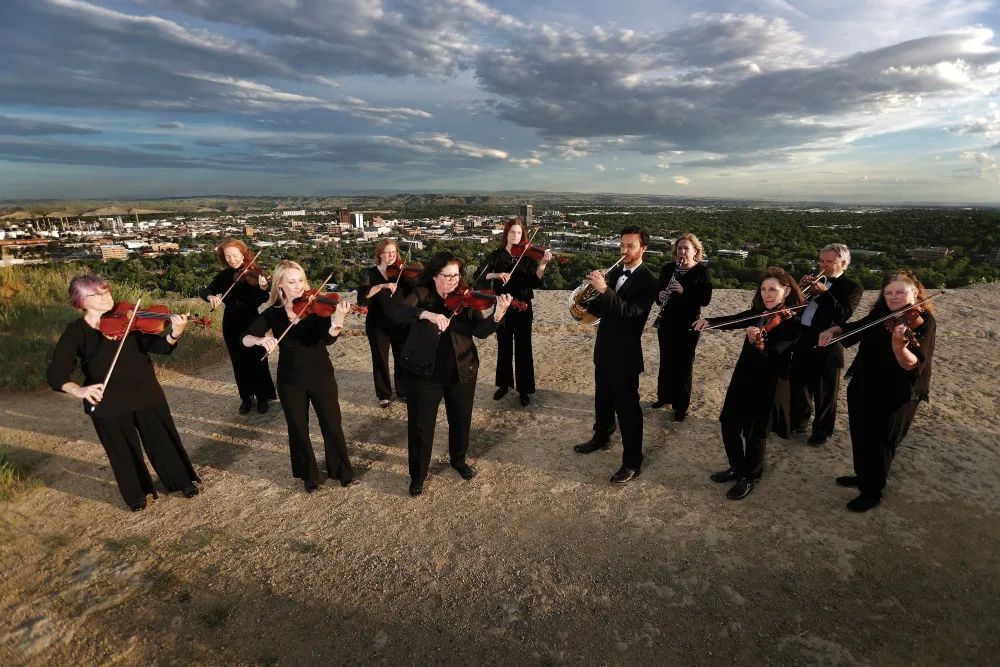 photo by Casey Page courtesy of Billings Symphony Orchestra & Chorale
The Billings Symphony: Building Bridges and Breaking Barriers
September 7, 2021
Music is inspiring, uplifting, soothing, exciting, provocative... many words can be used to describe what music means to people around the world. Perhaps the most meaningful way to describe music is to talk about its ability to create connections. A bridge spanning across all demographics. Any culture, ethnicity, age group or belief system has the ability to connect with music, they simply need the opportunity.
Building Bridges
The Billings Symphony Orchestra and Chorale (BSOC) has been on a road paved by their long-standing reputation of excellence. Classical music, in a ceremonious venue with an established audience, has been the hallmark of their story - a beloved and celebrated tradition since 1951. Now BSOC is building new bridges to address the preconceived ideas many have about the Symphony. "It's too expensive. I could never afford to attend. I wouldn't have the right clothing. Everyone who attends is my grandmother's age. I don't understand the music, it's so old. The concerts are way too long." All of these expressions represent some form of barrier in experiencing music made by classical instruments. And these are the barriers that BSOC is removing to make music more accessible to all.
Cutting the Cost
BSOC is navigating the financial barrier for people by offering over 100 free community engagement opportunities throughout the region for audiences to enjoy their music. "This is how we open the doors of the Symphony to those who have never had the opportunity to attend a concert," says Ignacio Barron Viela, Executive Director of BSOC. And opening doors is exactly what they are doing, from offering free family concerts like Peter and the Wolf at the Lincoln Center and Adventures in Music at the Billings Public Library, to community outreach activities exploring BSOC's music and the ever popular Symphony in the Park. Music at its best, performed in free spaces for anyone to attend.
The Venue Barrier
Some venues can prove a challenge to attendees. Perhaps it's the cost, or the perceived cultural norms of the venue, or maybe even the physical location. Whatever the reason, having multiple and diverse venues for people to choose from offers unique experiences and opportunities. BSOC has pushed to find new locales, offering the Historic Billings Depot, Babcock Theater, Pioneer Park, Lincoln Center, and even the Symphony offices downtown as accessible venue options. This diversity in locations allows the music to be more available. And sometimes this involves going to where the audience is and not expecting them to come to you. BSOC regularly visits the Crow and Cheyenne Nations to bring symphonic music to their students, creating a two-way connection between music and culture.
Diversity of Music and Musician
Not everyone enjoys, or even appreciates, the same types of music, a major sticking point in performing symphonic music that really is "accessible to all." It's more than just the physical barriers that keep people from enjoying what BSOC offers. It's also the stigma that they only play "old music from 500 years ago." BSOC is working hard to offer variegated musical experiences, not only in the type of music, but also in the musicians themselves. "We want to offer music that speaks to everyone, to create a connection with the community. We are bringing 'diverse faces' to Billings because they represent the many parts of our community. Different nationalities and cultures all coming together to perform and enjoy music together. That is the connection we are looking for," says Barron Viela. From folk music and the Rocky Mountain Jazz Collective to Venezuelan pianist Gabriela Martinez and various Native American performing artists, there are plenty of opportunities to explore music in a new way.
Music Paves the Way
It's the music that connects, that tells each of our stories, that bridges the gap between unfamiliarity and enlightenment. The gap that classical music has continued to span for centuries. The story behind a guest artist and their passion. The connection between music and the senses. "Music is for all people. It is a human right. And we want to be about providing that connection any way we can," says Barron Viela.