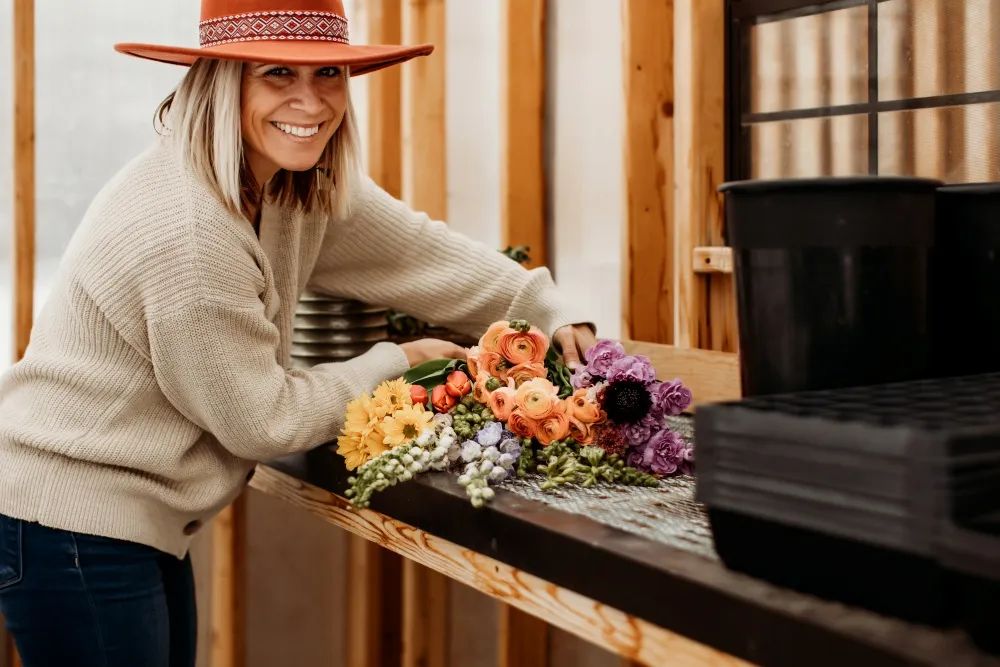 Silo & Bloom: A Flower Farm on the Clarks Fork River
May 2023
by johanna kennedy | photos by jessica byrum
When I first met Jenna Monson, the owner of Silo & Bloom Flower Farm, at Roots Garden Center for a coffee and a chat, I didn't realize that we were situated smack dab in her element. Surrounded by beautiful greenery, a crackling fire, and the faintest smell of earth being stirred up somewhere, Jenna shared with me how a flower farm on the Clarks Fork River came to be.
Like many of us in 2020, Jenna and her husband, Kelton, along with their two children, were working differently and schooling differently, wondering if it was time for a change. "I was at home because of COVID, pregnant, homeschooling our oldest when I realized this is where I want to be." She wanted to be at home with her family, doing life with them together. So, they took a chance. The Monson family went from the predictability of a home in a subdivision to the unknowns of a home with acreage on the Clarks Fork. She smiled, remembering, "We had this blank slate with a field. We were so excited! And we didn't know what we were doing."
Jenna immediately started to dream. What could they do with their property? She always loved using what they had and making it beautiful. But why flowers? "Growing up, my mom always had the most beautiful flowers, and my grandparents had amazing gardens. I always admired all the work they put into them year after year." She remembers countless hours working in the gardens with her grandmothers.
"When I told my husband that I wanted to start a flower farm, he thought it was a wild idea because he watched hundreds of flowers die on our front porch every summer," she laughed. Luckily, Kelton shared her adventurous, pioneering spirit and supported her 100%. They looked at their field and dreamed about how to use what they had to create beauty and invite others to enjoy it with them. 
So, she settled in for the winter and began to read, and read, and read. She watched videos and took a couple of classes. "I had never started anything from seed indoors, so I was a little intimidated. After making plenty of mistakes, I realized that even the best gardeners in the world are still learning, and that's just what I'll do. Accept my failures and celebrate the wins!" She learned many lessons that year about gardening, creating, and running a family business with her kids.  
Three years, three kids, three mules, three big dogs, two horses, countless chickens, and a flower farm later, they've done it. The farm has become a lovely venue for parties and micro weddings by the meandering Clarks Fork. Silo & Bloom hosts photo sessions, boasts two camping spots available on hipcamp.com, and a thriving flower farm in the summer and fall. They offer delivery, pick-up, U-pick options, and a flower stand for those driving by their farm. In addition, they've created Bloom Boxes filled with their unique blend of locally roasted coffee, candles hand-poured, topped with flowers from the garden and other goodies. Jenna also plans to have various workshops available for kids and adults this summer.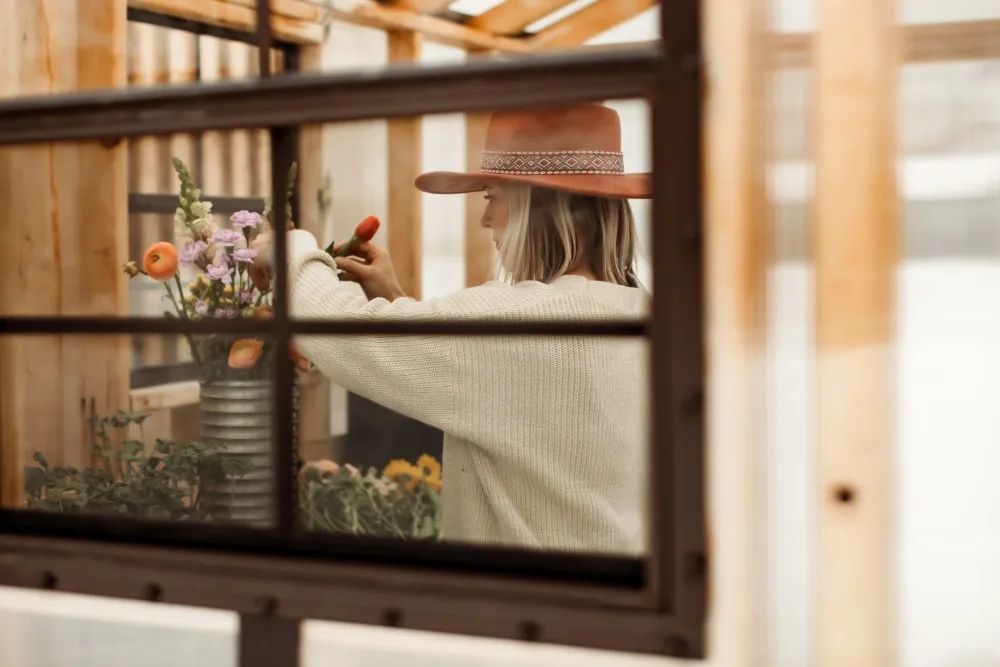 To learn more about the flower farm, workshops, and Silo and Bloom as a venue for a party or a wedding , contact Jenna through the website at siloandbloom.com.
As a kid, Jenna was always outside. Now her kids have the opportunity to have that same upbringing. "Having the farm and the animals gives us the opportunity to be out in the sun and fresh air together. Most of all, we love inviting others to enjoy the beautiful outdoors with us." They've turned their blank slate into a charming country retreat to be shared with anyone who wants to join them. 
Originally printed in the May 2023 issue of Simply Local Magazine
Never miss an issue, check out SLM's digital editions here!