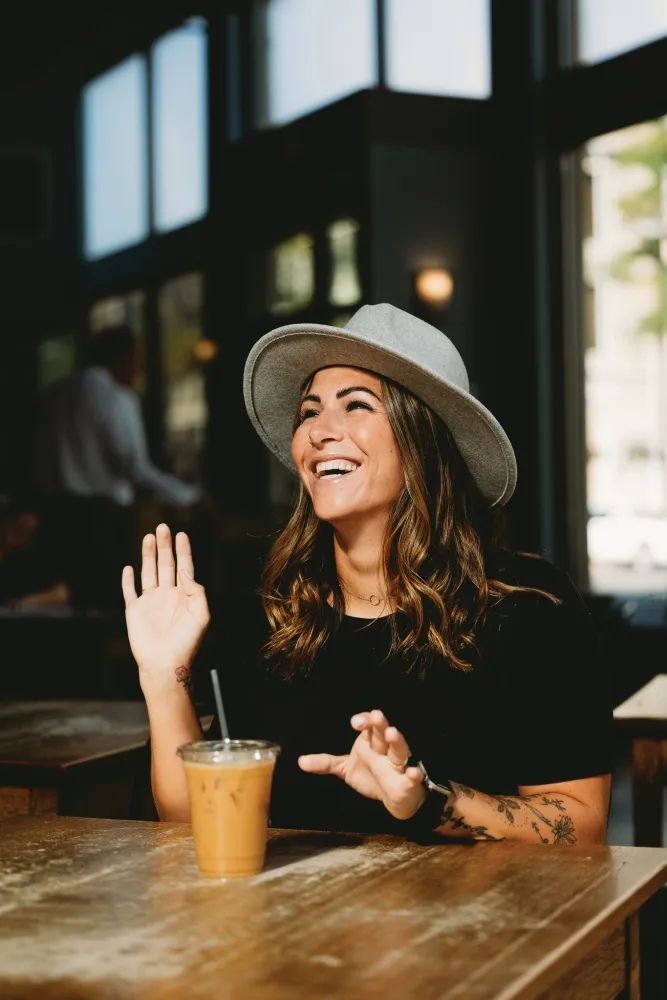 Woman to Watch: Hanna Bloom
October 2022
by maria weidich | photos by arianna skoog
Hanna Bloom describes herself as an entrepreneur, a go-getter, and extremely organized.  "Even a little OCD," she jokes. The apple doesn't fall far from the tree, either. Since she was a toddler, Hanna watched her father own and operate several businesses in Billings. "He's a go-getter, and I'm very much the same," she laughs.  Her mom's work ethic translated into a 38-year career at Billings Clinic. 
"I don't like being bored, and that's the one thing that makes me want to continue growing, learning, and taking things to the next level." It's attributes like these that influenced Hanna to launch Bloom Business Solutions in 2021. She describes the business as a "remote back office." If there is a task required to run a business, Hanna does it. From bookkeeping, invoicing, and scheduling, to accounts receivable and payable… Making the complex seem easy, Hanna tells her clients, "You just sit back, and I will handle everything."
Hanna's love for everything business started to blossom as a 20-year-old working at Jimmy John's. The Billings franchise owners quickly noted her drive, sent her to corporate training, and promoted her to management. She went on to assist with opening and growing two more Billings locations. "I loved every second of it," she says of the work.
Over the next ten years, Hanna continued applying her expertise in various positions before considering going into business independently. "It was absolutely terrifying at the beginning," she recalls of making the leap, "but I wouldn't take it back at all."
She admits it wouldn't have been possible without the encouragement and support she received from a handful of small business owners in the Billings community. After joining the Billings Chamber of Commerce, Hanna began networking and building connections with those who could utilize her services. "I was able to do this all through this beautiful community that loves to help one another."
"Billings feels like a small town and a big city, all in one. You can make great connections, and if you have questions or struggles, you can reach out. Being able to have those connections helped create momentum in my business."
Making connections is the cornerstone of Bloom Business Solutions, too. "I'm all about creating a relationship with somebody more than anything else," Hanna says. "I want to keep things as personable as I can, and I never want to lose that. I love to make a memorable and personal connection, not just a transaction."
When Bloom Business Solutions first launched, her goal was not just to build relationships with her clients, but to create bonds with her two young children, as well. "And I have done just that!" she said. "I'm able to be more present with my family; take my kids to school, take them to their activities, and still provide for them." Spending time doing what she loves while contributing to her family has been the most significant return of all. "Having that work-life balance has been a game changer for my mental health, happiness, everything. That's the greatest reward ever."
As intimidating as launching a small business was, Hanna is enthusiastic about encouraging others to follow their heart. "Don't hesitate, just jump," she laughs. "Plant both of those feet and hold on because it's a wild ride. It's scary, stressful, and emotional, but it's so rewarding, too."
"You can always go out and make more money, but being authentic and making a memorable connection is worth so much more," Hanna notes. "I strive to be better than I was the day before. Whether in my role as a mom, wife, sister, friend, or professional, I strive to be better."
Running a small business is not without its risks, of course. Hanna acknowledges that "things flux, things change, clients come and go, but I rely on my faith with that. I know stressing about situations will only take away from where I'm currently at, so I try not to worry about the next day and stay in the moment." Hanna quickly mentions that her husband, Ben, is her biggest cheerleader reminding her to take it day by day and not to sweat the small stuff. "Every road bump or hardship is a learning opportunity to grow from. My faith, family, and friends are the best support system, and I am so grateful for this life I have been blessed to live."
You can find Hanna spinning at Black Orchid Cycling or on the golf course when she's not balancing books or answering emails. "I'm not great, but it's fun!" she says of her swing. Of course, her children Henley (7) and Rory (4) and the family's three dogs fill her days, too.
Suffice it to say, Hanna Bloom is living up to her name. "I am not the same person I was a year ago. Age, experience, goals, everything changes," she says. "I am loving the person I am becoming as I learn, expand, and grow."
To learn more about Bloom Business Solutions, visit bloom406.com.
Originally printed in the October 2022 issue of Simply Local Magazine
Never miss an issue, check out SLM's digital editions here!