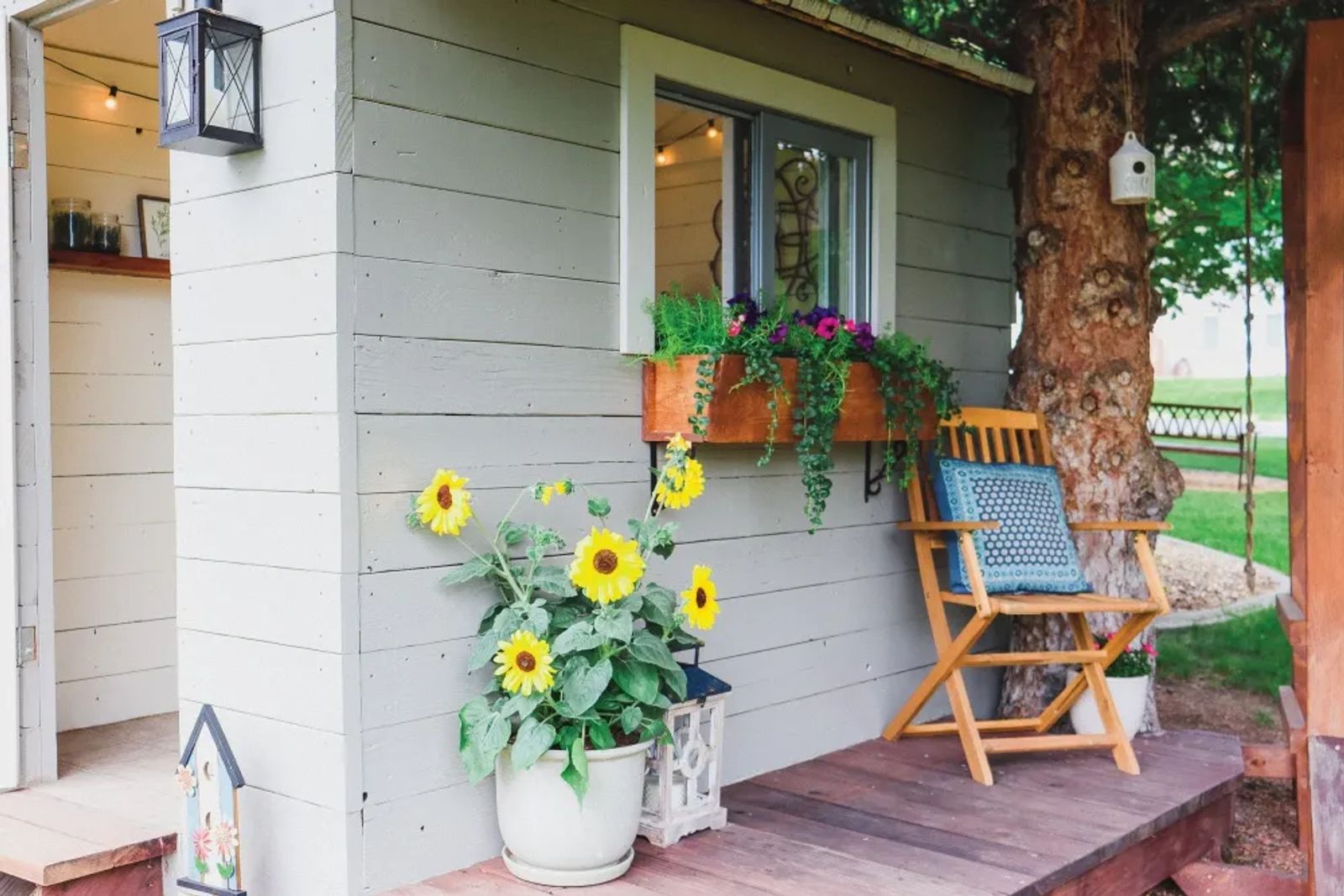 She-Shed: A Modern Woman's Prerogative
May 2021
by ashlynn reynolds-dyk | photos by holly netz
If you weren't familiar with the she-shed trend before the infamous 2018 State Farm commercial with Cheryl's burning She-Shed, you likely are now. The she-shed movement arose in part as a response to the "man cave" when women started reclaiming backyard sheds and converting them into their own private retreats. She-sheds tend to serve as a getaway for women who lead busy lives and are looking for a place of solitude or simply a space to do the things they enjoy. She-sheds offer great variety and versatility when it comes to décor, vibe, purpose, functionality, and price. Most tend to be smaller, one-room buildings outside a primary dwelling. They range from humble garden sheds to literal cabins to art studios to sewing sanctuaries, to much more.
Similarly, these havens range in price from a few hundred dollars to thousands of dollars. These little sanctuaries come prefabricated in kits, can be repurposed old sheds, or may be custom-built creations. Recently, a couple of local women gave us a peek into their own peaceful retreats.
Shelly's Studio She-Shed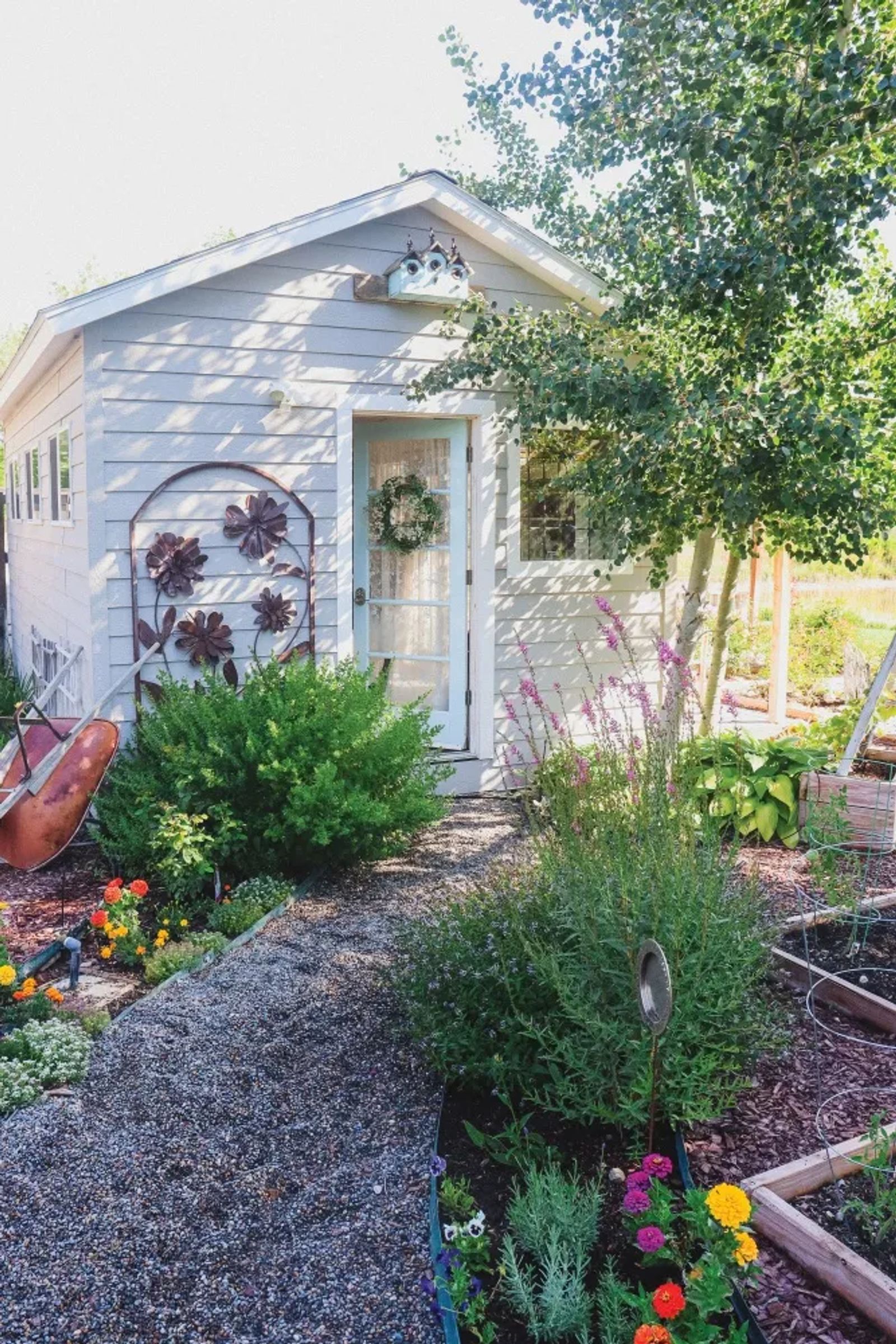 "It's like walking into my heart when I walk in there."
Owner of Marketplace 3301 in Billings, Shelly Turk, enjoys a she-shed at her home in Joliet. Shelly's she-shed is located close to her house, and she lovingly calls it her studio. It came about after a concrete slab poured for a greenhouse that never came to fruition sat for many years. After growing tired of having no dedicated space (except the kitchen table) for working on various art projects, Shelly drew plans (on a napkin) for a she-shed/studio to be placed on the slab. Her husband built the shed for Shelly, and she's been creating in there—usually in the fall or winter since summer is a busy time for her business—ever since. Shelly has added many personal touches using as many vintage and "found" pieces as possible. The counter on the back wall has legs from a mast she hauled home from Oregon, one of her favorite places to visit. Her sanctuary also has a stained-glass window, a vintage front door, a chicken nester from an old farm homestead used for storing items, and a rusty gate from Dave McMaster's in the front. She also has chandeliers with burlap from a vendor from her store. Since Shelly loves the Oregon coast, she wanted her studio she-shed to reflect that. This is very different from the rest of the property, which is more of a rustic lodge style and is one of the many reasons her space is so important.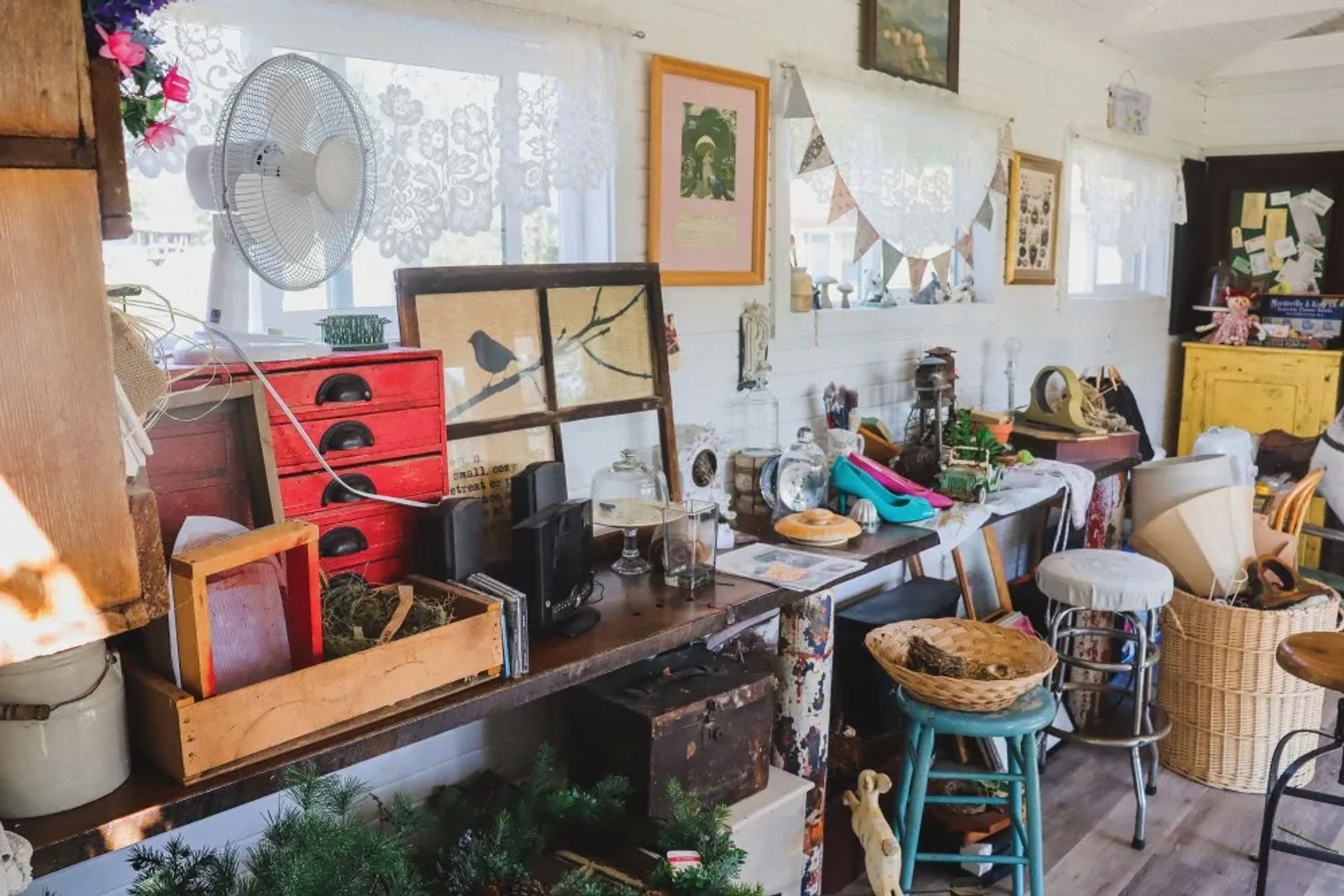 Shelly's favorite part of having her studio she-shed is that she has her own private space where she can get messy and not have to pick it up—she can simply have everything the way she wants it. She creates various art projects and always lets her dog take part. Sometimes her granddaughters like to join her drawing, coloring, and building. Shelly especially enjoys the porch, which can be accessed through the French doors on the side. Overlooking the rose garden and pond with various wild animals roaming around, Shelly often sits on the porch couch in the early mornings, coffee in hand, to read her devotional for the day.
Suzanne's Garden She-Shed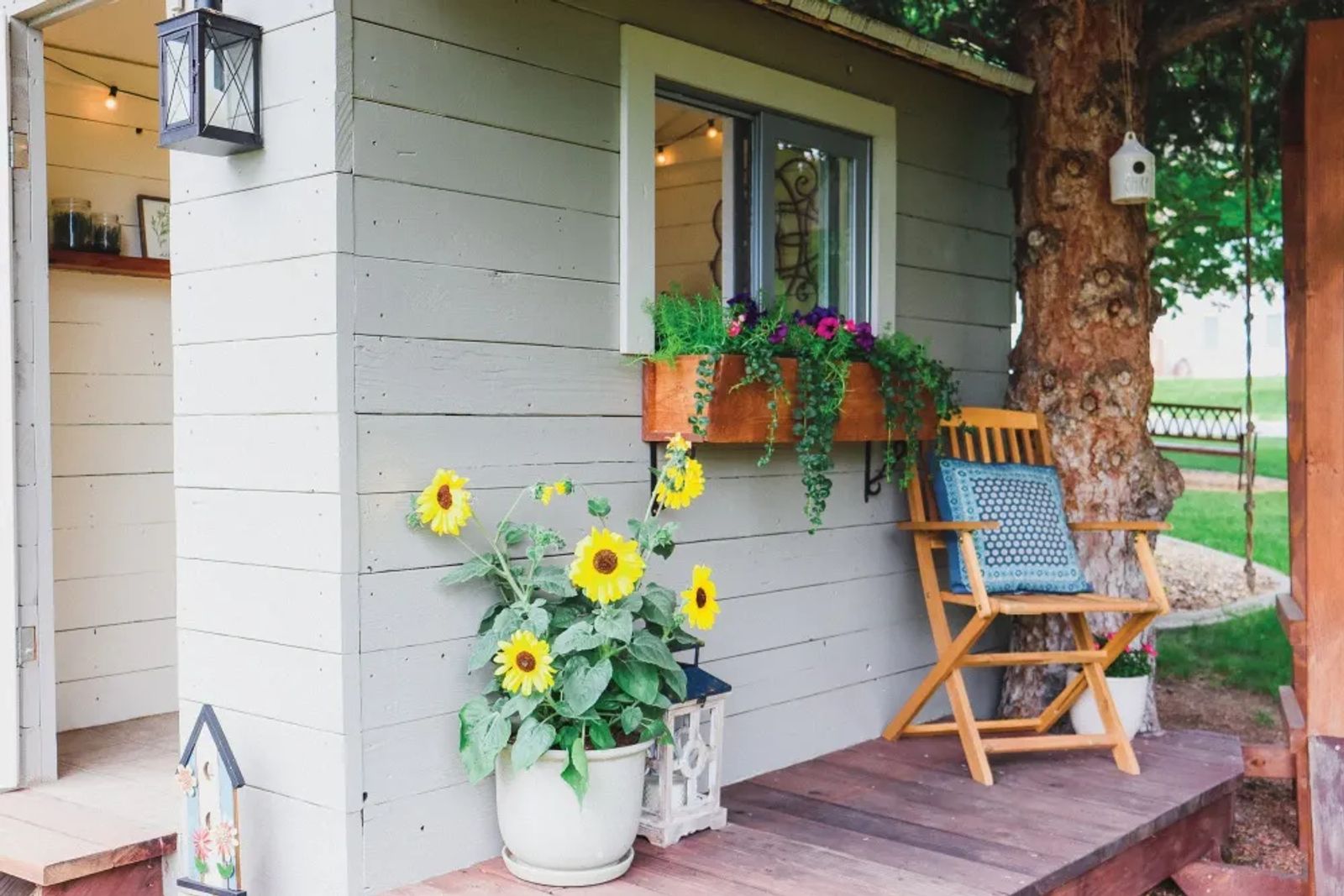 "Being in there, planting and relaxing is therapeutic for me."
Mom of three wild kids, Suzanne Schnieber, enjoys a she-shed at her home in Billings. It is located right next to the house, and Suzanne calls it her she-shed/garden shed. They built it several years ago when they tore down the deck in their backyard. Reusing the old deck wood, Suzanne's garden retreat was initially created as a playhouse for her children when they were little. When it did not get much use as a playhouse, Suzanne and her husband decided to "glam" it up, turning it into a she-shed/garden shed. It looks like a miniature cabin and has a porch similar to Shelly's. Suzanne says that her she-shed was fun to decorate; since she loves Magnolia, she tried to incorporate some of that style with the paint color to the little wood shelves and white lights.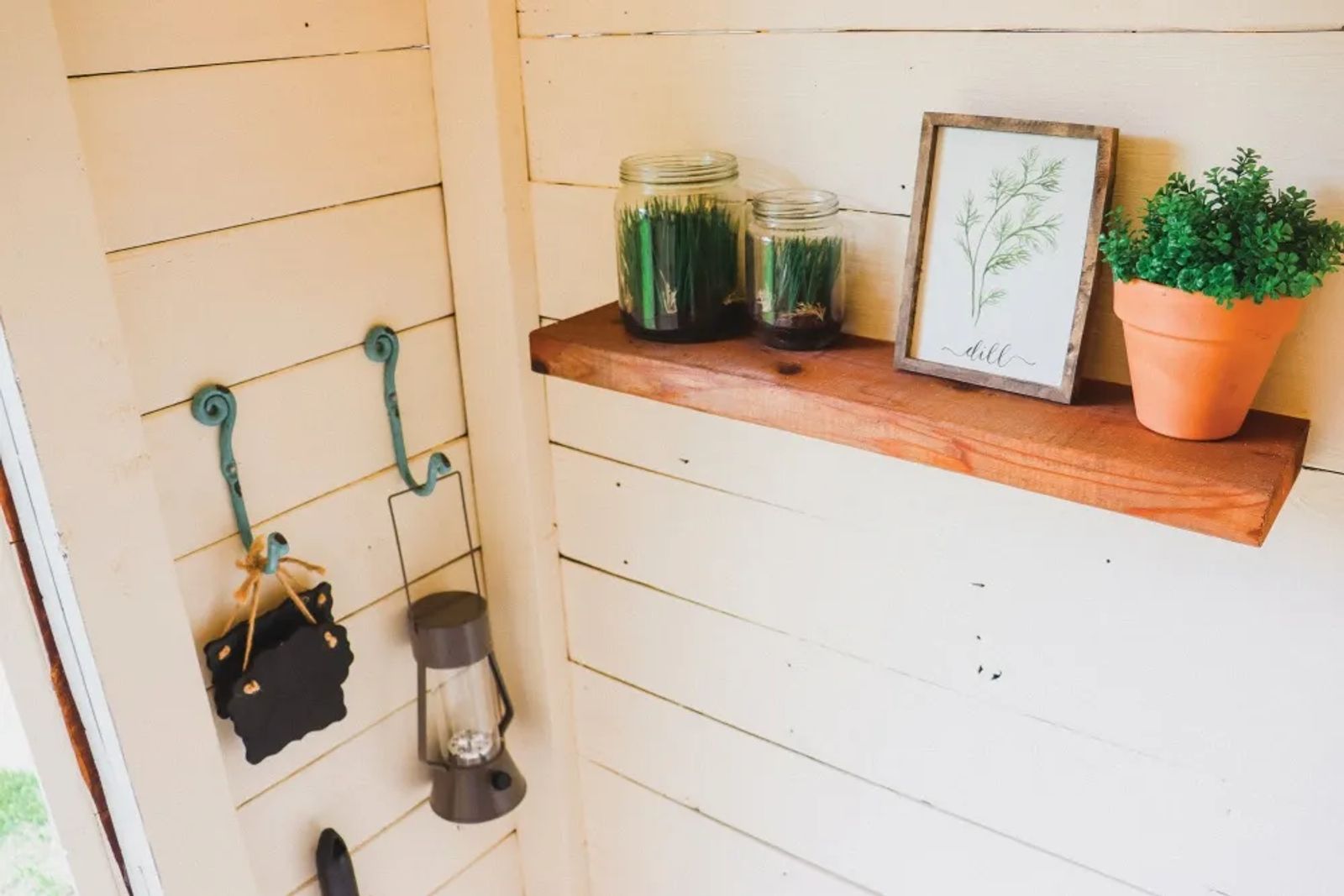 Suzanne primarily uses her space to store garden tools, planting pots, etc. She is in there several times a week from spring to fall, potting plants or simply enjoying some quiet time.
This garden-lover's favorite part of her she-shed is the window flower box that her husband and oldest son built for her on Mother's Day, but she also loves to use the little garden table inside that her husband built for her. Suzanne explains that although the shed was not initially made for her, it feels very special because it was constructed from old materials that they turned into something cute and functional; it is her "special little place that I can be doing something I love in."
Originally printed in the May 2021 issue of Simply Local Magazine
Never miss an issue, check out SLM's digital editions here!