Seizing the Moment - An Interview With Jason And Jen Marble
September 2021
article & photos by renata haidle
Opening a restaurant is a daunting process in the best of times and not an endeavor for the faint of heart. The location. The logistics. The staff. And ultimately, the food. Everything has to be just right for the restaurant to succeed. But what if the conditions are less than ideal, with an ongoing pandemic affecting everything from supplies to delivery? It turns out the restaurant can still be very successful if the right team is behind it. And this team of two, Jason and Jen Marble, seems unstoppable.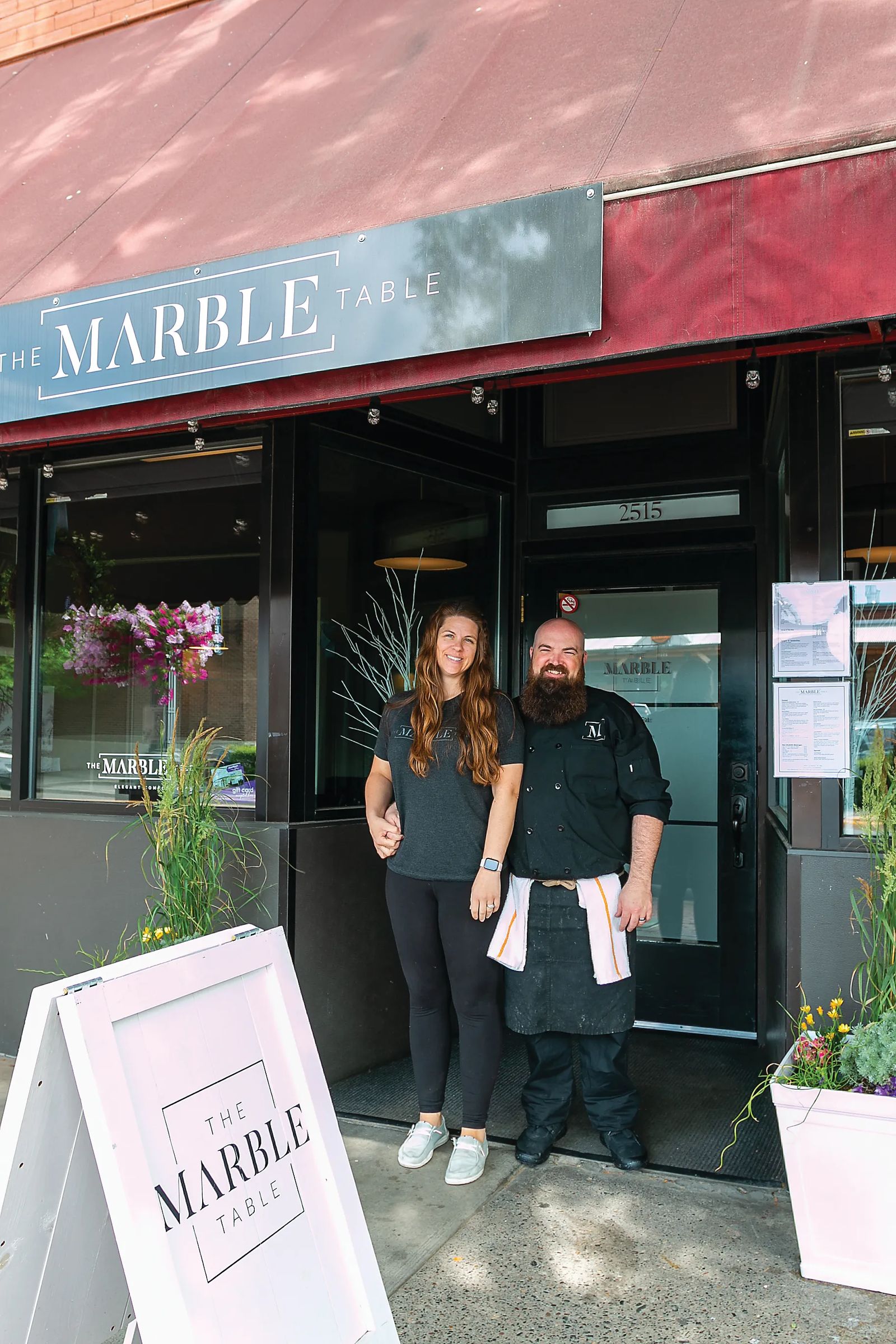 Jason and Jen Marble
Jason and Jen met in high school. After dating for a while, they ended up going their separate ways, marrying other people, having children, building careers. Jason channeled his passion for cooking into becoming a chef. He started working as an apprentice at Olive Garden and, later on, at Enzo Mediterranean Bistro (currently Bistro Enzo). Next, he went on to culinary school, attending Le Cordon Bleu College of Culinary Arts in Portland. A year-long college program affiliated with the ultra-famous Parisian school that has expanded its programs worldwide and trained thousands of chefs. Upon return to Billings, Jason sharpened his knives and skills working in various restaurants, from Last Chance Pub & Cider Mill to Überbrew and once more at Bistro Enzo. Being back in his hometown presented a good chance to run into his high school sweetheart on occasion. He and Jen got reunited and eventually got married six years ago. She has been his most ardent supporter ever since. Late last year, the opportunity presented itself to open a restaurant in the space previously occupied by Lilac on Montana Avenue. Jen, who has an accounting background, ran the numbers and figured out the business plan. With a 7(a) loan from the Small Business Administration and another one from Altana FCU, they opened the doors to The Marble Table last November.
Besides bringing her business acumen to the table, Jen designed and decorated the place as well. Using the experience she accumulated while running her previous business, Rustic Nest Designs, she created a modern farmhouse vibe for the restaurant, simple and neat, yet instilled with a warm and homey feeling. "I want people to feel like they're coming to eat at our house, to feel like they're part of the family," she says. This philosophy extends to Jason's cooking style. He intends to cook food that "tastes just like grandma's, if grandma went to culinary school. Elegant comfort food." Despite having a French influence thanks to his training at Le Cordon Bleu, he doesn't want to pigeonhole himself in just one or two cooking styles. Instead, he desires to keep things simple. "My cooking aims to be familiar and approachable," Jason explains. "I'm not the type of chef that is going to play with tweezers or go forage for forest moss. I'm not a pretentious chef. Food doesn't have to be complicated or have names that people can't pronounce to taste good."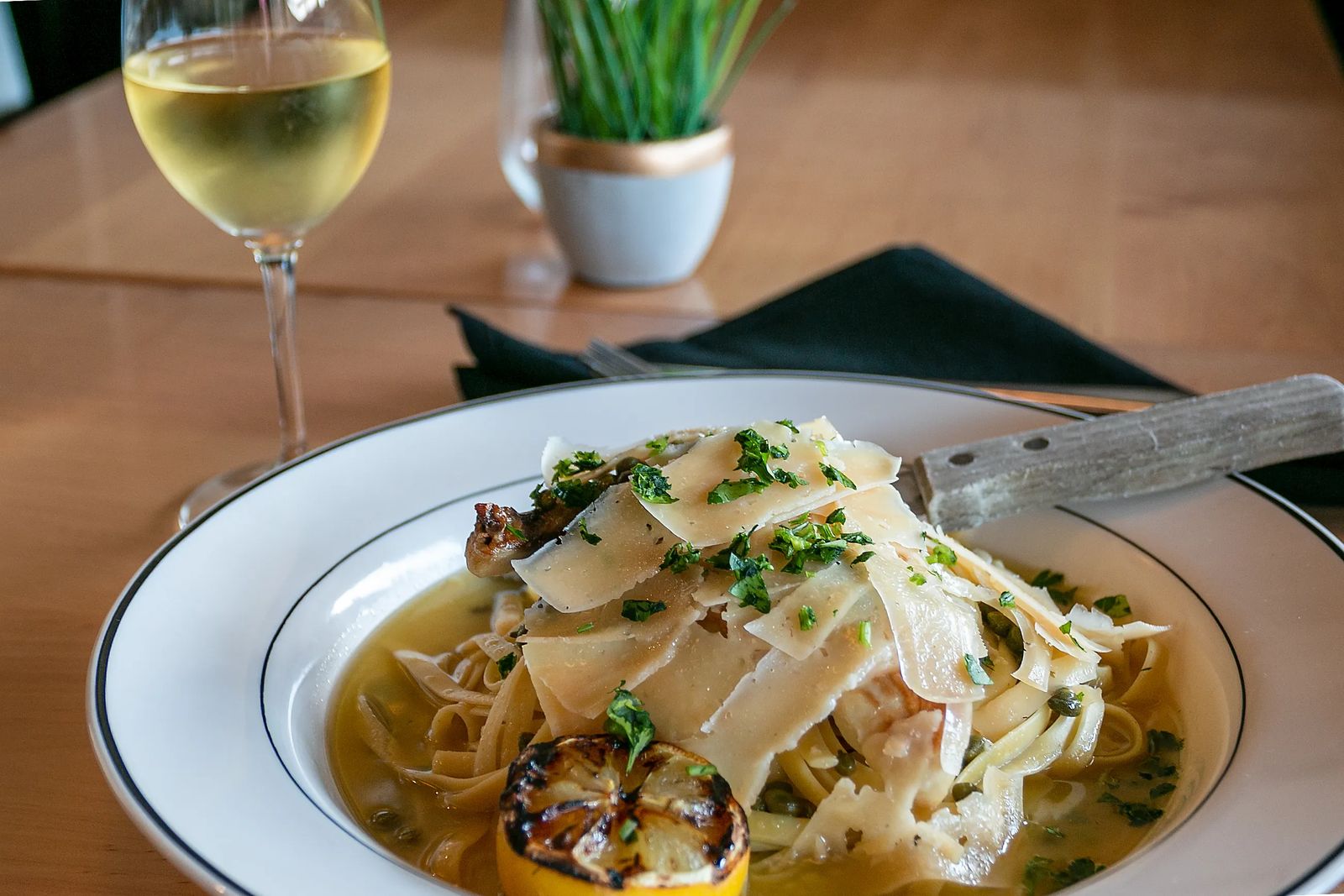 Chicken Piccata at The Marble Table
The menu at The Marble Table reflects that. There are family-friendly dishes like chicken piccata and lamb meatloaf, pork schnitzel, and fried chicken. The ingredients are fresh and, as much as possible, locally sourced; beef from Ranch House Meat Co, greens from Swanky Roots and Kate's Garden, microgreens from Tiny Forest. Jason's desire to integrate fresh local produce in his cooking goes back to his experience with his family's former business, Billings Nursery, which they owned and operated for 20 years. As a result, his transition from garden to kitchen is seamless. "I can take food from seed, from a little plant, all the way to your plate," he says.
There are, however, some food items that will never make their way into Jason's kitchen. As the menu clearly states, The Marble Table is a peanut and tree nut-free establishment. Having first-hand knowledge of food allergies, he strives to make the restaurant safe for everyone, accommodating the most diverse dietary needs. Whenever such needs arise, he likes to come out to the table and reassure the diners that their food will be 100% safe - a thoughtful touch that greatly enhances the guest experience.
"He is kind and he is humble," says Jen, and you can sense the emotion in her voice whenever she speaks of Jason. "He has a secret ingredient, and it's love. We want to do things differently, we want this to be a great place. Taking all the skills we have and all the experience from our previous jobs and building up to this moment, Jason and I feel like this is what we were meant to do. We want to serve the community. We're constantly learning, changing, and adapting, and we hope to be here a long time."
If you want to go:
The Marble Table is at 2515 Montana Ave.
They are open weekdays and Saturdays for lunch and dinner. Reservations are preferred but not required.
Phone: (406) 281-8891
Originally printed in the September 2021 issue of Simply Local Magazine
Never miss an issue, check out SLM's digital editions here!