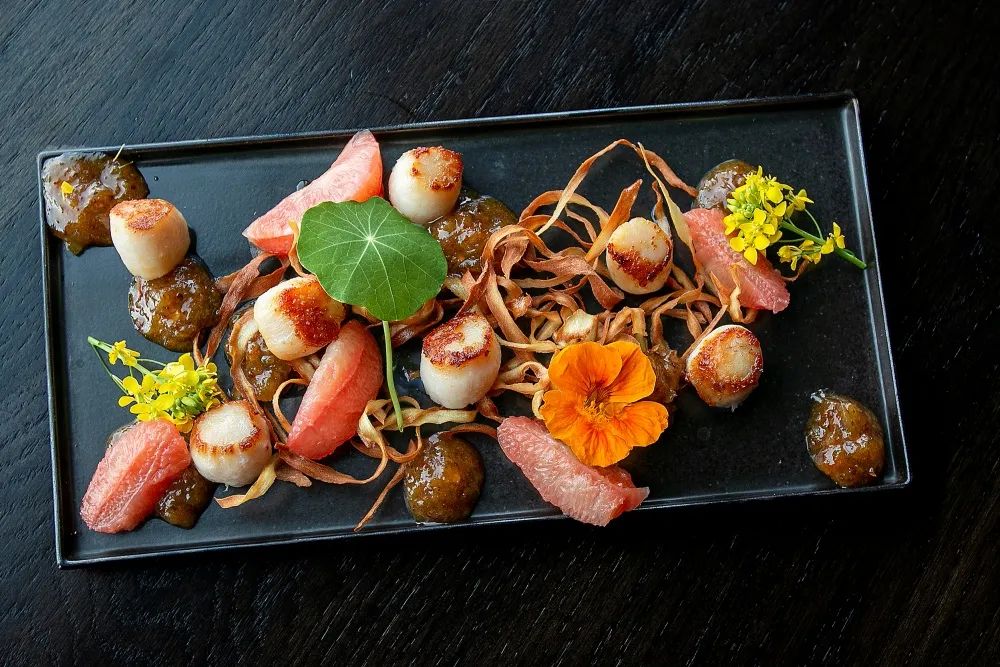 Seared Scallops with Jezebel Sauce
May 2022
by renata haidle | recipe courtesy of Chef Jeremy Evans
This recipe takes seared scallops to a new level, thanks to the sweet and spicy Jezebel sauce combined with the balancing acidity of fresh grapefruit and the crunchy bed of fried parsnip. A southern favorite, Jezebel sauce builds on a base of pineapple jam which is spiced with horseradish and mustard. It is a perfect companion to seafood, fish, pork, and chicken. It can be drizzled on top of cream cheese and served with crackers - an appetizer favored by many southerners.
Ingredients:
8 Shishito peppers, minced
1/2 Cup sugar
2 Tablespoons water
1 1/2 Cups pineapple, small dice
1 Cup apricot preserves
¼ Cup horseradish, grated
¼ Cup stone-ground mustard
¼ Cup brown sugar
¼ Cup Bourbon
2 parsnips
2 teaspoon salt
1 Tablespoon butter
1 grapefruit, peeled and segmented
1 lb scallops (preferably U-10)
A handful of microgreens or edible flowers (Swanky Roots is a great local supplier)
Yields two servings.
Directions:
Step 1: The Jezebel sauce
Cook the pineapple in a small saucepan over low heat until soft. Place minced shishitos, sugar, and water into the pan and bring to a simmer. Keep heat on low and let it reduce gently for about 5 minutes.
Add the apricot preserves, horseradish, brown sugar, and mustard to the pan. Continue to reduce for another 5 minutes.
Add the bourbon and keep reducing for another 2-3 minutes. This will cook off the heavy alcohol flavor and leave you with a subtle bourbon taste.
Pour the Jezebel sauce onto a tray or into a container to allow it to cool. Be sure not to cover the container while it is still cooling.
If you prefer a less chunky sauce, feel free to blend your Jezebel sauce in a food processor until you get the desired consistency.
Step 2:
Start by peeling strips of parsnip using any household peeler. Fry the shavings in 350-degree oil for about 30 seconds or until golden brown. Air Fryers work too. They will continue to cook after removing them from the hot oil, so it is best to pull them early instead of late. Sprinkle hot parsnips with a bit of salt.
Peel your grapefruit, removing any rind, and separate it into individual slices.
Step 3:
Scallop time! Start by patting your scallops dry. This will prevent them from sticking to the pan and oil splattering. Salt the scallops with a pinch on either side.
Heat the pan with enough oil to coat the bottom. Medium-high heat is recommended. Carefully add the scallops to the pan. Gently press the tops of them down to get an even crust. (Scallops are a quick process; you will need to watch them closely.)
When the bottoms turn golden-brown, flip the scallops using a small spatula.
Turn heat to low and add 1 Tbsp of butter to the pan. Baste the scallops with the butter by spooning them onto the crust.
Perfectly cooked scallops should be slightly firm but with a little jiggle. Allow them to rest out of the pan for about 2 minutes before plating. This will prevent all the juice from running onto your plate.
Step 4:
To plate, lay down a bed of fried parsnips, similar to a pile of hay. Add a few wedges of grapefruit and dollops of Jezebel sauce to fill in the gaps. By this point, the scallops should be rested and ready to place on top of the parsnip "haystack"—finish plating by adding a few microgreens or edible flowers.
Take a picture of your plate to show all your friends, and then you're free to enjoy the meal!
Originally printed in the May 2022 issue of Simply Local Magazine
Never miss an issue, check out SLM's digital editions here!