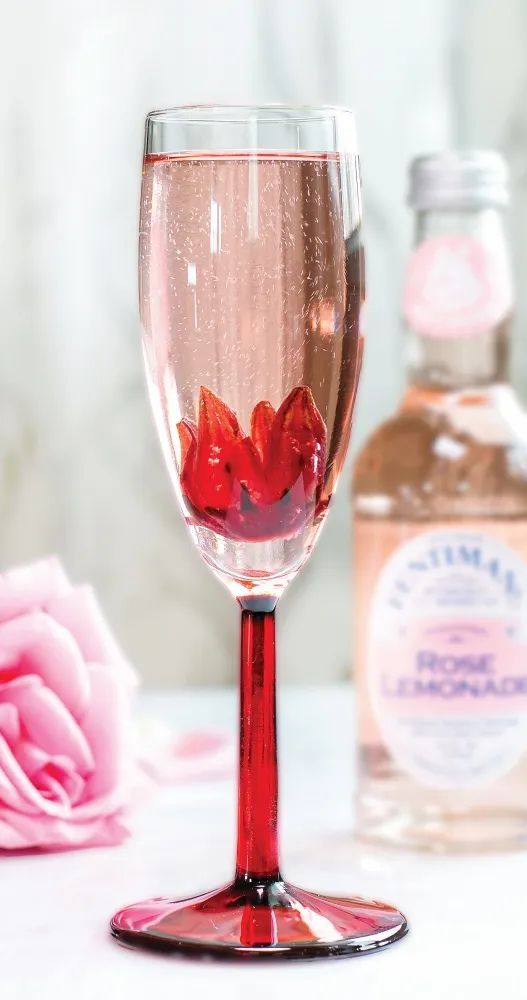 Mix This: Roselle Lemonade
May 2022
Roselle is the popular name of Hibiscus sabdariffa, also known as red sorrel, Florida cranberry, or Jamaica sorrel. The calyces of the roselle flower are edible and make excellent jams, syrups, sauces, and teas. When preserved in syrup, they have a chewy consistency and a sweet and sour taste, similar to dried cranberries. You can buy roselle flowers preserved in syrup from many online resellers. Use them in baking, to decorate gourmet meals, or in mixed drinks to add an element of surprise to the final presentation.
To create this simple and flavorful mocktail, place a roselle flower in a wine glass or a champagne flute and top with Fentiman's Rose Lemonade. Add a splash of rose syrup if desired, for a more distinct rose flavor.
Serve immediately, as the roselle flower will change color and consistency after being in contact with the lemonade.
Ingredients:
1 small jar roselle flowers, preserved in rose syrup (the Australian-based Wild Hibiscus Flower Co. brand is excellent)
1 bottle Fentiman's Rose Lemonade
1 bottle champagne or prosecco, if making the alcoholic version
Citrus slices for garnish, optional
For an alcoholic version of this mocktail, replace the rose lemonade with rosé, prosecco, or champagne.
Originally printed in the May 2022 issue of Simply Local Magazine
Never miss an issue, check out SLM's digital editions here!