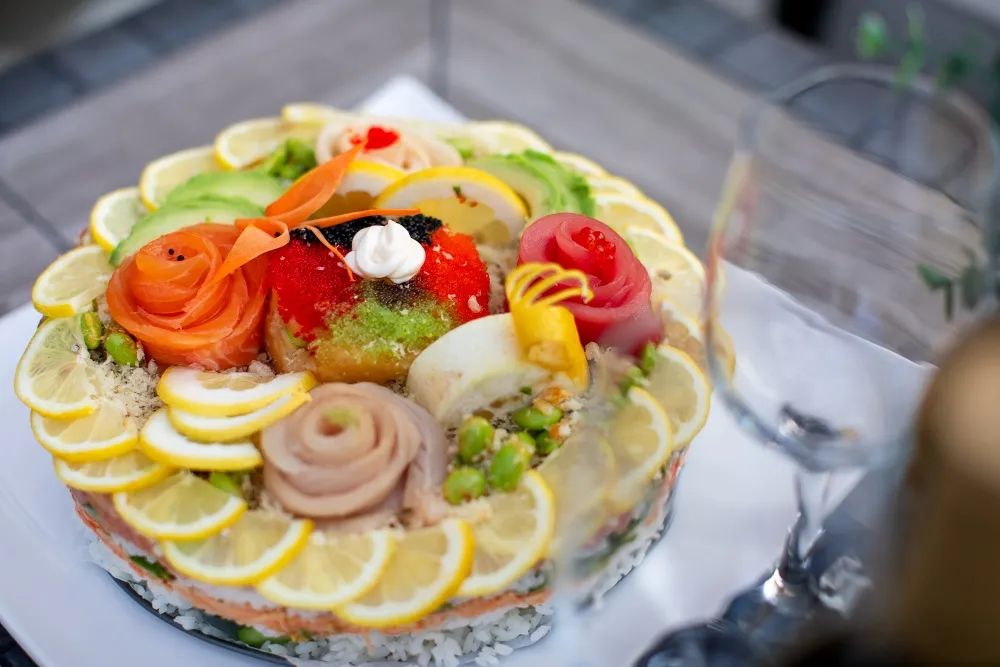 Savory Sushi Cake
October 2021
article & photos by lovely hitchcock | Special thanks to Fancy Sushi for creating the beautiful cake!
Sushi rolls! I just couldn't get enough. I found myself habitually ordering plate after plate until I came across the amazing delight of the Sushi Cake!
The name alone sounds delicious and decadent. Sushi cakes are amazingly versatile because you can serve them on any occasion: Birthdays, bridal showers, visiting friends, promotions, anniversaries, or virtually any event. It's a fun way to surprise and charm your guests.
Even more fun is that you can make your sushi cake any way you like. There's a sushi chef hidden inside you, and this is how you can let them out and share your creativity with the world. Here's how!
Sriracha-Mayonnaise Sauce
Make this spicy sauce simply by mixing 12 Tablespoons mayonnaise and 2 Tablespoons sriracha sauce in a bowl. Cover and place in the fridge.
Sushi Cake
4 Cups Japanese rice, cooked as directed
14 oz. canned pink salmon
6 Tablespoons rice vinegar
4 teaspoons sugar
3 Tablespoons mayonnaise
3 Tablespoons black sesame seeds
2 teaspoons salt
1 avocado
2 cucumbers
1 fresh lemon
soy sauce
wasabi
freshly ground salt and pepper
Cook the 4 cups of Japanese rice as directed and set it aside to cool completely.
In a small saucepan, mix 6 Tablespoons of rice vinegar, 4 teaspoons sugar, and 2 teaspoons salt. Heat the mixture until the sugar and salt completely dissolve.
Add this mixture to the cooled rice. Toss it well as you add the sesame seeds until they are distributed evenly.
Drain 14 oz. pink salmon, place in a bowl, and then mix with the Sriracha-mayonnaise sauce and freshly ground salt and pepper to taste.
Line the side of a 6-inch springform pan with parchment paper. Place 1/3 of the rice into the bottom of the pan and press well. Place half of the salmon mixture on the sushi rice, topping it with one layer of thinly sliced cucumber. Repeat this process one more time and finish the third layer with sushi rice. (A tasty and fun texture option is to place a sheet of seaweed in between layers)
For the avocado flowers, cut an avocado in half, remove the pit, and carefully remove the skin. Slice thinly, then fan out slices in a long line. Start a tight roll from the tip, keep rolling until you form a flower. Squeeze lemon over it, so the avocado doesn't darken as quickly. Sprinkle with salt and pepper.
Carefully place the avocado flower on the sushi cake using a thin knife. Next, garnish your sushi cake with various items such as Tobiko (orange-colored fish eggs), pickled ginger, mango, shredded daikon, shredded carrots, tempura shrimp, sliced lemons, etc. spring onions, panko, or anything you can think of. Let your creativity roll (pun intended).
Once you've garnished to your heart's desire, loosen up the springform and remove the parchment paper. (For an extra fun look, cover the sides of the cake with the Sriracha-mayonnaise sauce and adhere spring onions cut-up lengthwise all around the cake).
To serve, cut the "cake" just like any other cake you have served in the past, but this time with wasabi and sushi involved! Itakakimasu!
If you aren't feeling quite that adventurous with this month's recipe, but you still want to give your guests something new and exciting, Fancy Sushi on 1313 Grand Ave, Suite 3 would be happy to customize one for you.
Best places to get the perfect seafood ingredients:
Isabela Asian Market
1005 24th St W Billings, MT 59102
Seafood of the World
5800 Interstate Ave, Billings, MT 59101
Billings Seafood Guys
3201 Hesper Rd, Unit 1, Billings, MT 59102
Originally printed in the October 2021 issue of Simply Local Magazine
Never miss an issue, check out SLM's digital editions here!