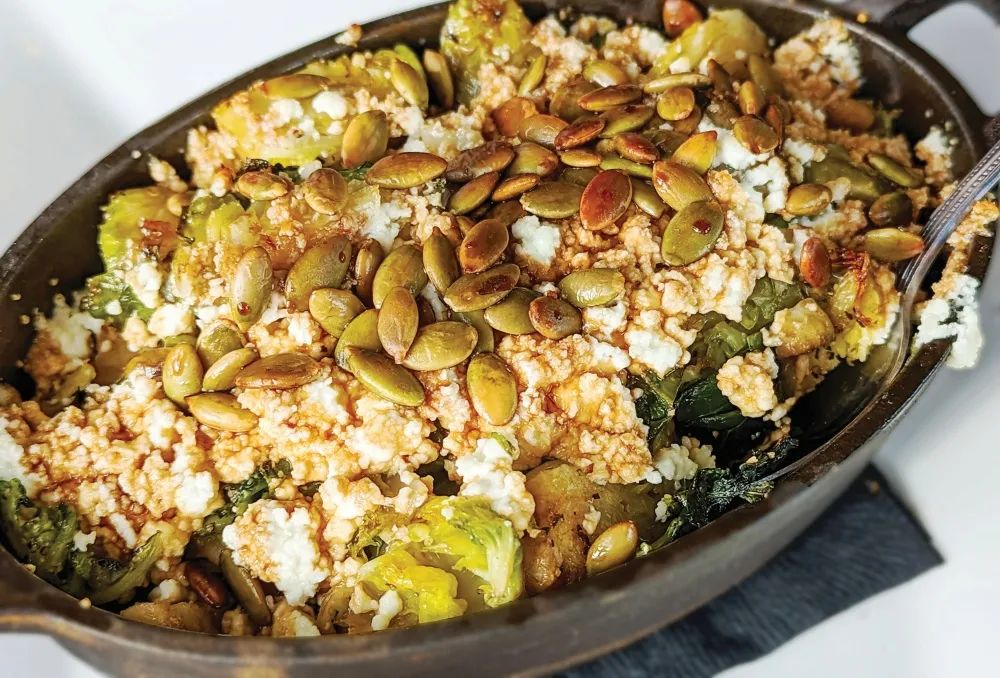 Roasted Brussels Sprouts with Goat Cheese, Pumpkin Seeds, & Honey-Balsamic Glaze
March 2023
article & photos by renata haidle | recipe from Chef Jason Haagenson of Diamond X Beer Co.
Brussels sprouts are a great way to add more fresh vegetables to your diet and can be enjoyed cooked or raw. They are rich in vitamins C (which boosts immunity) and K (an essential factor in the coagulation process). Like other cruciferous vegetables, they may offer protection against certain cancers, improve digestion, and contribute to heart health.
Roasting Brussels sprouts in the oven brings out their natural sweetness and an almost nutty flavor. A healthy appetizer that is quick to assemble, this is an easy recipe suitable for any skill level.
Ingredients:
1 pound cleaned and trimmed Brussels sprouts
1 Tablespoon olive oil
1 teaspoon salt
1 teaspoon black pepper
Optional toppings:
Bacon or pancetta
Nuts or seeds
Cheese: Feta, Gorgonzola, goat cheese
Balsamic vinegar
Honey
Servings: 4. Prep time: 5 min. Cook time: 20 min.
Directions:
Preheat the oven to 400 F.
Clean, trim, and cut the Brussels sprouts in half. Make sure to get rid of all the dirt and dead leaves. Pat them dry with a paper towel, then toss them in olive oil.
Place them on an oven-safe sheet pan and sprinkle salt and pepper on top. Roast the Brussels sprouts in the oven at 400 degrees for approximately 20 minutes. They are ready when they look golden-brown and appear soft.
Transfer them to a serving dish and enjoy immediately.
Step up the flavor profile by adding toppings such as mild goat cheese, roasted pumpkin seeds, and a drizzle of balsamic vinegar and honey.
Originally printed in the March 2023 issue of Simply Local Magazine
Never miss an issue, check out SLM's digital editions here!