Pretty Shield: Crow Medicine Woman and Grandmother to Many
September 2023
Pretty Shield (1856-1944), a Crow Medicine Woman, didn't set out to make such a big name for herself, as Crow historian Mardell Plainfeather shares. "She merely did her job as a [mother and] grandmother teaching her grandchildren how to survive" and live through hard times.
Pretty Shield watched the destruction of the buffalo, experienced pre- and post-reservation life, and helped her descendants navigate the world around them. Beyond that, she became a Medicine Woman, helped deliver many babies, shared her medicinal herb and plant knowledge, and modeled wisdom and faith. Unfortunately, she also experienced more loss than many of us can imagine, including her husband, children, and grandchildren, leaving her to help raise seven grandchildren and great-grandchildren.
Her indomitable spirit has captured many Crow and non-Crow people's interest for years, especially after Frank Linderman's book Pretty Shield: Medicine Woman of the Crows emerged. The biography is considered one of the first recorded accounts from the female Native American perspective. She inspired other Crow women - like her granddaughter Alma Snell, her great-granddaughter Beverly Big Man, and Crow historian Mardell Plainfeather - to live with a heart for learning and helping others. Pretty Shield may be remembered as a Medicine Woman, but she was a remarkable mother and grandmother, and that's worth noting!
Since one of women's roles was to collect plants and berries for food, as well as many other important jobs, some women chose roles as medicine women. They had a major function in the well-being of the Apsaalooke (Crow). They knew the medicinal properties of plants, what was edible and what was not, and what was used for certain ailments. This knowledge was usually passed down to them by generations of knowledge.
Mardell Plainfeather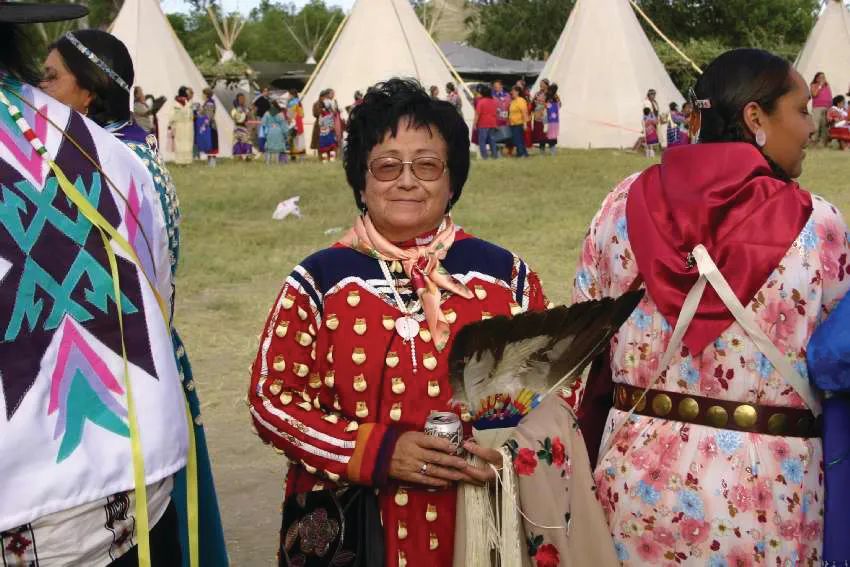 Mardell Plainfeather at Crow Fair | photo courtesy of Western Heritage Center
Pretty Shield married Goes Ahead (a Crow scout for George Armstrong Custer at the Little Bighorn) and had four children. Mardell Plainfeather, Crow historian and half-sister to Alma Snell, remarked: "Living and learning from a mother, grandmother, aunt, or relative is generally the way we learn," therefore a grandmother's role in a family - and tribe - is hugely important. And so it was that Pretty Shield taught her young family members to navigate a post-reservation world.
Her great-granddaughter, Beverly Big Man, remembers taking the team and wagon around (before cars) and going about daily chores with her Great-Grandmother. "She assigned everything… there was a day for washing, a day for gathering wood, a day for bathing - she'd smile as she combed our hair declaring 'no lice'…." Beverly laughed, continuing, "We [the grandkids] would hardly get anything done, always running out to play." Pretty Shield would call for the kids to be quiet while berry picking, "What if we saw a bear?" she'd call, and the kids would chorus, "We'd run to you!"
Beverly's love for her great-grandmother echoed in her heartwarming remembrances. She shared how disciplined Pretty Shield was, always up with the sun, filling a water basin, and washing up first thing as she sang her prayers. Then, she'd corral the children and teach them what she knew. "Though she limped when she walked, she'd set out a blanket while we looked for pieces of wood. We'd throw them on the blanket, and she'd carry it on her back, walking home with a big bundle." Beverly remembers watching her cut and dry strips of meat outside. She'd "designate the kids to watch for thieves [magpies], or else we'll be sitting there all winter hungry," Beverly chuckled, sharing, "We kids were worse than the magpies! We always snuck some and had a feast." If the children wanted to swim in the Little Bighorn River, Pretty Shield would first stand on the river's edge and sing the Red Clay song, having painted red clay on herself and bracelets on the children. [Red clay was used for protection and believed to be sacred.] She would ask the river's creatures to protect the children and not harm them, and in turn, she promised that her family would never eat from the river.
Beverly remembers her great-grandmother's perpetual smile and habit of throwing coins when she danced, which became a Crow tradition. She always gave to others. That compassion stuck with Beverly and her fellow Crow friends and family.
"We always knew she was on our side." -Beverly Big Man
Pretty Shield's passion for ethnobotany also inspired her granddaughter, Alma Snell, who became a lecturer and author. Alma is remembered saying: "My grandmother told me, 'Words are holy. Treat them with respect. There's power there.'"
Alma has since passed away but left a significant legacy in her own right. Her printed teachings on medicinal plants are a treasure to many still to this day.
Mardell Plainfeather and Alma Snell had the same father, George Washington Hogan. Remembering her older sister, Mardell shared, "Alma was an excellent ambassador and educator for the Apsaalooke. People whom I have met in my own career still remember her. They come up to me and tell me they heard Alma Snell's presentation on plants, and when they find out that she was my sister, they are overjoyed to meet me." Mardell became a historian, cherishing her tribal language, history, and culture, much of which was inspired by her parents and other Crow elders that went before her, like Dr. Joe Medicine Crow and Dr. Barney Old Coyote. Mardell grew up speaking Crow and echoes Pretty Shield's heartbreak for the loss of their culture and language.
I think each generation notices a loss. In the home I grew up, the Crow language was spoken nearly 100% of the time, but due to the need for education or to function in the mainstream of society, we had to learn and speak English more often than our own…. I found out it was gradually decreasing to even 30-40%... The Little Big Horn College is a major [help]. They teach a Crow language class, they teach how to write it, they conduct a Crow Immersion camp, and they have a program called Chickadee Lodge where Crow words are collected. They published a beautiful Crow Language Dictionary through the Crow Language Consortium recently. There are still many families who prefer speaking in Crow, so the language is still being taught at home and we realize the value of this and hope it continues.
Mardell Plainfeather
Mardell is passionate about teaching the Native ways and breaking stereotypes. "I would like to take this opportunity to tell our young people to learn about the past of the Apsaalooke people, where we came from, and who we are. And be proud of it!"
"My own mother, a typical Crow woman, said to watch and learn, and so we did." -Mardell Plainfeather
Pretty Shield's impact at home - and in her tribe - is a great reminder not to overlook the little things. You never know who is watching and learning from you. Showing up and caring for one's health, home, and family can have a significant impact, and knowing one's history and passing on life's lessons to those around you is a gift that will be remembered for years.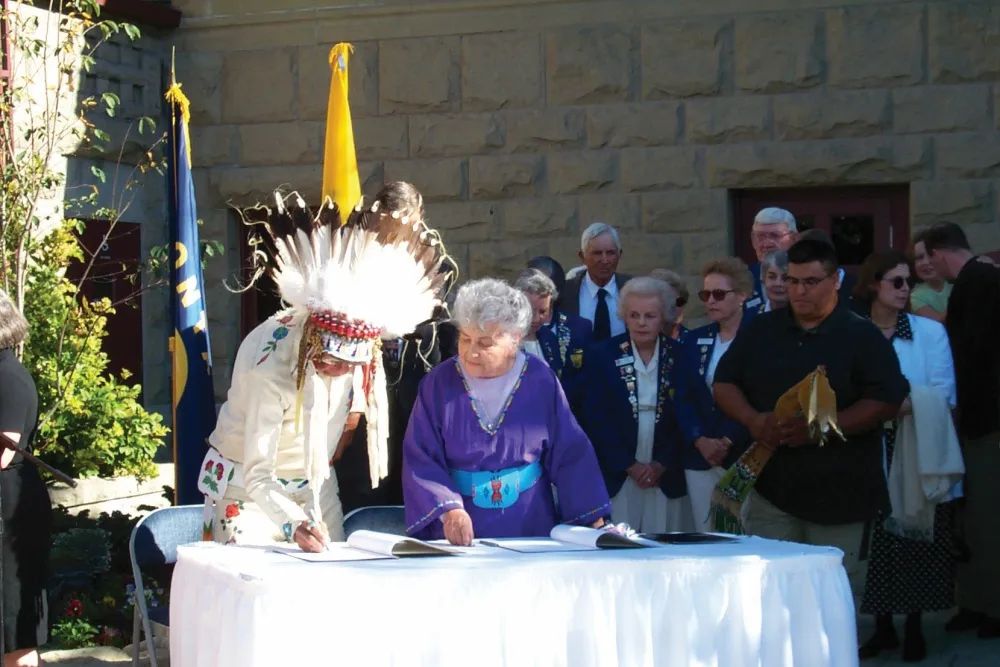 Alma Snell and Ben Pease at 2001 Smithsonian Days | photo courtesy of Western Heritage Center
To learn more:
Originally printed in the September 2023 issue of Simply Local Magazine
Never miss an issue, check out SLM's digital editions here!