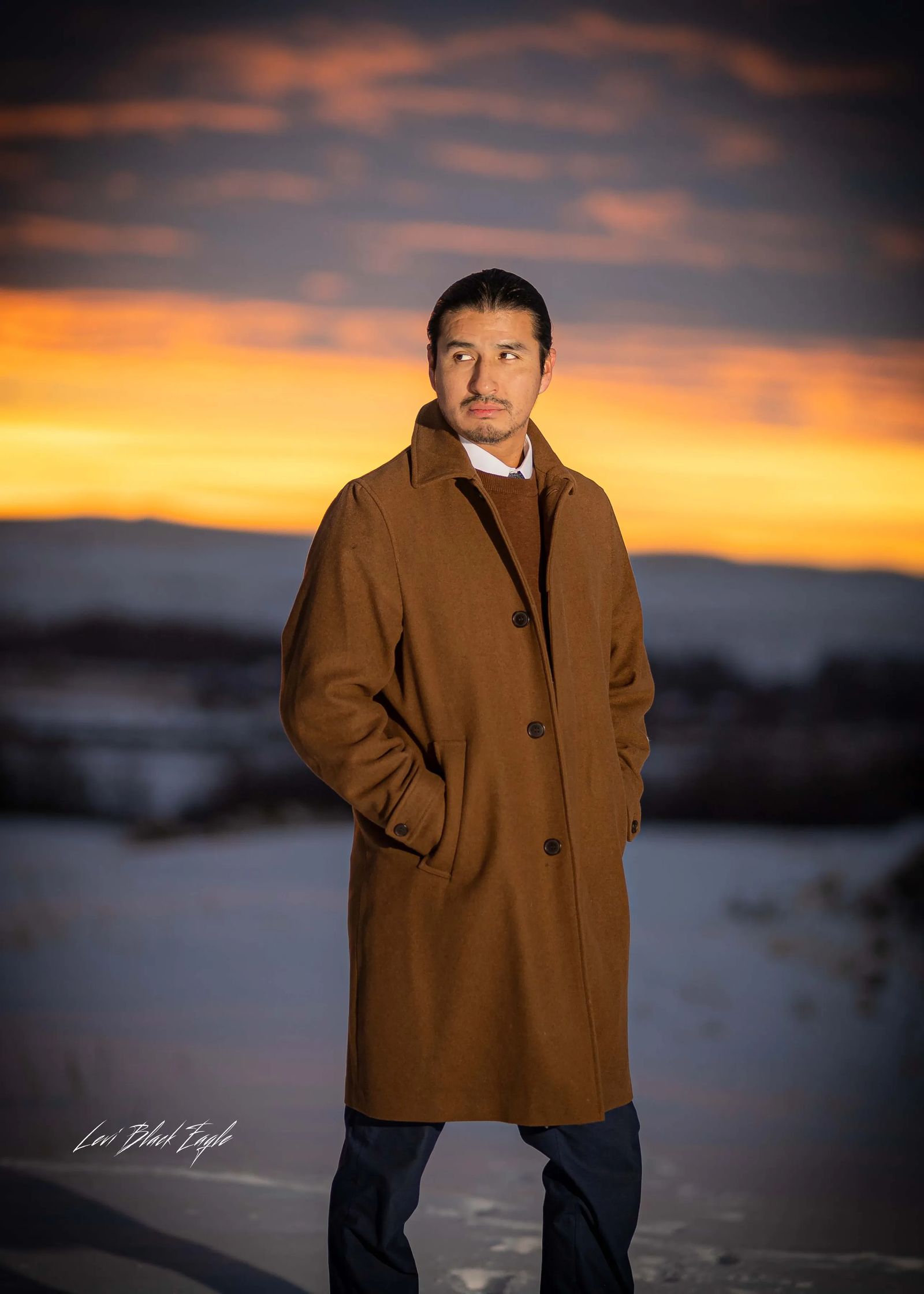 MSUB student and Secretary of the Crow Tribe of Indians, Levi Black Eagle. Photo by MSUB
MSUB Student Applies His Education in High-Level Crow Tribe Position
January 26, 2023
by Kelly McCandless, from MSUB, press release built by Courtney Madany, graduate assistant for University Communications & Marketing
Over the past few years, Montana State University Billings student Levi Black Eagle has developed an impressive resume that continues to expand. Besides being an undergraduate student studying political science at MSUB, he also serves as the secretary of the Crow Tribe of Indians and the Crow Tribe representative on the Montana Advisory Council on Indian Education (MACIE).
Raised in Lodge Grass, Montana, where he attended school, Levi began to work within the Crow Agency Public School system. His current job was the reason he chose to pursue a degree in political science at MSUB. "I found that politics really spoke to me on a primordial level. I thoroughly enjoy all aspects of politics from the local to the federal level, and if I can completely understand how and why the machine works, then it will help me to better navigate these waters that I find myself in."
MSUB was an easy choice for Levi as it is close to home. After graduating, he hopes to earn a master's degree in public service administration while continuing his current career path. "I would like to be involved in politics in some capacity - if not as an elected official, then maybe as a consultant or a constituent, just as long as I get to play my part to help facilitate change for the greater good."
As the Crow Tribe representative on the MACIE and as secretary of the Crow Tribe, he remains actively involved in his community. MACIE is an organization made up of representatives from the Tribes in Montana along with Indian education organizations, and rural and urban native school districts. Prior to representing the Crow Tribe on the MACIE board, Levi worked as an educator at the Crow Agency Public School. "Native Americans are the largest minority group in Montana, and at MACIE, we help to ensure that their best interests are being kept in mind regarding education," he says.
As for his current role as secretary of the Crow Tribe of Indians, it is a title that he is honored to carry and does so with the highest regard for the office. "It is not a job that I take lightly; it comes with great responsibility," he shares. Levi ran for office in 2020 and was inaugurated that December. In his role, he oversees the Council & District Records, facilitates tribal elections, maintains and updates voter registration, and more. Levi shares that he has an amazing staff that makes the job less stressful. He also attributes much of his success to his amazing wife who helps keep him grounded and cares for their three boys.
Levi is an enrolled member of the Crow Tribe, a Greasy Mouth Clan member, and a child of the Whistling Water Clan. He and his wife, Brocade, have been married for 15 years. They currently reside in Crow Agency with their three sons, Danger, Rivers, and Crimson, along with their dog, Ewok, and cat, Cheeto. In their free time, Levi and his family enjoy mountain ultra-running.