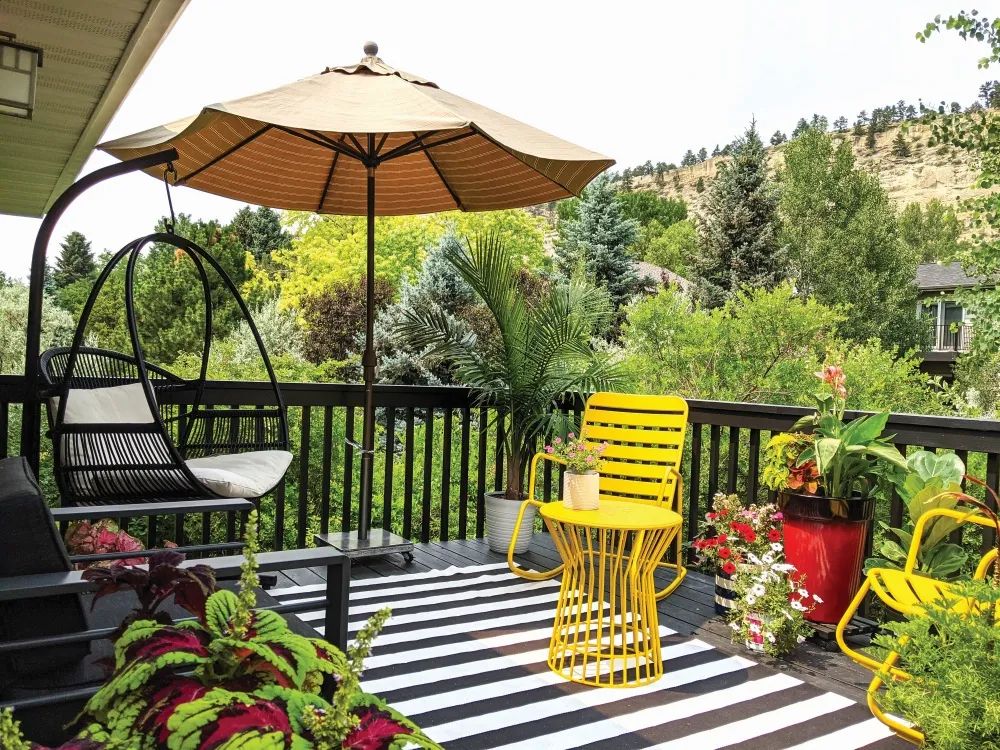 article & photos by renata haidle
Revamping an old-fashioned area of your home doesn't have to be a complicated and costly affair. Especially when it comes to outdoor spaces like decks or patios, a bit of research and creativity go a long way in designing something that feels new again.
the Background
A fresh coat of paint is a well-known trick to change the looks of any fixture. We applied the same idea to our main deck - a decade-old red cedar structure that had aged well with only honey-tinted coatings applied every other year. We gave it a brand-new look after sanding it and applying a couple of coats of dark charcoal paint. While it looked great right after finishing the paint job, there is one drawback we have to deal with constantly: water droplets will leave their marks every time it rains, and dust is much more visible on this charcoal background than it ever was on the honey-colored finish.
the Furnishings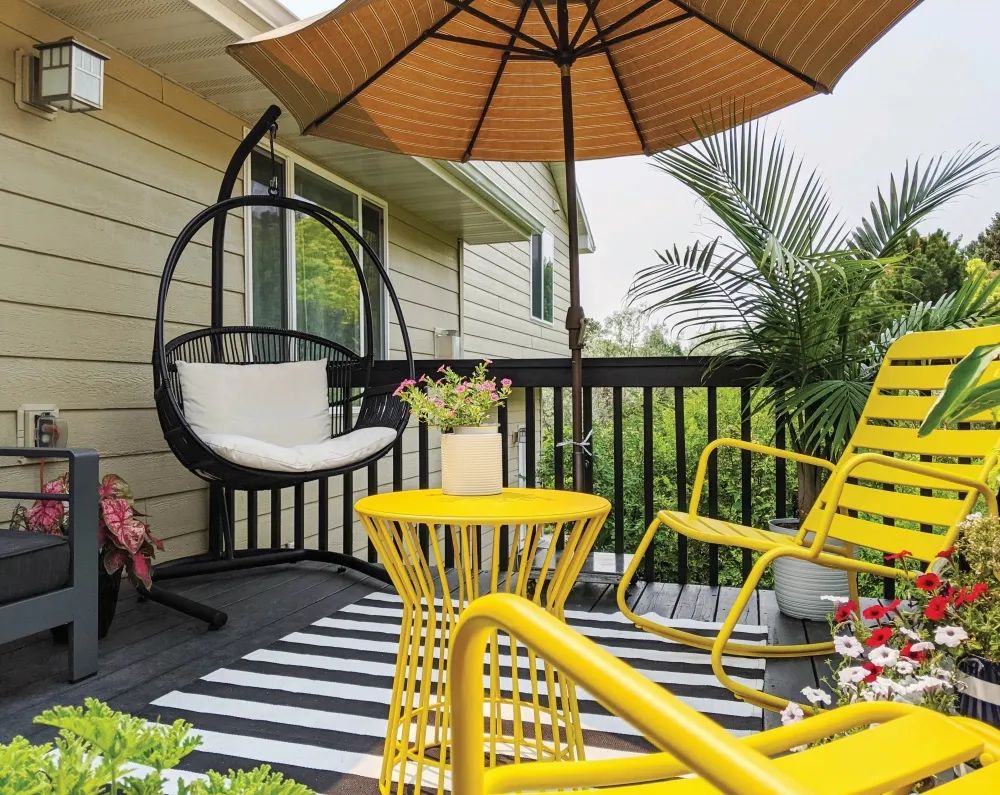 After
A very comfortable but old-fashioned lounge set (see before photo) from a big box store had served us well for the better part of a decade. I felt it was time to get rid of the tired synthetic wicker look and mustard upholstery (to be completely honest, I was never a big fan of that color). Finding an equally comfortable set was time-consuming due to the vast number of options out there. I wanted a conversation set. And a rocker. And a comfortable chair to sink into. Preferably all in one, but I couldn't find such a thing. Instead of buying one large set to replace the old one, I opted for separate pieces that seemed to go well together. The starting point was a set of two dark gray comfy chairs for lounging around with a friend over a glass of wine. Then I added two metal rocking chairs with an even better outdoor life expectancy - not that it rains a lot during our hot Montana summers, but you never know. Their bright yellow color, contrasting nicely with the dark gray, still makes me smile every morning when I go out there with my first cup of coffee. They came in a set with a small, sculptural, yet sturdy, matching table that was just perfect for the limited space we have. The furnishing part was completed with the addition of an egg swing chair with a stand, which went on to become the perfect spot for snuggling in with a book.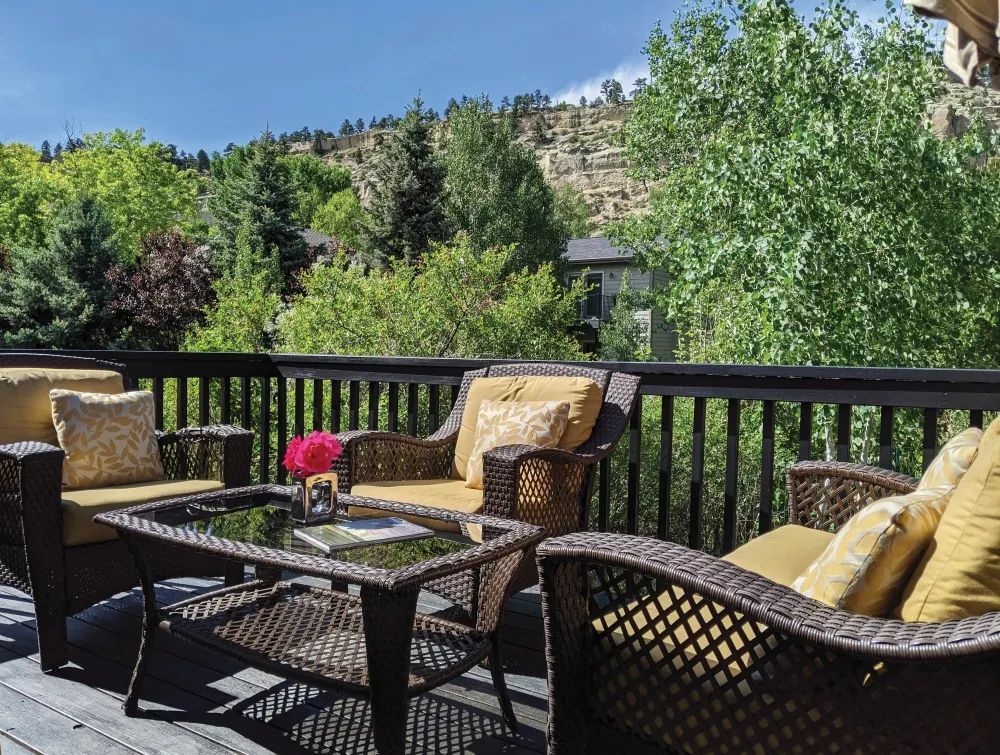 A very comfortable but old-fashioned lounge set from a big box store had served us well for the better part of a decade. | Before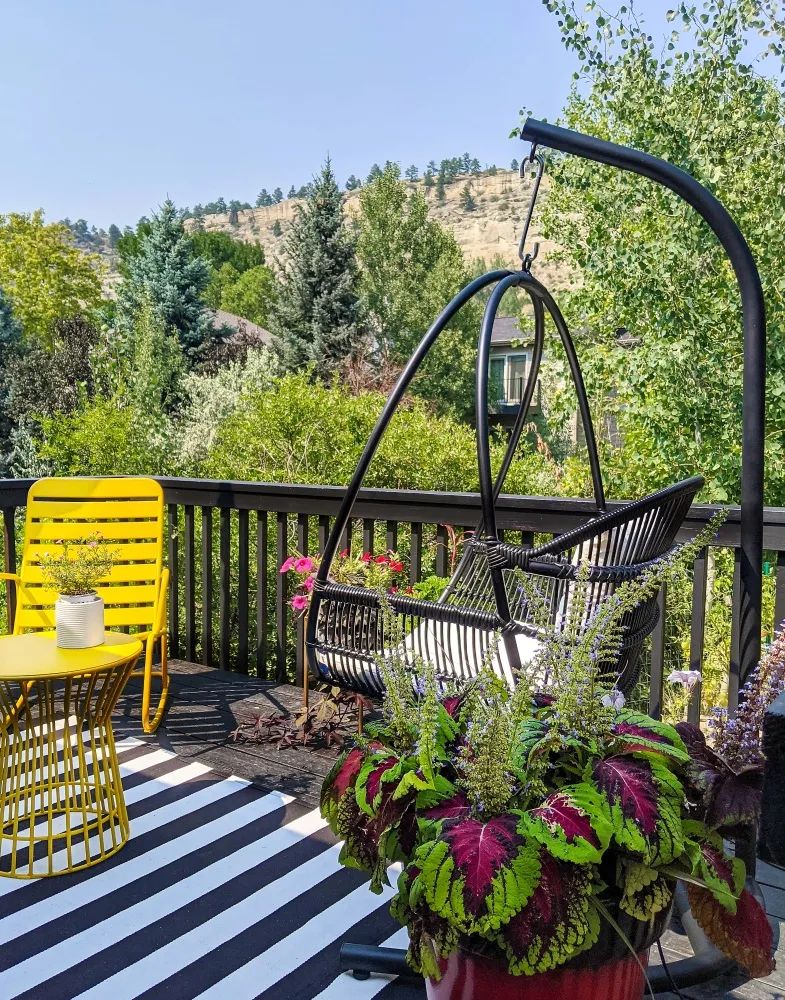 After the furniture was in place, I looked for an outdoor rug to complete the look. This was one of the most difficult choices, as I didn't have a specific print in mind. The black and white striped washable rug seemed to have the modern, contemporary look I was after. Easy to clean and light enough to pack and store on stormy days, it was a good choice that didn't disappoint.
Adding Shade
A retractable blind was added for privacy. It also helps to provide shade in the morning, when the sun is at a low angle. The umbrella, leftover from the old furniture set, has yet to be replaced. I just haven't found the right one yet.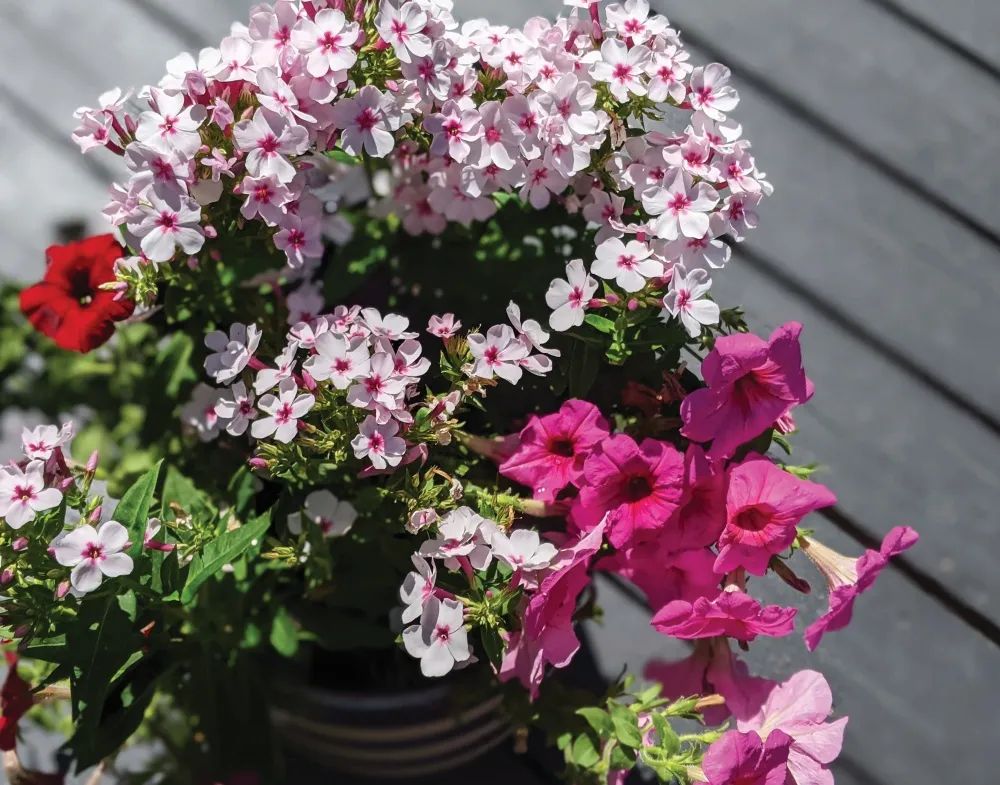 Phlox & Petunias
No outdoor space is complete without some plants to accomplish a seamless transition into surrounding nature. I filled pots of different shapes, heights, and colors with bright annuals that don't require wintering and can be replaced easily if needed as the season progresses. Phlox (a butterfly magnet), cannas, and petunias bloom all summer long, while the giant coleus stands out with its vibrant burgundy and chartreuse leaves and tiny lavender flowers. For the shady side of the deck, I opted for a heart-shaped caladium plant that requires almost no maintenance and retains its beauty for the length of the season. A large majestic palm tree fills an empty corner, provides privacy, and adds a bit of tropical flair reminiscent of island vacations.
The entire project's cost came under $1200, which seems a fair price to pay for creating an outdoor space that gets to be enjoyed by the entire family every single day from May until October.
Originally printed in the June 2022 issue of Simply Local Magazine
Never miss an issue, check out SLM's digital editions here!