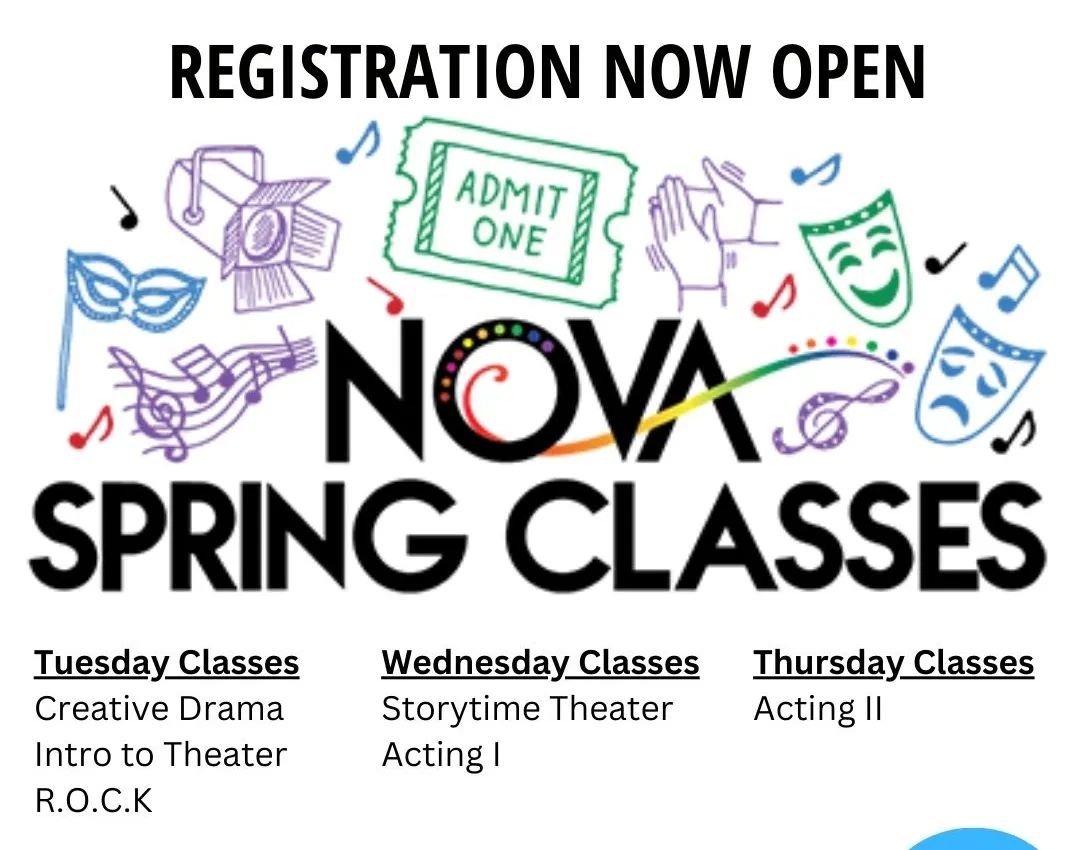 NOVA Opens Enrollment for Spring '23 Classes
December 13, 2022
NOVA Center for the Performing Arts Media Release
BILLINGS, MT | Enrollment is now open for NOVA Center for the Performing Arts Spring Youth Conservatory classes. NOVA will be offering classes starting January 10th through April 13th for all age groups. Available classes are: Rimrock Opera Chorus for Kids (R.O.C.K), Storytime Theater, Creative Drama, Intro to Theater, Acting I & II. Spring 2023 classes have been divided into categories based on experience level: Rising Stars, Super Stars, and Rock Stars. Two additional workshops are also being offered for students of all ages: All You Need is Love...of Music and Dots, Lines and Squiggles. These workshops will be taught by Dulais Rhys.
Class Descriptions:
RISING STARS:
Rimrock Opera Chorus for Kids (R.O.C.K) is NOVA's R.O.C.K class. Students will learn all about their instrument and how to use it! Students will be introduced to vocal placement, projection, rhythm, tempo, and much more, using a variety of musical numbers.
Storytime Theater is a new class offered at NOVA! In this class, participants will enter the world of the story to explore character, setting, conflict, point of view and specific details. Using improvisation, discussion and imagination, students work together to solve a problem that is central to the story.
In Creative Drama, students are introduced to the world of theater through storytelling, arts & crafts, theater games, and most importantly, their imaginations!
Intro to Theater is a basic introduction to theater skills. Students will become comfortable performing on stage by playing theater games, building characters, engaging imagination, and acquiring basic theatrical knowledge.
SUPER STARS:
In Acting I, students will learn the basics of acting such as listening, projecting, enunciation, ensemble work and more through various acting techniques, improv exercises, and theater games!
ROCKSTARS:
In Acting II, students will build on what they learned in Acting I to delve deeper into a script by learning to analyze scripts and characters and master their impulses through a series of acting exercises and scene work.
WORKSHOPS FOR ALL AGES
Dots, Lines & Squiggles- learn to read music 101! This class is available for teens and adults.
All You Needs is Love…Of Music- The best music never grows old. There is no better example of this than the songs of the Beatles from the 1960's, which are still sung, arranged and enjoyed today-more than half a century later! Beatles songs changed pop music forever. "Homework" will simply be to listen to a designated Beatles song. In class, we'll learn a little Beatles history followed by studying the designated song via an interactive worksheet. Learn what makes Beatles songs great and why this music has 'stood the test of time.' How many of today's pop songs will still be relevant in fifty years time?
Schedule:
Creative Drama
Times: 3:30-4:30pm
Ages: 6-8
Location: NOVA Center for the Performing Arts, 2317 Montana Ave, Billings, MT 59101
Dates: Tuesday 1/10-4/11 *No class the week of March 13
Showcase: April 11, 2023
Prices: $180
Intro to Theater
Times: 5:00pm-6:00pm
Ages: 9-12
Location: NOVA Center for the Performing Arts, 2317 Montana Ave, Billings, MT 59101
Dates: Tuesday 1/10-4/11 *No class the week of March 13
Showcase: April 11, 2023
Price: $200
R.O.C.K
Times: 5:30pm-6:30pm
Ages: 6 to 12
Location: NOVA Center for the Performing Arts, 2317 Montana Ave, Billings, MT 59101
Dates: Tuesday 1/10-2/14
Showcase: February 14th, 2023
Pricing: $180
DOTS, LINES & SQUIGGLES
Times: 4:00-5:00
Ages: 14-18+
Location: NOVA Center for the Performing Arts, 2317 Montana Ave, Billings, MT 59101
Dates: Tuesday 4/18-5/23
Showcase: May 23, 2023
Pricing: $150
STORYTIME THEATER
Times: 2:00-3:00
Ages: 4-5.5
Location: NOVA Center for the Performing Arts, 2317 Montana Ave, Billings, MT 59101
Dates: Wednesday 1/11-2/15
Prices: $120
ACTING I
Times: 3:30-4:30
Ages: 9-13
Location: NOVA Center for the Performing Arts, 2317 Montana Ave, Billings, MT 59101
Dates: Wednesday 1/11-4/12 *No class the week of March 13
Showcase: April 12, 2023
Price: $225
ALL YOU NEED IS LOVE…OF MUSIC
Times: 4:00-5:00
Ages: 14-18+
Location: NOVA Center for the Performing Arts, 2317 Montana Ave, Billings, MT 59101
Dates: Thursdays 1/12-4/13 *No class the weeks of March 13 & March 20
Showcase: April 13, 2023
Pricing: $200
ACTING II
Times: 4:30-5:30
Ages: 13-18 or Varies by experience
Location: NOVA Center for the Performing Arts, 2317 Montana Ave, Billings, MT 59101
Dates: Thursday 1/12-4/13 *No class the week of March 13
Showcase: April 13, 2023
Price: $225
Register: