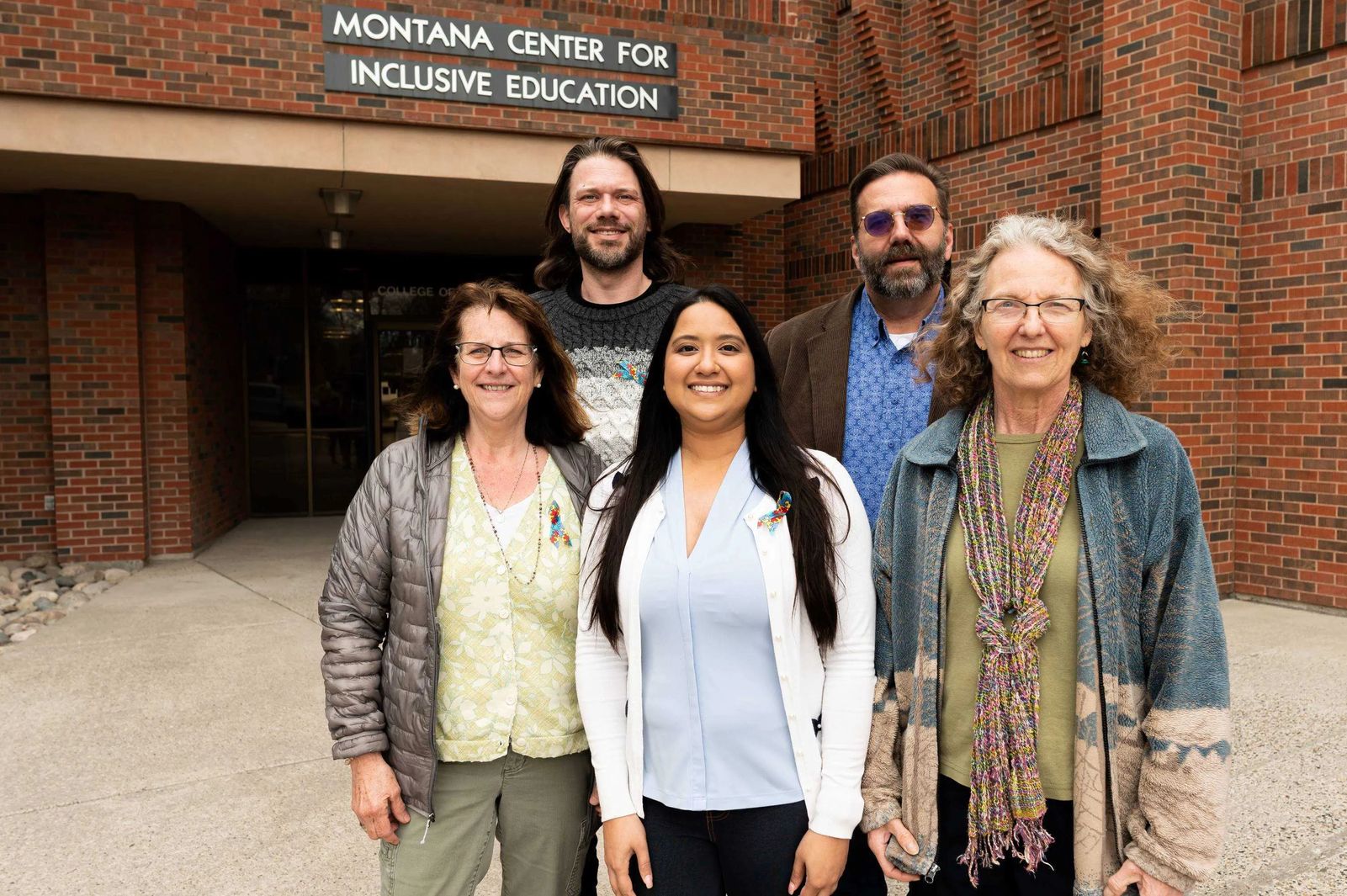 Photo Credit: MSU Billings. (B, L-R): Michael Passage, Tom Manthey (F, L-R): Rene Rossell-Yarbrough, Krystin Hussain, Laura Nicholson
MSUB Announces Institute for Neurodiversity & Applied Behavior Analysis
May 31, 2022
by Kelly McCandless for MSU Billings
Montana State University Billings recently announced the newly launched Institute for Neurodiversity and Applied Behavior Analysis at the Montana Center for Inclusive Education (MCIE) on university campus. The Institute will serve children in the region with mental, social, and behavioral differences associated with autism spectrum disorders, developmental disabilities, similar mental health disorders, and other behavioral disabilities, by providing direct and telehealth clinical support.
"Our community is lacking adequate access to necessary, evidence-based interventions for neurodiverse individuals, especially with autism," said Dr. Laura Nicholson, Medical Director of the Institute. Krystin Hussain, director of the Institute, explains that "Neurodiverse children, specifically children with autism, can thrive when provided services early in life. Applied Behavior Analysis (ABA) is an individualized evidence-based treatment that improves life outcomes of children by teaching important skills, such as communication, social skills, and life skills." Adding that the Institute will focus on providing high-quality ABA services to guide families toward a better quality of life.
"We're going to start out with about 5 to 6 children in early intervention and about 6 to 9 children in our social skills group," Hussain continued, noting that these numbers are only estimates and will be based their waitlist, how many hours of treatment are appropriate for each child, and staff availability.
The Institute will begin serving clients this summer and will train applied behavior analysis practitioners onsite and remotely. Seven behavior technicians will also be on staff to provide care and support. MSUB's applied behavior analysis students will also have opportunities to conduct their supervised practicums required for their professional certification within the Institute, giving them an in-house learning experience. MSUB's ABA graduate program currently has 49 students. In addition to working with ABA students, the department works with psychology and mental health counseling students and plans to include several different departments within MSUB. "The goal of the Institute is to serve the community in as many ways as possible, so we hope to provide additional services as we grow and provide various training opportunities for students at MSUB," Hussain explained.
"The Institute for Neurodiversity has a new way of viewing human differences," said MCIE Director Tom Manthey, Ph.D. "Neurodiversity is seen as within the normal variation of human differences and in many cases, children with neurodiverse conditions have significant strengths not recognized by the traditional view of disabilities." Manthey added that this new perspective of focusing on abilities allows them to develop services that recognize the inherent worth and dignity of children with neurodiversity and develop the services they need.
If you'd like to learn more about the services available through the Institute for Neurodiversity, visit www.msubillings.edu/montanacenter/institute-for-neurodiversity.htm. You can also call the Institute at (406) 657-2323 or email them at institutefornd@msubillings.edu to speak with someone on the team who can answer specific questions. If parents are interested in being placed on the waitlist, they should also call the Institute number and to learn more about the intake process.