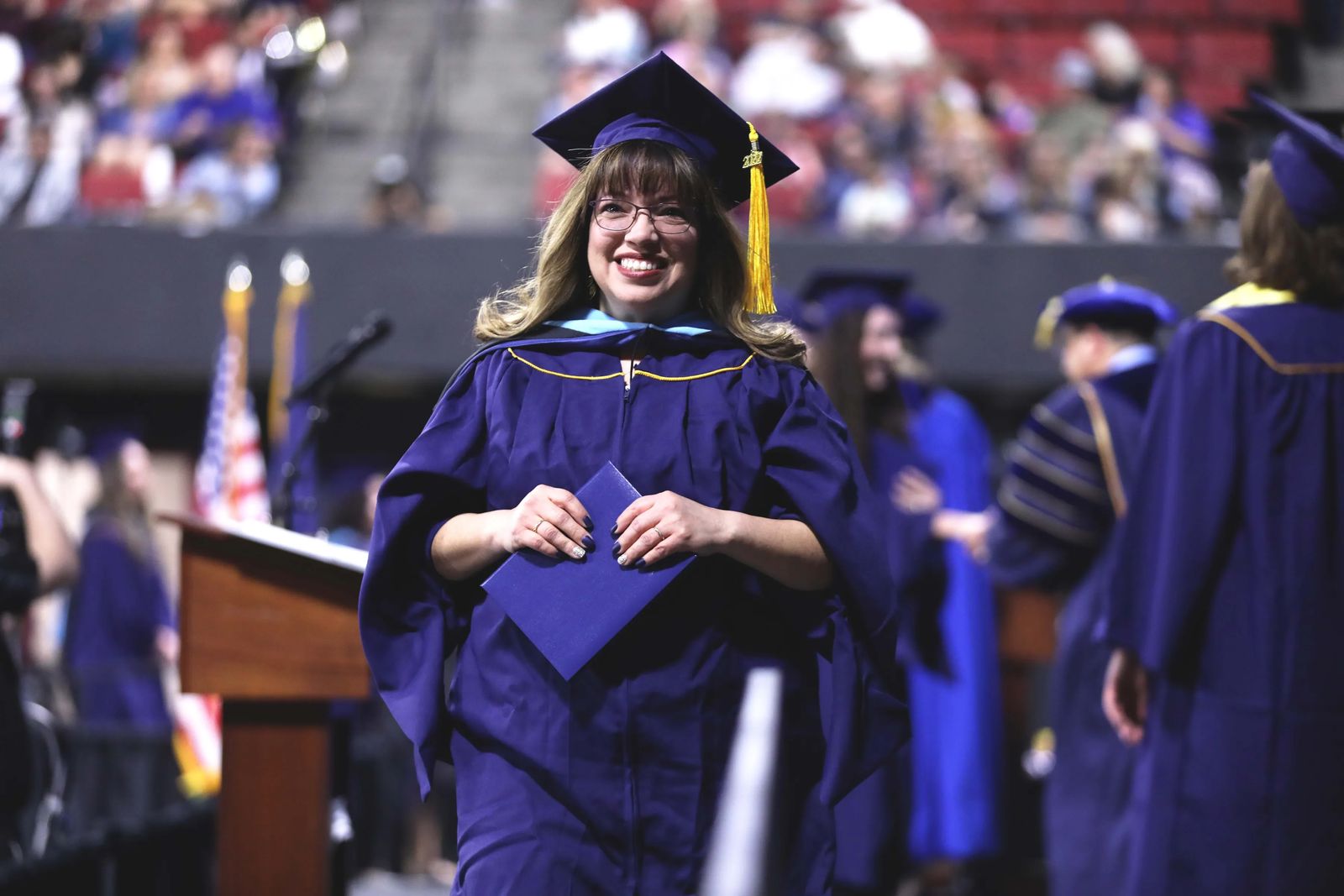 MSU Billings Students' Grit Takes Her to the Finish Line
August 24, 2022
by Kelly McCandless | from MSU Billings Media Release
Angelica Johnson, a candidate for an educational master's degree at Montana State University Billings, has not taken a traditional path to either of her degrees.
A native of Billings, Montana, Johnson first attended MSU Billings in the 1990s. It was in a Spanish class on campus that she met her husband, Brooks Johnson: the happenstance meeting between the two eventually led to a marriage and four children. Angelica Johnson stopped attending school after the birth of their first child, while her husband continued at MSUB to complete his degree.
Johnson had a dream of one day completing her college degree. A decade later, with the encouragement of her husband and family, she returned and completed an elementary education degree. The youngest of ten children, Johnson was the first in her family to graduate from college, and her husband supported and celebrated her accordingly from the stands as she walked across the stage at commencement. After becoming an alumna of MSUB, Johnson went on to teach special education at a Billings elementary school.
A tremendous tragedy struck the family in November 2016, with the sudden death of Brooks Johnson. His death turned the world on its axis for the Johnson family, and Angelica Johnson found herself a single mother providing for her family on a teacher's salary.
However, through her grief, Johnson found a passion for special education. With the support of her family, friends, and coworkers, and a drive to continue her education to show her children that anything is possible, Johnson returned to MSUB once again to complete a master's degree in special education. Despite her circumstances, she once again walked across the stage to signify the completion of her studies this past spring.
While her husband wasn't there this time to see Johnson cross the stage, her children and extended family watched from the stands and cheered in his place. "For many years, I didn't think that I was capable of succeeding in college," says Johnson. "However, here I am today and doing what my family and close friends believed I could do and what Brooks always knew that I could do. I stopped making excuses, and I just did it."
Johnson adds that while completing both her degrees, working full time, and raising her family was exhausting, the challenge shaped her greatly, and she hopes that others remember her story when they face difficulties. She's proud of the growth she has had during her time as a student, and thanks those around her for the support they gave her as she worked through her most recent degree. "Without my children, family, friends, and, most importantly, my faith," says Johnson, "none of what I have accomplished since my husband's death would have been possible." With just seven credits left in her coursework, Johnson plans to fully complete her studies this summer.
Learn more about the Master of Science: Special Education Generalist Option.