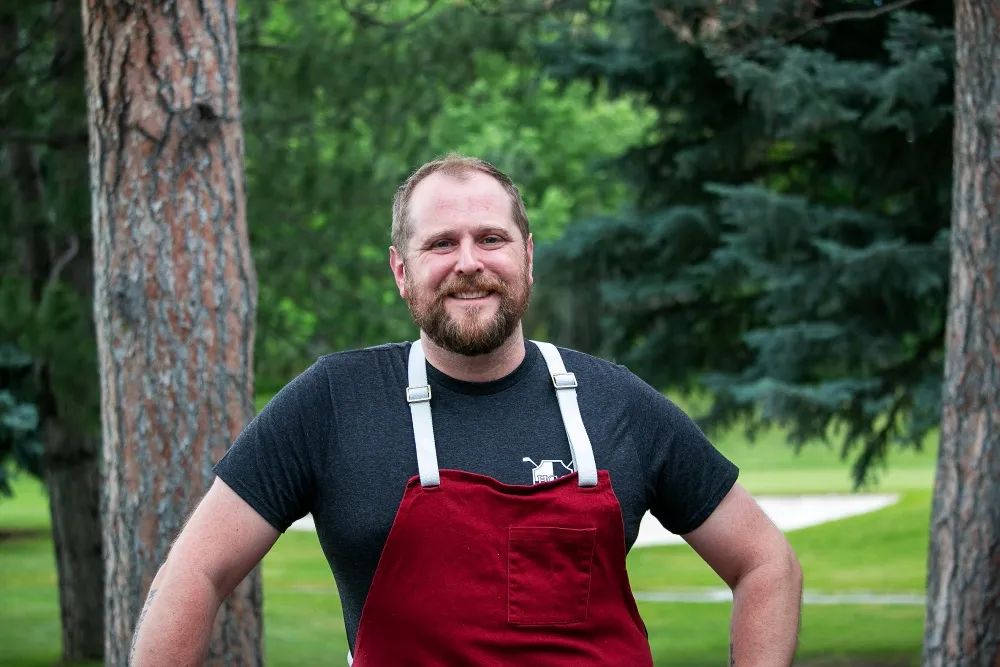 Meet the Chef: Dirk Frickel
September 2022
article & photos by renata haidle
"I like to always improve, improve, improve - whether it's service, the food, or the quality of product."
- Chef Dirk Frickel.
Many chef stories share a familiar thread: "I started as a dishwasher, then moved on to preparing breakfast, then lunch, then dinner." And Dirk Frickel, executive chef of Hilands Golf Club, is no stranger to this narrative.
Born and raised in Laurel, Chef Frickel fell in love with cooking as a teenager, almost by accident. While still in high school, he started working at the Owl Café in Laurel, a restaurant his mother owned. After a few years of hands-on experience in the kitchen, he moved to Portland to attend Le Cordon Bleu College of Culinary Arts. It was there where he polished his skills in classic French-style cooking and where he found a new appreciation for locally-grown food. While working for a little French bistro in Portland, he had the opportunity to visit local farms and talk directly to farmers and ranchers - people with a real passion for delivering high-quality food products. Upon returning to Laurel a few years later, he wanted to bring this approach to the community he lived in and the Owl Café. This was in the early 2000s, and locally-grown food was not nearly as accessible in our area as it is today.
Seven more years passed before he moved to Billings and started work at the Hilands Golf Club. He gained even more experience and eventually became executive chef and food and beverages manager. His desire to put locally-grown food on the plate is still strong; he and friend Eric Traeger, then owner of the Bridge Creek Backcountry Kitchen and Wine Bar in Red Lodge, began a collaboration with the Livingston-based Western Sustainability Exchange, an organization dedicated to environmental stewardship of the land as well as the availability of healthy local food for Montanans. The timing was right, as other Billings chefs and food suppliers (like the now-closed Good Earth Market) were also getting involved in the movement. The rest, as the cliché goes, is history.
Nowadays, Chef Frickel is delighted to be able to offer his guests a menu based on locally-sourced products: greens from Tiny Forest and Swanky Roots, lamb from High Five Meats, beef from Miller Ranch and Charter Ranch, produce from Greybull Valley and Lady Kate's Garden, and Hutterite chicken, to name a few.
His community-minded attitude and commitment didn't stop there. Coming out of the pandemic lockdowns in early 2021, Chef Frickel was determined to help strengthen the restaurant industry, heavily hit by restrictions the year before. Together, with other chefs and restaurant owners, he founded Billings Social Collaborative - a space meant to encourage and support each other, putting collaboration over competition. Chefs share and promote each other's events, post job openings, ask for help if needed, and have a safe place to discuss various issues in the hospitality business with like-minded people.
Always faithful to the concept of locally-sourced food, Chef Frickel has been instrumental in organizing outings for the group to visit local food and beverage producers. "We went to Miller Ranch, and we took a tour out there," he says. "We've been to Lady Kate's Garden. We went to the Cider Mill, and Travis, the head cidermaker, took us to the back and talked to us about the pressing process, and where they get their apples from. We've been to By All Means, and they walked us through and gave us a very in-depth tour showing how they brew their beer. They talked to us about the ideas and philosophies of their brewing process. So we got to know those guys and learn what their passion is and why they do what they do."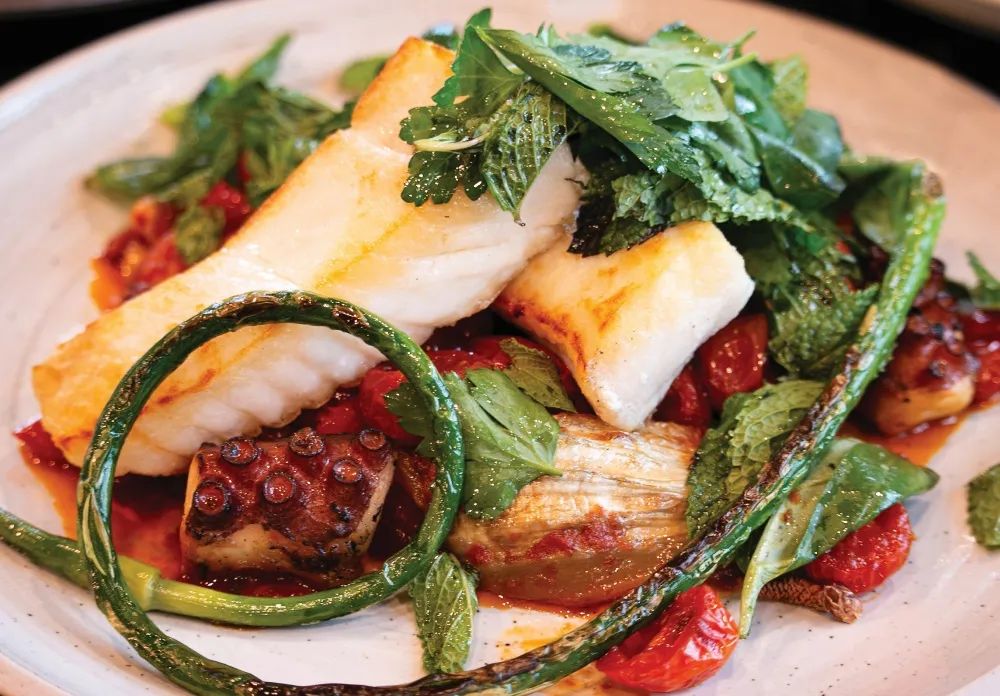 Pan-seared halibut with braised fennel, tomatoes, octopus, and garlic scapes
Originally printed in the September 2022 issue of Simply Local Magazine
Never miss an issue, check out SLM's digital editions here!