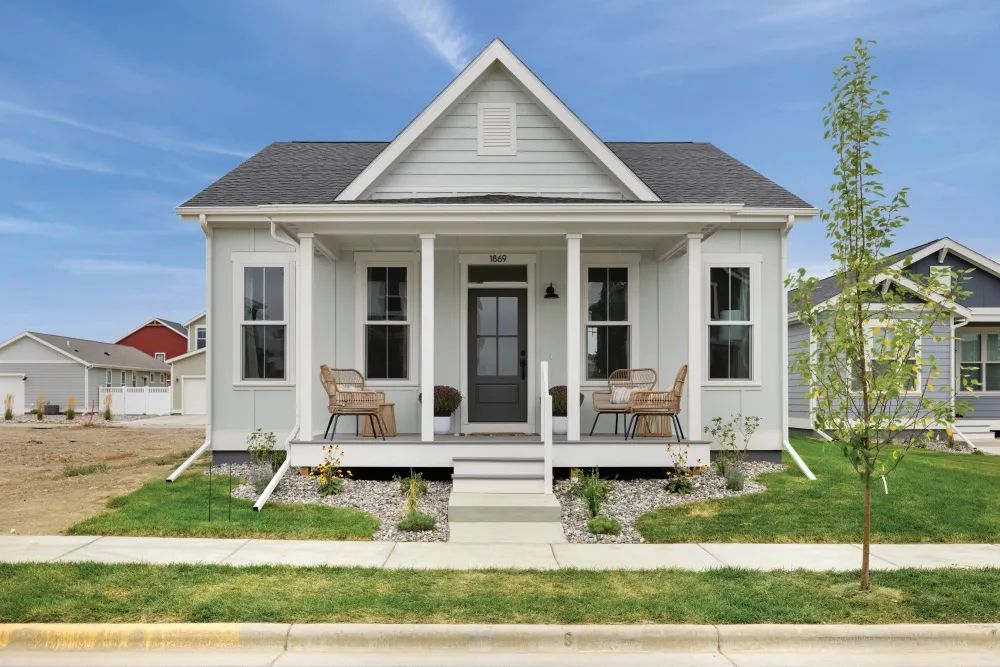 Affordability Meets Artistry: McCall Homes' Moondance Shines Bright
November 2023
article by Carolee McCall | photos by Nathan Satran
Often, the Parade of Homes is an extravaganza. It's a huge event, nearly a year in the making, full of intricate details and show-stopping features. Homes like this are challenging to build and exciting to showcase. I love seeing the work that goes into every detail. But there is one thing that comes with all of this that is a challenge in today's housing market: a hefty price tag.
If you haven't heard (you've heard, I know), the market today is tricky. Home prices continue to rise, and currently, so do interest rates. That means more and more people don't have a hefty price tag in their budget. But people still need homes. As a result, in recent years, when McCall Homes enters a home into the Parade of Homes, we focus on affordability (but, ya know, still cute). 
If you're unfamiliar with the neighborhood style we build, let me tell you a little about Annafeld. Ou homes often feature front porches, a lovely transition from the home's private space to the street's public space. It's a place where you can chat with your neighbors on their evening walk without feeling like you should invite them inside (because the kitchen is still a mess from dinner, and who needs that kind of embarrassment). 
This leads me to sidewalks. Because people need someplace to saunter after eating too many dinner rolls. And do you know how someone has parked too far down in a driveway and blocked the sidewalk when you're out on a stroll? Well, we took our garages and put them on the back of the home. They're accessed by a carriage lane (that's code for alley, but it sounds nicer). And with fewer interruptions on the sidewalk, this also means less worrying about the kids cruising down the sidewalks on their bikes. There's already so much to worry about; let's cross that one off the list.
And while we're talking about kids, this is their kind of place. There are parks all around, some big and some small. Some have playground equipment and big sidewalk loops where the kids can see just how fast they can get that scooter going. Some are just open spaces, great for playing catch. Our newest park in Annafeld features a half basketball court with an adjustable hoop 'cause kids are short.
Later, when the kids are ready for a treat, walk on up to the incredible Maple Moose Coffee and Pop Shop for some ice cream and pop. In the morning, swing by the drive-thru for coffee on your way to work.
This year's Parade home is our Moondance plan. (If you're wondering where that silly name comes from, it's the smaller version of our Sundance plan. When it came time to name it, someone-to-remain-unnamed jokily suggested Moondance, and it stuck. And yes, every time I say it, Van Morrison starts playing in my head.) The Moondance is a 3-bedroom, 2-bathroom single level floor plan. 
The home features an open floor plan where the entry flows into the living room and the living room into the dining room, just off the kitchen. Tall windows at the back of the kitchen draw you through the spaces. Moving toward the garage at the back of the home, a notch in the hallway makes the perfect space for a drop zone. While tucked on the other side of the kitchen windows lies the patio.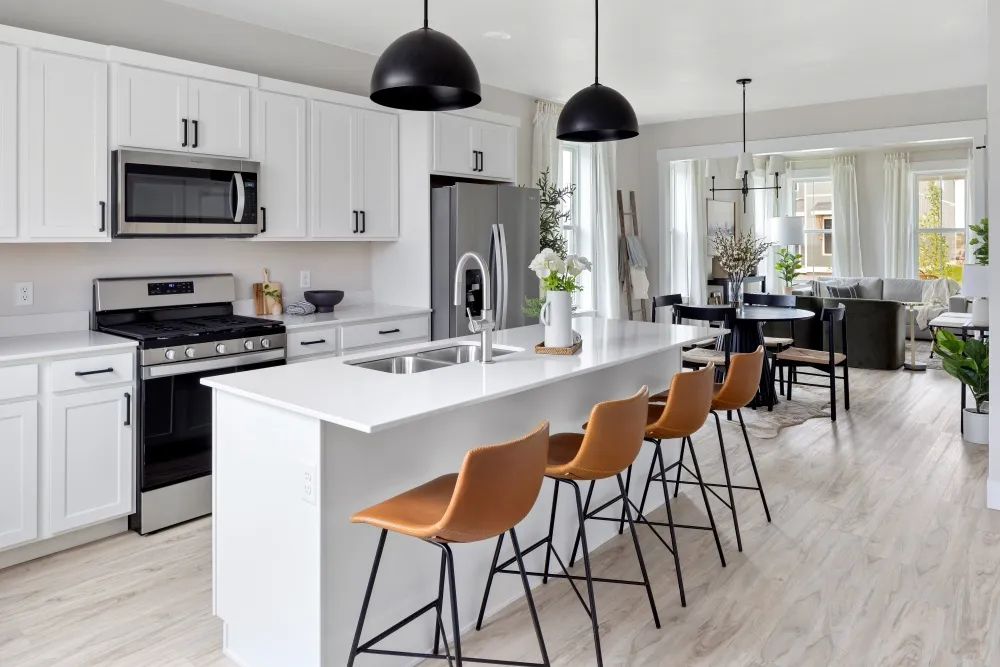 The primary suite is nestled toward the back of the home near the kitchen so that getting your coffee first thing in the morning isn't too much of a struggle. The bathroom includes a double vanity to reduce any elbowing of significant others when brushing their teeth.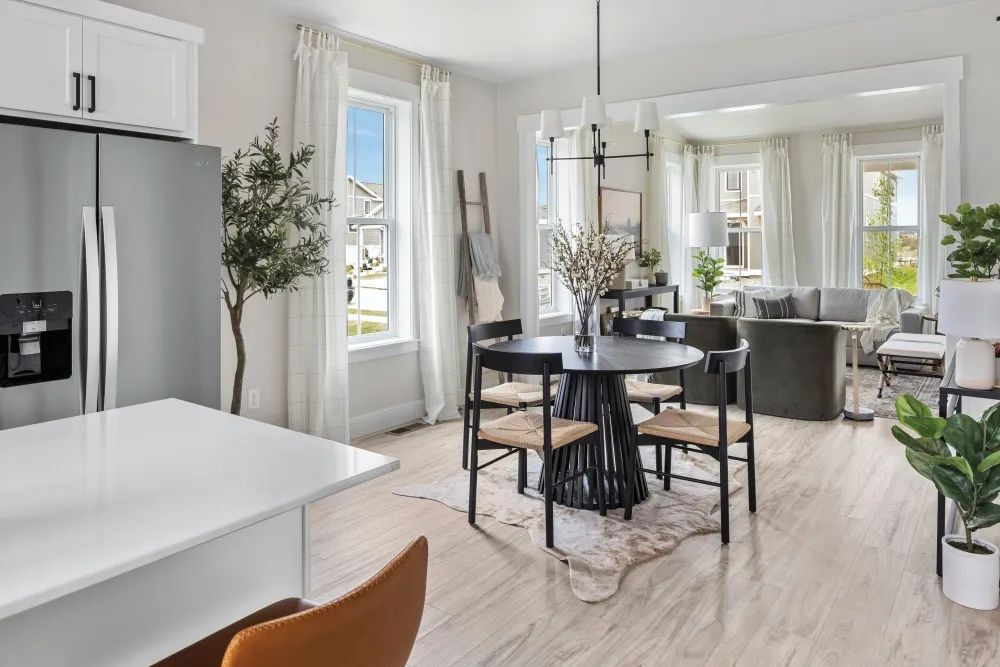 Tall, southern-facing windows capture natural light while the décor brings in black accents and warm, earthy tones to keep the space grounded.
Off the living room, two other bedrooms and a bathroom complete the home. In decorating Parade homes, I always like creating an imaginary family and ensuring the spaces work for them. This year, our family features an only child. She's a little girl who dreams of visiting the places in her favorite movies. Her mom works from home and uses the final bedroom as her office space.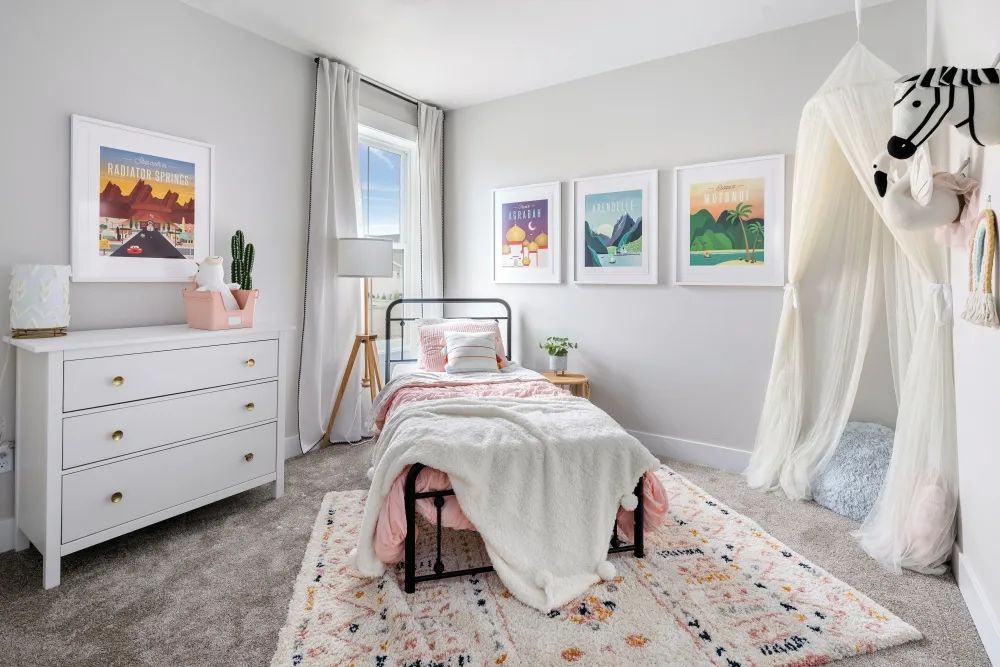 Since this picture was taken, my daughter has declared most of the items in this room as hers.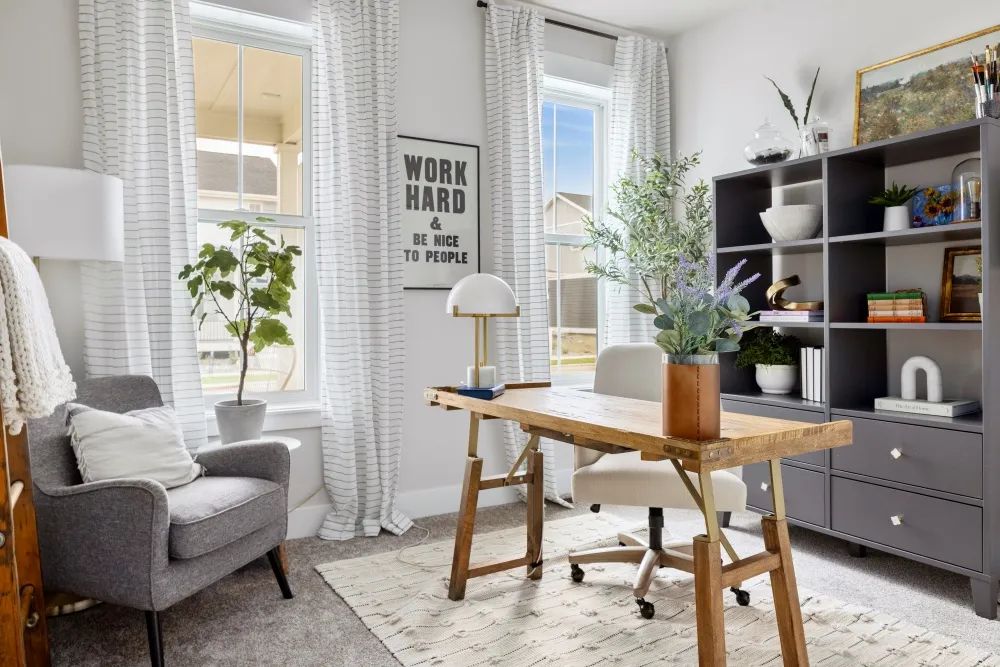 Decorating a home for only a few weeks means lots of borrowing all of the best stuff from your team. Everything from this office came from my home office. If only I had a picture of my children's faces when they walked past my office and saw it empty one day.
Our mission at McCall Homes is "Empowering people.  Building community."  One of our favorite things is hearing from people who walk into our Parade home and say, "Now this is something I could live in!" We want you to know that even in this challenging housing market, this IS a place where you can live.  And even more important, you can own your own home where you know your neighbors, your kids are safe to play, and you can have coffee with your friends on your front porch or walk down to the coffee shop on the corner.  Welcome home.
A special thanks to Taylor Williams and Abby Mitchell for their help with the design and staging of this home.
Originally printed in the November 2023 issue of Simply Local Magazine
Never miss an issue, check out SLM's digital editions here!