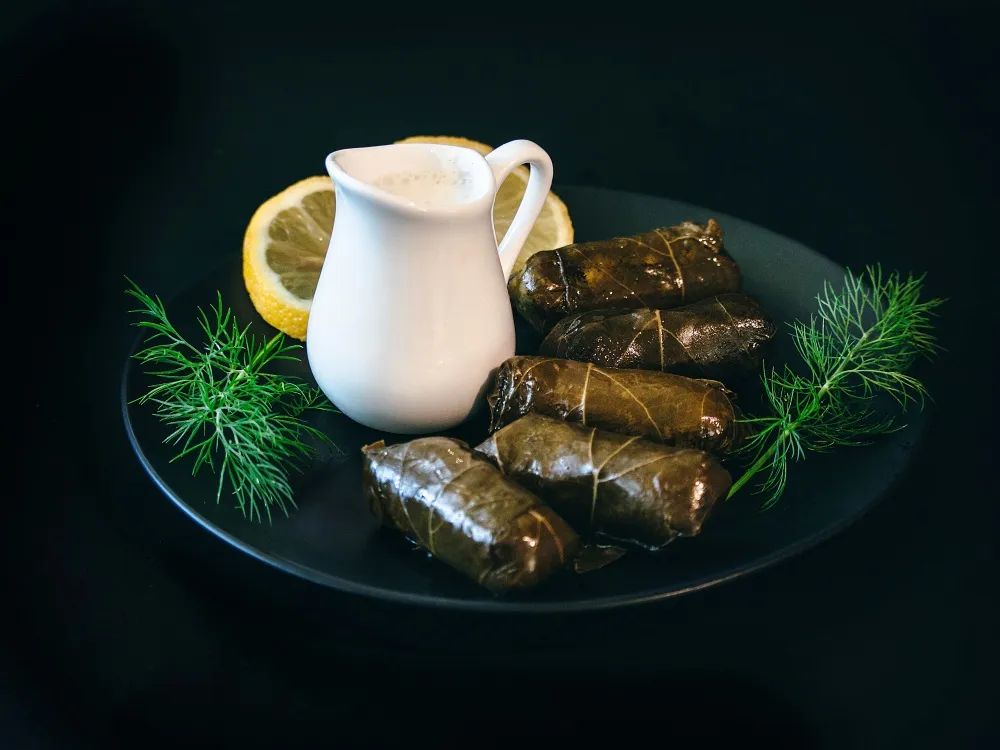 Stuffed Grape Leaves
September 2023
recipe & photo by renata haidle
This recipe for traditional Romanian stuffed grape leaves, or "sarmale," has been in my family for three generations. As a vineyard owner, Grandma always had brined grape leaves on hand to make these small, savory rolls. Not only were they a staple at festive meals and holidays such as Christmas and New Year's Eve, but they would also make an appearance at late summer dinners al fresco, accompanied by a pot of fresh sour cream and piping-hot, creamy polenta.
Ingredients:
1 pound ground pork
1 medium yellow onion
1 carrot
3 Tablespoons white rice, rinsed
1 egg
1/2 Cup chopped dill
1 Cup chopped parsley
2 teaspoons salt
1 teaspoon black pepper
Juice from one lemon
1 jar grape leaves in brine (the Krinos brand is easy to find in most supermarkets)
Makes 8-10 servings.
Directions:
Finely grate the onion and carrot.
Combine with the ground pork, rice, egg, and herbs. Season with salt and pepper.
Stretch a grape leaf on your left hand, smooth side down, and place a spoonful of the meat mixture in the center.
Starting at the bottom of the leaf, wrap it carefully to form a small 2-inch roll, tucking in the ends. Do not roll too tight, as the rice will need room to expand. Repeat the process with the remaining mixture.
Place a few grape leaves in a deep, medium pot and completely cover the bottom. Add the stuffed grape leaves in tidy concentric rows.
Cover with a few more grape leaves, and top everything with one inch of hot water.
Simmer on medium-low heat for 2 hours until most of the water has evaporated and the rice has softened (you might have to try a roll to ensure it is cooked).
Add the lemon juice. Keep simmering on low for 15 more minutes.
Serve hot with sour cream and polenta.
Originally printed in the September 2023 issue of Simply Local Magazine
Never miss an issue, check out SLM's digital editions here!