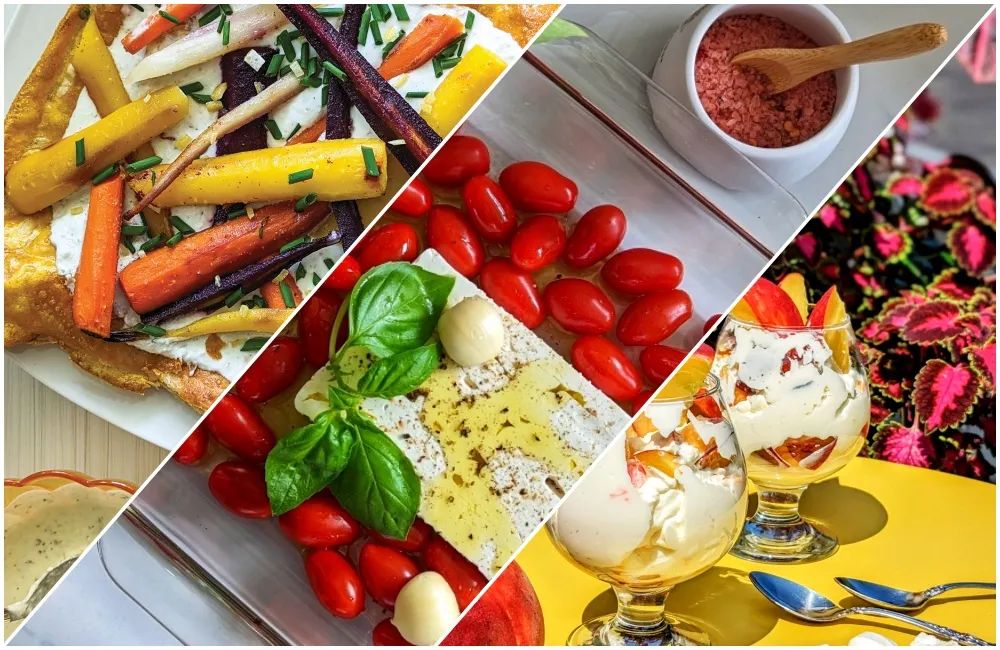 A Flavorful Feast: Recipes
August 2023
article & photos by renata haidle
Whether you're a backyard gardener or a large-scale producer, August in Montana is a time of bountiful harvest. Our growing season might be short, but nature's generosity shines through this last month of summer, offering an array of fresh fruits and vegetables that delight the palate and nourish the body.
If you're looking for a few new recipes, we've got you covered. We kept them short and simple. With so much to enjoy outdoors this month, who wants to slave away in the kitchen on a hot summer day?
Feta and Grape Tomatoes Pasta Sauce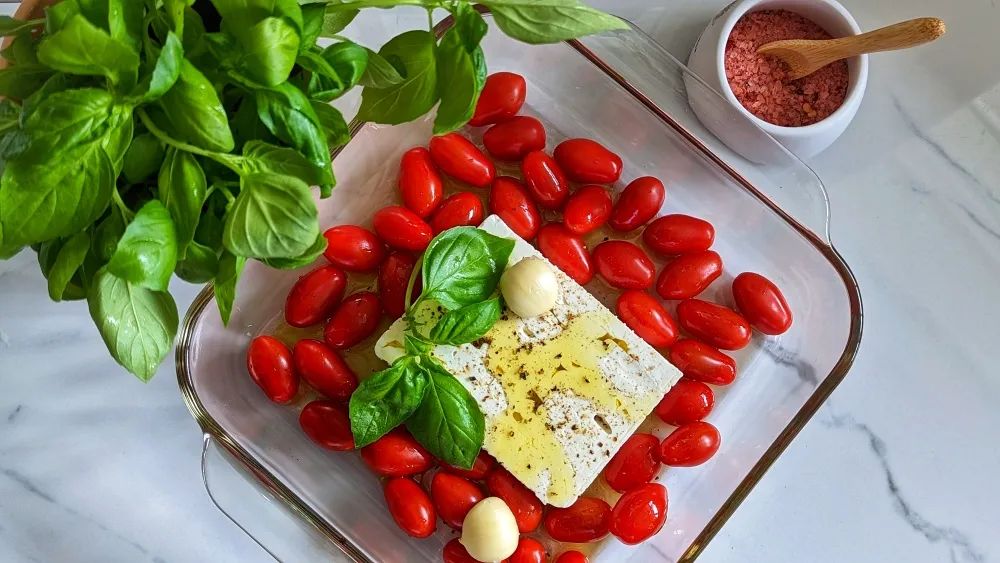 An internet sensation, this recipe went viral for its simplicity and deliciousness.
Ingredients:
10 oz feta cheese in brine (drain before using)
10 oz grape tomatoes
3 Tablespoons extra virgin olive oil
2 cloves garlic
1 small sprig of basil (about 5 leaves)
¼ teaspoon dry oregano
¼ teaspoon freshly ground black pepper
½ teaspoon salt
Makes about 1 ½ cups of sauce.
Place ingredients in an oven-safe dish and bake for 35 minutes at 400F.
Let cool for 15 minutes, then blend into a sauce.
Toss with your favorite pasta, or use it as a dip or sandwich spread.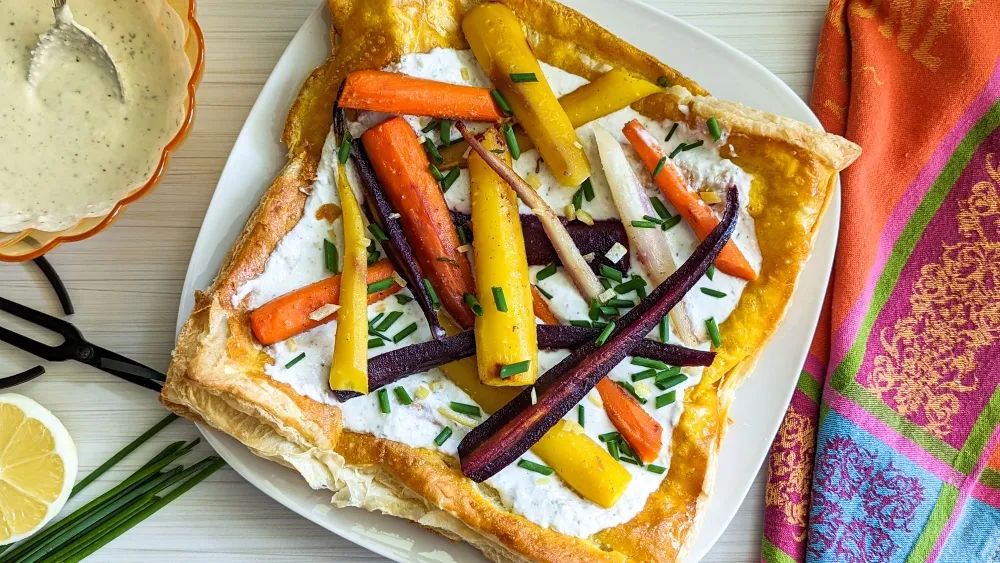 Thaw a package of premade puff pastry, whip some feta with Greek yogurt and spices, and roast (or grill) a bunch of carrots. Assemble everything, and you'll have a light and tasty tart in less than an hour.
Ingredients:
500g store-bought puff pastry, thawed
1 egg
1 large bunch of carrots (approximately 2lbs)
2 Tablespoons coconut oil
8 oz feta
5 oz plain Greek yogurt
1 cup fresh cucumber, grated
2 garlic cloves, minced
1 teaspoon fresh lemon juice
1 teaspoon salt
1/2 teaspoon black pepper
Optional: chives, parsley, and lemon zest to decorate
Makes 8 servings.
Directions:
Preheat the oven to 425F.
Clean the carrots and slice longitudinally in ½ inch strips. Toss with the coconut oil, season with salt and pepper, and roast in the oven for 40-45 minutes or until soft and slightly caramelized.
While the carrots are roasting, use a food processor to whip the feta with the yogurt, garlic, and lemon juice. Add the grated cucumber and mix gently. Place the spread in the refrigerator until ready to use.
Spread the thawed puff pastry on a large baking sheet lined with parchment paper.
Using a small knife, gently score a border of ½ inch around the perimeter.
Beat the egg and brush it uniformly over the puff pastry. Bake the puff pastry according to the manufacturer's instructions (usually 10-12 min at 425F or until puffed and golden)
Remove from the oven and let cool for about 10 minutes.
Once cooled, deflate it slightly with a spatula, taking care not to break the layers.
Cover with the feta mixture and add the roasted carrots on top.
Sprinkle with chopped chives, parsley, and lemon zest, and serve immediately.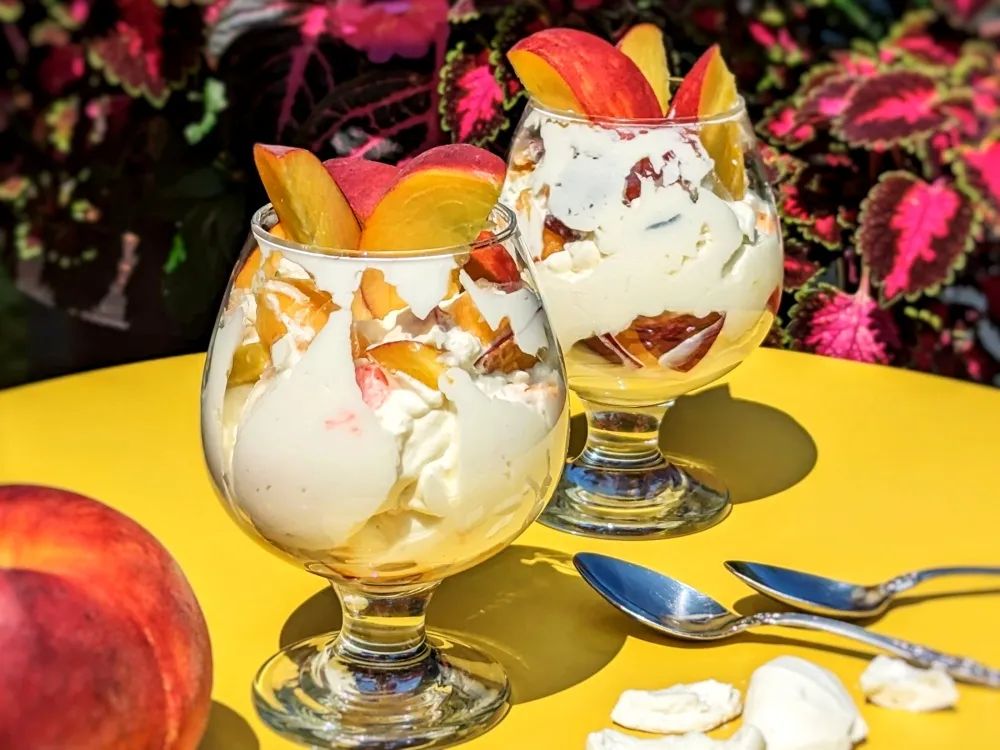 A no-bake, no-fail recipe that can be assembled in minutes, this Eton Mess is a simple and refreshing dessert to add to your summer table. Just mix the three ingredients and scoop them into serving bowls. Don't worry if it doesn't look perfect - it is called a Mess for that exact reason! Skip the alcohol if you want to make it kid-friendly.
Ingredients:
2 ripe peaches, cubed and soaked for 30 minutes in Grand Marnier or peach schnapps
1 cup crushed meringue (you can buy premade meringue at local pastry shops)
4 cups whipped cream
Makes 4 servings
Originally printed in the August 2023 issue of Simply Local Magazine
Never miss an issue, check out SLM's digital editions here!