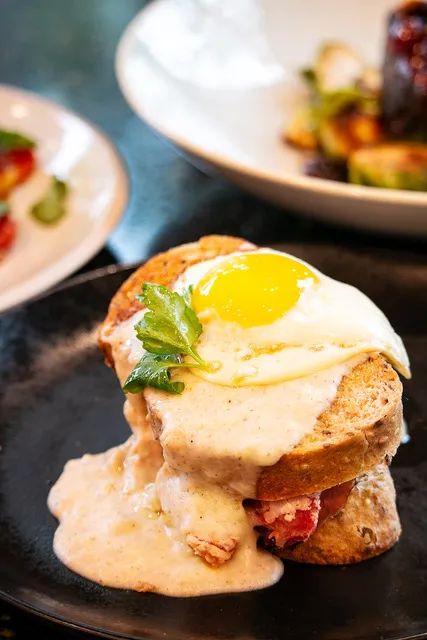 Make This: Croque-Madame
September 1 2022
If our interview with Chef Dirk Frickel got you inspired to cook, here is something really easy that you can fix for a weekend brunch, an everyday lunch, or a light dinner - salad optional. The Croque-Madame sandwich is the elevated version of the Parisian-born Croque-Monsieur. While the latter is a fancy ham and cheese sandwich, with or without Béchamel sauce added on top, the Croque-Madame is basically the same sandwich, topped with a fried egg.
Ingredients:
4 slices white bread
2 tbsp butter
4 slices Emmental, Gruyère, or Comté
4 slices ham
2 eggs
Makes two sandwiches.
Optional, for the Béchamel sauce:
2 tbsp butter
1 heaping tbsp flour
1 cup milk
2 tsp Dijon mustard
Salt and pepper to taste
Pinch of nutmeg
Directions:
Preheat a non-stick skillet on medium heat. Thoroughly butter the bread on both sides. Create two sandwiches, containing two slices of cheese and two slices of ham each. Fry in the skillet until golden on both sides (flip halfway through).
In a different skillet, fry two eggs sunny-side up. When ready, top each sandwich with a fried egg. Serve immediately.
To make Béchamel sauce at home: melt 2 tbsp of butter in a small saucepan. Add a heaping tablespoon of flour and cook for a couple of minutes on medium-low heat. Add one cup milk, whisking continuously. Season with Dijon mustard, salt and pepper, and nutmeg.
Pour the sauce on your sandwiches before placing the eggs on top.