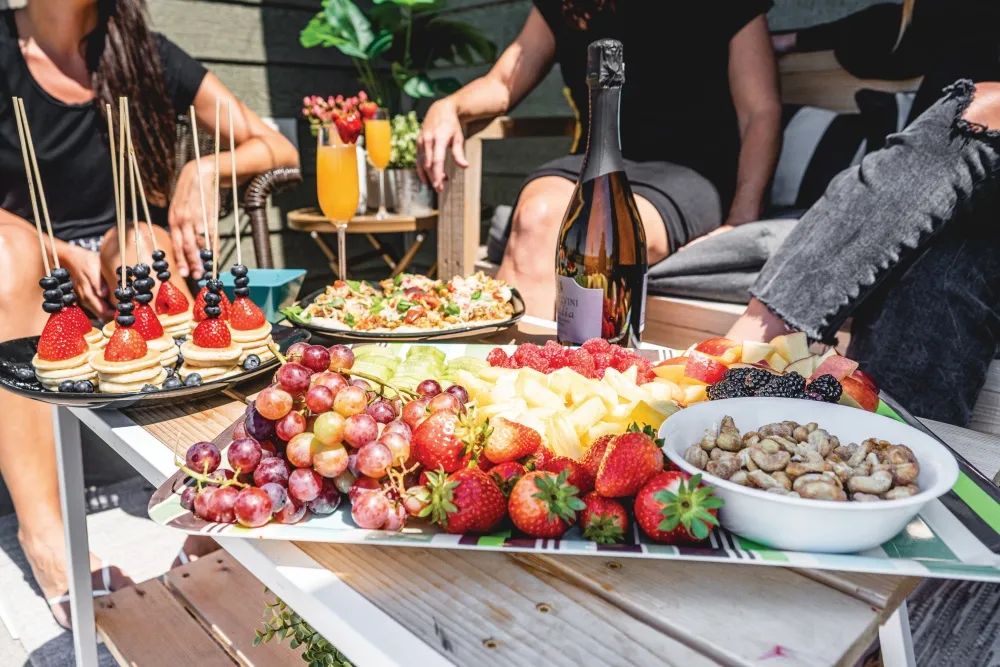 Brunch: The Home Edition
September 2022
article & photos by jamie blotske
Brunch. There is just something about that word that brings me so much joy. I love everything about it, from the wide range of menu items and the time of day to the variety of beverages and the yoga pants…I. Love. Brunch.
There are so many great places to brunch in Billings. My girlfriends and I enjoy brunch-hopping throughout the year. There are some extremely fun patios to lounge on during the summer and some super cozy booths to curl up in during the winter. The options are endless when it comes to atmospheres and food selections, making brunch a year-round activity to look forward to.
Getting dressed up and dining out is something that we all delight in from time to time. However, one of the best places to do brunch is from the comfort of your own home! There is something about staying in that is so enjoyable. Hosting brunch allows us to be creative with a theme, setting, décor, and menu. It also provides an atmosphere for more intimacy with whomever we are brunching with, which, for me, is almost always my girlfriends. We get a little time away from our kids to gather and enjoy one another's company over a chocolate croissant and blood orange mimosa.
The Theme
When it comes to hosting brunch, I start by choosing a theme. For example, I have done a Valentine's Day theme for my gal-pals called Galentine's Day brunch in February. In June, a Kick-Off to Summer brunch, and the obvious Christmas brunch in December. There is no need to have a theme, but it adds a level of fun for both the planner and attendee. Let the creative juices flow when there isn't an upcoming holiday or event. Do a sports theme or have a spa day incorporating a foot soak while sipping on something bubbly.
The Setting
Once you've decided on a theme, pick an area in or near the house that best accommodates your desired vibe. The living room provides warmth and comfort for a Hello to Fall brunch. The backyard patio is a beautiful space for a Sunny-Side-Up Summer brunch. The shade beneath a well-established tree is a quiet spot for a Secret Garden brunch. If possible, ditch the dining room table and go for a setting your guests will leave talking or laughing about!
The Décor
There is no need to spend a fortune on decorations. Get creative and find things throughout your house, such as potted plants and flowers for a spring-themed brunch or blankets and pillows for a rainy-day brunch. Keep in mind that the food serves as decor, as well. A beautiful display of fruit or a spread of colorful pastries is undoubtedly a way to add to the visual appeal. For holiday themes, hit up discount or thrift stores where you can snag festive finds at a very affordable cost.
The Menu
And now, the thing we've all been waiting for – the food and drink! Putting together a menu to pair with the theme is the part of the process I most enjoy. The great thing about brunch is that there is no right or wrong answer to what is being dished out. You can serve breakfast, lunch, a plated meal, finger foods, hot coffee, chilled cocktails, something sweet, something savory, and the list goes on. As the host, my rule of thumb is to keep it simple. The less cooking and baking, the better. That doesn't mean the food is store-bought and thrown on a plate. Pinterest is an excellent source for finding delicious, eye-catching, and, most importantly, easy recipes. Yogurt parfaits are a great example of something simple and cost-effective. All you need is a container of flavored yogurt such as vanilla, honey, or strawberry, a bag of granola, and a couple of fruit options such as blueberries and raspberries. Serve it buffet-style or pre-make the parfaits in plastic champagne flutes to fancy them up.
Three things to include in every brunch menu are a mix of fruit, savory protein (egg bake), and a sweet pastry (cinnamon roll). From there, add on other items or keep it as basic as those three dishes. For beverages, I like to start with a specialty coffee drink, later followed by a creative cocktail usually involving champagne. There are plenty of ways to glorify a mimosa! Once you've decided on your menu, don't be afraid to ask your guests to bring something to contribute, like a sliced watermelon or a bottle of sparkling rosé. Home brunch is made better when it's a group effort!
Here are a couple of tested-and-true brunch recipes:
Fun & Easy Brunch Recipes
Dalgona Coffee (Whipped Coffee)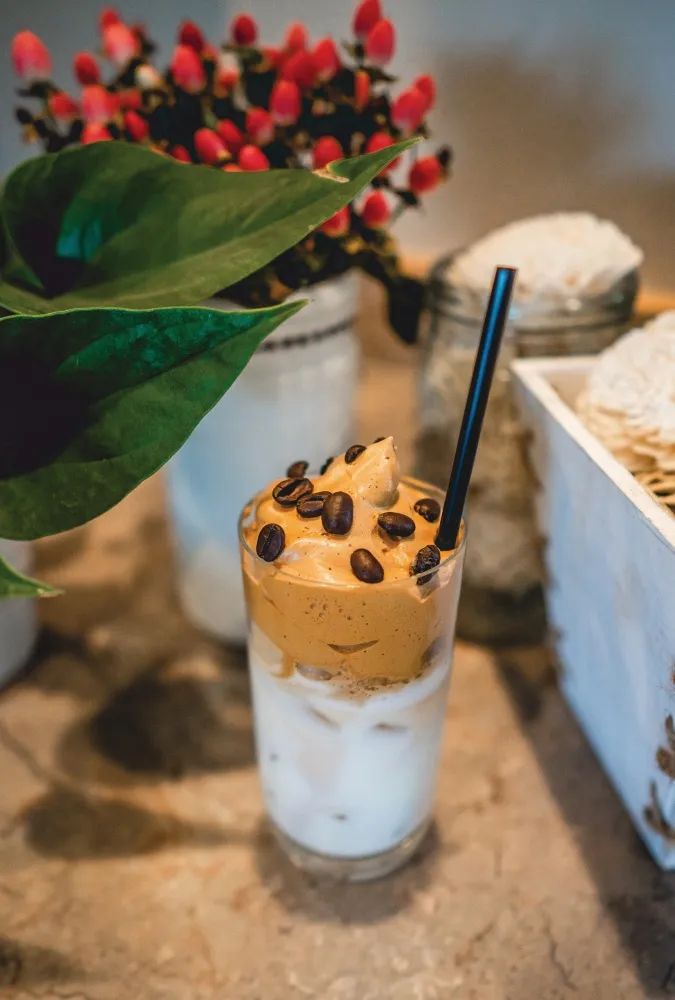 Ingredients – yields 1 serving
2 Tablespoons boiling water
2 Tablespoons instant coffee
2 Tablespoons white sugar
1 Cup whole milk
Directions:
Step 1 – whisk boiling water, instant coffee, and sugar together until coffee is dissolved. Continue to whisk until mixture becomes thick and forms a peak, 2 to 3 minutes. Tip: use an electric hand mixer
Step 2 – Pour milk into a tall glass with ice. For added flavor, pour in a flavored syrup or add a dash of cinnamon.
Step 3 – Spoon the frothy coffee on top of the milk. Insert a straw and enjoy!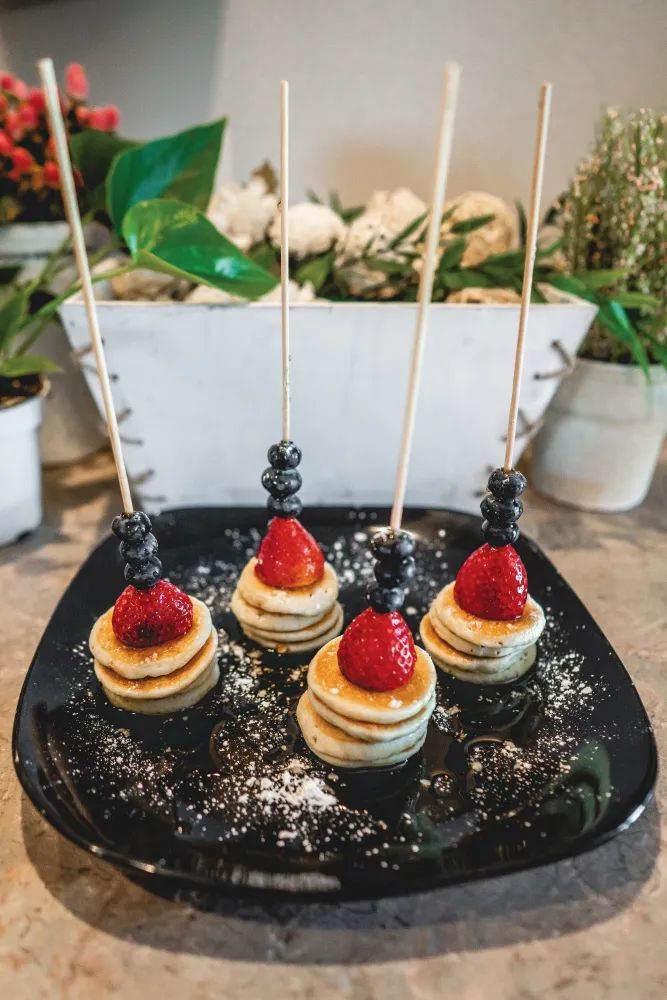 Ingredients – yields 10 servings
1 box of Eggo Mini Pancakes (40 pancakes)
Bamboo skewers
1 container of fresh blueberries
1 container of fresh strawberries
Maple syrup
Powdered sugar (optional)
Directions:
Step 1 – Warm the mini pancakes according to the directions on the package.
Step 2 – Place four mini pancakes on each skewer. Top with blueberries and strawberries.
Step 3 – Drizzle each skewer with maple syrup. Sprinkle with powdered sugar.
Originally printed in the September 2022 issue of Simply Local Magazine
Never miss an issue, check out SLM's digital editions here!