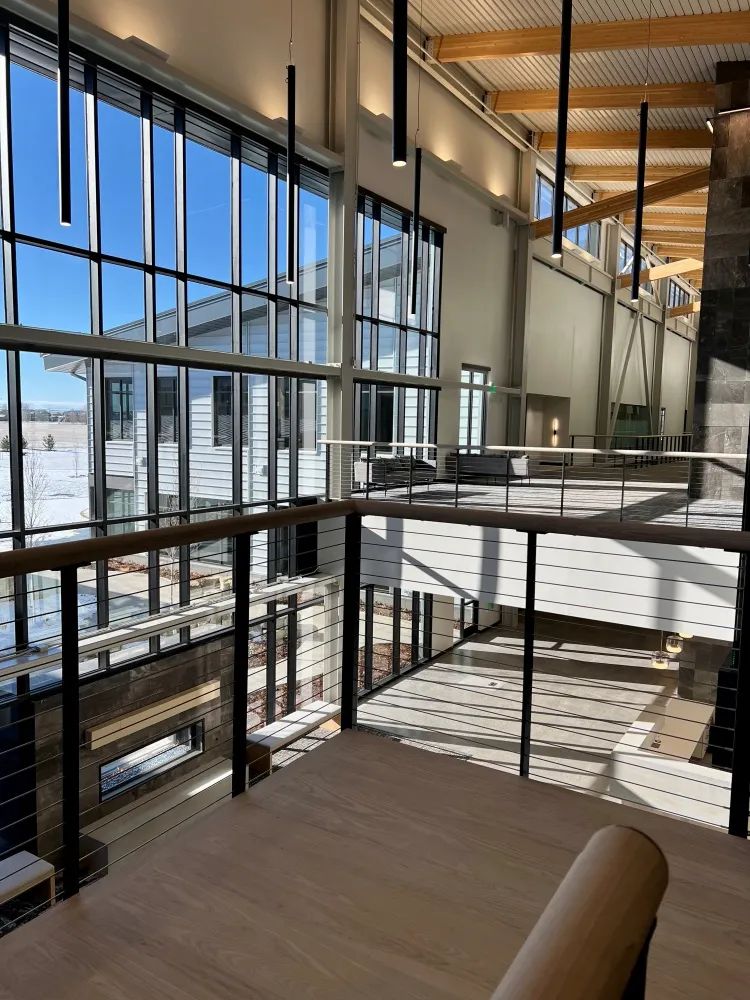 Local Contractor, Langlas & Associates Complete Construction on Montana's First Medical School
January 25, 2023
As we previously reported, construction on the new Rocky Vista University-Montana College of Osteopathic Medicine was officially completed, on schedule, by local contractor Langlas & Associates. When Simply Local Billings was on site for the January 23 media tour, we had the opportunity to chat with Joe Clark, the Project Manager for Langlas & Associates on RVU-MCOM.
Obviously, a project of this magnitude takes many hands to bring to fruition, and Clark shares that, "On any given day, we were running about 200 people on site, so as phases come and go, you could easily double that for the number of people who had a hand in this." He points out that in a different, larger market those numbers could be significantly larger, which makes the on-time delivery of this project even more impressive. With a smaller Montana workforce in play, Clark notes that "certainly, it was something we struggled through, but these guys worked a lot of hours – a lot of days, a lot of weekends to meet the schedule…so a lot of thanks goes to those subcontractors on this job."
With a tight timeframe (due to accreditation considerations) a key factor in this build, Clark tells us that pre-construction was an expedited process, jumping quickly into construction in order to complete the 18-month build on time. To get a project like this off the ground, it started with a partnership between ownership and design firm with Langlas & Associates coming on board to "assist with design and constructability of a project, budgeting with local market pricing," Clark explains.
We wondered how they go about constructing their own team for such a project, and Clark says they had a designated team comprised of office staff personnel, himself and another project manager, a lead superintendent onsite, and a core group onsite. From there, in the office, bid packages were developed with a defined scope of work for each subcontractor base, and then the process of selection began based on best value and best company qualifications. "We really tried to take a team approach - from our ownership and design team, all the way through our subcontractors, and that's truly the key to our side of the success, being able to get those team members involved…everyone was running on all cylinders."
Still not totally envisioning how all the various pieces of the work puzzle fit together, we asked Clark to elaborate on Langlas' role in that capacity:
On this type of project, we're the construction manager, so we manage all the construction. We have the interest of the owner at heart because we're brought on early enough as a team player, so we understand the overall budget; our job is to maintain the budget for the owner. We work hand-in-hand with an owner's rep on the project (that's their big picture scope, while we handle it from the construction side). That's primarily what I do is that I have that interaction with the architect and the owner's rep, and then from there, I'm the link back to the actual construction – all Langlas employees (we had a huge workforce here as well as subcontractors and suppliers). And then overseeing day-to-day quality control and stuff like that.
Given the 18-month timeframe, we speculated that the other big hurdle might have been the supply and demand issues that have been plaguing construction since the COVID pandemic. It certainly was, says Clark, and something they worked to navigate starting in the pre-construction phase. He notes the importance of having materials on schedule so the various subcontractors would be able to perform their work, adding, "We don't want to say, 'Well, here's X, Y, Z that you can't get right now,' so then you fail. And, across the board, there is something in almost every trade that they're dealing with, so to be able to navigate all of those was pretty remarkable."
Additionally, Clark praises the design team for doing "a remarkable job designing the building and working with us. While they are not local to Billings, they really honed in on what we brought to the table and relied on us to tell them what we can and cannot do, and they did introduce us to some new [to us] products that we enjoyed."
Dare we say, teamwork really does make the dream work?
"For me, personally, I think this is one of those career projects. I've truly enjoyed it. We won the Montana Contractors Association Best Institutional Project for this building, so we're very proud that Langlas was picked for this project. We're proud of our performance with our subcontractors and our team on it, too. Rocky Vista has been a great organization to work for on this, they've been top notch. I'm glad they're in our community."
-Joe Clark, Project Manager, Langlas & Associates