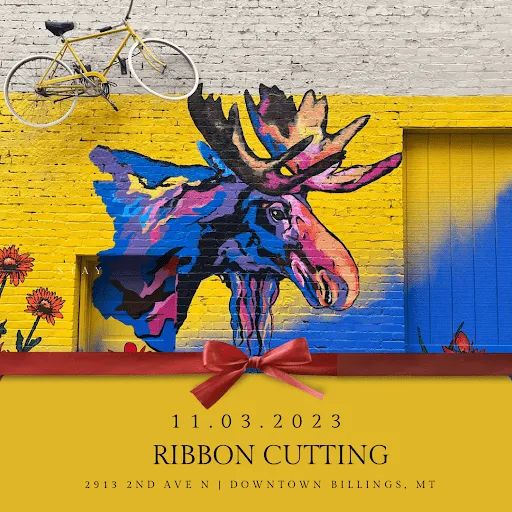 #lightbiketrail Opening Celebration
November 2, 2023
The #LIGHTBIKETRAIL began as a single light bike installation at the Pub Station in 2019. It has now grown to a walkable trail of 10 wall mounted LED-lit bicycles, paired with beautifully unique painted murals. The trail winds through Downtown Billings alleyways as a part of the Downtown Billings Public Art program, an initiative that helps beautify Downtown Billings and promotes public safety.
The bikes are all supplied by the Downtown Billings Alliance, as well as funding for the murals at each business location. The DBA opened up a request for businesses that would be interested in having a #lightbiktrail mural/light bike on their building, with the only requirement being a commitment to pay for the lighting of the bike (which is a very low cost). The DBA also did a full call for artists to present proposals of their designs, and then has taken great care to match the artist's mural with each business's vibe.
One recent mural completion, created by Rayen Luce and Gunnar Stephan, is on the backside alley of the Art House Cinema & Pub (109 North 30th Street). The mural depicts cowboys with movie production equipment heads, including a camera, film reel, typewriter, movie marker, and a spotlight. The imagery was chosen to tie Montana and the Art House together into a brightly colored pop art-esque mural. Luce and Stephan began their mural on September 3, 2023, completing it on October 3 and said, "We were really inspired by the '60s western comic book style, and worked with the Art House to incorporated the different heads of the cowboys to fit the idea they were looking for."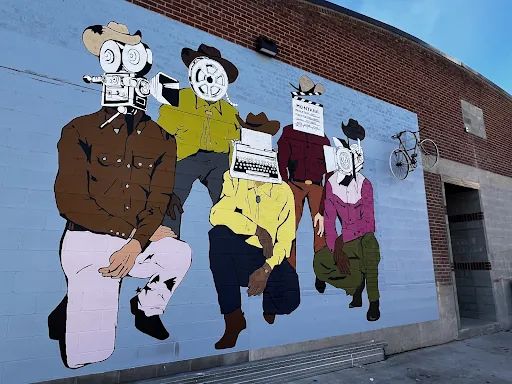 Here are the locations on the trail: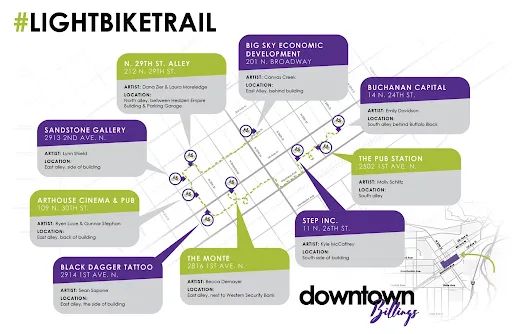 Buchanan Capital
The Pub Station
Step Inc.
The Monte
Black Dagger Tattoo
Art House Cinema & Pub
Sandstone Gallery
29th St. Alley
Big Sky Economic Development
Help celebrate the new #LightBikeTrail on Friday, November 3 at 5:30 p.m. at Sandstone Gallery, with a ribbon cutting and reception to celebrate the artists who brought their mural "Symbols of Montana" to life. ⁠Then participate in a free, guided walking tour of the trail with two tours beginning at 5:45 p.m. and 6:15 p.m.
A digital map of the trail is in the works, as well as QR code plaques to be installed at each mural location to give the viewer more detailed information about the mural and the artists.