Know Before You Go: FIT4MOM Mommy & Me - Stroller Strides
July 5, 2021
article & photos by robyn fogle
Name a fitness activity and I've probably tried it. Rock climbing, running, hiking, yoga, and weight training are my go-to's these days, but I've tried CrossFit, barre, Pilates, spin, Zumba, aerobics, step, kick-boxing, HIIT and many more over the years. But one thing I'd never tried was Stroller Strides.
There's actually a good reason for that...I don't have kids and I've never owned a stroller. But, I figured there were plenty of mom readers out there who may have seen the FIT4MOM fitness classes on our calendar and wondered about them. Are they hard? What if your kid acts up? Are the other moms friendly? I decided to find out for all you moms out there who are trying to find your fit.
A Bit of Background
FIT4MOM is a franchise business and the Billings group was started by Mary Pust in August of 2019. She was first introduced to FIT4MOM while living in Raleigh, North Carolina and found herself missing the supportive mom community when she moved to Billings. So she started her own!
Mary is passionate about fitness and holds a Masters Degree in Athletic Training, a minor in Exercise Science, played college basketball for two years and has been a group fitness instructor for 3 years with specialties in prenatal- and postnatal-specific fitness. She is one of the nicest and friendliest people you'll meet, and with two young children herself (ages 3.5 and 1.5), she can certainly relate to the challenges moms often face in making time for their own health and fitness. Trust me, you're going to love her!
Gearing Up For Class
There are different types of classes offered throughout the week from Stroller Strides and Stroller Barre to Run Club and Strides 360. They are held at various outdoor locations around town, some in the mornings and others in the evenings. I decided on the Friday morning Stroller Strides class simply because it was the time I had available. I signed up online ahead of time which you'll want to do so you can e-sign the waiver and get the emailed instructions on what to wear and bring. If you've never gone before, then your first class is free!
I didn't actually have a kiddo to bring, so I rounded up a mom friend of mine to go with me. She has two kids so I figured she had us covered.
The one-hour class started at 9:15am at Rose Park and I arrived a few minutes early since I wasn't quite sure where in the park they met. I parked on 21st Street West and easily spotted the congregating moms with strollers near the sculpture garden.
Time to Workout
There were about 12 of us on this particular morning and Mary instructed us to begin by forming a large circle. Aside from my friend and me (whose kids are 9 and 7) everyone else had littles in a stroller - most had athletic 3-wheel strollers, but others just pushed standard ones and I think both worked fine. But bringing kids in a stroller is not a requirement, and my friend's older kids seemed equally welcome. In fact, they ended up having a fun time and enjoyed participating at their own pace.
During the 5 minute warm-up each mom introduced herself and her kids - how perfect is that if you forgot someone's name from last week! - then answered the question of the day which on this particular morning was: What is something you said you'd never do when you had kids?
It was a great icebreaker and a way to connect with fellow moms who smiled, laughed, and nodded in agreement as each person answered.
The warm-up was followed by a short run or walk, whatever your preference, to the nearby basketball court. About half of the ladies ran and half walked - whatever your pace, they won't start the next circuit without you so don't stress.
Once everyone was at the court, Mary demonstrated the next sequence of exercises which included a cardio element as well as some strength training with resistance bands. Most of the ladies brought their own bands, but Mary had plenty of extra for those of us who didn't. She indicated how to step on the bands with one or both feet to increase or decrease the resistance, allowing each person to pick their own level of challenge. Feel free to go easy on yourself - everyone was too busy watching their kids to worry about the intensity of anyone else's workout.
"And we're on the move," hollered Mary after a few minutes.
Kids were given snacks, toys, tickles, or whatever they needed to keep them happy. Then we ran or walked on to the bike rack area for more strength training. Throughout each segment, Mary incorporated children's songs and chants as a way to entertain the kids too.
"I shook that tree as hard as I could and down came the apple…" we sang as the moms went in for tickles, smiles, and funny faces with their littles at the end of each refrain. Me, I just smiled because tickling yourself doesn't really work.
In addition to the warm-up time, there were other opportunities for us women to engage with each other as well.
"Find a partner. Play rock, paper, scissors and the winner does jumping jacks in place while the loser runs out to about here," instructed Mary, indicating a spot on the grass.
"Then find a new partner when you run back in and play again."
With nearly every exercise, Mary provided modifications and alternate options if something like jumping jacks was a bit too intense. Nobody cared what level you were at or how fast you were jumping, there was truly no judgement as each woman focused on her own workout, at her own level and pace.
Around 10:05am we were back where we started with 10 minutes left for core and stretches.
"Don't worry about your kiddos, they can scream for the last 2 minutes. This time is for you," encouraged Mary as we laid on our backs for abdominal work.
Before the workout ended she invited the kids to get out of the strollers.
"Help me stretch," she exclaimed, while proceeding to sing another song that several of the kiddos joined in on.
Then, for those who could stick around, she pulled out water beads and the kids went crazy for those! What a great way to end the workout as it made it fun for the kids and gave the moms another chance to interact.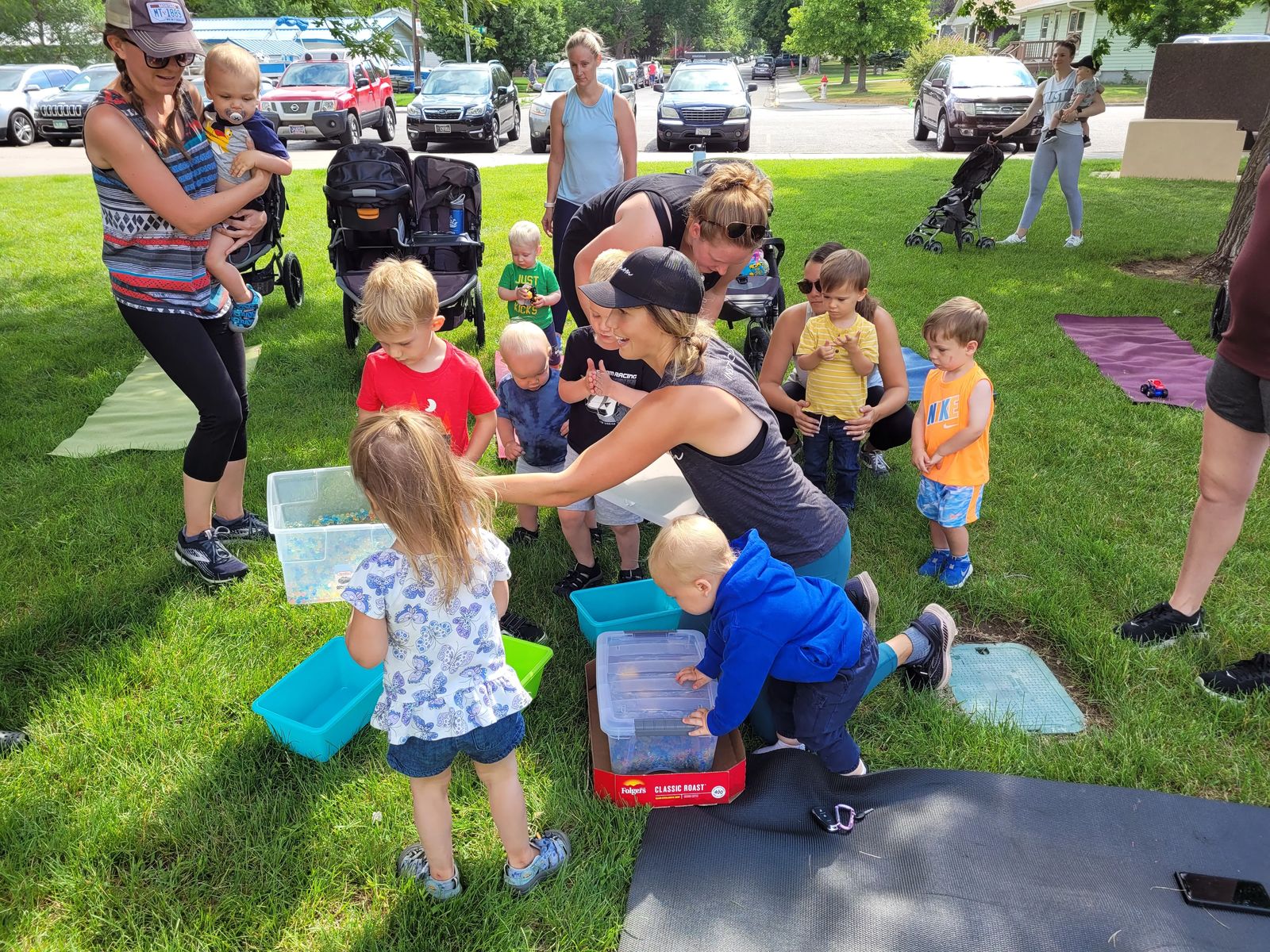 A reward for the littles after being such supportive workout buddies for mom!
Connecting Beyond the Workout
"What do you love most about this group?" I asked some of the moms while we stood around.
"Making new mom friends" came the first response, drawing agreement from several others.
"Getting the kids out to be social and getting out with friends" volunteered another.
"It's helped me so much with postpartum," responded a third.
"FIT4MOMs goal is to help all moms find their fit" said Mary, adding that "we strive to be inclusive and help all moms find their strength in motherhood. We focus on the physical, mental and social health of all our moms."
It was obvious that this FIT4MOM community was more than just a group that worked out together. Mary also organizes free meetups, after class activities, playgroups, mom night outs, educational evenings and open houses all of which contribute to the culture of community you'll find with this group.
If you're a mom who wants to get fit and find a like-minded crew, you really ought to give FIT4MOM a try.