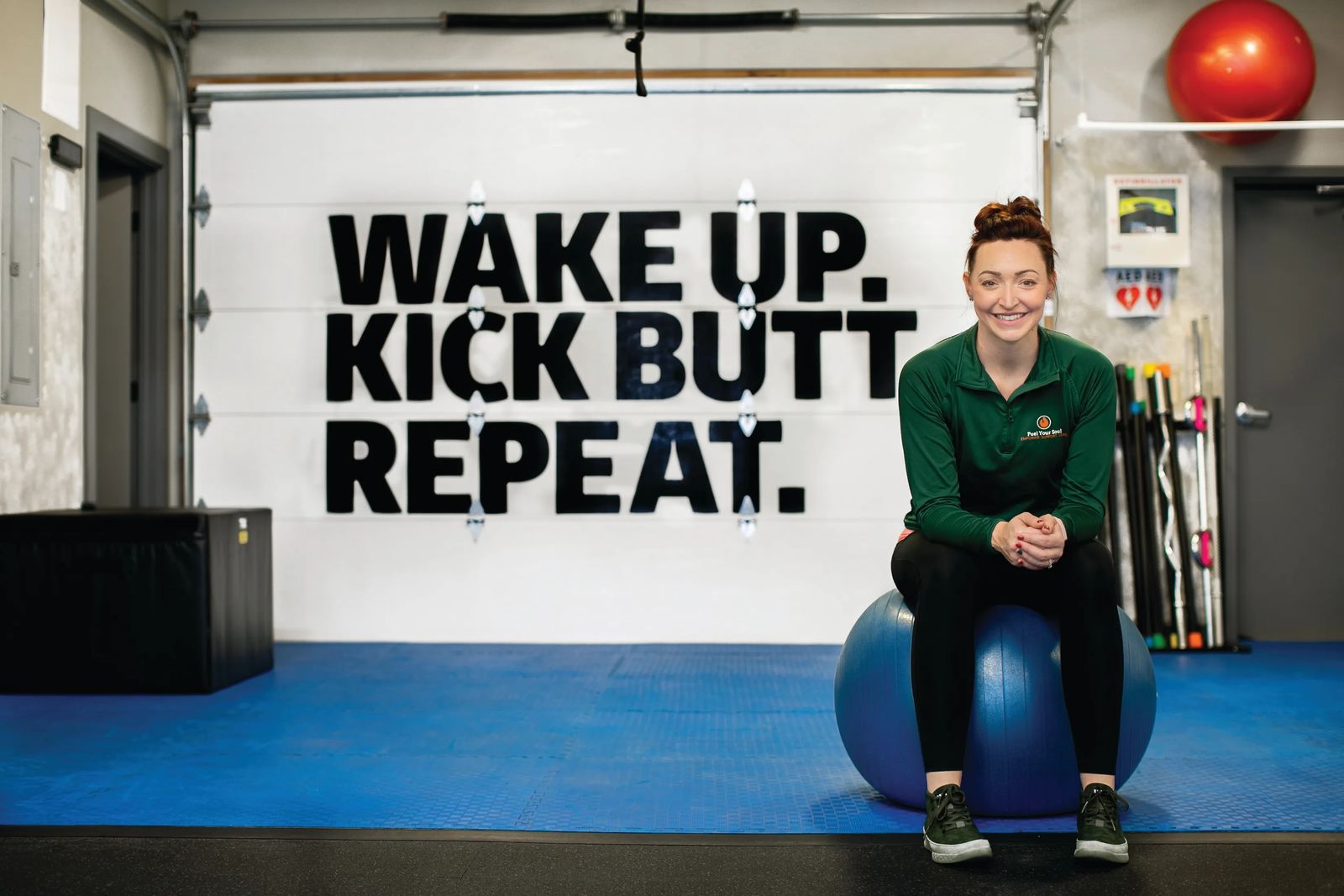 Fuel Your Soul Health Studio:
Wake Up. Kick Butt. Repeat. Every Day.
February 1, 2020 | by kaylee vandjelovic | photos by lovely hitchcock
Simply Local Magazine recently had the chance to sit down and chat with Sarah Weber, owner and trainer of the brand-new fitness studio, Fuel Your Soul Health Studio, to discover more about her vision and facility, as well as plans for the studio's future.
In the health and wellness scene for over ten years, Sarah has a passion for helping others achieve a healthy lifestyle because, as she proclaims, "It's amazing what you can do if you truly feel good!" Assisting people to live and feel their best is Sarah's goal. "I love people, and I truly believe that with a healthy lifestyle, everyone can unleash their own power to be great! Most people have no idea how good they are meant to feel! My goal is to bring that out in everyone I have the privilege of working with!"
What sets your studio apart from the rest?
My studio is unique in the fact that I really focus on individuals and their goals. Small group training allows me to cater to each person, similar to a personal training environment. We focus on making it fun and empowering to create an environment that supports growth and success!
Your location at 7535 Entryway Drive Unit B doesn't have a lot of fitness studios in close proximity – was that intentional?
Our location is perfect for people who live in Billings and in Laurel, as well as people that travel from Bridger and the Joliet area for work. I would love to reach more women in the Josephine Crossing and Canyon Creek areas!
What is your company's mission?
Part of my mission is to provide a non-judgmental environment for people to work out in. This is so important because there are way too many people that feel like they need to already look fit and know about fitness and exercise before even entering a gym. If I can create that atmosphere of "come as you are," then I know that I can help so many more people (specifically women) live a better, more confident life – in and out of the gym!
What is something most people might be surprised to know about running a fitness studio?
Some people might be surprised that we are a 24/7 access studio and that I offer so many classes and will only continue to grow in that aspect, but also the personal touch and attention that isn't offered anywhere else!
What would you say are some of the biggest perks of owning your own business?
The biggest perk of owning my own business is, for sure, the freedom to create and build and change to meet the needs of the community!
On the flip side, what would you say is least enjoyable?
I think the least enjoyable part if I had to say would be the fact that "I am it" – I clean, I plan, I fix, I schedule... if something goes wrong or isn't quite right, it's all on me! I like the pressure, but at times it can be a little overwhelming.
Are there any new projects in the pipeline that we can expect to see from Fuel Your Health?
I would love to offer childcare eventually! I know that's a big plus for moms to be able to take that time for themselves. I also will be looking at building a team of instructors and more trainers to be able to offer more types of classes and class times!
What advice can you offer for beginners?
My advice for beginners in the workout world would be to start small and have grace. It takes time to see and feel a change and to get comfortable with the idea of "working out" regularly. Baby steps are key.
What's your favorite fitness activity outside of the studio?
When I'm not in the studio, I love to be playing with my kids: playing racquetball and going on small adventures outdoors around our beautiful state!
Fuel Your Soul Health Studio's motto is one we should all strive to live by: "Wake up. Kick butt. Repeat. Every day." How about that for some encouragement to get you out there to achieve those goals!
Originally printed in the February 2020 issue of Simply Local Magazine
Never miss an issue, check out SLM's digital editions here!