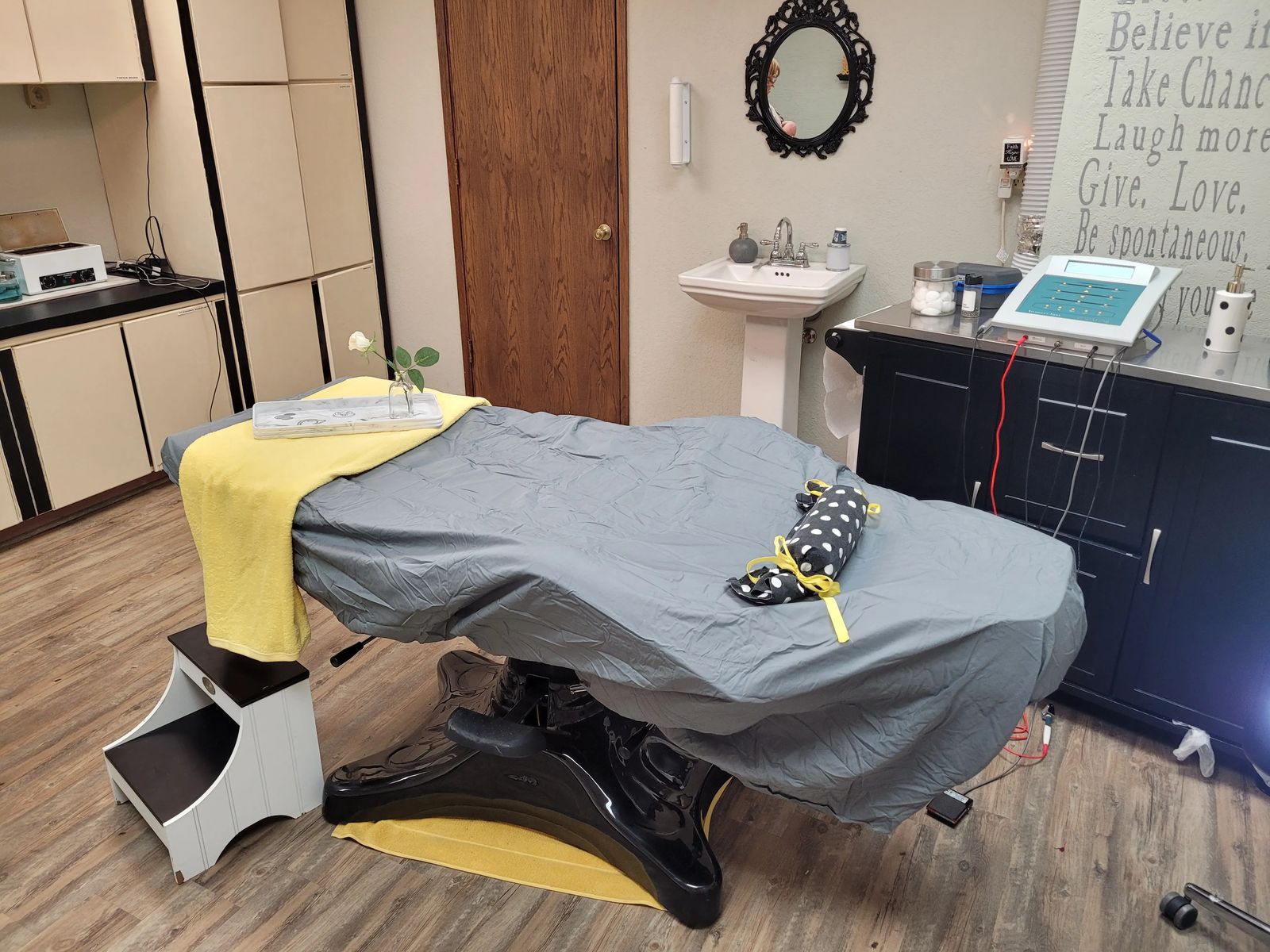 Know-Before-You-Go: Electrolysis
June 7, 2021
article & photos by robyn fogle
If you've been following along with our online Know Before You Go articles you know they are typically focused on fun activities and things to do around town (like last month's KBYG on the Jazz Jam at Levity Bar & Bistro - do yourself a favor and take a date to that one!).
But this month we're taking a different direction. Last week I shared about my #1 beauty secret - electrolysis - and since it's not something most people are familiar with, I figured a little KBYG info on what it looks and feels like might be useful. It's considered cosmetic work, requires extensive training and licensing and is the only FDA approved method of permanent hair removal.
I was introduced to electrolysis over a decade ago and am currently having my newly acquired mustache removed. As a woman, that just isn't what I want people to notice about me. I go every few months or so, whenever I see more dark hairs appearing. As far as I know, Michelle McNiven, owner and practitioner at Elevate Electrology, is our only option in Billings and she is fantastic.
If you're considering going, here's what you'll want to know.
First Steps
Give her a call and set up your first appointment. Plan on scheduling a 30 minute session if it's your first time. When you arrive, you'll walk into the office building, and if you're experiencing any anxiety just glance down at the lovely courtyard garden. With luscious green foliage and the soothing sounds of running water, that anxiety will be instantly calmed.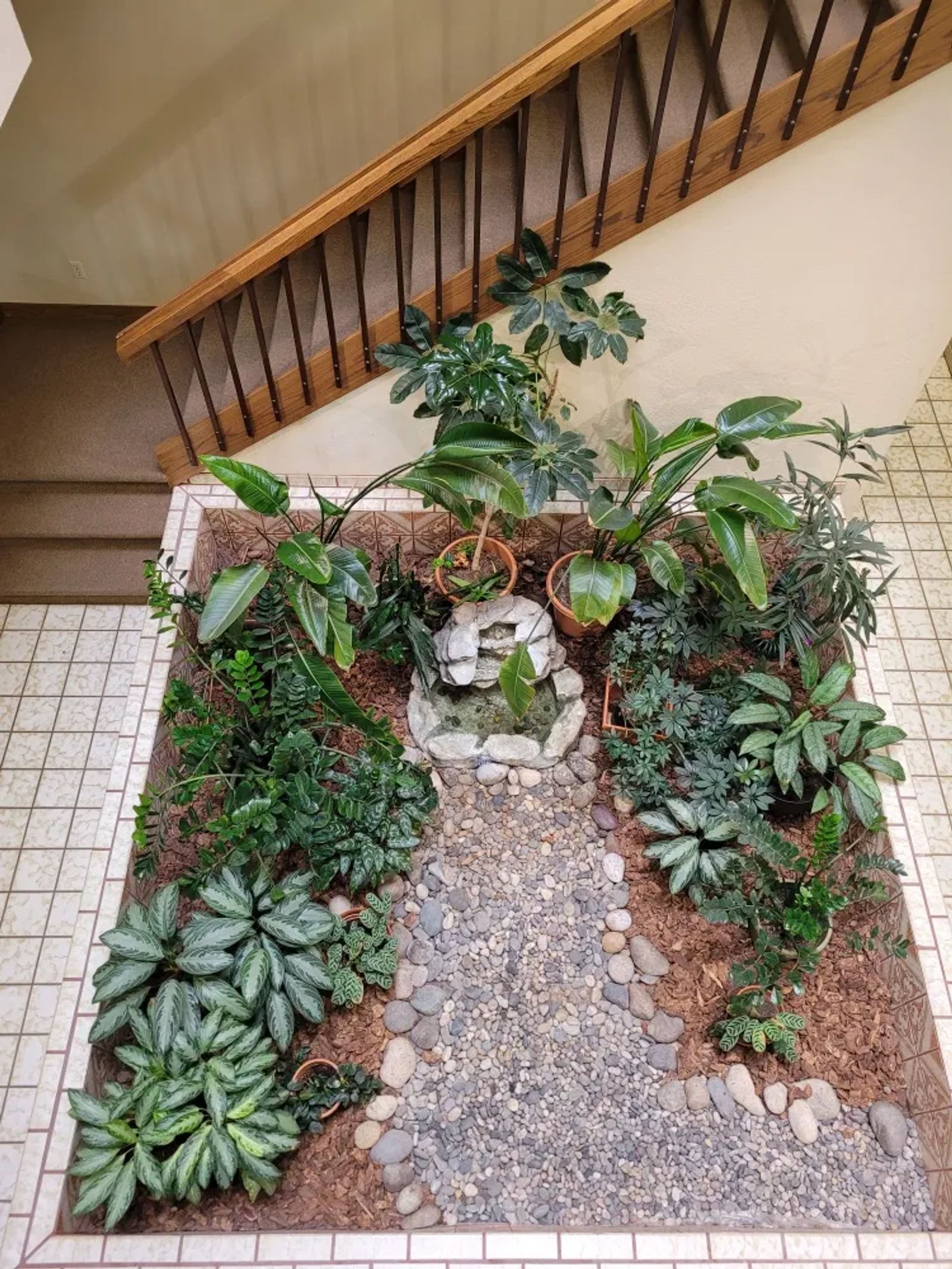 Make your way upstairs where her office door is just to the left and is usually slightly ajar with a "Come on in!" sign. If she's in session with another client her door will be closed and an "In Session" sign will be displayed. If that's the case, you can just wait in the lobby below.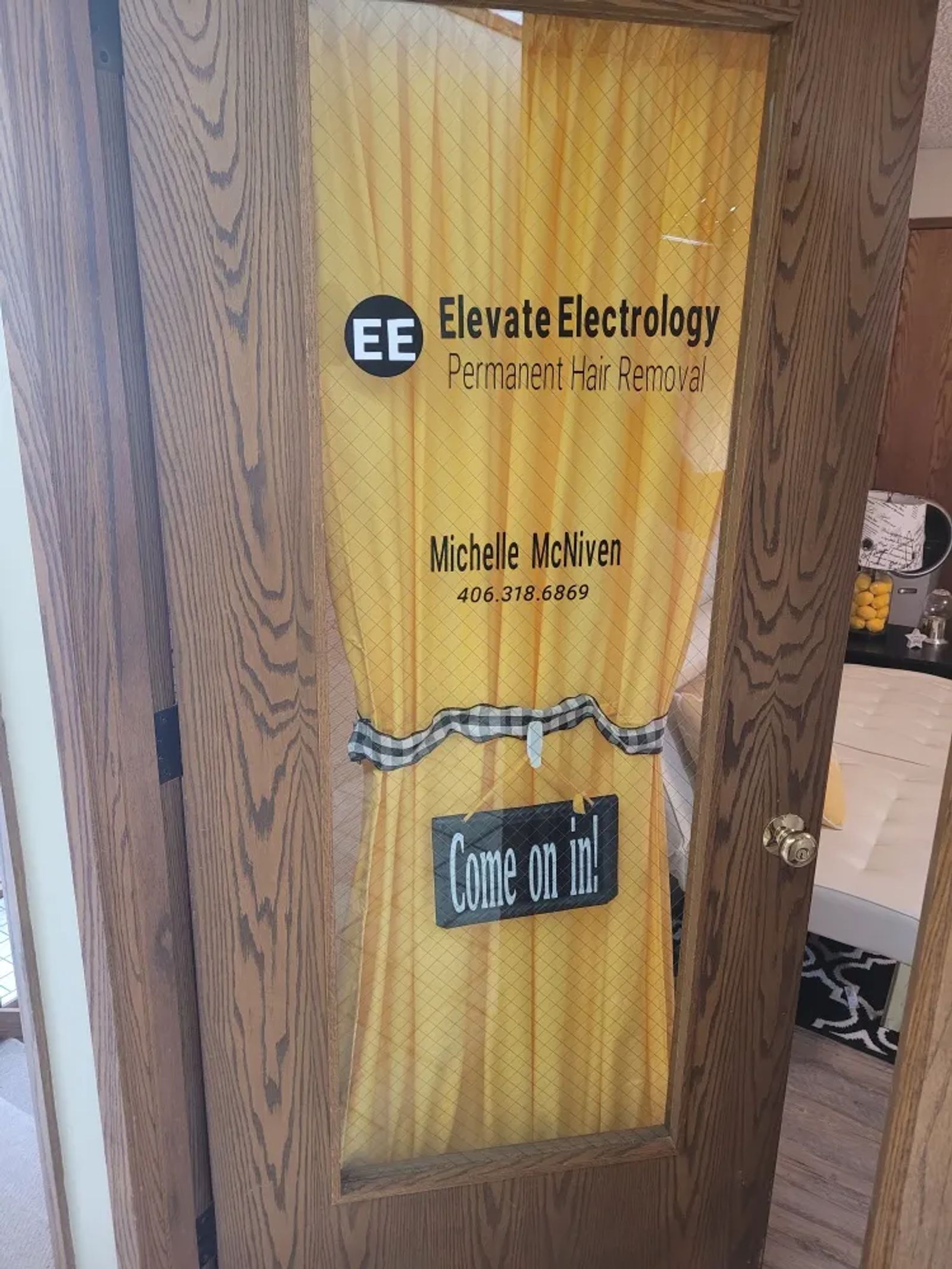 C'mon in!
You'll begin by filling out a confidential client form. In addition to general information, you can also use the form to indicate the areas you'd like to have treated. For me this is typically my upper lip and chin, but you can select arms, legs, cheeks, ears, eyebrows, neck, shoulders or abdomen as well.
Pre-Treatment
Then it's time to relax and lie down on her comfortable table. Just pretend you're getting a massage - the environment is similar.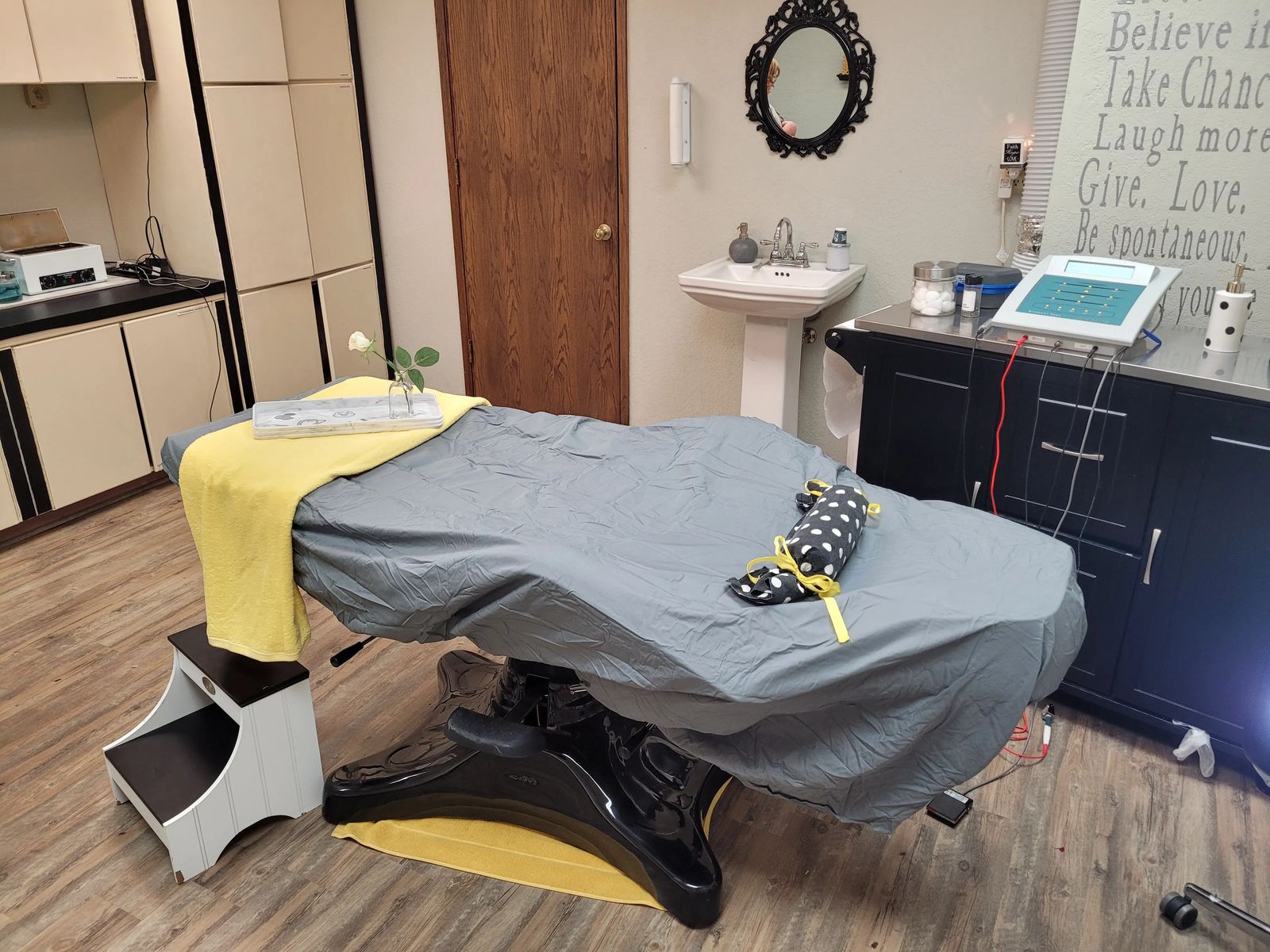 Time for treatment!
Do you want a stress ball and/or tanning goggles? she'll inquire.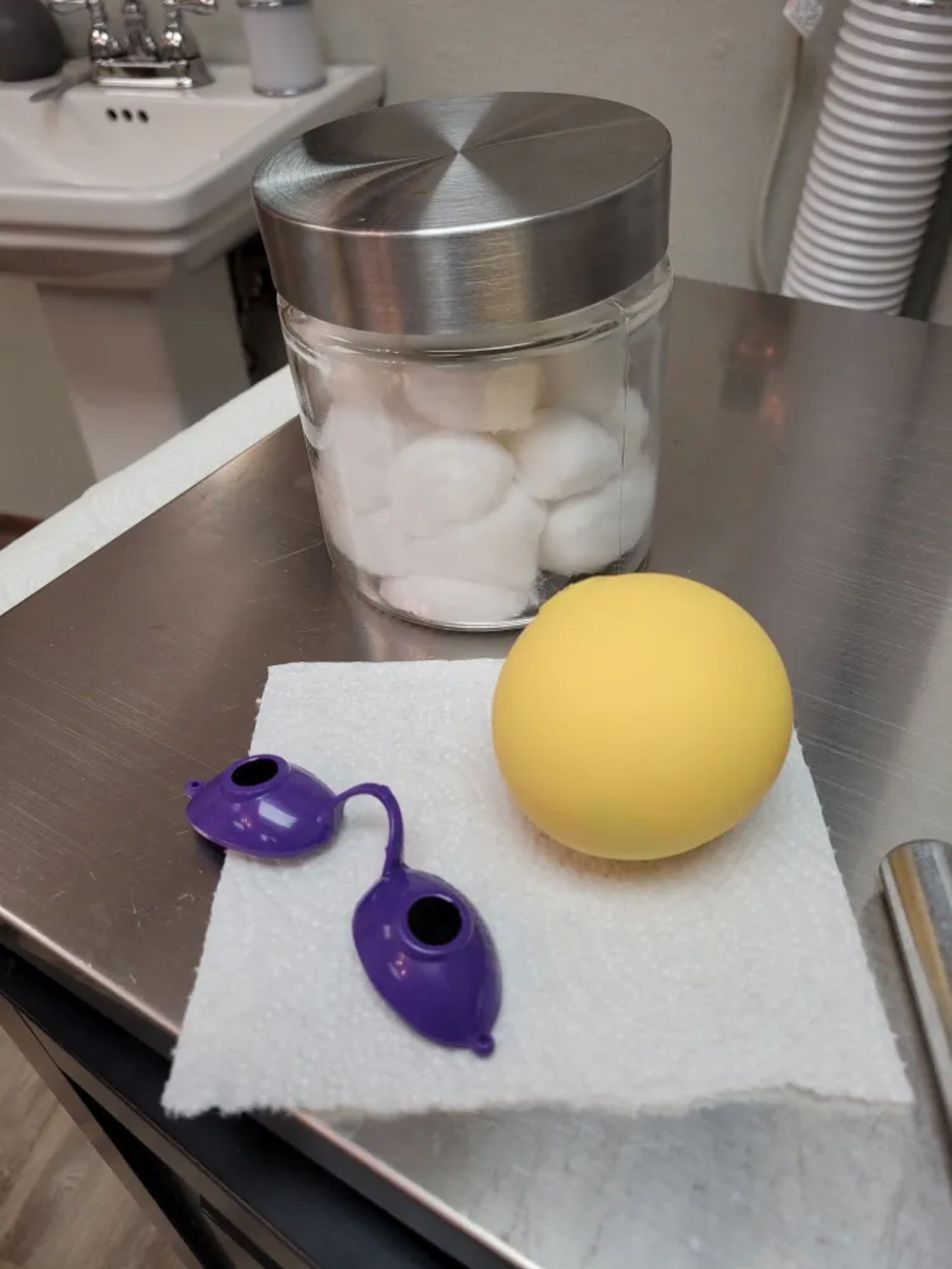 Goggles or stress ball to make your experience more comfortable and calming?
I've never felt the need for a stress ball, but I do find the goggles helpful since she's working on my face and the light can get bright.
What kind of music do you like to listen to?" she'll ask.
For me, anything goes. But you can bring headphones and listen to your own soothing music if you'd like. Distraction is a beautiful thing here! And if music isn't your thing, McNiven is great at keeping up a steady chatter to keep your mind focused elsewhere, so you're set either way.
If you're not coming straight from home with a clean, make-up free face, don't worry she'll thoroughly clean the area to be treated prior to starting. Then she puts on magnifying glasses and flips that bright, exposing light on. Time to get to work!
Treatment
Electrolysis removes hair by using a small probe which slides into the hair follicle and applies an electric current to essentially zap the hair's root. It destroys the growth center of the hair with heat energy. Just look it up online if you want more technical details, but don't worry, you're not getting electrocuted and it doesn't feel like you're getting electrocuted.
So what does it feel like? Let's just say that it's not exactly a pleasant sensation, but for me it simply feels like a pin prick or a little bee sting. Now there are definitely areas of the body that are more sensitive than others, so depending on where you're having electrolysis done there can be a bit more discomfort. Having my chin treated for instance isn't that big of a deal, but the upper lip is definitely more sensitive.
But to say it is painful would be an exaggeration, in my opinion. And as soon as the prick is over there is no lingering sensation of pain. The area isn't left feeling sore or tender. If you have a low pain tolerance you can always take some ibuprofen before going, or rub some lidocaine on the area to numb it up a bit.
Following the electrolysis, McNiven uses a roller on the treated area to create cataphoresis which helps to spread out the sense of trauma to your skin and reduce any irritation and redness that might occur. Then she rubs on some aloe and that's it.
Post Treatment
I wouldn't recommend scheduling your electrolysis appointment the same day as date night. Similar to getting an extraction facial, you will most likely experience some redness and irritation of the treated area. For me this usually only lasts a few hours, but I'm sure this can vary person to person. It's also not recommended to apply makeup to the treatment area for 12 hours, and you'll want to apply sunscreen if you'll be out in the sun. Also be sure to avoid picking or scratching the area, and keep your skin clean. And know that you'll love the results!
Final Thoughts
Electrolysis is a process and it takes time. If you have a full-on mustache, or you want all the hair on your legs removed, don't expect to walk out of your first appointment hair-free. It takes a lot of time. But the results are permanent!
Remember that many factors can influence hair growth, and the number of sessions needed to remove hair permanently will vary from person to person. It's completely safe to go for as long and as often as you'd like. Heck you could go every day till the desired area is hair-free if you can afford the time and cost of treatment.
It's safe, effective, has no permanent side effects and few risks. If you're frustrated with unwanted hair and tired of tweezing, maybe it's time to give something new a try. You'll love the results!