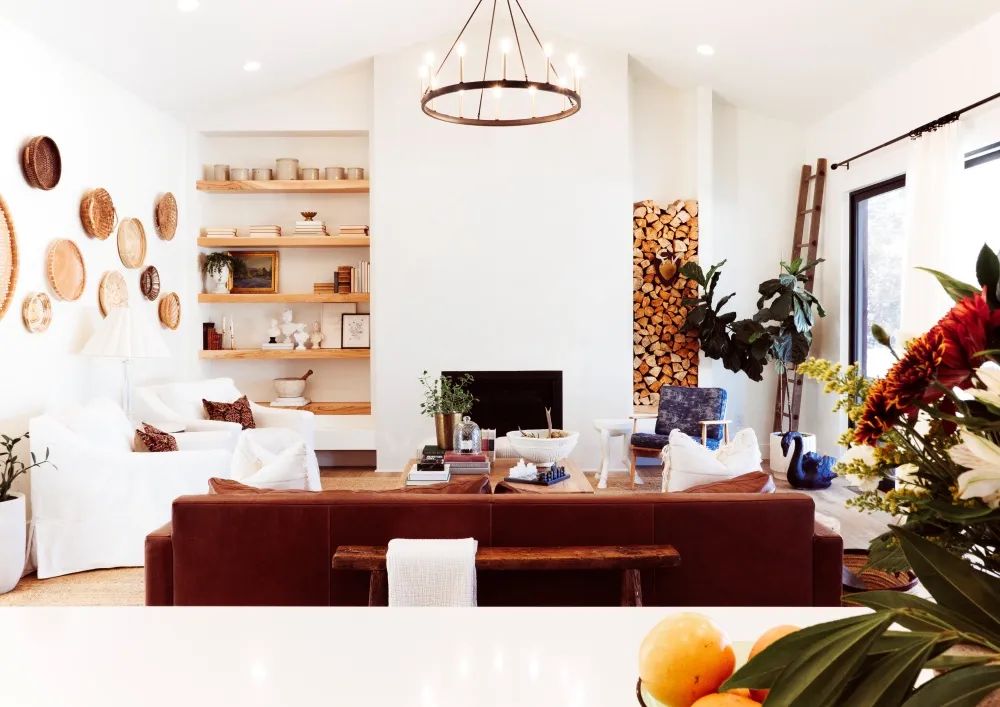 In with the Old AND New
January 2023
article & photos by renata haidle
As trends in home decor come and go, many homeowners are looking for ways to keep their interior design current without sacrificing old, well-loved treasures. Combining old and new, creating a cohesive look, is the key to successfully mixing old and new decor items. It is important to consider the colors, textures, and shapes of the pieces and how they work together. Old furniture, accents, and artwork can create a vintage style, while modern colors and fabrics can give a contemporary edge.
Billings homeowners Eric and Claire DePinto seem to have achieved the perfect balance in their home that was featured in the 2020 Parade of Homes by Cougar Construction. During the building process, the couple brought different strengths to the table. "Eric is an engineer," Claire reveals. "He's very logical, very strategic, while I have this wild, creative brain. I would sketch things up with my vision, and he would figure out how to make it all come to life. We spent a lot of time designing the floor plan, putting a lot of detail and thought into it before we built it. We liked the idea of a new build because we got to design the space, but my love is for old. I didn't want to move into the new house and have it feel like a big box; I wanted it to have some character. We were really intentional about choosing old pieces. We collected a lot of things along the way. I love to thrift; I love to hunt for bargains and mix high and low furniture pieces."
Having just recently returned from a temporary relocation to Boston, Claire had acquired a significant collection of unique decorative objects. This led to her launching her own business, Scout Interior Design & Decor (on Instagram as @scout_interiors.design). She uses social media and word of mouth to resell vintage items and help others with their design dilemmas, offering services ranging from simple shelf styling assistance to complete interior design projects.
"I love working with people, I love people," Claire says, "so it's been great to integrate my love for people and my love for design together."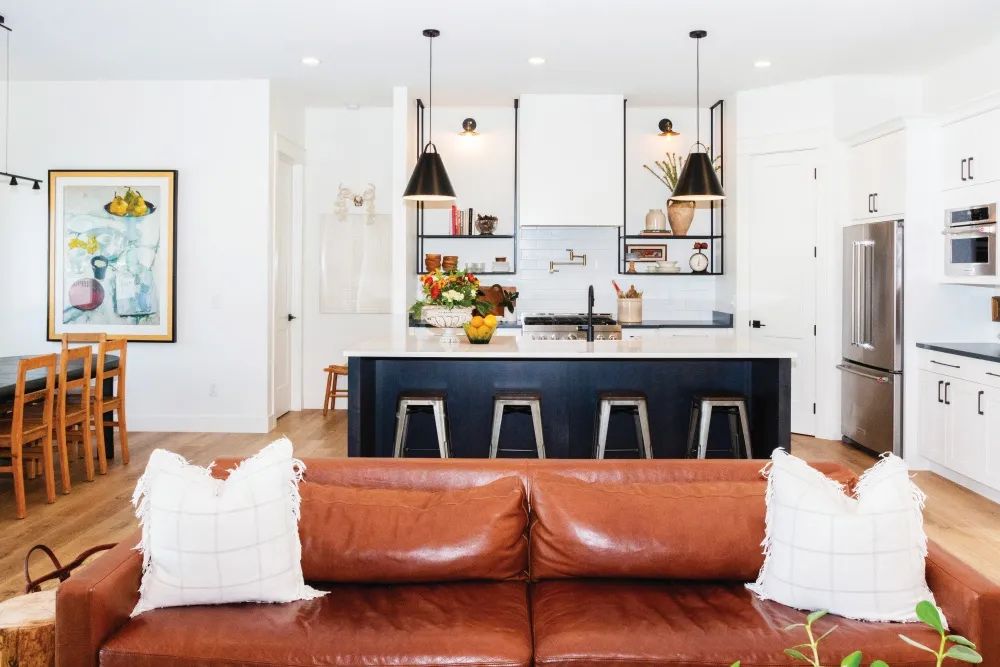 This sofa was a lucky Craigslist score found online by Claire before their house was built.
The leather sofa balances the modern farmhouse vibe of the kitchen while adding color and warmth to the space. It is the perfect example of how to mix new and vintage pieces for a custom esthetic.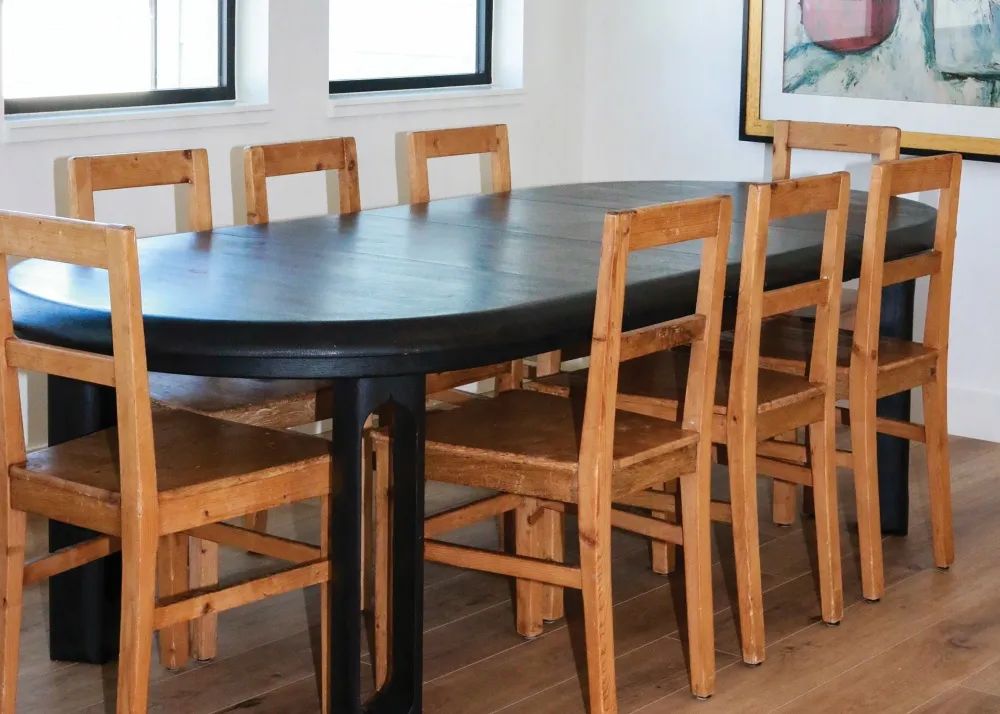 The table, sourced from a local moving sale, was sanded and stained by Eric.
"The chairs are vintage chairs from an old Denver restaurant that was closing," says Claire. "They are probably about 65-70 years old. Squeaky and wobbly, but sturdy as all get out."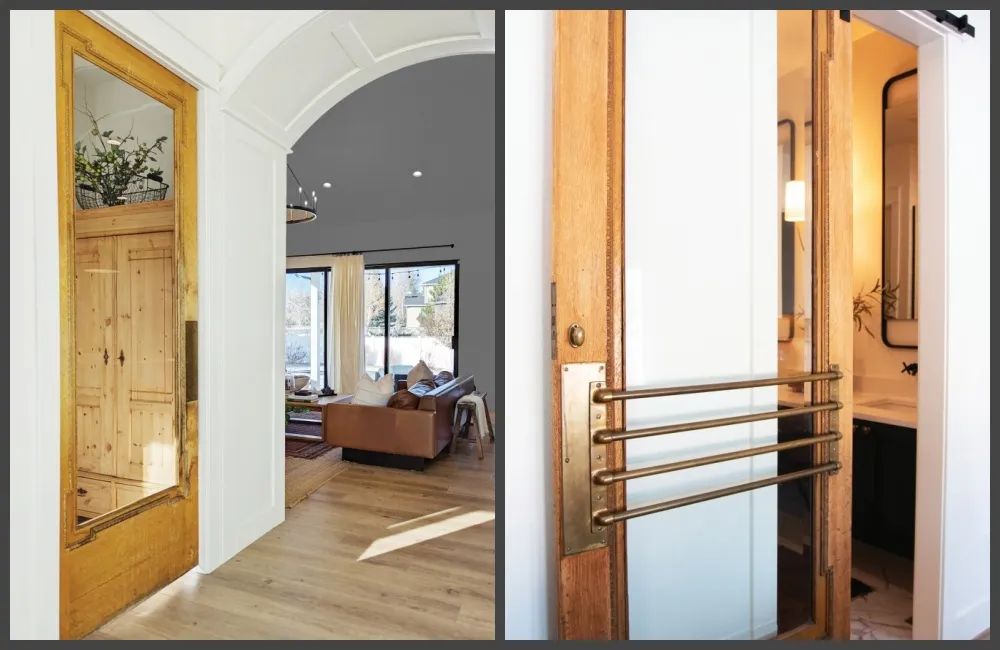 Two old doors from a historic Billings hotel were recovered and repurposed with minimal restoration. "I loved the character of the wood," says Claire." The chippier, the better. We put a new piece of glass in one of them, and that was it."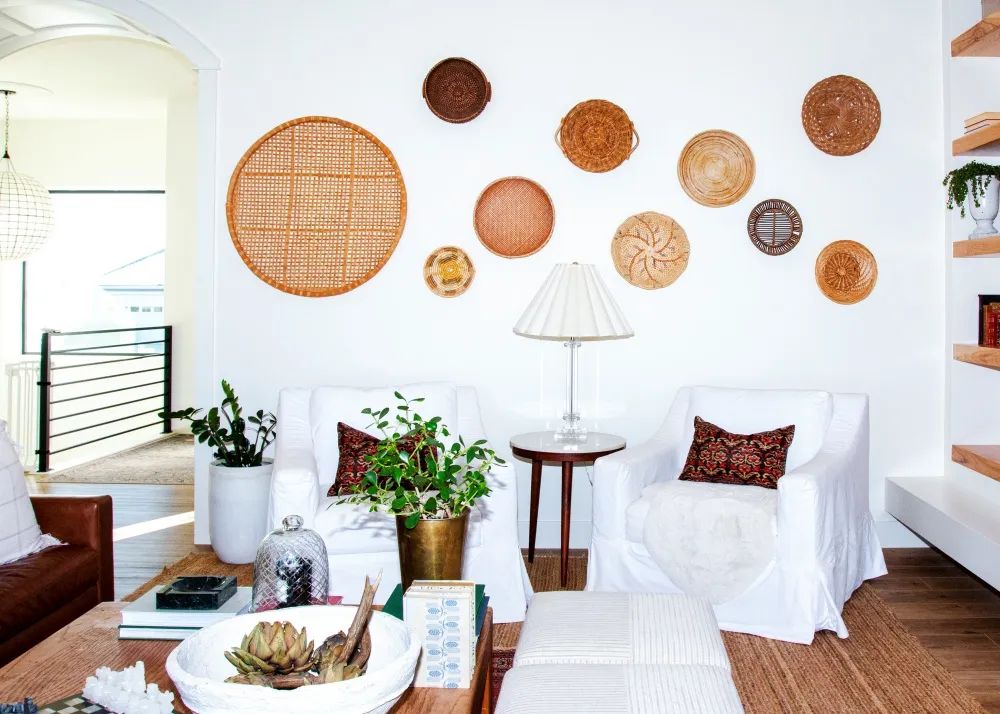 "I'm really inspired by nature," Claire says. "I love being in nature; I notice a lot of details, colors, patterns, and textures. I always like to integrate natural living things in my home."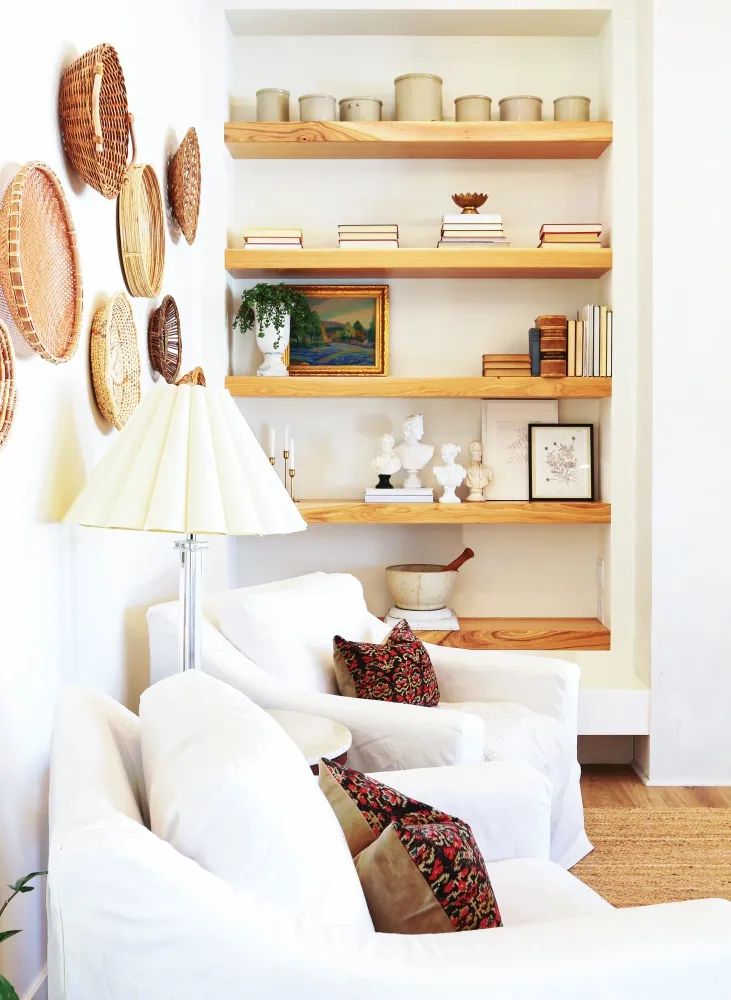 An eclectic collection of antiques adorn the shelves in this conversation corner. The large mortar and pestle on the lower shelf, sourced from Boston, was previously used in a pharmacy to compound medicines. The books were gathered from estate sales or other collectors. "Some were free, in boxes on the side of the road, "Claire says. "I always like to pull over and see what is there. I've found some really great things that way."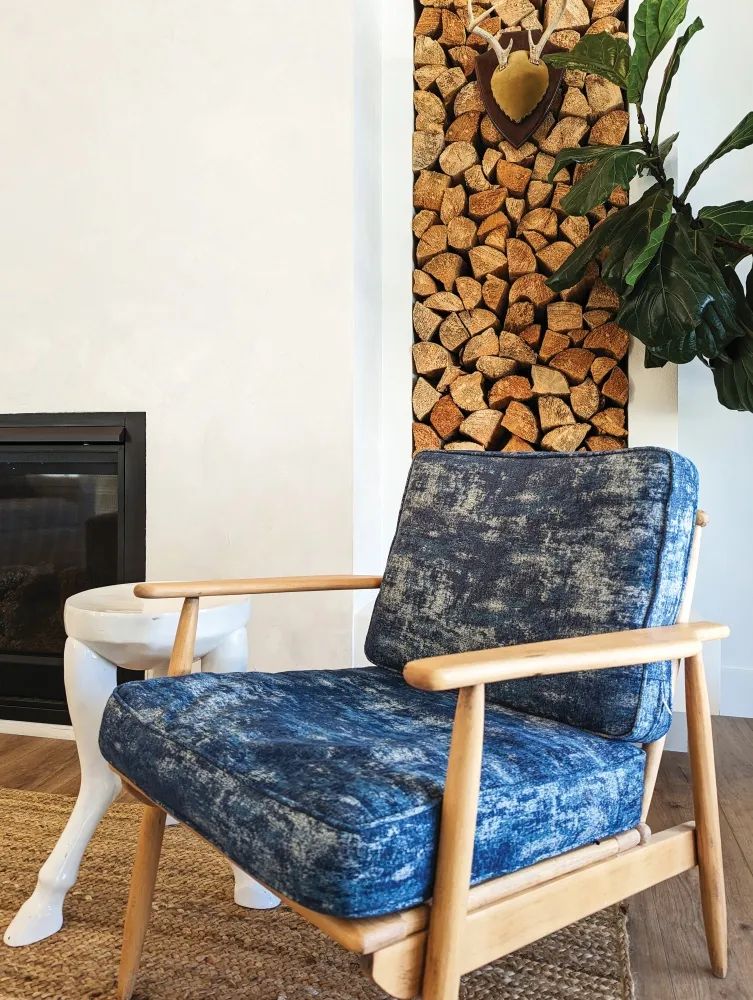 A mid-century chair provides a timeless look, while the stacked wood alongside the tall fireplace wall ensures the place stays current with the latest trends.
The primary bedroom combines elements with different styles, textures, and patterns.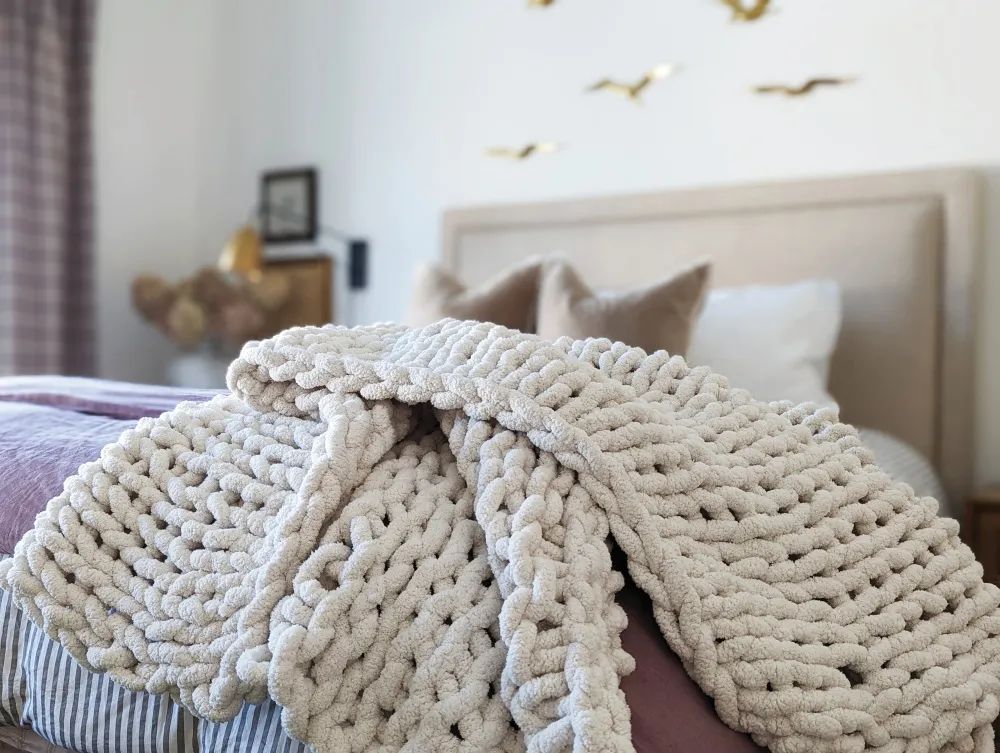 The modern bed gathers an extra layer of coziness with the addition of a chunky knit blanket.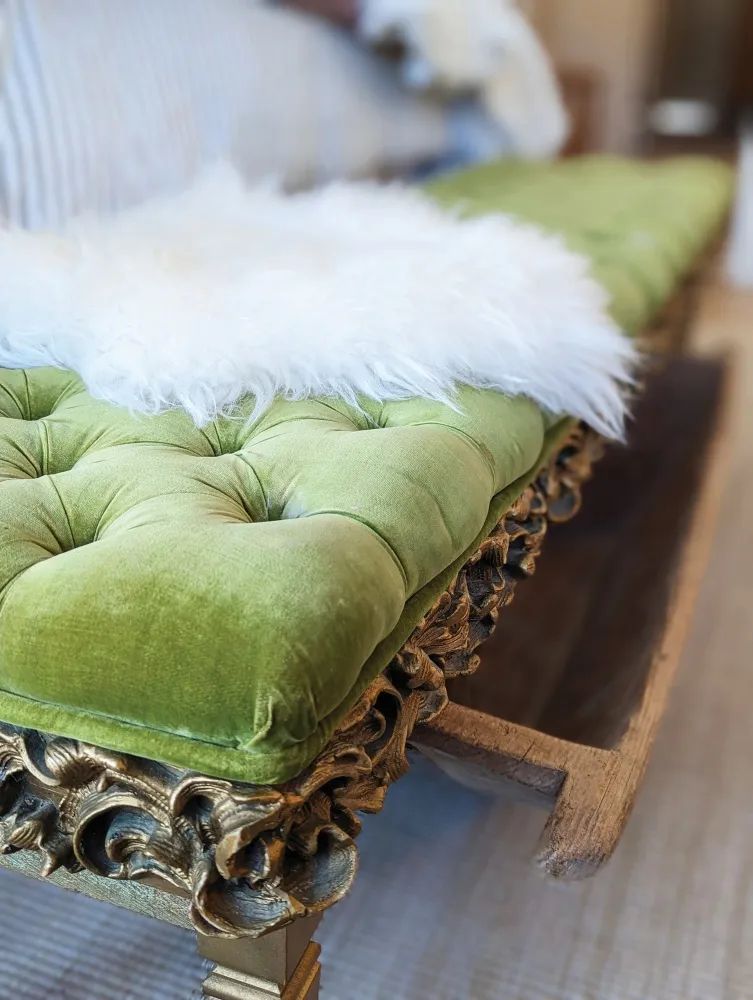 A sculptural bench covered in chartreuse velvet at the foot of the bed adds a touch of Old World elegance and glamor. A worn, rough-hewn wooden trough finds an unexpected home under the bench.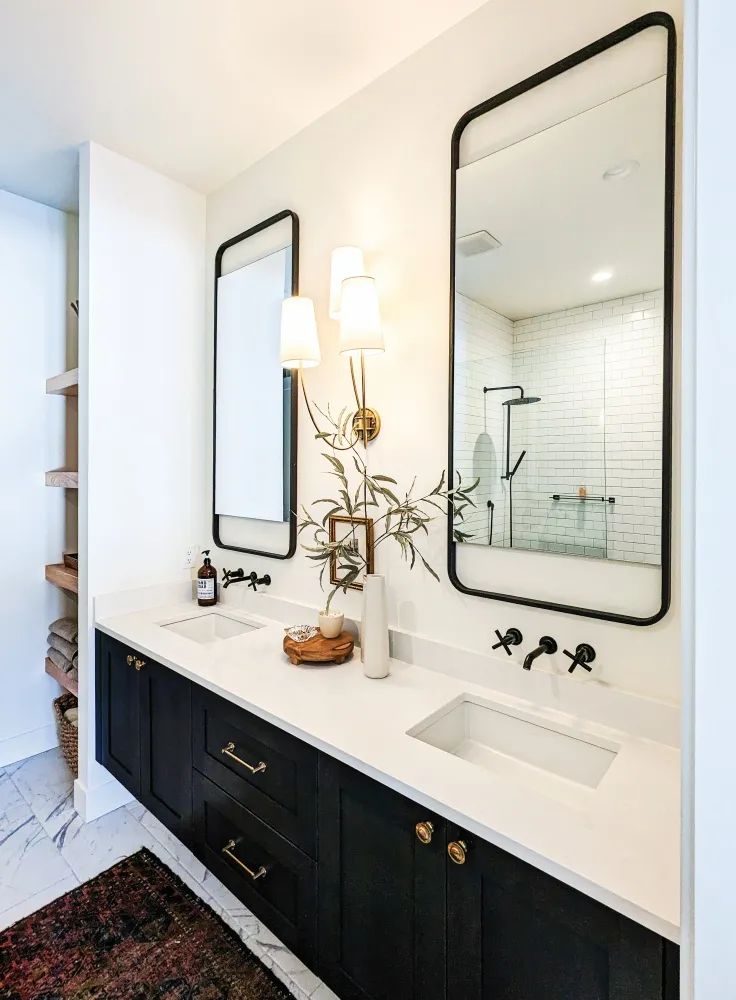 The modern primary bathroom gleams and glistens, with white tiles and large mirrors softened by the addition of natural elements.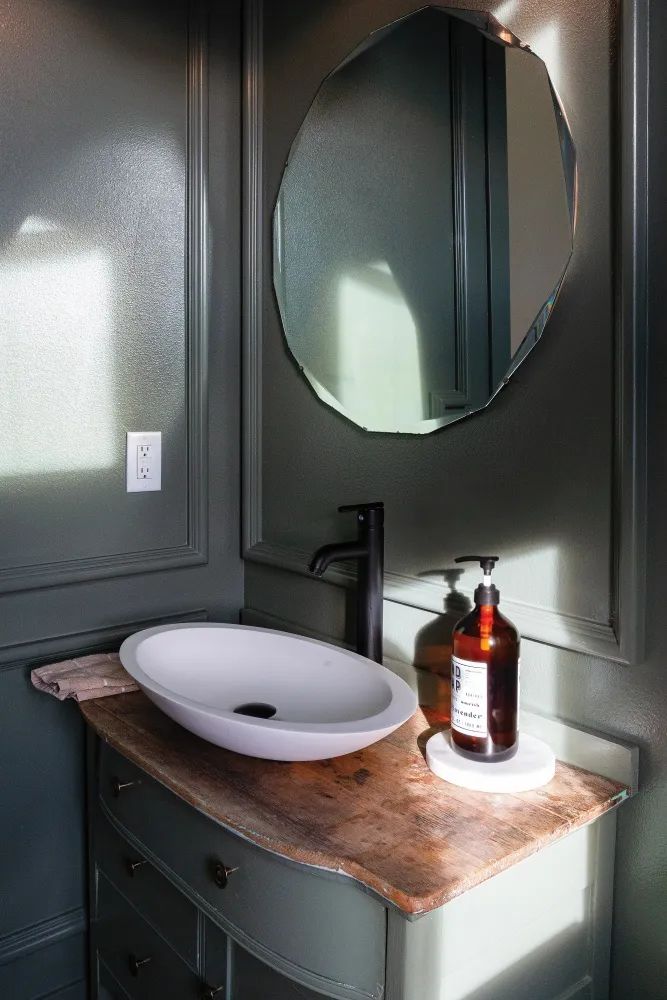 The vintage vanity with an old wooden top gives a Victorian vibe to this powder room. The green walls enhance the warmth, while the elegant shapes of the sink and faucet anchor the space firmly into the present.
5 tips for combining old and new in your home décor:
Start with a color palette. One of the easiest ways to make old and new pieces work together is to create a cohesive color palette. Choose a few colors that complement each other and use them throughout your space. This will ensure a sense of flow from one room to the next.
Incorporate different textures. This can be done by mixing different fabrics, finishes, and materials. Doing so will add visual interest and depth to your space.
Balance antique and modern pieces. For every vintage item, use two modern pieces. This will help to create a sense of balance and harmony in your space.
Use accessories as connecting pieces. Accessories are a great way to add a personal touch to your space and tie everything together. Choose accessories that match your color palette and overall style.
Edit your space. Only keep the pieces that you love. If something doesn't fit in or doesn't make you happy, get rid of it. A well-curated space will always look more put together than a space that is crammed full of stuff.
With these simple tips, you can easily blend old and new together to create a unique and cohesive space that is both stylish and functional.
Want to shop Scout's furniture and accessory selection or contact Claire for interior design services? Email claire@scoutinteriors.design and follow Scout's Instagram @scout_interiors.design for more style ideas and flash sales!
Originally printed in the January 2023 issue of Simply Local Magazine
Never miss an issue, check out SLM's digital editions here!