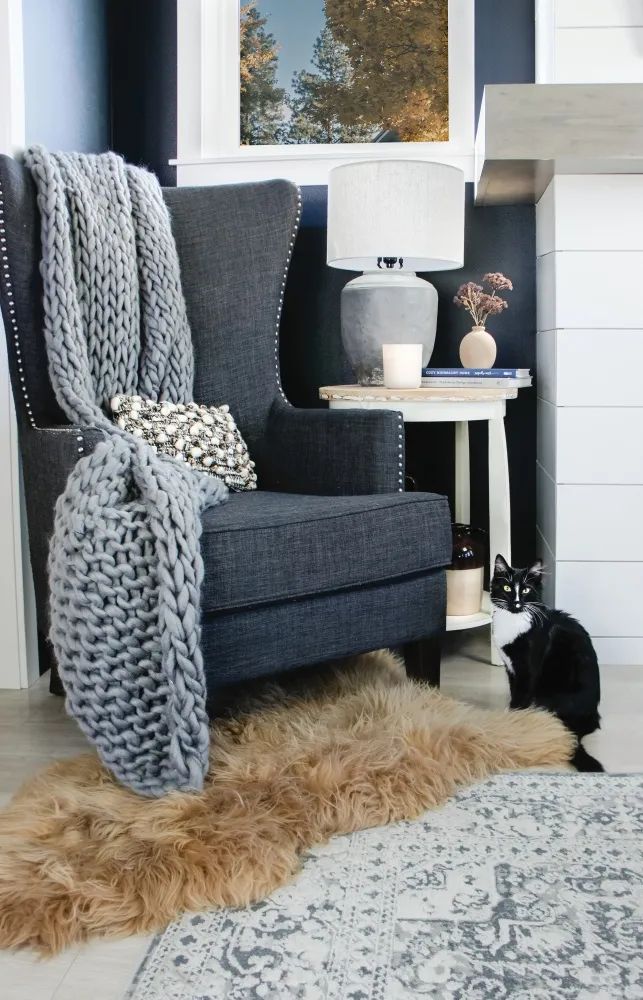 5 Easy Ways to Cozy Up Your Home
November 2022
article & photos by cassie michael
It's the most wonderful time of year… cozy season. There's a particular Montana magic that occurs this time of year when one slows down to enjoy falling leaves, sweaters, fire pits, and football before the snow falls (and stays until June). But what if you could invite this magical coziness into your home to be enjoyed all season long with just a few key elements? The good news is that it's not as hard as you think! In fact, you may already have what you need lying around.
Here are 5 easy ways to capture the magic of cozy within your own home!
1. Layer Up
One of the easiest ways to draw inspiration for a cozy home is to emulate your Montana wardrobe with lots of LAYERS! Simply adding a layer (or two) of throw pillows, textured blankets, and even faux fur will cozy up your space instantly. The best part is pillows and throws aren't purely decorative! They help us get cozy and snuggle into our rooms- they add beauty and function.
Think about your pillow + throw + furniture combination like an outfit. It's not about perfectly matching every piece but grouping items that go together. The key is to mix textures, patterns, and sizes for a lived-in look. Shop for pillows in darker-toned velvets, plaid, bouclé, wool, or even leather. Pair these with a chunky knit blanket that mimics your favorite sweater for some instant cozy vibes.
Design tip: Invest in down-filled pillows with removable covers! These little slices of heaven are so comfy and will maintain their form for many years with a little karate chop and fluff. The removable covers can be swapped out seasonally and are much easier to stow away during the off-season.
2. Bring the Outdoors In
Another layer to add to your cozy space involves seasonal plants and flowers – real or faux! Like pillows and throws, greenery adds texture and color to your space and makes it feel more alive. You don't even need to venture far! Grab your jacket and head out to the backyard to clip a few branches from a tree or collect fallen leaves to be placed in a decorative bowl.
Design Tip: If you struggle to keep flowers alive for longer than two days (this tip is for me), choose dried florals instead. These beauties will not only add texture, color, and life to your room, but they often smell wonderful as well!
3. Lighting
Lighting is one of the most essential elements when it comes to the cozy vibe within your home. The key is to layer 2-3 sources of light in each room to help draw your eye around. Use table lamps, floor lamps, sconces, picture lights, or even your favorite candle to create a glow throughout the space. Take the ambiance to the next level by choosing lamps with dimmer switches for more mood options.
Design tip: Make sure your lightbulbs emit a soft, warm glow with a color temperature of 2700K – 3000K.
4. Cue the Cozy Sounds & Scents
It's not just what you see that makes a space inviting; sound and scent are crucial to creating an intimate and cozy environment. Soft music subconsciously slows us down and in turn, allows us to experience the coziness created. Another great sound option is a crackling fireplace or wick candle, or even turning on the good ol' fireplace scene on YouTube.
Speaking of candles, scent is one of the most powerful ways to evoke the mood of a room—stockpile delicious cozy scents like cinnamon, apple, vanilla, and maple for the ultimate cozy feeling. In addition to candles, use a diffuser or electronic scent machine that offers continuous scent, so your space smells amazing even when you're on the go.
Design tip: Simmer apples, berries, cloves, cinnamon sticks, and more in a crockpot of water to create an inexpensive yummy scent throughout your home that will last for days!
5. Bring it all Together
Now that your home looks and feels cozy – it's time to enjoy it with your family and friends! Having just a few cozy hosting items on hand will give you the peace of mind to open your home whenever the chance arises. Simply ask yourself, what am I doing when I feel coziest? Your answer will likely involve a hot beverage and food. So, when stocking up on pillow covers and candles, don't forget to grab apple cider, hot chocolate, or tea. A small backstock of ingredients for soups, stews, and bread are also a great idea.
Design tip: Grab a new seasonal mug or fun disposable napkins when shopping for your cozy décor. These inexpensive and intentional items will remind you to slow down and enjoy your cozy home.
Originally printed in the November 2022 issue of Simply Local Magazine
Never miss an issue, check out SLM's digital editions here!