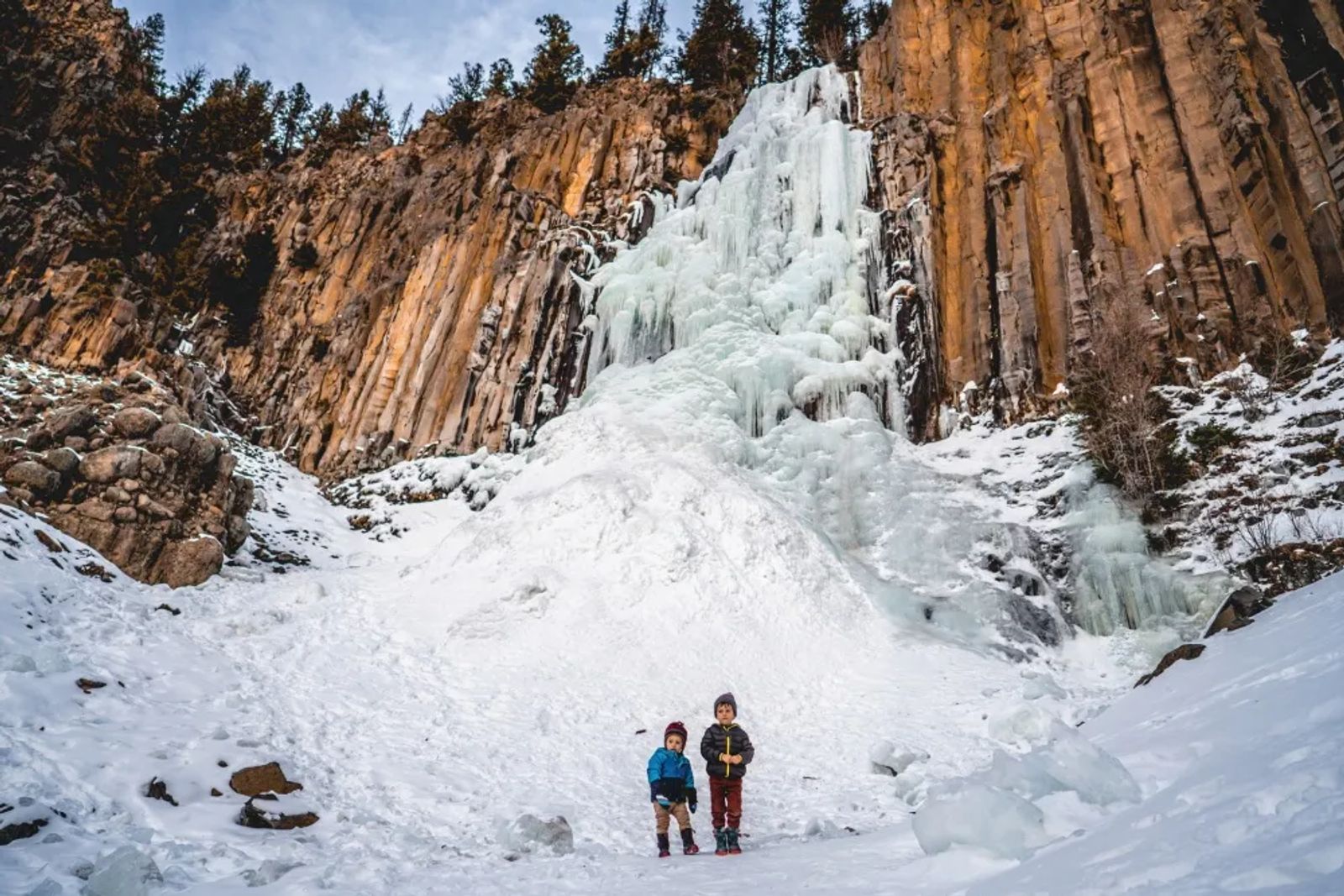 Ice, Ice Baby: Hike to Frozen Palisade Falls
January 2021 | article & photos by jamie blotske
Love 'em or hate 'em, Montana winters can be long, and if hitting the ski slopes isn't your thing, winter can seem like an eternity. My husband and I used to be Red Lodge Mountain season pass holders... and then we had kids. Well, that's a wrap, folks!
Ok, I'm being a little dramatic and am entirely joking, but I think all parents can relate to the harsh feeling of change when those tiny humans enter the picture. While our ski days are temporarily paused, we have had to find other winter activities to keep our adventurous spirits pumping.
In the heart of Hyalite Canyon, located 15 miles south of Bozeman, Palisade Falls is a beauty to behold in all four seasons. Our family has been several times, and we have come to love it most in the winter season! There is something so peaceful and comforting about running water, isn't there? The smooth motion it makes as it travels down the river or flows over the cliff's edge. The consistent trickling sound that we often play at night on our sound machines. The cool breeze and glimmer of the sun that bounces off its surface. These are the things we love about a waterfall's graceful presence. And then, just when you think it couldn't be any more magical than it already is, it freezes. The massive amount of ice that drapes down the rock wall, suspended in time, is awe-inspiring. Standing at the base, basking in its frozen glory, you can't help but feel as though you walked right into The Chronicles of Narnia, trapped in a mystical wintery wonderland.
So how does one make it to this storybook spot? It isn't hard to find!
Simply typing "Palisade Falls" into Google Maps will lead you right to it. For those that do not use some type of GPS device, I will give you directions here:
Head west on I-90 toward Bozeman.
Take exit 313 toward Bear Canyon Road.
Turn left onto Moffit Gulch Road.
Turn left onto Sourdough Road.
Turn right onto Goldenstein Lane.
Turn left onto South 19th Avenue.
Turn left onto Hyalite Canyon Road.
Follow this road to Hyalite Reservoir.
Upon arrival at the reservoir, continue driving over the bridge.
You will begin to see signs and will eventually see the turn for Palisade Falls.
There is a large parking lot on the left side of the road that leads you to the falls. Depending on the amount of snow, there's a possibility you will have to park there and hike your way to the trailhead (roughly a mile). Snowshoes are HIGHLY recommended! The road to the falls is not maintained, don't even think about attempting it without 4-wheel drive. It is very narrow, and one wrong move will have you stuck, deep in snow and waiting for assistance. It's really just a one-way road, and we have had to back-up many times during the winter as we cross paths with vehicles on the way out from the falls.
Once at the trailhead, whether you drive to it or snowshoe your way in, the hike to Palisade Falls is a relatively easy one and is just shy of a mile. While the frozen falls are the end goal, don't miss the sights along the way! The trail is well marked and beautifully lined with deep green pine trees. We have encountered it during a light snowfall, and it was truly a magical fairytale moment, watching the snowflakes gently land on the trees, the trail, and our tongues.
wrapping upMake a weekend of it! Our family has made it a fun tradition to go up to Bozeman, get a hotel room, hike to the falls, grab take-out from one of our favorite local restaurants, play in the pool, sleep in, watch cartoons, try a new coffee shop, maybe do a little shopping, all before we hit the road to head back home. It's a quick trip, but absolutely worth it and quickly becoming one of our favorite winter escapes, one that we always look forward to!
In the words of Vanilla Ice, "All right, stop. Collaborate and listen..." Grab your calendar, find a free weekend, and pencil in this icy adventure. You won't be disappointed! And I can almost guarantee you'll be singing "Ice Ice Baby" as you catch your first glimpse of the frozen falls because I have that song stuck in your head now, right? If you aren't an '80s and '90s kid, Google it...You're welcome.
Originally printed in the January 2021 issue of Simply Local Magazine
Never miss an issue, check out SLM's digital editions here!