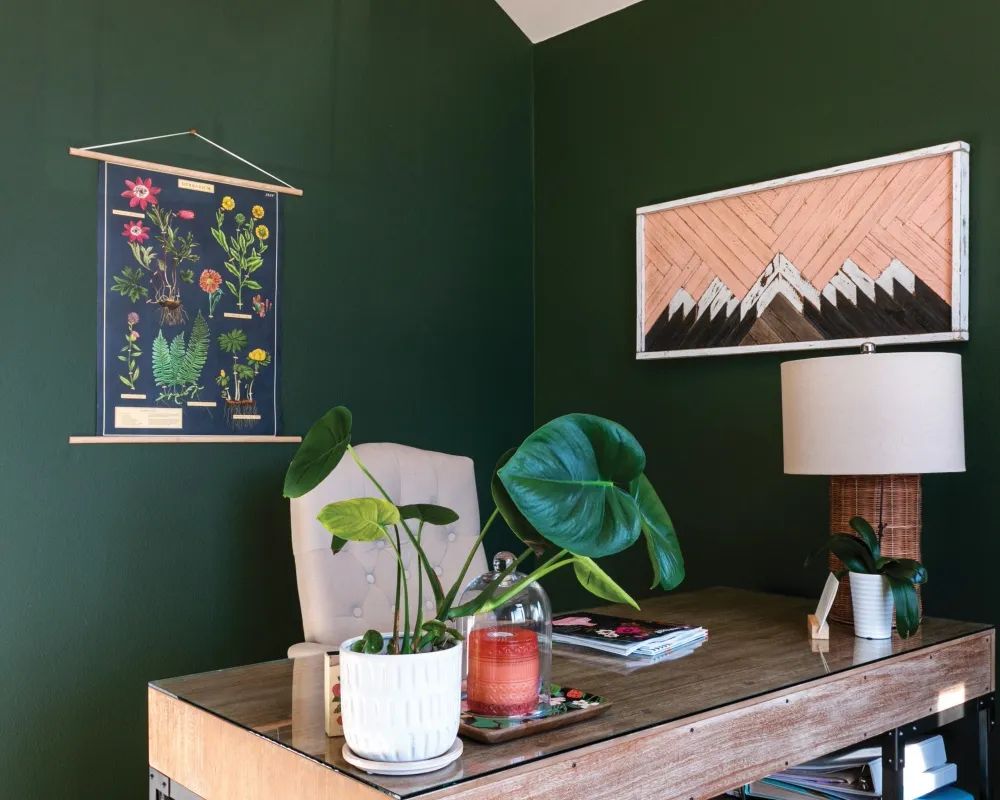 House of Greens
April 2022
Living in Montana, our chances of being surrounded by lush green hues are limited to the warmer months of spring and early summer. To get the most out of the healing and uplifting properties of this fresh and vibrant color, we have the option of bringing it indoors, where we can enjoy it all year round.
Decorating with emerald tones might seem like a bold idea, yet green appears to be springing up everywhere, in residential and commercial settings. Green conveys a feeling of health and wellbeing, prosperity, and security. Lighter shades such as mint, sage, or pistachio are soothing and peaceful. They pair well with other pastel colors such as pale pink, beige, and gray. Darker hues such as forest, hunter green, or emerald are dynamic and energizing. The best colors to pair them with are shades of brown, gray, white, copper, gold, and black. Think color associations you'd see together in nature: grass sprouting from rich dark soil, moss growing on wet rock, bright leaves against a canopy of branches. Nature is a foolproof guide to choosing the best color palette. You can experiment by adding touches of your favorite greens in different areas of your home. Be it discreet, in accent pillows, decorative items, and artwork, or going all the way out with green upholstery, rugs, or wall color. From bedrooms to small spaces like powder rooms and laundry areas, you can add a touch of green just about anywhere and bring in relaxation and calm throughout the house.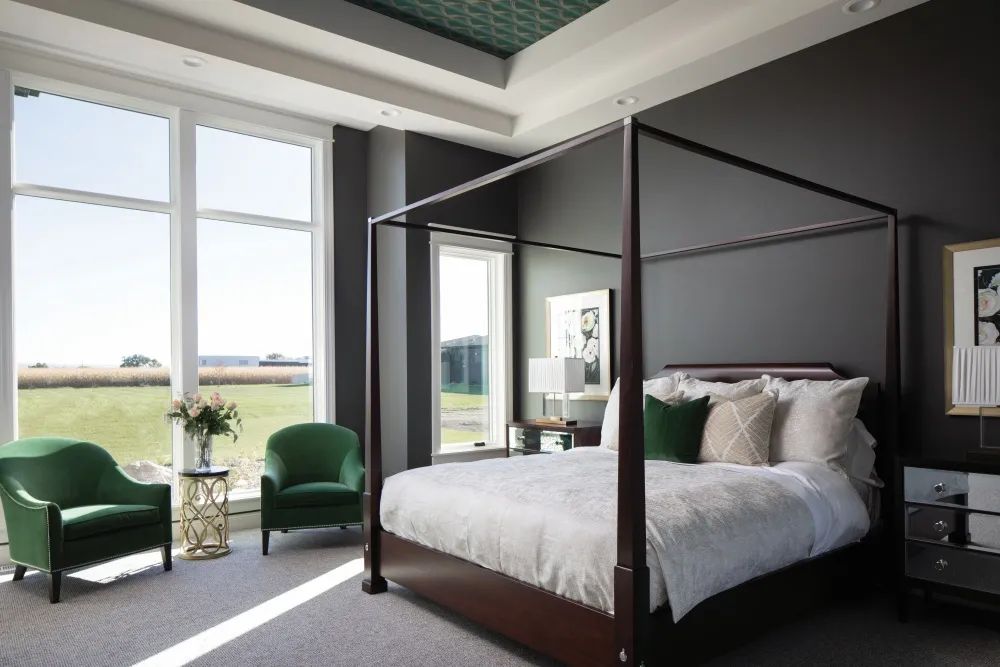 photo by Nathan Satran
This peaceful and relaxing bedroom contrasts deep hues of charcoal gray, a neutral color by definition, with bold pops of emerald green. The bold color is consistently used throughout: in the armchairs and the coved ceiling and added decor elements such as throw pillows and artwork. The intense color palette contributes to the timeless elegance of this interior.
Pairing green upholstery with gold hardware adds an extra touch of class to this ultramodern kitchen. In this case, green is the perfect color to uplift and energize the austere atmosphere created by rich tones of brown, repeated in the dark hardwood floor and the imposing cabinetry. Subtle hints of green also appear in the granite countertop surfaces and the eye-catching backsplash.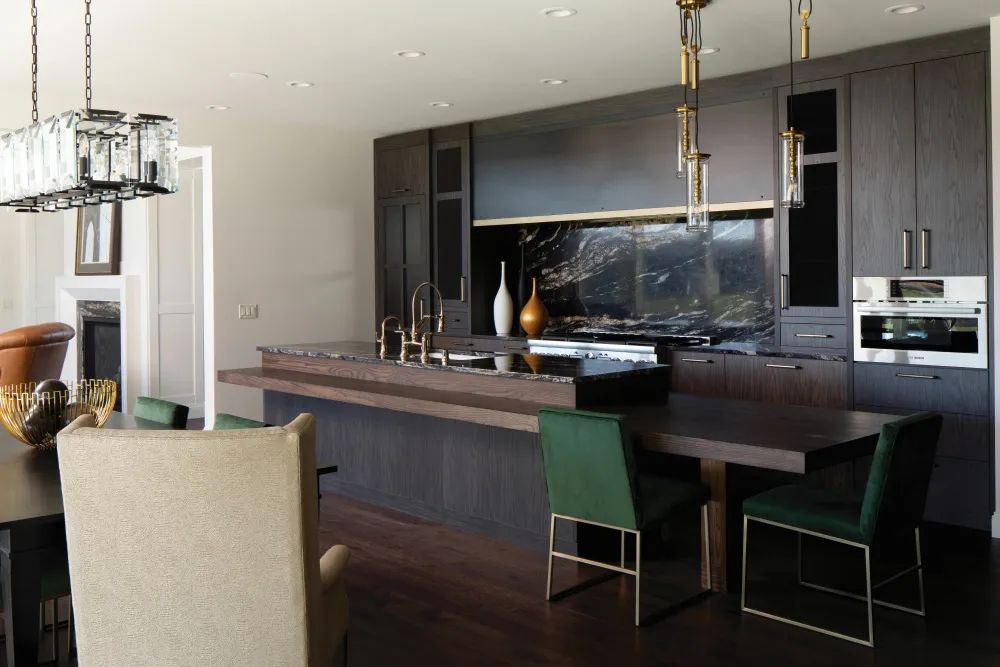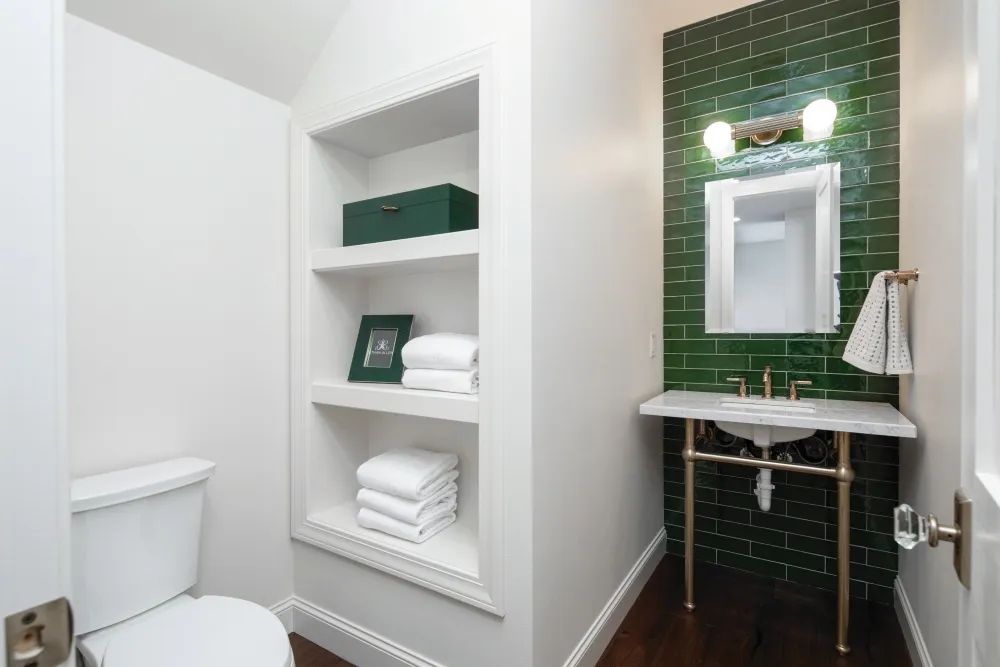 photo by Nathan Satran
Small spaces can benefit from splashes of color, too. A stark, sanitary-looking white bathroom comes alive with the addition of a focal wall showcasing a hunter-green subway tile. Small accessories in the same hue complete the look.
Can your laundry room look upscale? Certainly so, with the addition of patterned mosaic flooring and a well-placed piece of art in pale jade and gold tones. The unobtrusive shade of green feels right at home next to the dark cabinetry, helping to offset the seriousness and practicality of this utility room.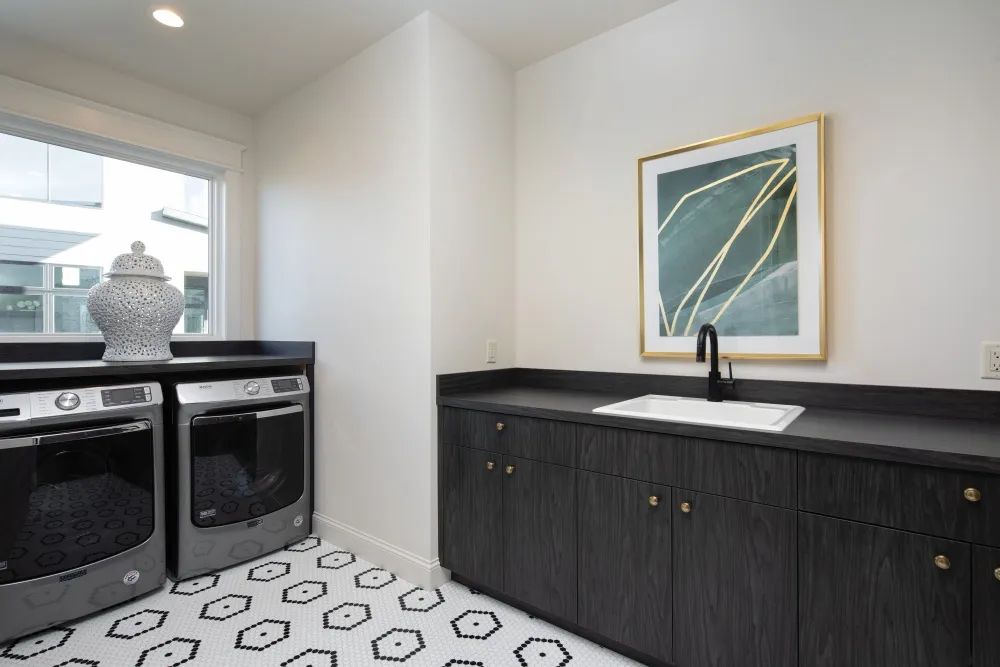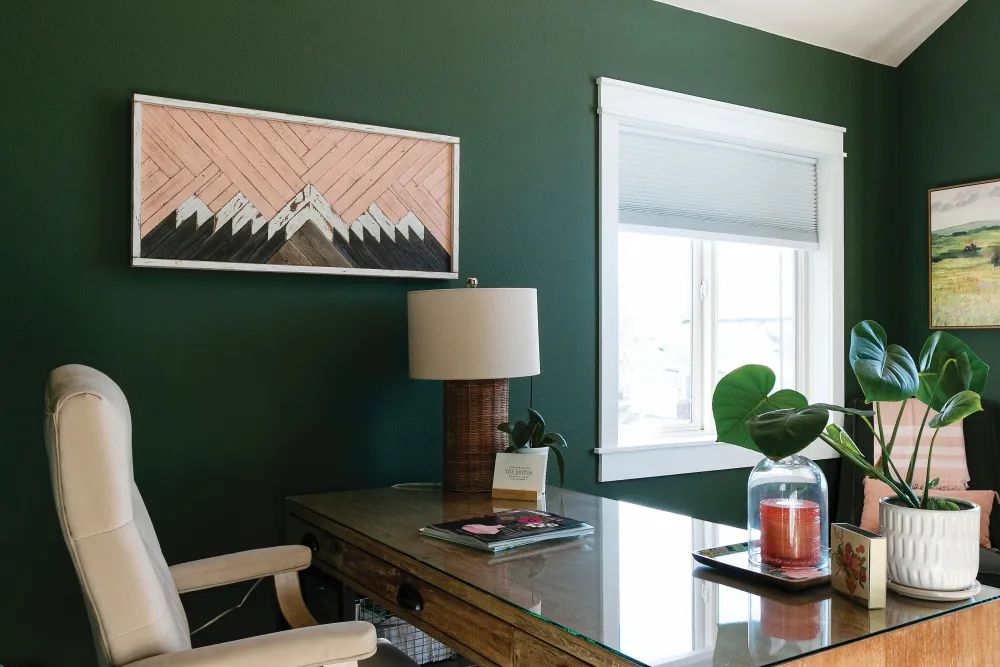 photo by Renata Haidle
A soothing shade of forest green covers the walls of this trendy home office. Consistent pops of green have been added through a variety of plants and upholstered furniture, as well as the artwork. The dominant color is brought into balance by adding salmon pink, brown, and terracotta tones.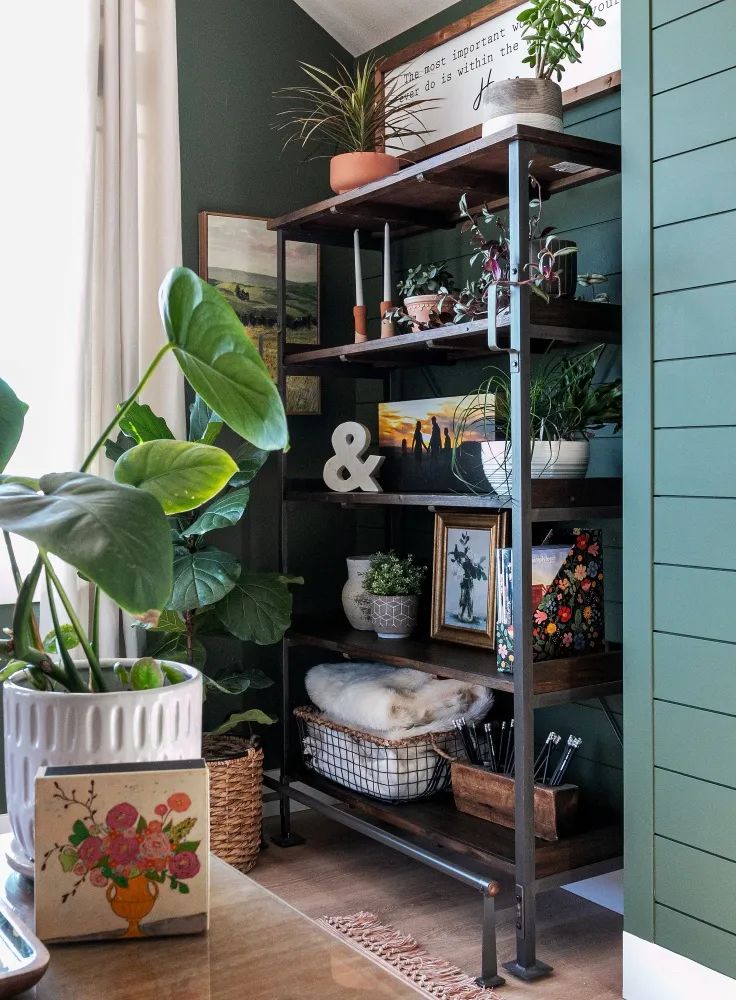 A stunning apothecary-style cabinet gets an uplift with a coat of hunter green paint and becomes a statement piece against the white shiplap background.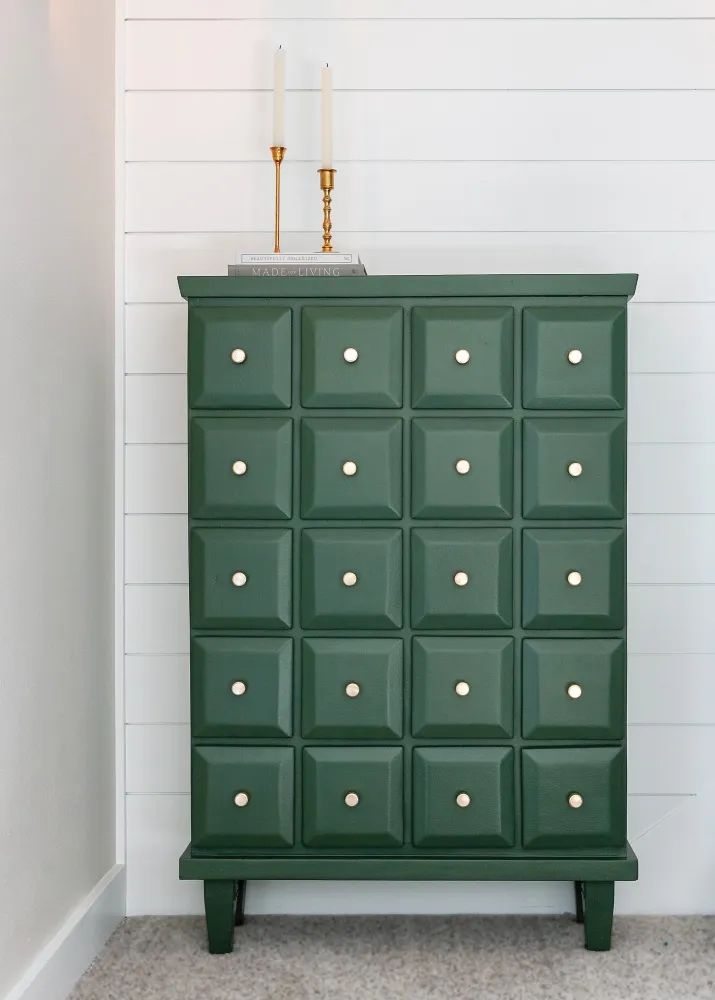 photo by Renata Haidle
From high-traffic areas like living rooms and kitchens to small spaces like powder rooms and laundry areas, you can add a touch of green just about anywhere, and bring in relaxation and calm throughout the house.
Originally printed in the April 2021 issue of Simply Local Magazine
Never miss an issue, check out SLM's digital editions here!