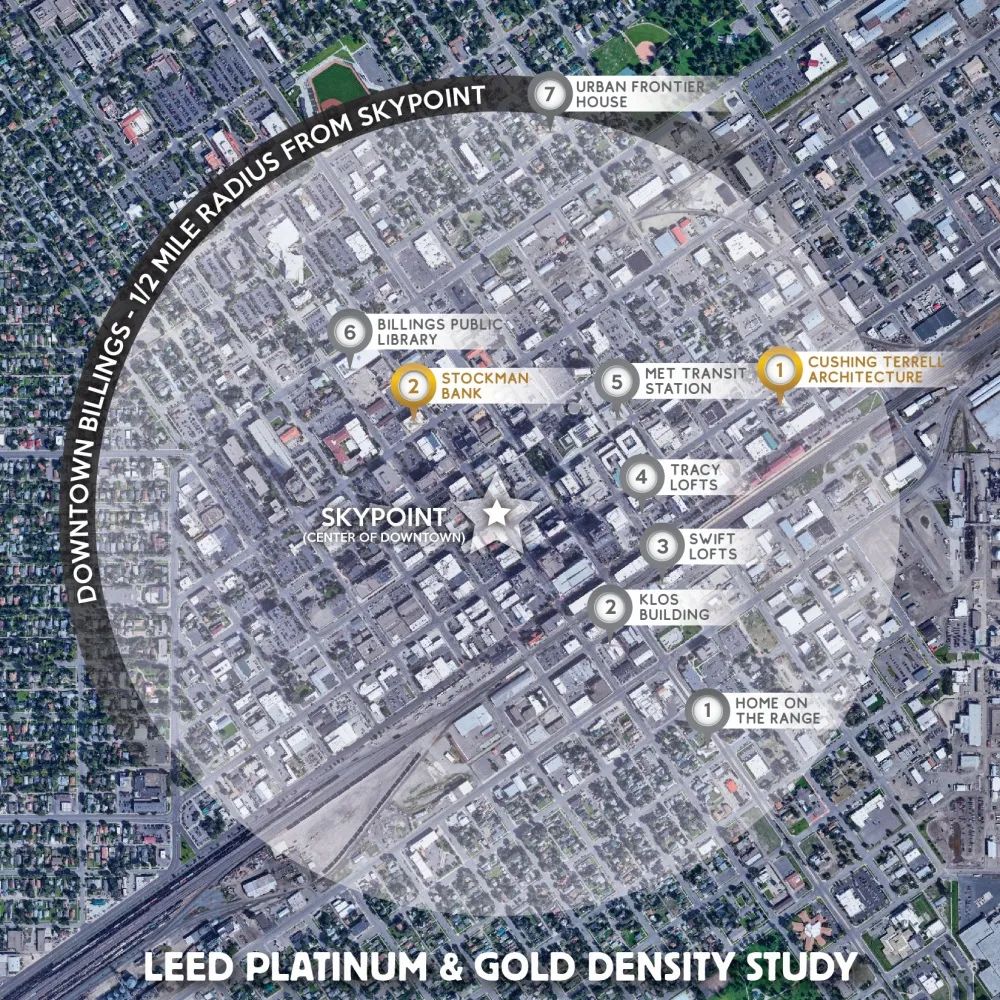 Leadership in Energy and Environmental Design (LEED)
Green Building LEEDers
November 2021
Get to know Billings' seven LEED® Platinum-certified buildings found within half a mile of Skypoint.
For 15 years, Billings has been a leader in sustainable architecture, pushing the envelope on what's possible in green building design. Vacant teardowns have found new life, city gathering spaces have been reimagined, resources have been conserved, all with high performance and long-term cost-effectiveness.
A half-mile radius of Skypoint, the center of Downtown Billings, encompasses seven LEED Platinum and two LEED Gold buildings. These seven buildings, certified by the U.S. Green Building Council, earned the highest level of points across several green building categories to qualify them as Platinum, the highest level of LEED certification.
The LEED system is the most widely used green building rating system in the world. A certifying arm of the U.S. Green Building Council, LEED "provides a framework for healthy, highly efficient, and cost-saving green buildings." By adhering to the rigorous LEED Platinum requirements for building certification, these Billings' structures prioritize efficient energy and water use, cut down on maintenance and waste, use green materials, and improve air quality.
"Healthy people in healthy places equals a healthy economy."
This is the mantra of the USGBC that's been adopted in Billings through LEED-certified projects. The goal is to see Billings' residents thriving in their homes, places of work, and community spaces, ushering in vitality and growth in our city through small steps like sustainable building practices.
Home on the Range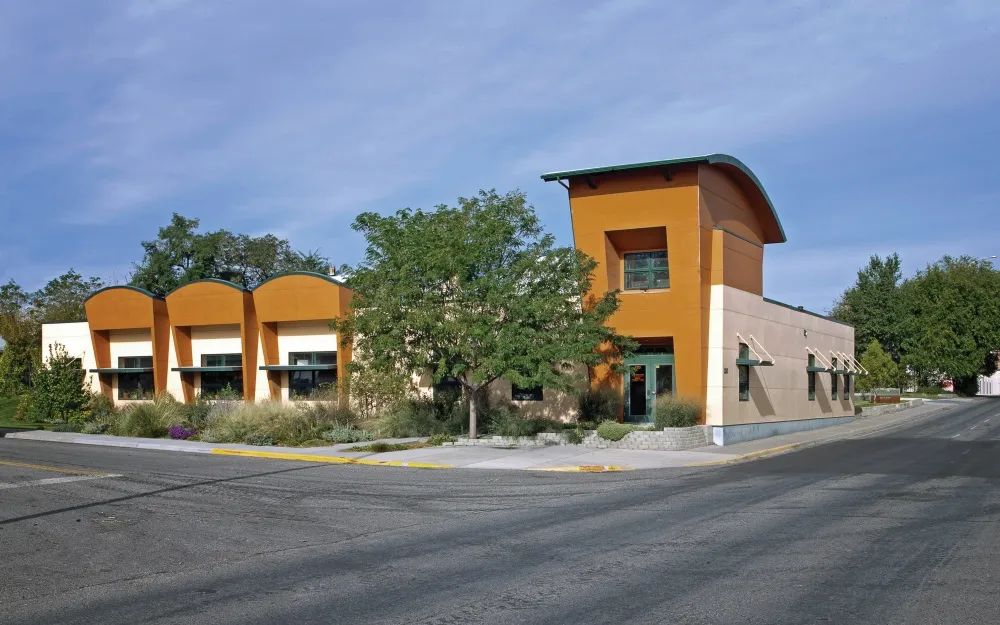 Photo courtesy of High Plains Architects
'Home on the Range' became the first LEED Platinum building in Billings in 2006. Home to the Northern Plains Resource Council, this high-performance, professional office building in the Southside neighborhood sprang to life from the remains of a 1940 concrete block grocery store.
The goal for Home on the Range from the beginning was three-fold: a building that allowed the Council to "live their values," with a design that made a bold and progressive statement, constructed inexpensively on a low budget. No problem! High Plains Architects completed this innovative project, implementing elements like photovoltaics, solar hot water heating, composting, permeable paving, and recycled content. 'Home on the Range' became the first LEED Platinum-certified building in the state of Montana, the 41st in the world, and the fourth-highest scoring at the time of completion.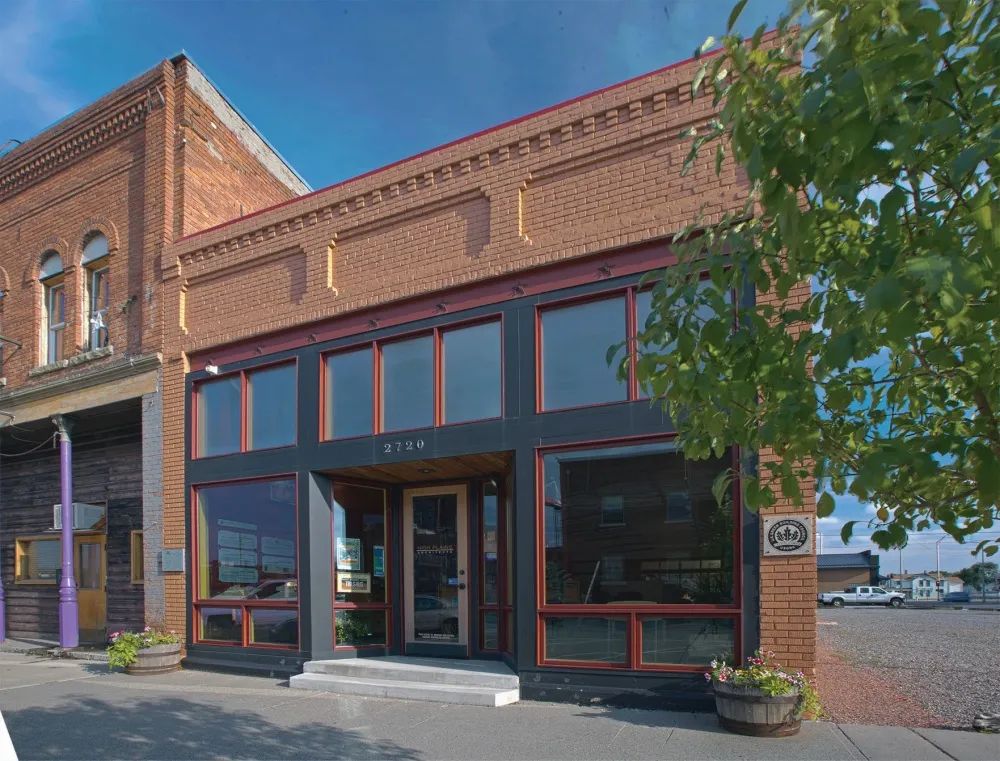 Photo by Tim Struck
The Klos Building is home to High Plains Architects and is the oldest of the seven LEED Platinum buildings, constructed circa 1895. A humble brick building that served as a saloon for many years before becoming abandoned and dilapidated, most in the community viewed this building as a certain teardown. When the High Plains team first set their sights on the Klos Building, it was floorless and falling apart. HPA utilized daylighting, natural ventilation, rainwater collection, photovoltaics and daylight monitor, material salvaging and reuse, and fly ash concrete and crushed glass floors. Now, it's a space filled with light and the bustle of architectural design, a daily inspiration to its inhabitants.
Swift Lofts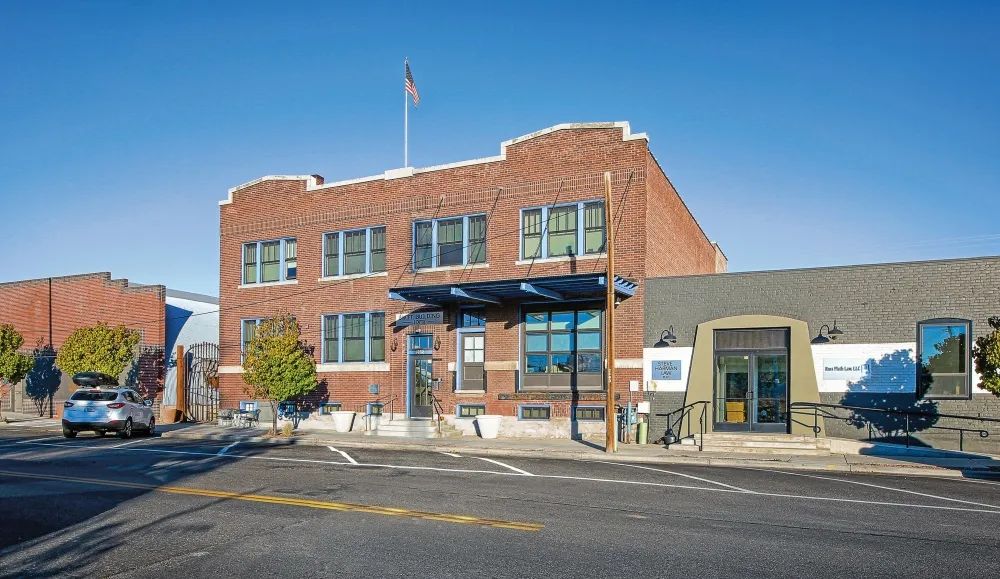 Photo by Tim Struck
The Swift Lofts are a reimagination of an old meat distribution warehouse owned by Swift & Company Meats. The Harman family hired High Plains Architects to take on this LEED Platinum renovation project, retaining and celebrating the original building's history and unique design features. Brick, heavy timber frame, and industrial accents were incorporated alongside widespread use of salvaged, recycled, and rapidly renewable materials as well as a super-insulated building envelope, photovoltaic panels generating electricity from the sun, solar hot water panels, and Energy Star rated lighting and appliances. The building received LEED for Homes Platinum certification and qualified as a Certified Historic Tax Credit Rehabilitation.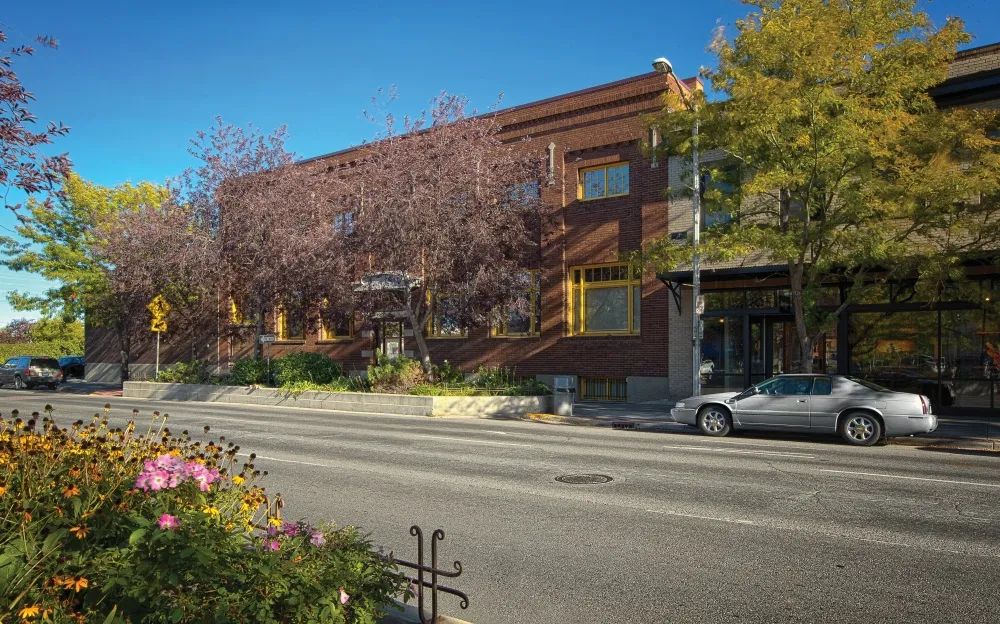 Photo by Tim Struck
The Tracy Lofts in downtown Billings met the need for sustainable, urban living while restoring a well-preserved downtown treasure. A contributing building listed on the National Register of Historic Places; the property sat vacant for many years before the renovation process took place. Implemented in the architectural design by High Plains were 5,000 gallons of rainwater collection tanks that provide residents water for toilet flushing and laundry, a photovoltaic system on the roof, and solar hot water. The resulting design was LEED Platinum certified historical, high-performing, and comfortable housing right on Montana Avenue.
MET Transit Station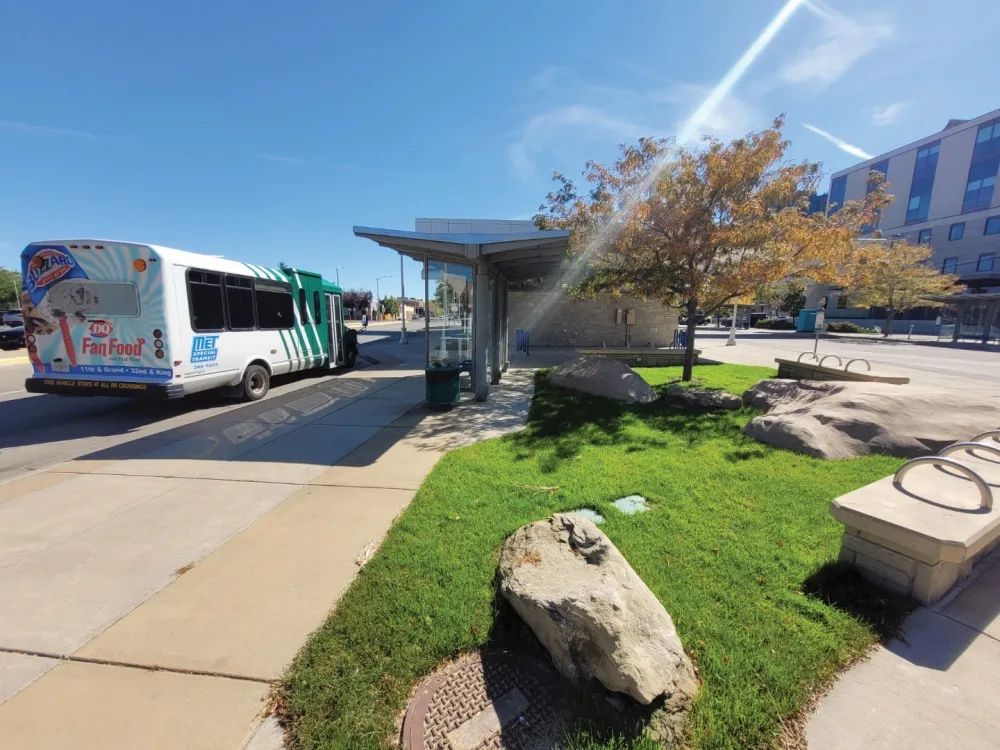 Photo courtesy of Billings MRT Transit
Billings' MET Transit Station showcases the versatility of green building practices. Built utilizing federal funds, a high emphasis was put on green building design for these structures. The downtown transfer center includes a large solar array that hovers over it, collecting solar energy to power all the lighting and electricity needs during the day, as well as a green roof that's been converted to a perennial wildflower garden. The transit station uses only about 40% of the solar energy collected from its panels. The balance flows back into the city grid.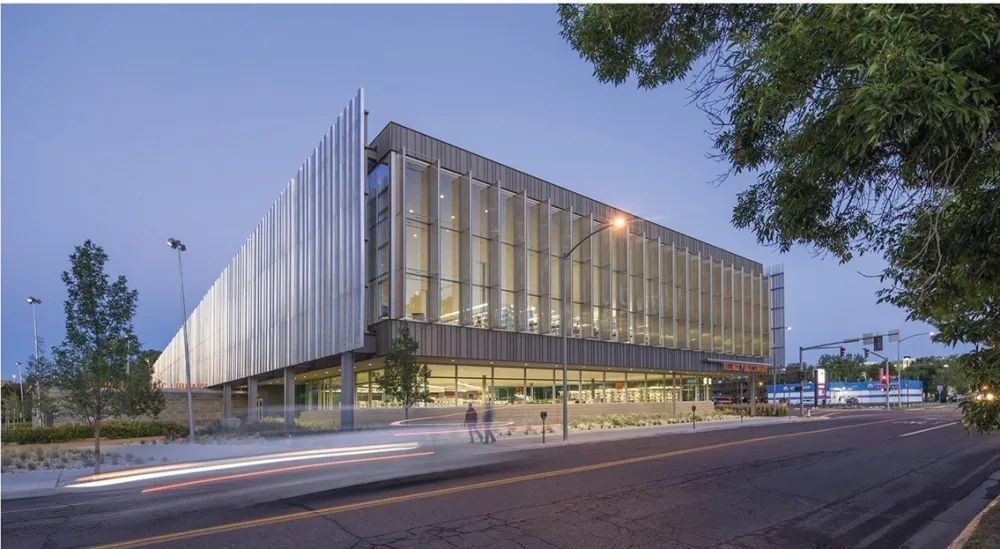 Photo by Bill Timmerman, used by permission of Will Bruder
A city's library is an essential, fundamental part of its community – housing culture, history, stories, and mystery within its walls. It is the lifeblood for learning and a reliable resource for people from all walks of life. The Billings Public Library was designed and constructed to enrich the lives of the people of Billings and be a beacon of environmental awareness.
"Environmental awareness and energy intelligence should always be fundamental to building decisions. However, in this case, we had the additional responsibilities inherent in designing a prominent civic institution. We were thus motivated to be a good steward of the funds available while achieving the highest LEED level that we could," says Don Olsen, AIA at O2 Architects.
The result was a high-performing community space – one whose design highlights the geology and history of the region while also diverting 100% of stormwater from the sewer system, operating with high energy efficiency, and incorporating native plantings in the landscape.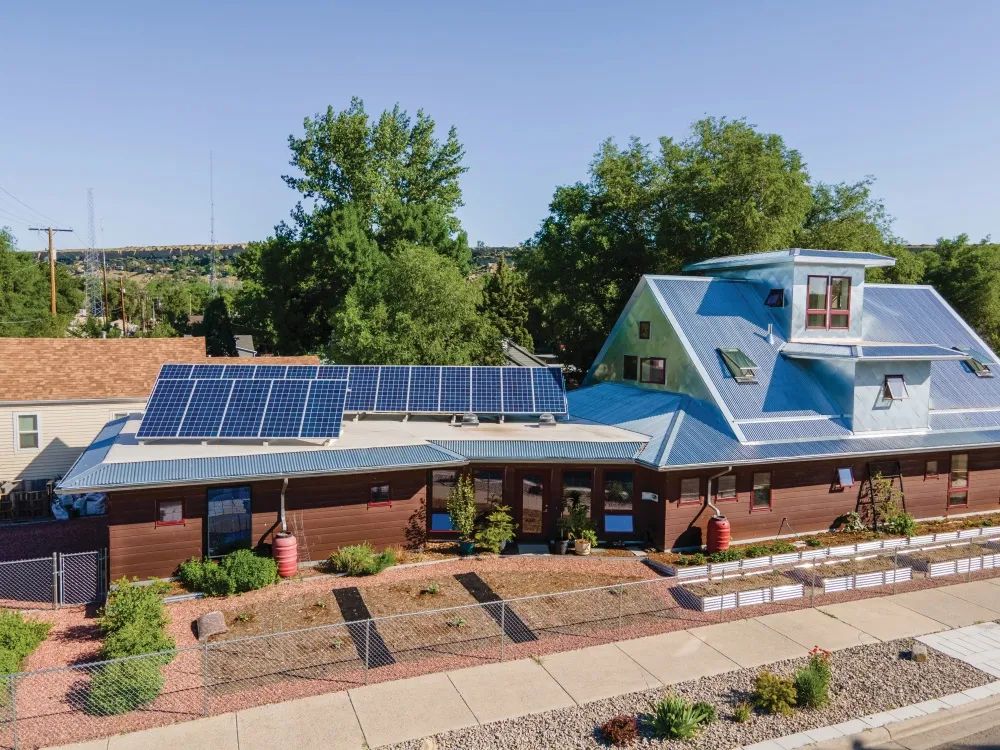 Photo by Nathan Satran
The Urban Frontier House, home of High Plains Architect co-owners Randy and Janna Hafer, is LEED for Homes Platinum certified and one of only three Certified Living Homes in the world. This home is a personal expression of Randy Hafer's daily work in his business and features net-zero energy and water usage, locally sourced recycled materials, and more. Read all about this unique and innovative home in our September issue.
Originally printed in the November 2021 issue of Simply Local Magazine
Never miss an issue, check out SLM's digital editions here!