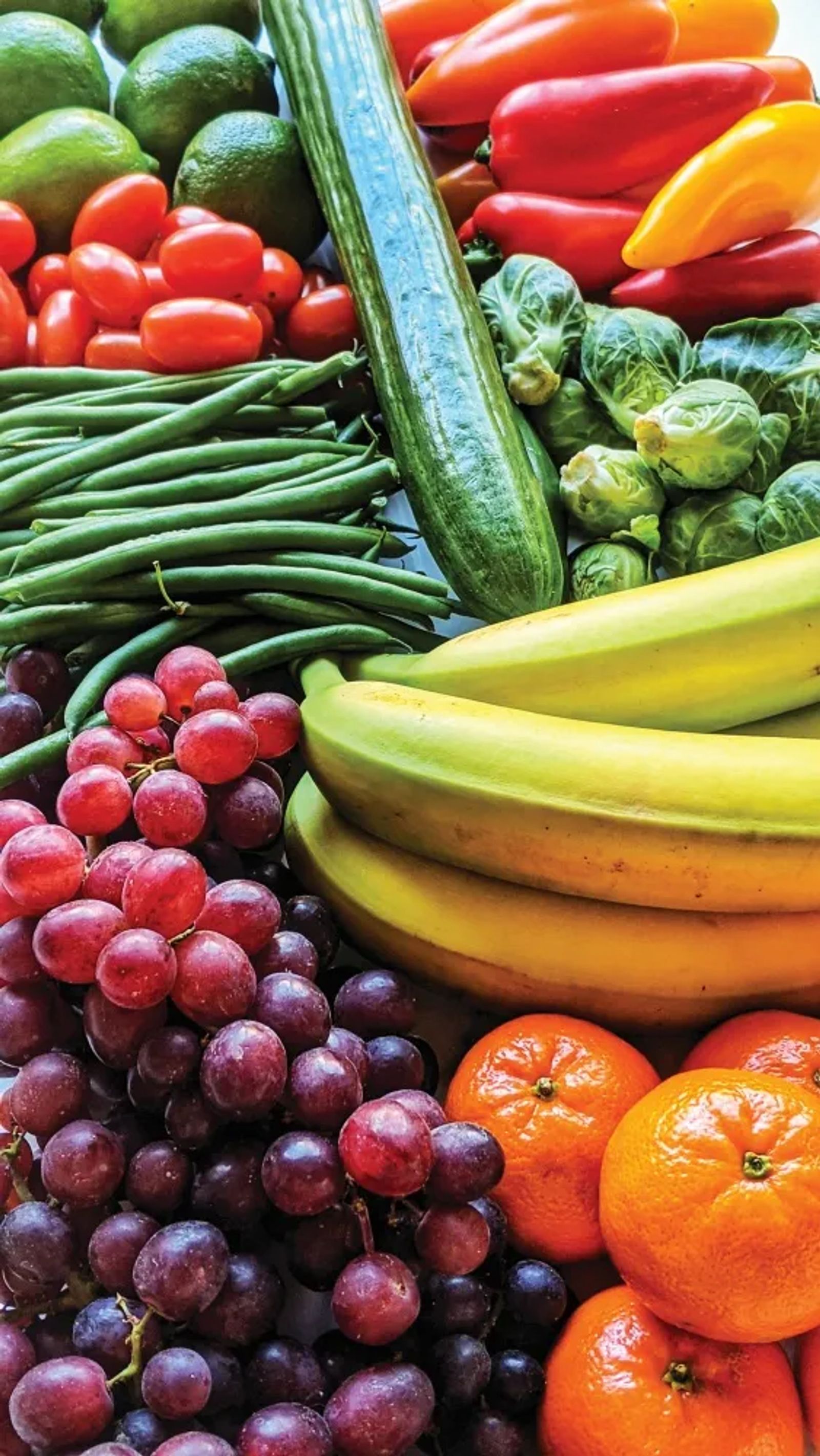 Grab and Go: Making Healthy & Fast Meals at Home
April 2021
article & photos by renata haidle
Life is complicated. Food doesn't have to be. If your schedule is packed with work, kids' activities, and other commitments, the last thing you want (or have time to do) is slave by the stove to prepare sophisticated meals for the entire family. Instead of reaching for easy (but not always healthy) conventional fast food options, try preparing your own quick meals ahead of time. With a bit of planning, you can easily assemble a week's worth of lunch boxes that will satisfy the palate, the budget, and your need for variety.
With the many conflicting dietary guidelines out there, it can seem daunting to choose the ideal food groups. Is paleo better than keto? Should we do low-carb or low-fat? MyPlate or MyPyramid? Food trends evolve, and nutritional advice, more or less qualified, abounds. It is up to you what plan you follow, but for most of us, some simple guidelines stand the test of time: eat as many veggies and fruits as you can, choose whole grains over refined ones, reduce meat consumption, favor lean meats (poultry and fish) over red cuts like pork and beef, and avoid processed foods as much as possible.
Here are five lunch ideas (and three salads!) to get you started, inspired by various cuisines around the world. They are simple and delicious, easy to prepare, and they take minimal time to assemble. As a bonus, once you show the kids how easy it is to put them together, you will have one less task on your to-do list. 
Monday: the American lunch box. Instead of the good ol' hamburger, why not try a black bean and sweet potato burger. You can easily make your own by smashing together two cups of roasted sweet potato, two cans of black beans, one cup of cooked brown rice or quinoa, one egg, and a handful of sunflower seeds. Mix all the ingredients, add salt, pepper, and chili powder to taste. Form thin patties and bake in the oven at 400F for 12-15 min or until crispy on the outside.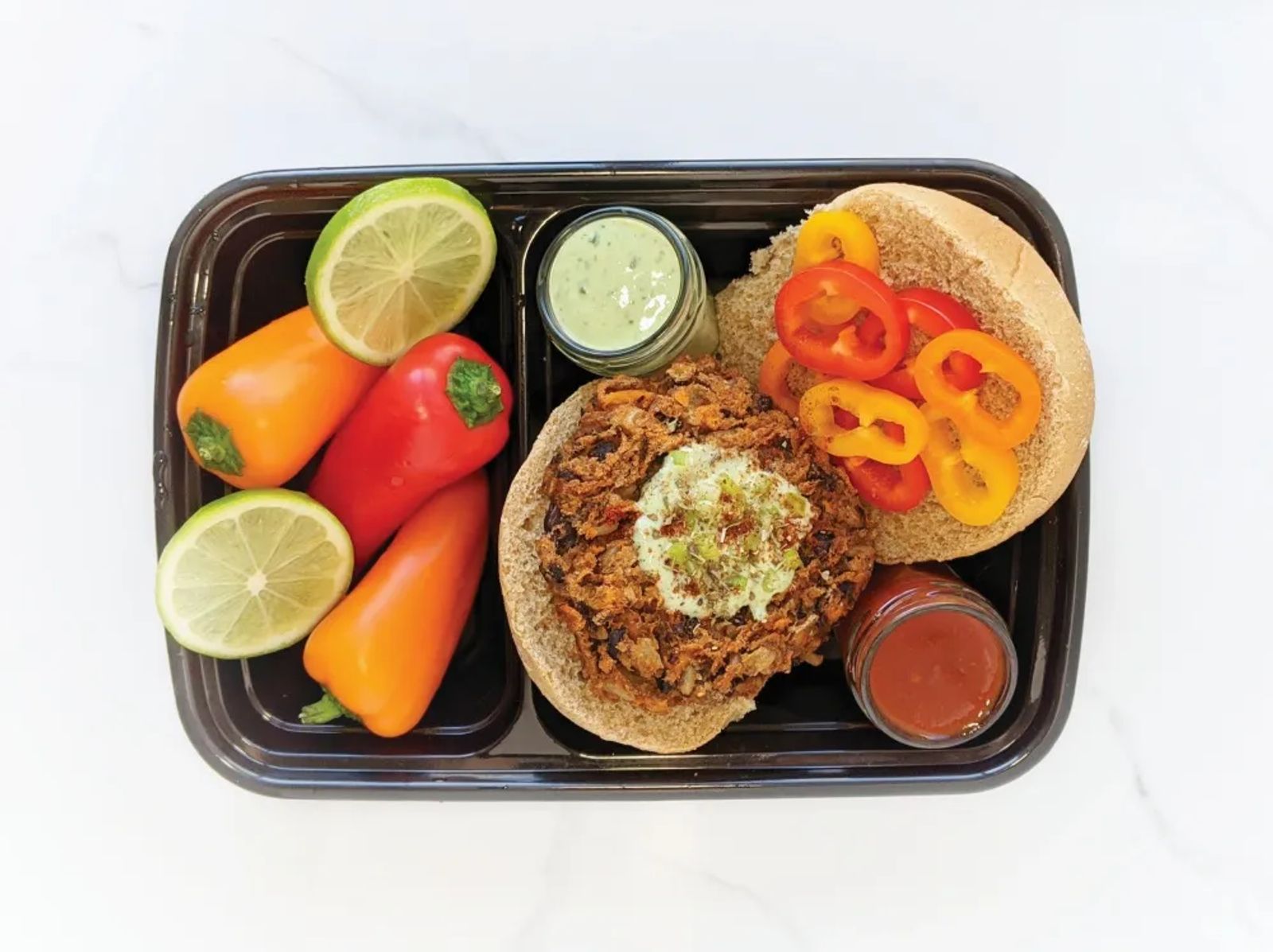 Tuesday: the Mexican box. Wrap a mix of black beans, sweet corn, diced bell pepper, and avocado in a whole wheat tortilla, dress it with a cilantro and lime sauce or a spicy salsa, and you have yourself a quick Taco Tuesday meal.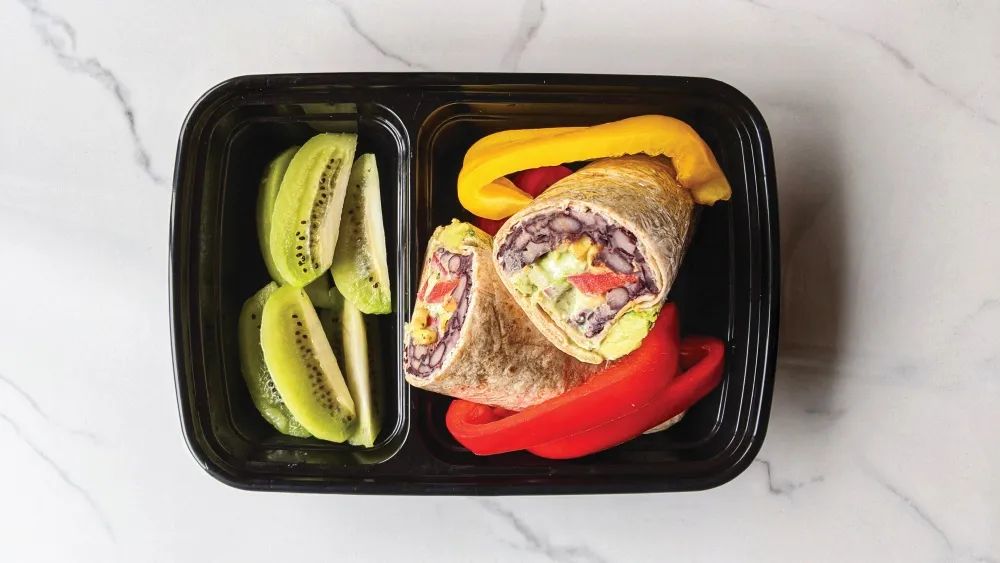 Wednesday: the Italian box. Hump day might require a bit more carb intake, as it's been shown that carbs have a happiness-inducing effect on our brains. No, this is not the time to pack cake for lunch; some tortellini with sautéed broccoli and pesto will do the trick. Refrigerated tortellini takes only two minutes to cook when placed in boiling water, and sautéing the broccoli should take about five minutes.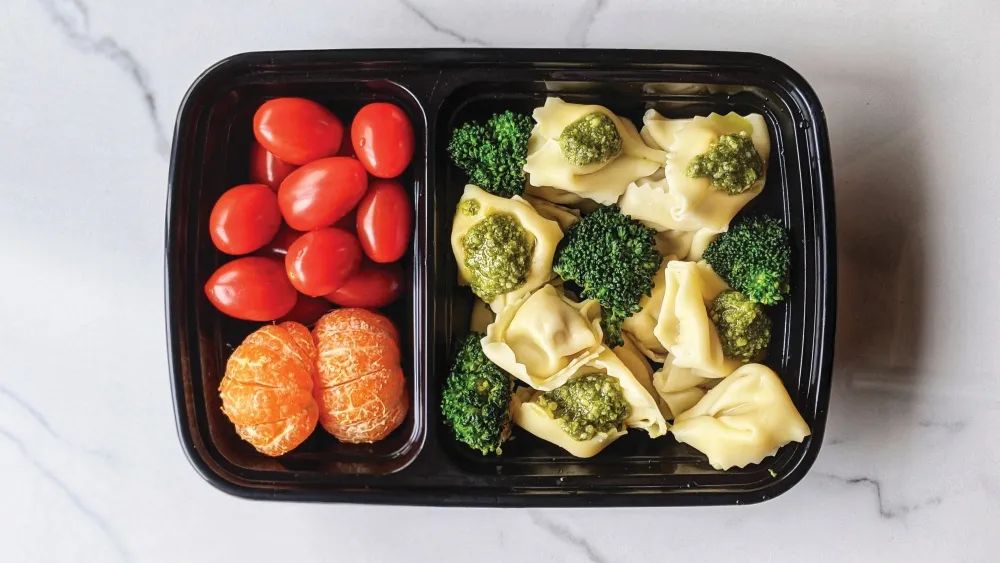 Thursday: the British box. Let this meal transport you to the green hills of Scotland in, oh, about 12 minutes - that's just the time it takes to hard boil a couple of eggs. Add to them some delicious smoked salmon and a whole wheat bun, fill the remaining space with apple slices, and you're done.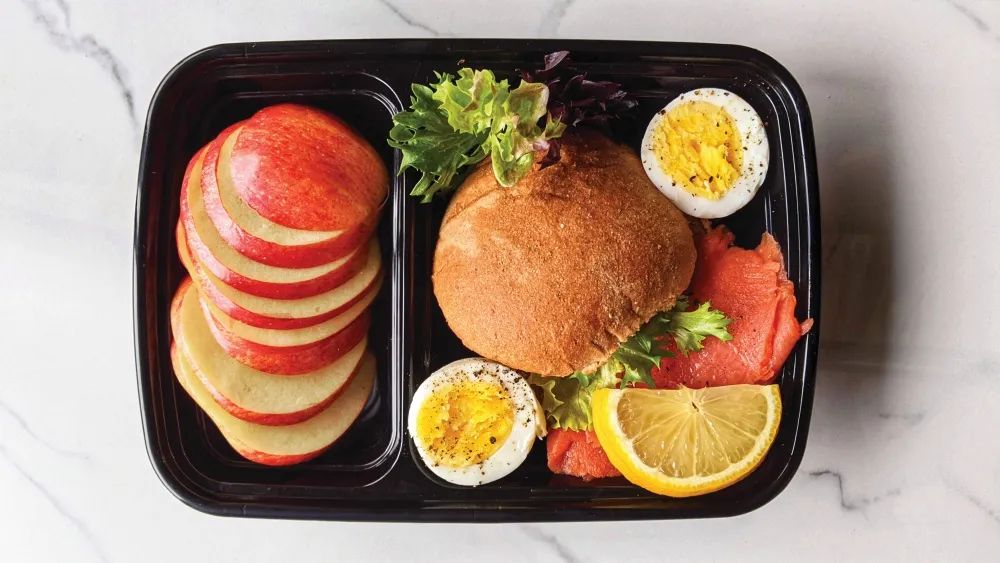 Friday: the French box. The workweek is coming to an end, and a ham and veggie quiche seems like an appropriate celebratory meal. A bit fancier, yet still easy and fast to prepare, it is the perfect meal to usher in the weekend.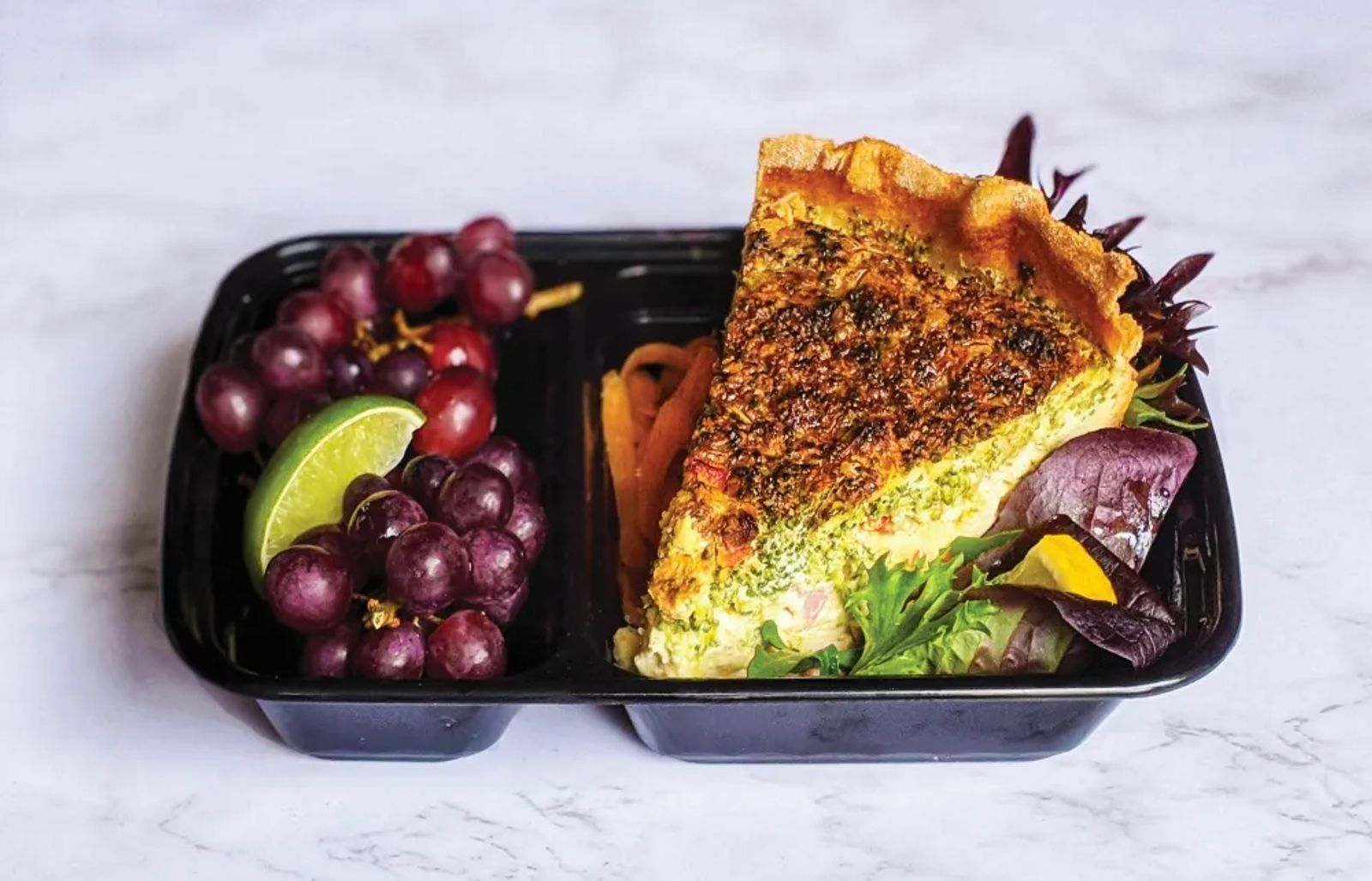 A few tips for creating healthy and fast meals at home:
Don't overthink it. Putting together a healthy meal is simple: aim to pack half of the lunch box with fruit and veggies and divide the remaining space between grains, protein, and healthy fats.
Reach for simple, fresh ingredients that come from a farm, not from a lab. 
Following diets can be overwhelming. Focus on fresh, unprocessed foods, and you can't go wrong.
Shop on a Sunday so you can have enough produce all week.
Cook an extra portion or two for dinner. It makes it very easy to pack the leftovers for lunch the next day.
We eat with our eyes first. Make your lunch box visually appealing by adding various colors through fruit and veggies.
Stock your pantry with healthy items like canned veggies and fruit, whole grains, olive oil, nuts and seeds, canned fish, olives, etc.
Shop the periphery of the grocery store. That is where the freshest foods are found.
Invest in a variety of spices. They have the power to transform the simplest meal into a gourmet experience. Try exotic mixes like the Moroccan ras el hanout or the Middle Eastern za'atar for a highly aromatic experience. 
3 salad recipes ready in minutes
Cabbage, Apple, and Avocado Salad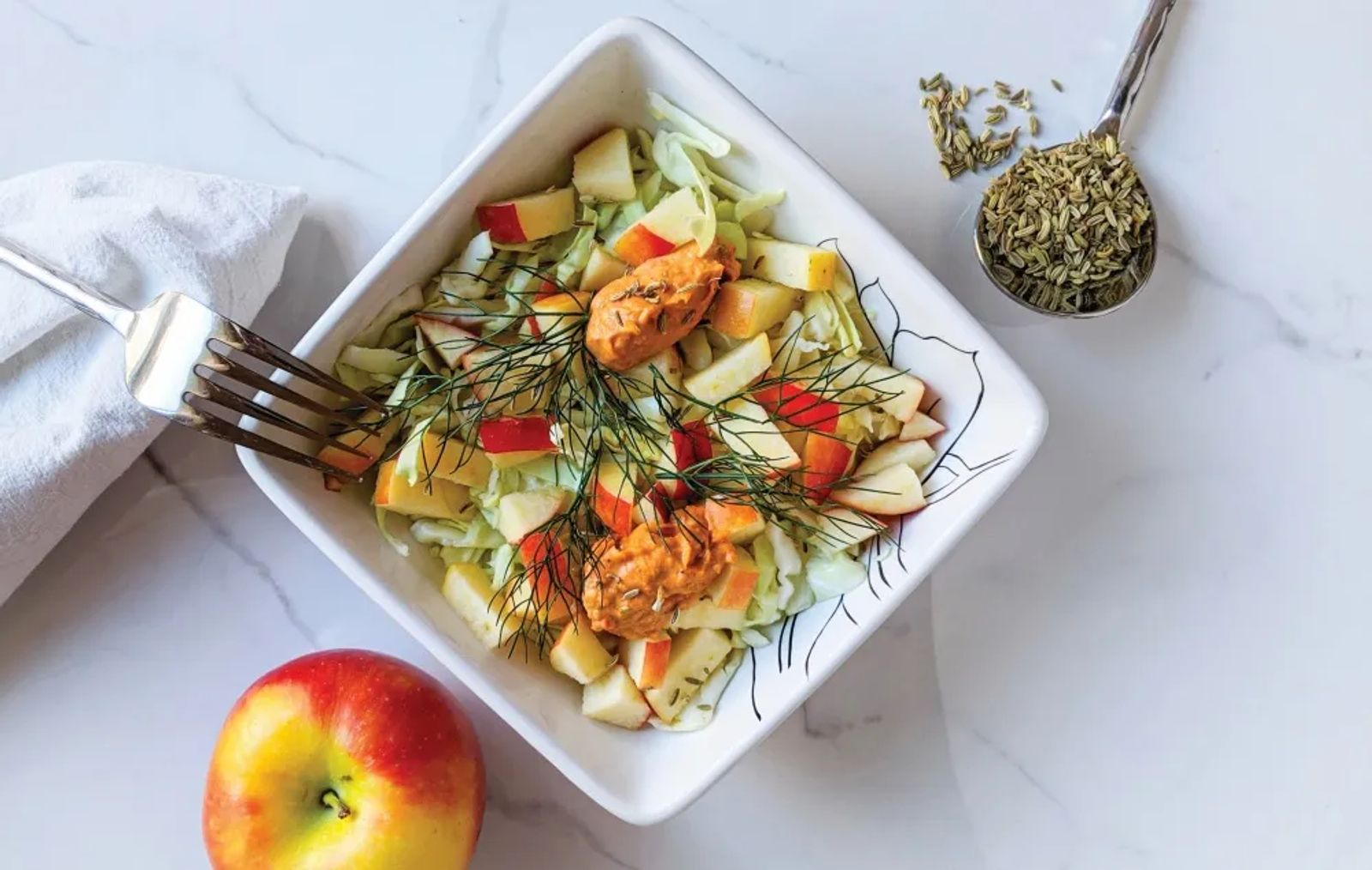 Ingredients:
3 Cups of shredded cabbage 
1 teaspoon salt
1/2 avocado, diced
1 Fuji apple, diced
2 Tablespoons spicy hummus
1/2 teaspoon fennel seeds
Directions:
Massage the cabbage with the salt for a couple of minutes to tenderize it. Mix gently with the hummus, add the avocado and apple, and sprinkle with fennel seeds. Serve immediately.
For a kid-friendly variation, replace the hummus and fennel seeds with Greek vanilla yogurt and sunflower seeds, and don't forget to omit the salt!
Pasta and Peas in a Garlic Avocado Sauce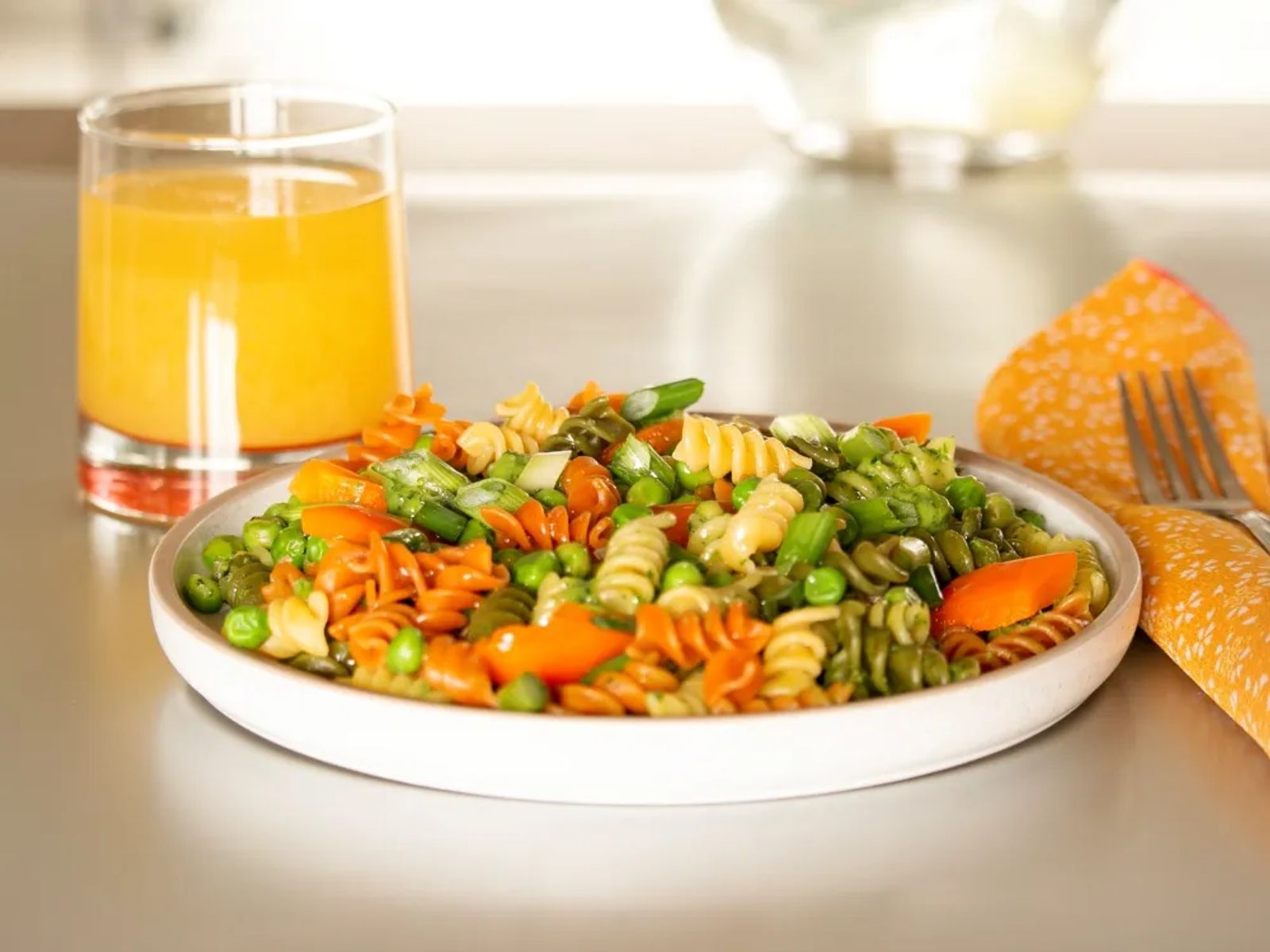 Ingredients:
1-pound whole wheat fusilli (could use other pasta shapes such as penne, rigatoni, farfalle, etc.)
2 Cups cooked peas
2 Cups spinach leaves
1 avocado, ripe
2 small garlic cloves
2 Tablespoons extra virgin olive oil
1 teaspoon salt
½ teaspoon freshly ground black pepper
1 teaspoon balsamic vinegar
½ bell pepper, diced
½ Cup spring onions, sliced diagonally
Directions:
Boil the pasta according to the manufacturer's instructions, before draining, reserve ¼ Cup of the water.
Blend the avocado with the spinach, ¼ Cup of pasta water, salt, pepper, garlic, extra virgin olive oil, and a splash of balsamic vinegar.
Toss the drained pasta with the sauce, add the cooked peas, and mix gently.
Decorate with diced bell pepper and spring onions.
Salmon, Blood Orange, and Fennel Salad
Ingredients:
2 blood oranges (can substitute Cara Cara or navel oranges)
1 large fennel bulb
3 Cups arugula
2 salmon filets 
2 Tablespoon orange juice
2 Tablespoon lemon juice
¼ Cup extra virgin olive oil
1 teaspoon salt
1 teaspoon freshly ground black pepper 
1/2 teaspoon dill weed
Directions:
Preheat your oven broiler.
Season the salmon filets with half of the salt and pepper, and ½ teaspoon dill.
Broil for 10-12 minutes until salmon is opaque throughout. (Oven temperatures vary; start watching for doneness after 8 minutes.) 
While the salmon is cooking, whisk together the orange and lemon juices, olive oil, and remaining salt and pepper.
Finely slice the fennel bulb and toss with half of the citrus vinaigrette.
Peel the oranges, separate them into halves, and slice transversally into thin rings. Set aside.
In a nonstick skillet, sauté the arugula for 30-45 seconds until slightly wilted. Remove from heat. Lay it on the bottom of a serving platter.
Drizzle with a splash of citrus vinaigrette. Layer the fennel on top of it, then the salmon fillets.
Decorate with the orange slices and add one last splash of vinaigrette.
Serve immediately.
Originally printed in the April 2021 issue of Simply Local Magazine
Never miss an issue, check out SLM's digital editions here!