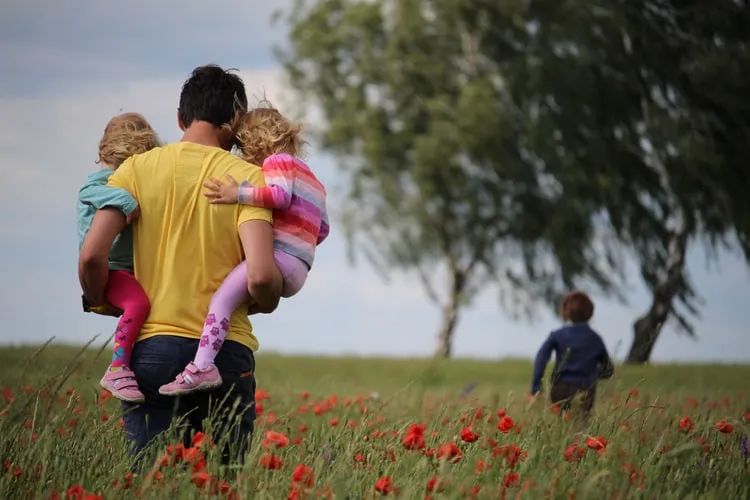 In the wild and crazy world of parenting, moms and dads generally operate differently. The relationships that they build and how they interact with their kids is different, and for whatever reason, there's just something special about boys and their moms and girls and their dads. It's that latter relationship that has taken center stage this last year. In the wake of Kobe Bryant's death, along with his 13-year-old daughter Gianna and seven others, the hashtag #girldad went viral and continues to be used daily. Bryant was famously proud of being a girl dad, and when ESPN anchor Elle Duncan shared the story of her interview with Bryant, it inspired dads from all walks of life to share their #girldad stories.
Urban Dictionary defines Girl Dad as "…a father who wants his daughter(s) to have the same rights, opportunities, and privileges as any boy. A Girl Dad empowers his daughter to carry on his legacy."
Sharing their own girl dad stories while shedding some light on the importance of the father-daughter relationship are Dustin Lehman, MS, LCPC, LMFT of Northwest Counseling Center, and Colby Chapman, president of The Chapman Group, strategic marketing.
The Stats: Dustin- a son and a daughter ages 2 and 5 | Colby- two daughters (ages 20 and 14) and two sons (17 and 15)
When examining the #girldad movement, what makes it so noteworthy is that it recognizes the value of the father-daughter relationship while putting dads and what they bring to the table in the spotlight in a positive way, all while saying, "Yes! Girls are more than enough." To that end, Dustin believes in "encouraging our daughters to understand their capability, value, and significance [in a way that] isn't measured by a comparison to their brothers or boys, in general." Colby adds that being a girl dad means teaching them to be strong, independent, compassionate humans. To push them, but to be there with a hug and to "tell them you are proud of them, no matter the result."
But before there was a hashtag, there was the truth that this relationship, when done right, has immense benefits. When asked what daughters need from their dads, Dustin explains that the keyword is need, and "Need says something will cease to exist without its fulfillment, i.e., you cease to exist without food or water; therefore, food and water are needs." Thus, what daughters need from their dads are many things, but in particular, "They need to know that their dads love and accept them, that they are unique, that they belong and are wanted, and to know that they are always safe." He adds that this is true for all children. Dustin relates this story of coaching his daughter's soccer team:
In each instance of success (scoring a goal, good defense, etc.), the girls look for their parents' validation. The internal questions seem obvious to me, 'Are you proud? Did I do good?' and the parents are always quick to affirm…It's incredibly powerful when the parents celebrate them. At the end of every practice and game, I have the girls say loudly, 'I am SMART, I am BLESSED, I can DO ANYTHING!' I think it's critical as dads to equip our daughters with the understanding of who they are and to emphasize their capability.
Intentional Interactions
Dads, whether you are planning a literal daddy-daughter date, you're shooting hoops in the driveway, cheering her on from the stands, or exchanging some good-natured smack talk over a board game, what matters most is that you are carving out the time to be actively engaged in her life and inviting her into yours.
Connect doing to being, what they do/have done to who they are- Dustin explains, "When I tell my daughter, 'I'm so proud of you, girl, you didn't quit and kept running until you scored,' I'll follow it with, 'You are focused, committed, and determined! Good Job!'"
Emotional awareness- Colby notes that "Being a girl dad has helped me learn how to pay attention to emotions more and that it is not only ok but good to feel what you feel." Acknowledge the frustrations and hurts but deal with them and move forward rather than getting stuck there.
Model, connect, learn- Dustin and his daughter recently went on their first daddy-daughter date. In those – and other – interactions, he hopes to show her that relationships breed discovery and should always have a through-line of respect. Ask questions. Show her what it means to be respected and valued in a relationship.
Can we, as capable, strong women, open our own door? Of course we can, but I will never forget when I realized why my dad always unobtrusively moved me to the inside of the sidewalk when we were walking together, or the way he has always made sure us girls are nestled into the car before getting in himself. These examples of love in action only serve to make me feel treasured, not weak.
Time together- As an adventure-loving Enneagram 7, Colby counts any time that he can connect with his girls while out playing and making memories a win. He notes that drivetime provides an opportunity for deeper conversation.
You and me- Dustin and his daughter love to read Why a Daughter Needs a Dad by Gregory Lang at bedtime, then taking the time to chat about how the book plays out in real life for each of them.
Being on the older-kid end of the parenting spectrum, Colby reflects that he has loved fathering his daughters at every age and right now is "fast-moving, dynamic, and fun," but "I miss just having them available and wanting to hang out all the time." It's from this perspective that Colby affirms that spending time together is, quite simply, one of the best things a father can do with his daughter, noting that this looks different for each personality and age range. "I love it when my girls feel empowered by completing something difficult that they weren't sure they could."
Seconding that notion, Dustin reiterates the importance of celebrating our daughters. From learning to tie her shoes through all of the accomplishments along the way, he advises, "Don't miss the opportunity to demonstrate and celebrate the joy of who they are when they successfully express themselves in ways they're proud of."
Dads, remember this if nothing else: You matter. Your words, your actions, your presence – it all matters. You are the model for what she will expect from men out in the world. You are her safe space. Love her well; she is, after all, daddy's girl.
Originally printed in the June 2021 issue of Simply Local Magazine
Never miss an issue, check out SLM's digital editions here!