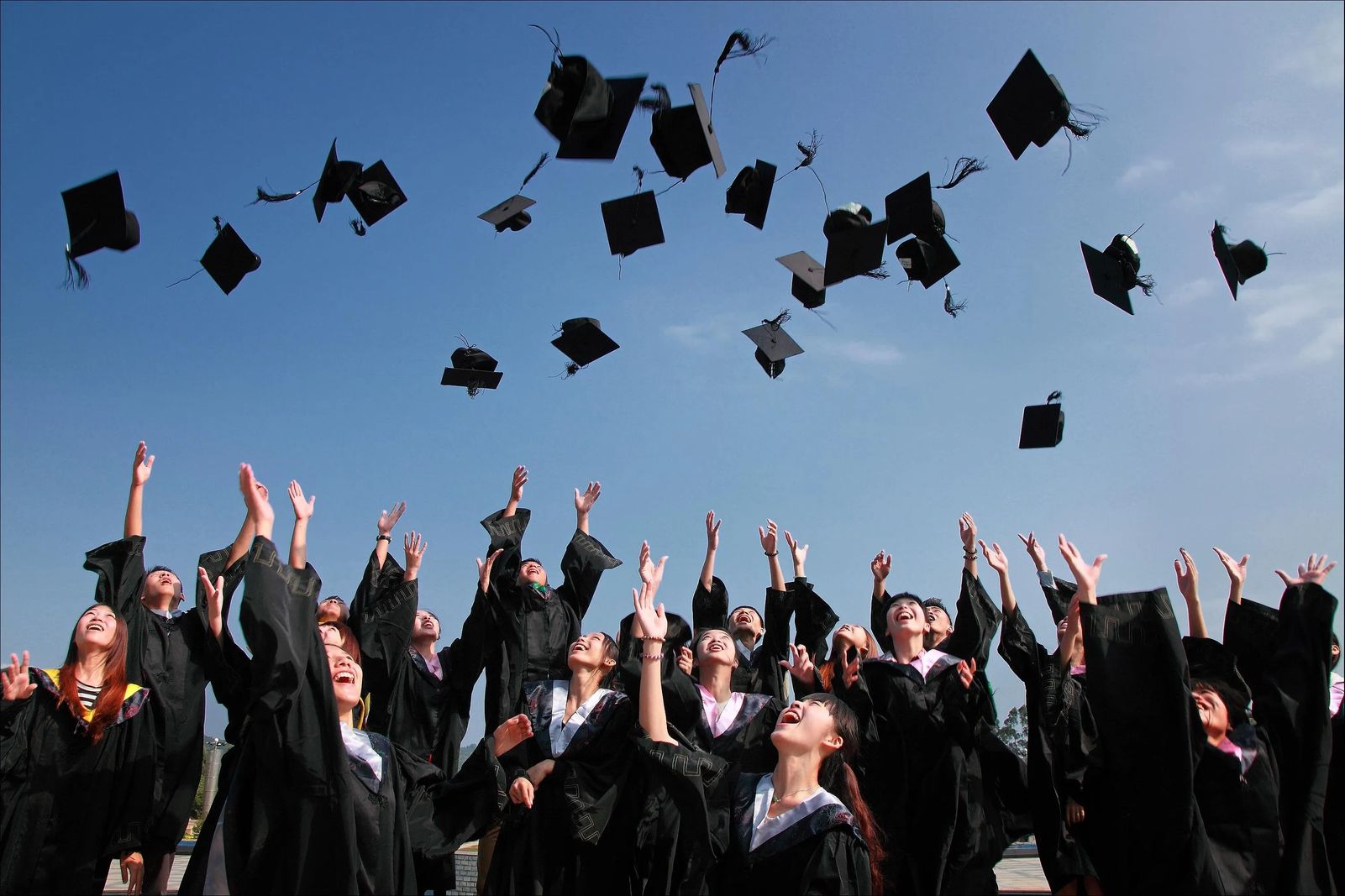 Getting to Graduation
May 2023
The hustle and bustle of child-rearing reaches a new level as your child begins high school. More independence, more demands on their time, more planning and preparation… just MORE.
As their wings are stretching, you may be left trying to keep up. Getting your kiddo across that graduation finish line encompasses much more than just getting them to school. I talked with parents who have recently gotten their children through this chaotic time to break everything down into a timeline. Whether your child is college bound, pursuing a career, serving our country, or still unsure of what comes next, there is a lot to think about in the final years of high school. If you'll soon be navigating the rush to graduation, read on for some guidance to help you through.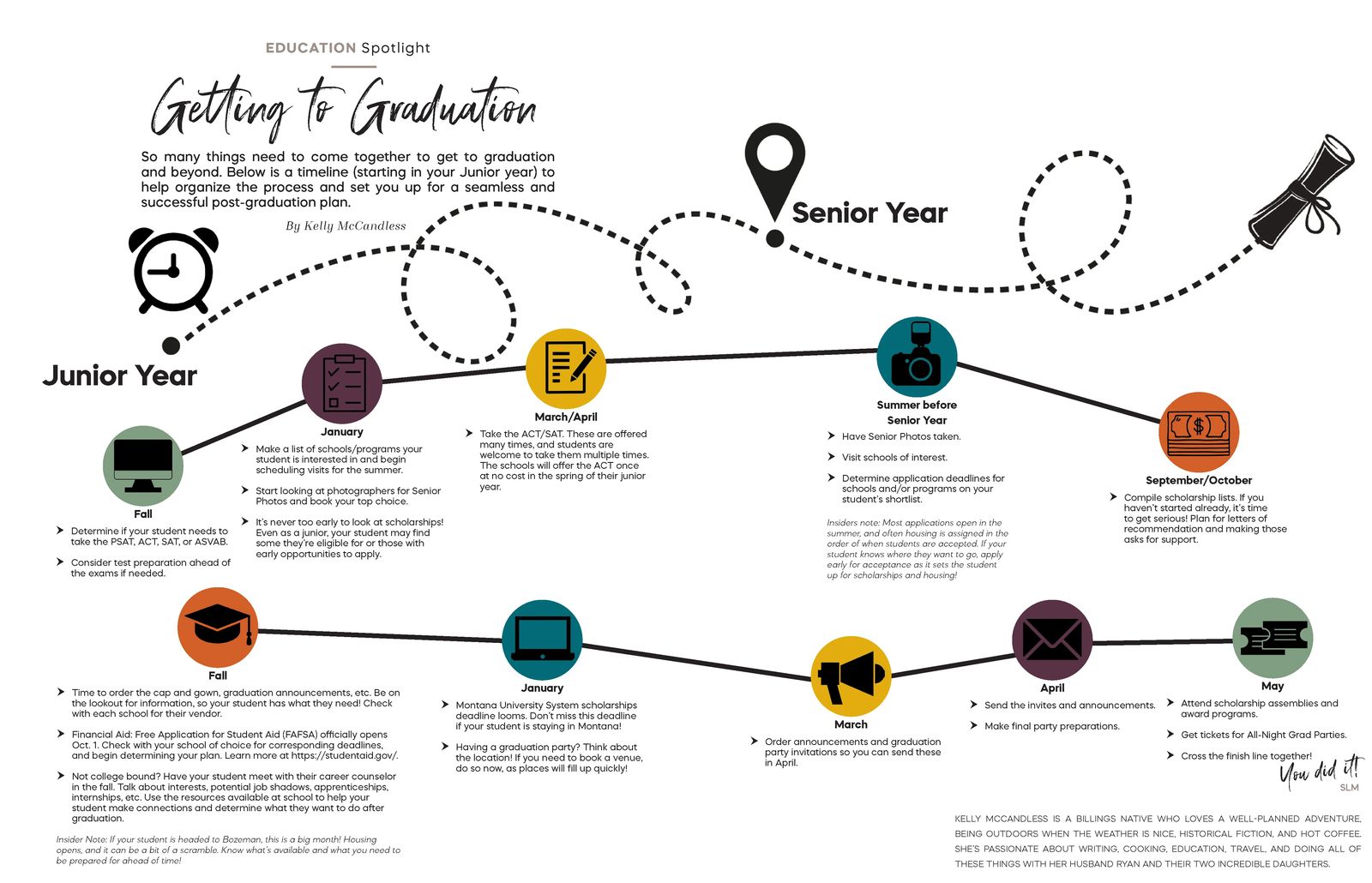 All Students
Regardless of plans post-grad, all teens need to think through the following:
Testing: will they need to take the PSAT, ACT, SAT, or ASVAB? When are these offered, and what kind of prep will your student need ahead of time?
Graduation: Cap and gown, announcements, and more. What will your student need, and when can you order them through your school? Will you have a party or celebration?
Photos: Senior photos are a rite of passage. Think about when you want to take these, which photographer you'd like to work with, and your school's deadlines for submitting photos.
Scholarships: From specific schools to hobbies to apprenticeships to vocational school support, scholarship offerings are widespread and plentiful. Deadlines vary widely, and there is no shortage of offerings for students of all interests. It's never too early to start researching and thinking about what you qualify to apply for.
College Bound
Other items need to make the list if your student intends to go to college. If ivy-league is in their plans, preparation really needs to begin during freshman year. Help your student to start learning the requirements, planning the courses they need to take throughout high school, and helping them to learn about the Platinum Program. Ivy league schools want to see every box checked, which is a process starting very early.
For most other colleges, however, the preparation begins during junior year. In addition to determining which tests to take (PSAT, ACT, etc.), your student needs to work with you to develop a list of schools they're interested in. Take opportunities to meet with college representatives and plan which campuses you'd like to visit in person. During the fall and spring of junior year, you'll want to work with your student to develop these lists and schedule which visits you'd like to make before applications open.
Once your student whittles down their options to a short list of top choices, check for application deadlines and begin researching financial aid. Every school offers a net cost calculator to help potential students understand their obligation, and you can review FAFSA options here.
Another item to do your homework on is housing. Every school handles housing differently, but securing your student a dorm room is often a competitive situation. When researching schools on the shortlist, be sure to also check into how the school assigns housing. First come, first served? Application order? Dated availability? Whatever the process, be prepared so you know when your opportunity exists and what you need to have ready by that time.
Finally, the summer between junior and senior years is an excellent time for your student to get serious about researching scholarships. It's time well-spent to explore opportunities based on interests, academics, sports, hobbies, affiliations, and more. Your student should start reviewing different applications, developing responses to common essay questions, and determining who to ask for letters of recommendation. Start a list of deadlines for these and remember – scholarships may support college tuition specifically or other post-graduation pursuits.
Not Sure What's Next?
Making major life decisions at the ripe old age of 17 or 18 is really asking a lot. Having frank conversations with your children can be valuable as you enter this process. What are they interested in? Is college the most logical immediate next step? If not, why? What does make the most sense?
Use resources that exist in high school. School District 2 has Career Counselors available to work with students on various career pathways in each high school. In addition, different classes are available to help hone interests, classes exist that qualify for college credit to help get general education credits out of the way at low or no cost, and businesses are frequently working with students in high school to offer job shadows, apprenticeships, and internships to help explore career opportunities. Regardless of the career path, these useful resources can help your student narrow their focus and make some decisions before they take the leap to invest in college.
With so much to navigate in the final years of high school, it's imperative to slow down and embrace all you can about the process. No matter which direction a student was heading, one comment came from all the parents I spoke with: "It just goes so fast."
Colleges offer a variety of deadlines, and each one carries different pros and cons. Here's what they mean:
Regular Decision: Most commonly offered, these deadlines usually fall in early January of the year you graduate, with notification of acceptance (or not) in March/April. This deadline does not come with restrictions.
Early Action: This deadline pushes everything from Regular Decision back, generally into November, meaning you usually hear about their decision by December. Decisions are generally acceptance, denial, or deferral, which usually means the application is held for consideration with Regular Decision applications. This means your student needs to have tests completed and scores in, as well as letters of recommendation and other application requirements ready. Except for a few colleges, this deadline doesn't have any restrictions.
Early Decision: This one can be tricky, coming with deadlines in November. You agree (via binding contract) to attend the school if accepted, often before you've determined your financial aid situation or perhaps heard from other schools. However, this can also mean you're accepted and can begin planning earlier than most. You may apply to other schools, but if accepted via Early Decision, you agree to withdraw those applications.
Rolling Admissions: This generally means the school offers a window to accept applications.