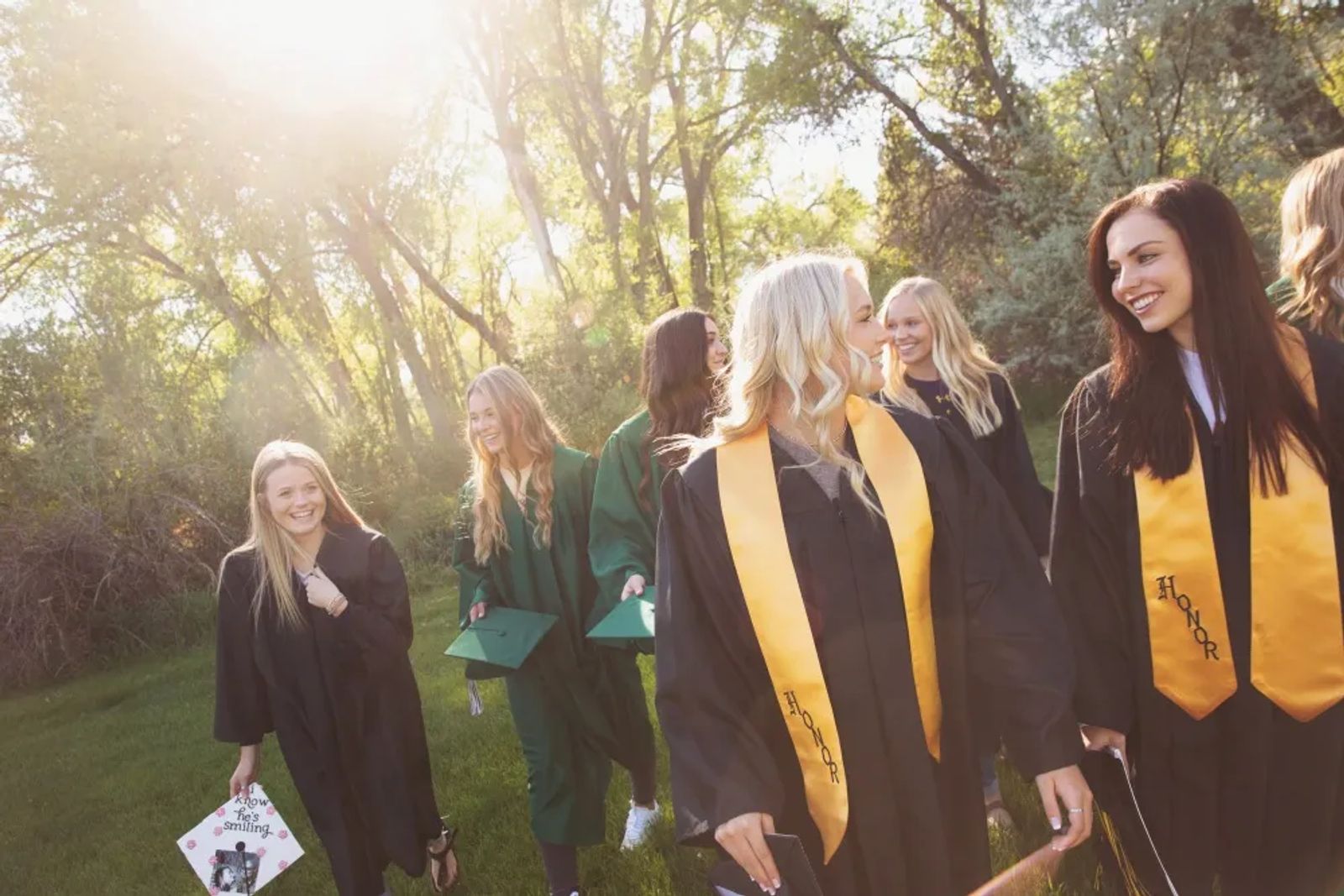 photo by Jana Graham Photography
Life After High School: What's Next?
May 2021
As summer approaches, many students are excited to be out of school and enjoy the long, hot days doing nothing but lounging by pools and spending endless time with friends. However, for many seniors and juniors, the future looms, and many aren't quite sure about what comes next.
Austin Mapston, Vice President of Enrollment at Rocky Mountain College, says, "High School graduation is just around the corner, and you're not sure what your plans are for next year? Don't worry. There's still time to figure things out."
Give Yourself Grace
It's important for those headed off to college in a few months to mentally prepare for the changes afoot. Mapston reminds us that selecting a college is an exciting time and not knowing exactly where you want to go or what you want to study is okay, but once you do get there, he offers these tips: 
College is a new experience which means there will be both amazing moments and those that are more challenging. 
Don't be afraid to utilize college resources to help you be successful in your first year.
During your first year of college, it's totally normal to...
Have nerves about sharing a residence hall room with someone you've never met
Find yourself missing home
Experience the occasional second-guessing of the path you've chosen
Not know exactly what you want to major in
Have different habits (eat at different times, sleep patterns, etc.)
Mapston advises giving yourself time to transition and get acclimated to your new environment. College is a significant life change, and it may take time to adjust. It also may take some longer than others. Everyone will find the right path, but everyone is on a different clock.
Explore Options
"What are you going to do?" This question may haunt some junior and senior students. But it doesn't have to. It is okay not to be sure. The four years after high school are important and offer huge learning experiences in life.
Taking a gap year- it is okay to take time off from school. A gap year can allow you to work more to earn money for the financial expense of college. You can also spend a year traveling abroad through various programs, either volunteering or just experiencing. You can also take a gap year to work and establish residency for a college that may be out of state.
Look at technical or trade schools- A 4-year college or university is not the only option. In our quickly changing world, trades and technical degrees are necessary and, in many jobs, in high demand. Billings is home to a few technical schools that offer 1- and 2-year programs with high placement rates after learning the skills. 
Serve your country- Another option after high school is to enlist. With various benefits and programs available, the military is another option for any student that may not want to attend school right away. Some programs allow them to enlist and attend school.
Summer is a great time to explore these options and figure out all of the possibilities that exist for you in the future. The more you explore, the more you will know and decide that will be your best fit.
What if you are not a senior? Should you even worry? - High school juniors (and even some sophomores) can start exploring these possibilities too. They can visit counseling offices and ask for resources on any and all opportunities that might be available.
Kim Petersen, a high school counselor at Billings West High School, says there are things that students can work on while still in high school. These include:
Look at financial aid and scholarship applications and deadlines
Create and update resumes
Find available volunteer opportunities and internships.
Find a job to gain work experience.
Begin to think about who knows you best and can be a reference for jobs, scholarships, admission packages, etc. 
Petersen says that students are not alone in the process--both high school and college counseling offices are there to help navigate students through the process. West High, for example, hosts a parent night for junior and senior parents, has a website full of links and other information, and sends out announcements to students daily regarding upcoming events students might be interested in.
Take your path 
Whatever you decide to do, there are options, and you are not alone. Some students may know exactly the next steps they want to take and have had a plan since kindergarten for their life. Others still have no idea what they want to be when they grow up. That is okay! Give yourself grace and time to explore all of the possibilities to find the right fit for you. 
According to American poet Robert Frost, whatever path you choose will make all the difference.
Originally printed in the May 2021 issue of Simply Local Magazine
Never miss an issue, check out SLM's digital editions here!