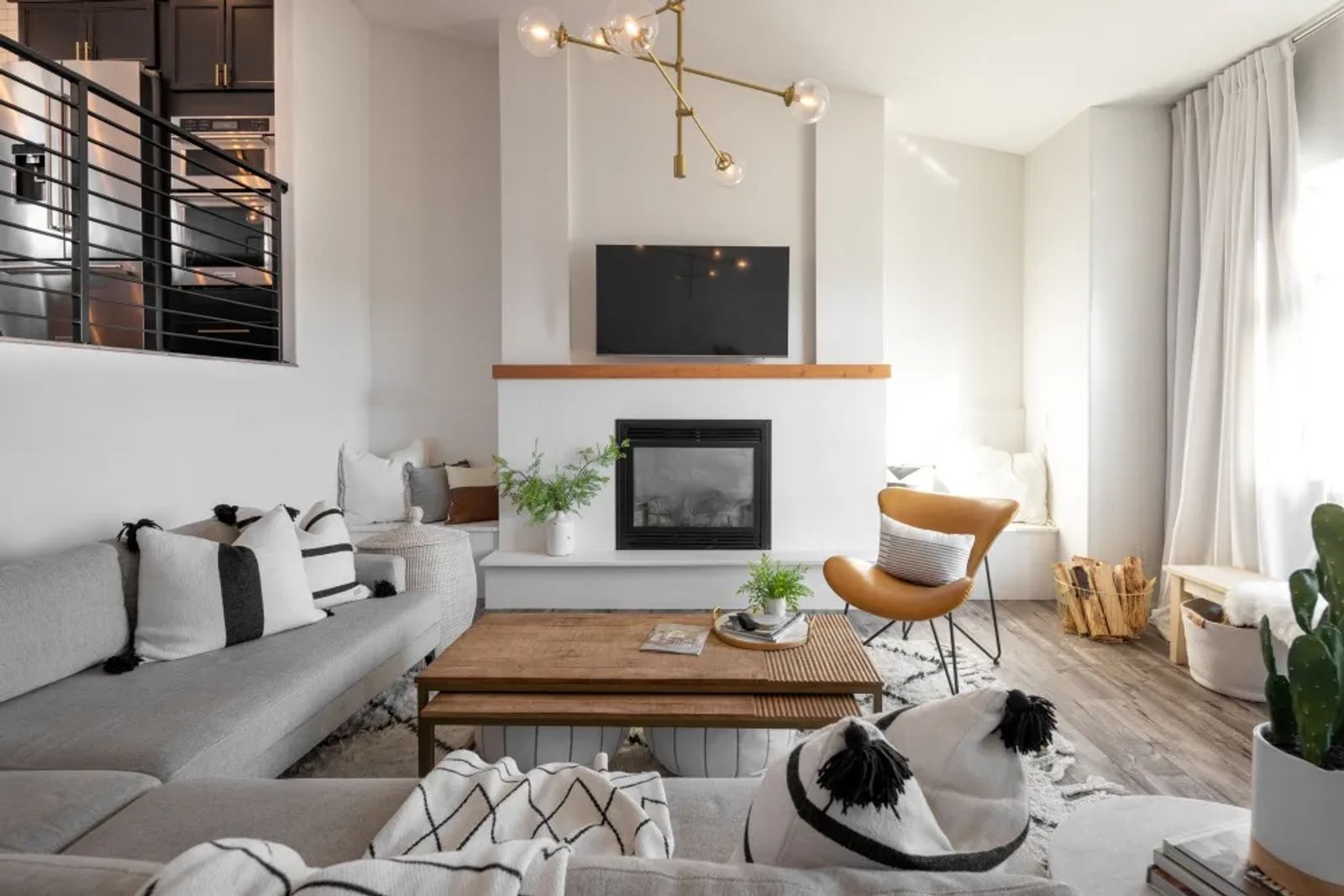 This once dark space is now flooded with light from the clean, bright walls and natural lighting giving it a modern, open, and welcoming aesthetic.
From Ashes to Amazing
May 2021
by stephanie toews | photos by nathan satran
When this West End home was extensively damaged in a fire, and the previous owner won the Montana Lottery and decided to move out of state, Brian and his wife Rae Huskey jumped at the opportunity to purchase and renovate the home into their own style.
House-Made-Home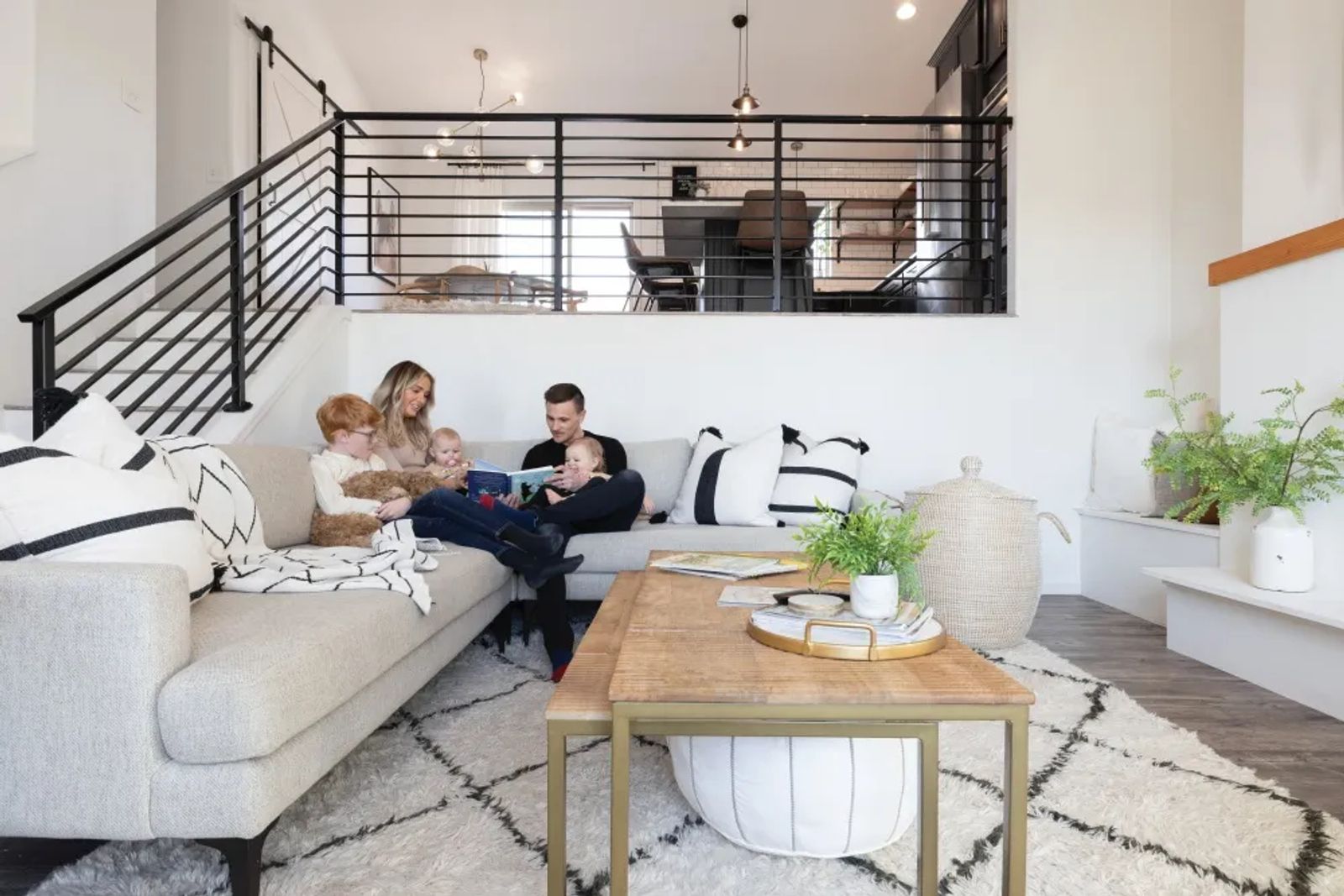 The busy family of five- Brian, Rae, Noah (11), Callan (22 months), and Lennon (10 months) needed a space that felt "warm and welcoming to others." Rae has always had a passion for homes and design and was entirely in her element designing a space their family loves and one in which to bring the couple's two young daughters home from the hospital.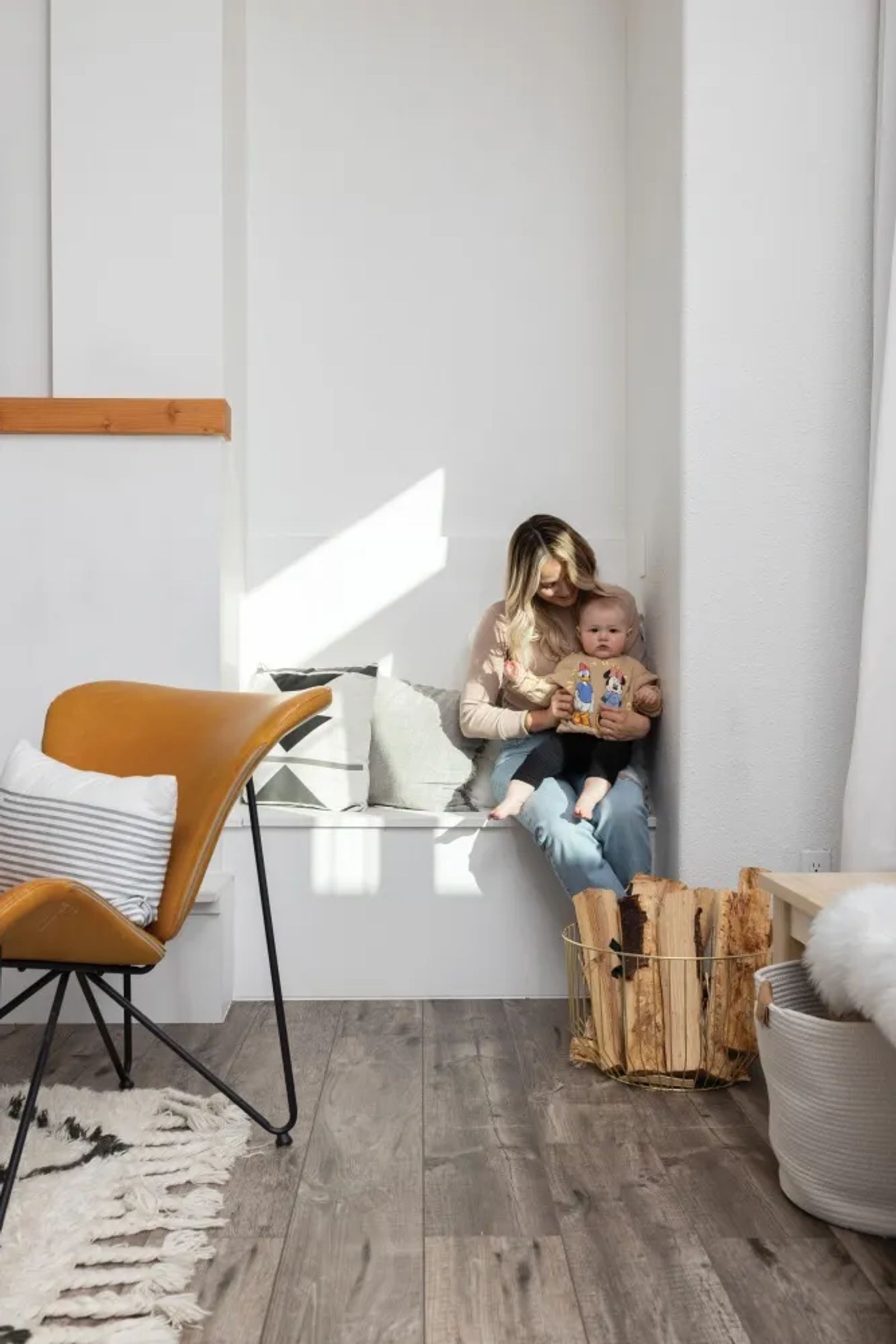 Built-in benches flanking the fireplace are a great place to steal some snuggles and soak up some sunshine.
Love God, Love People
The Huskey family motto, Love God, Love People, is one that they try to live by in all areas of their life. From their interactions with clients in the real estate world, the raising of their three children, and the gathering of friends and family around their table, the family truly strives to "become proof of God."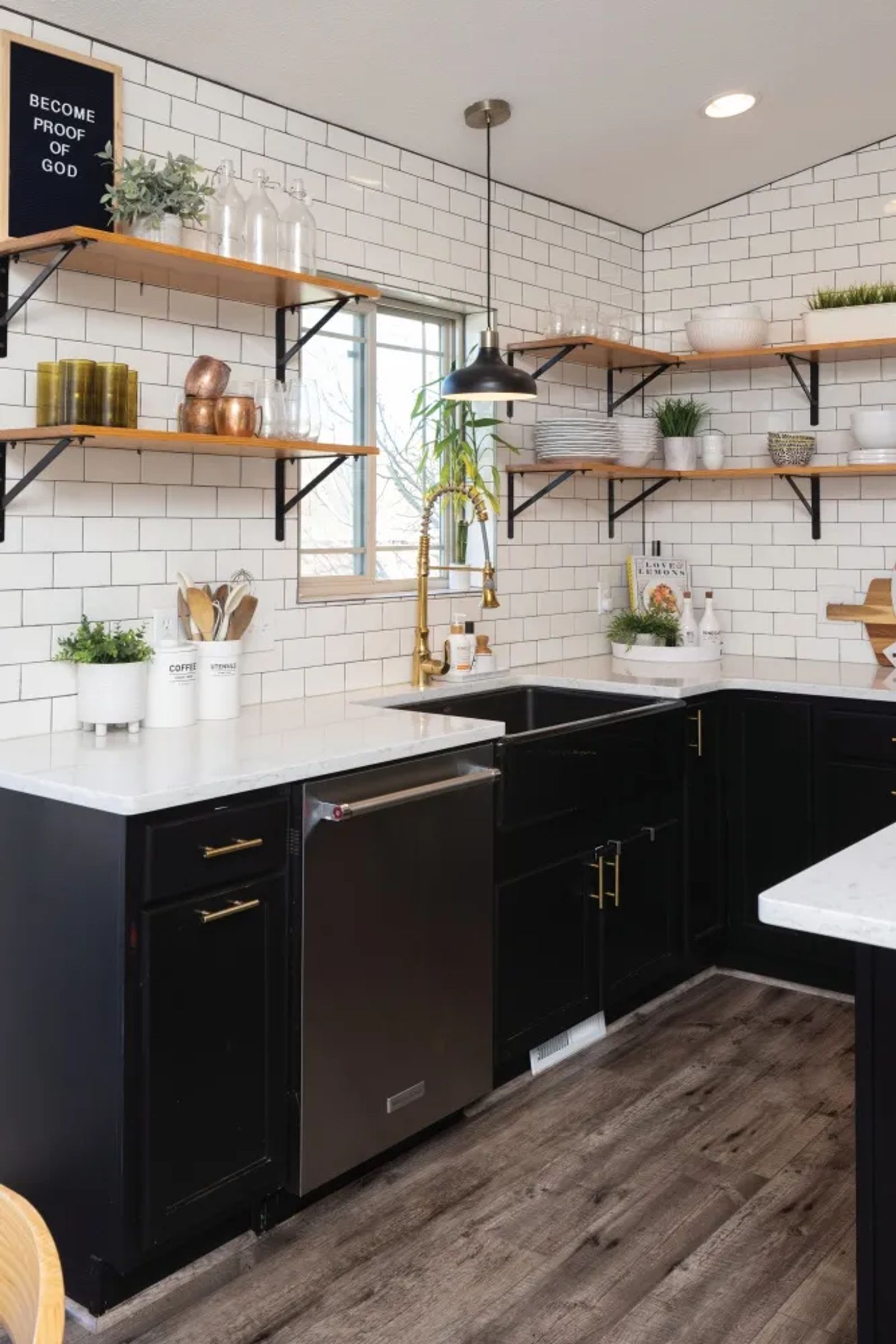 Rae's sleek and stunning style is reflected in each area of the home. As she continues decorating their home, she thinks about the things she selects before impulsively purchasing something she might later regret.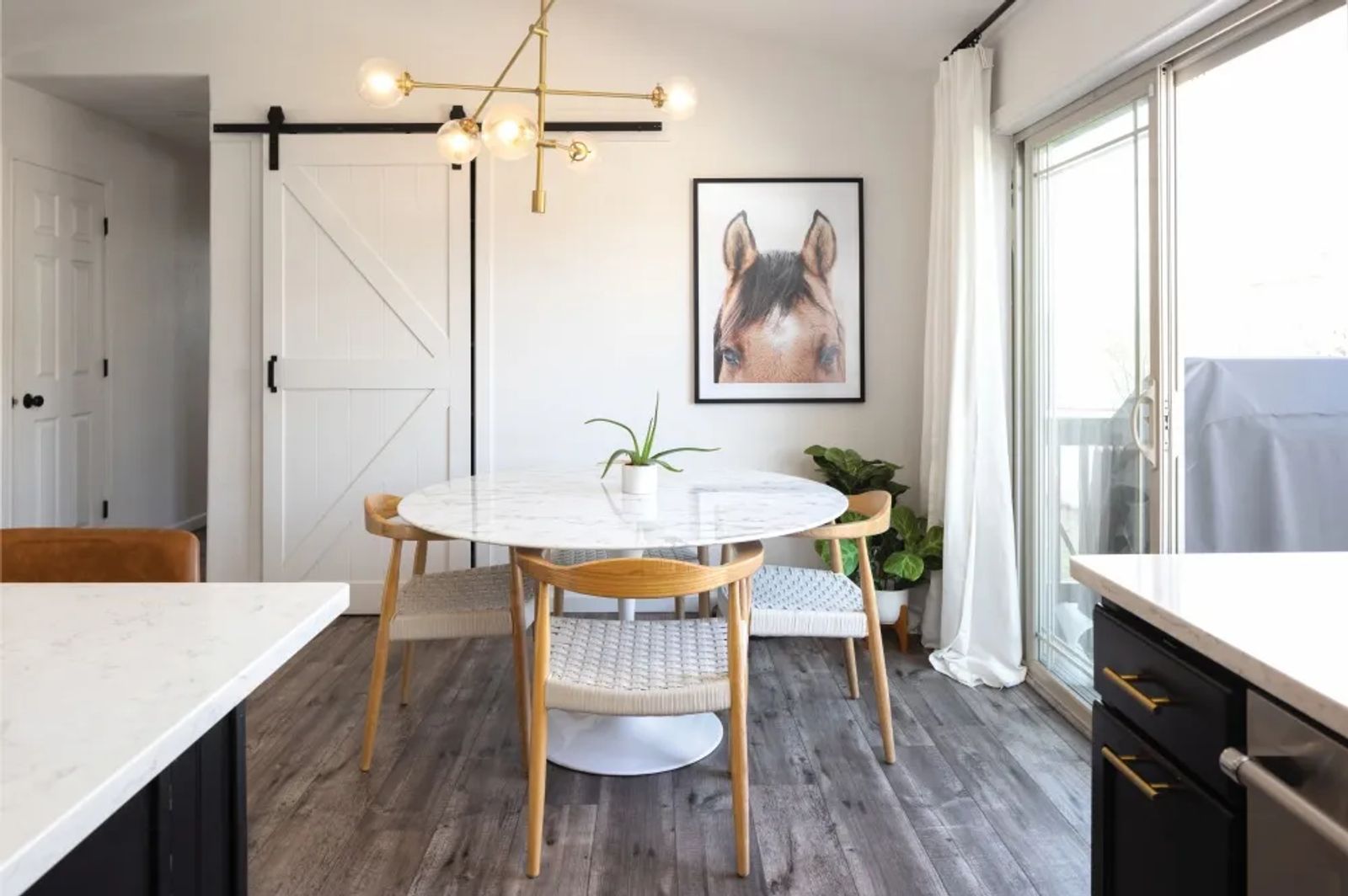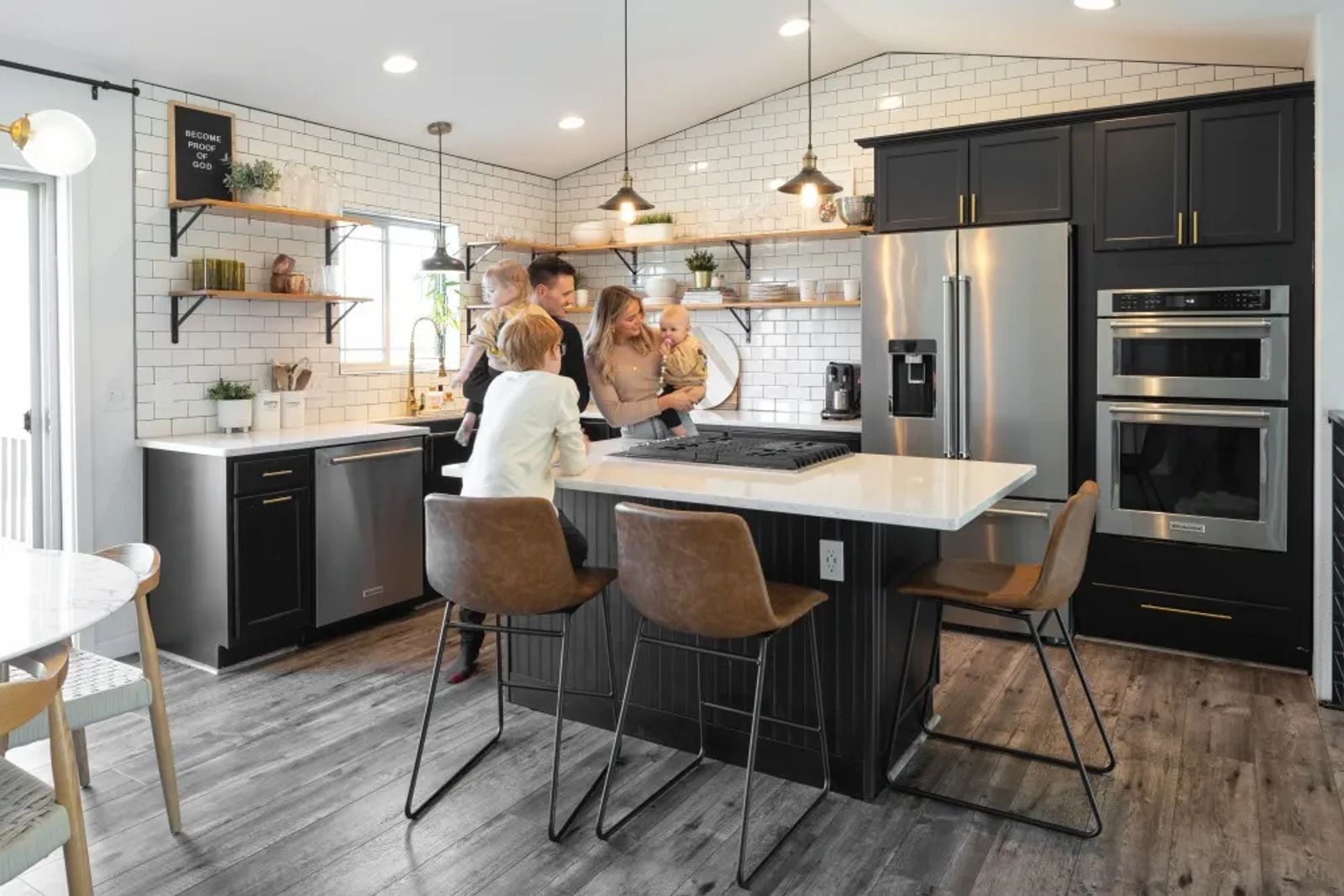 The heart of the home
With tall ceilings and tile for miles, the kitchen is the family's favorite space where they gather most. Rae says her inspiration was pulled from her favorite restaurants' design elements; she wanted her kitchen to have a similar welcoming feel.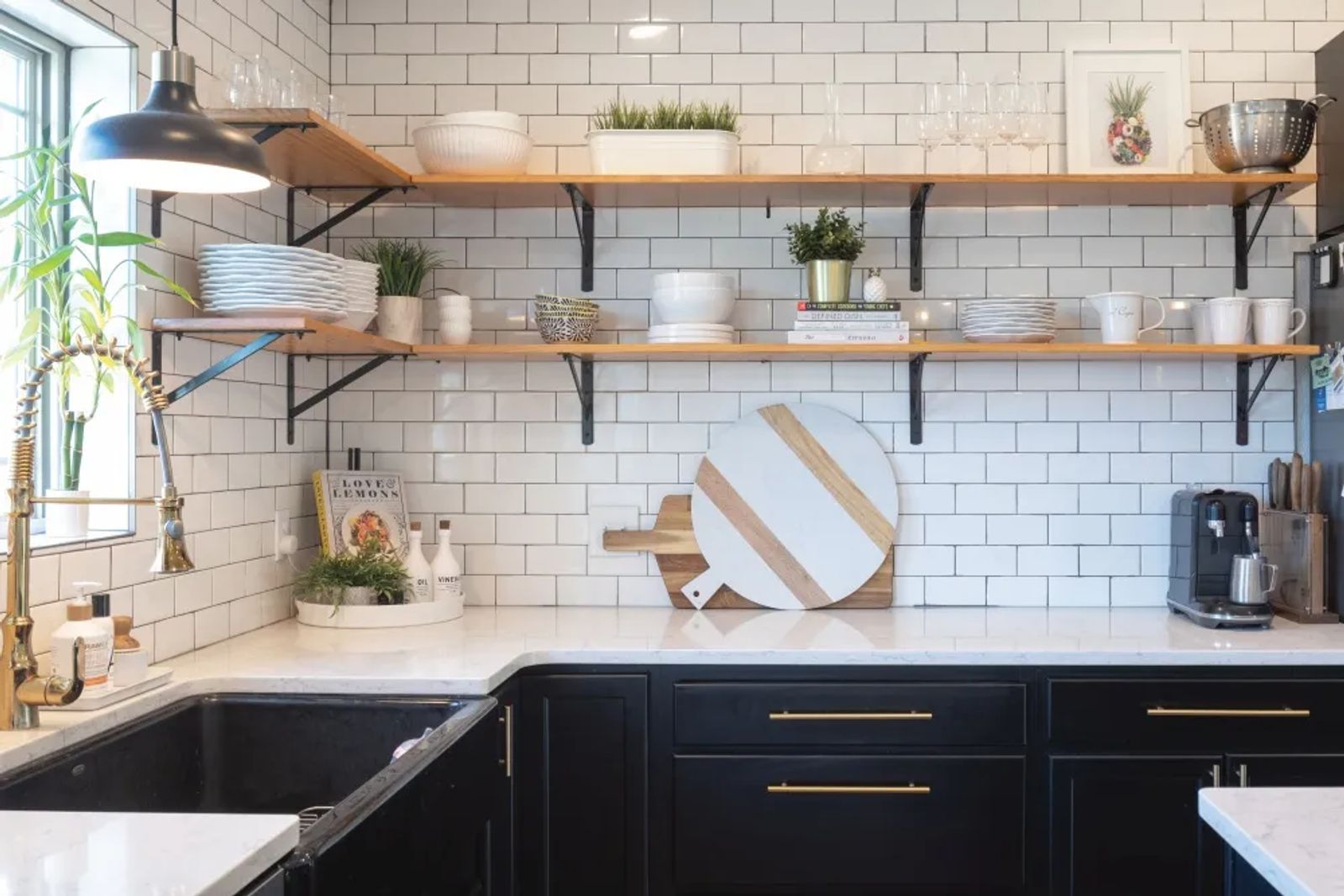 The open shelving concept makes a guest feel right at home in the kitchen
The couple designed the open shelving themselves, and Rae loves that they give guests the freedom to grab dishes and make themselves at home in their kitchen.
Rest and Recharge: A Room with Many Roles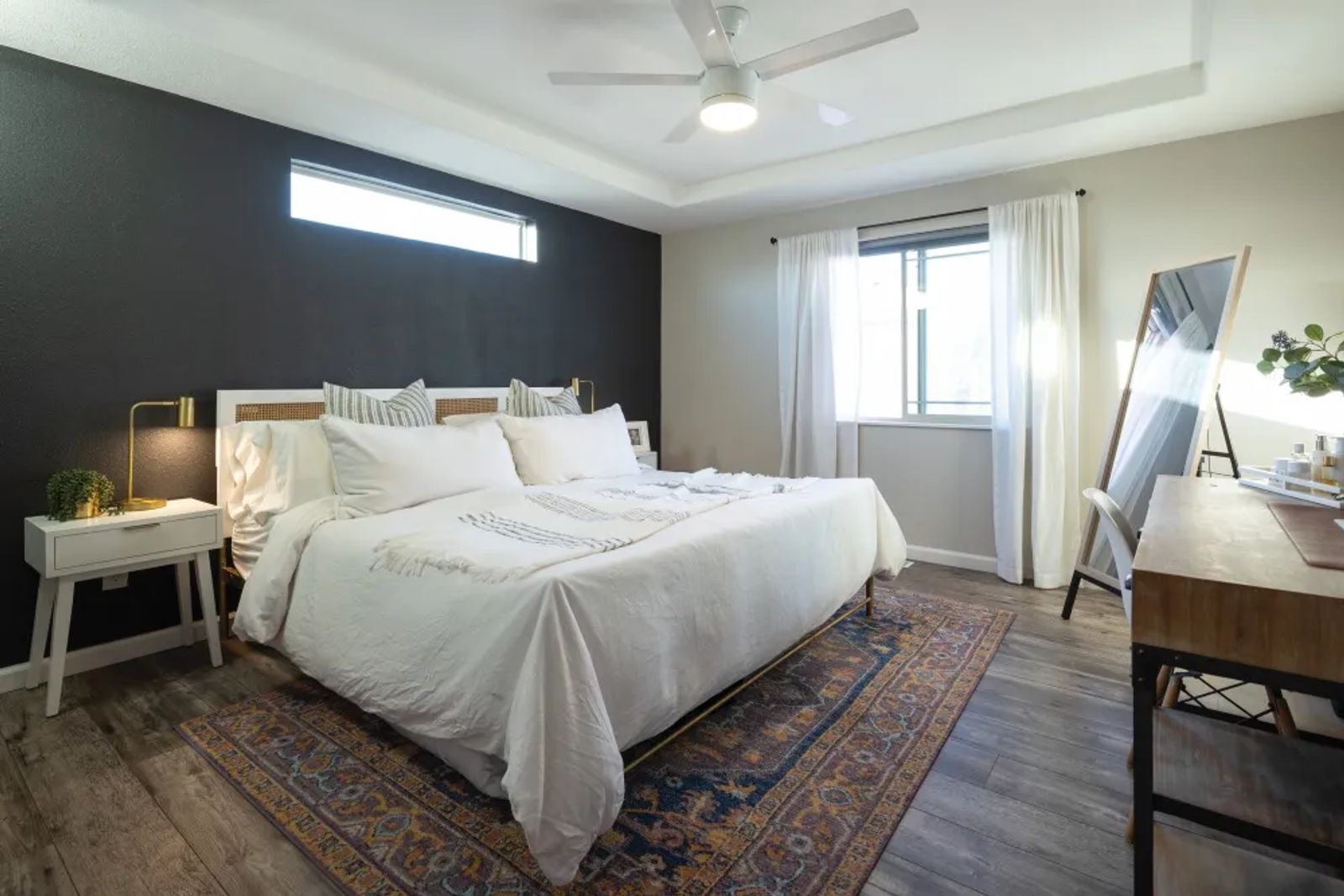 If the kitchen is the heart of the home, the master suite is the sanctuary
The master suite features a bit of drama with a dark focal wall and a beautiful complementary area rug. This practical and beautiful multi-purpose space serves as a spot for their young daughters to curl up and nap, a place to get some work done, and a relaxing retreat to rest at the end of a busy day.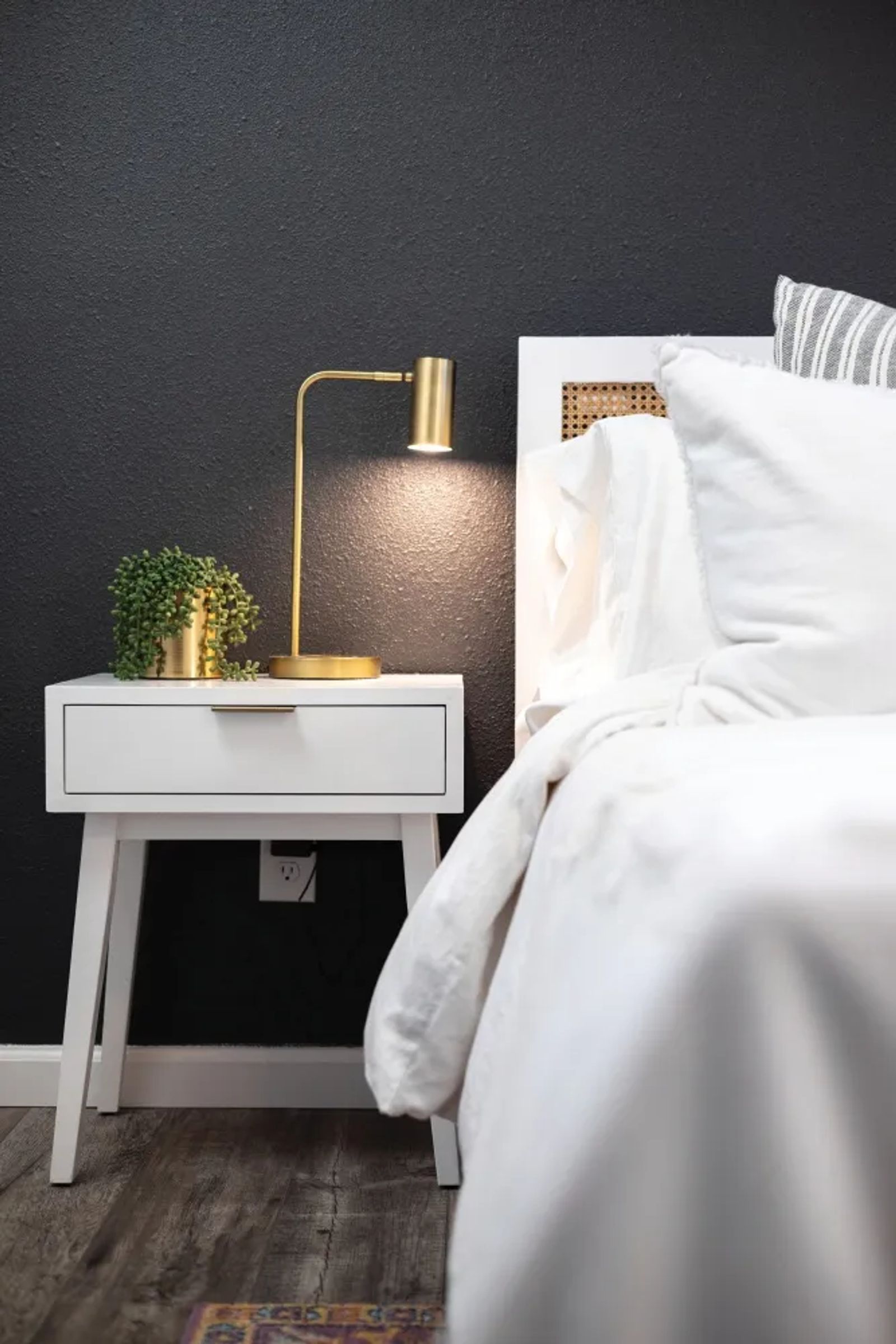 Out with the Old…In with the Bold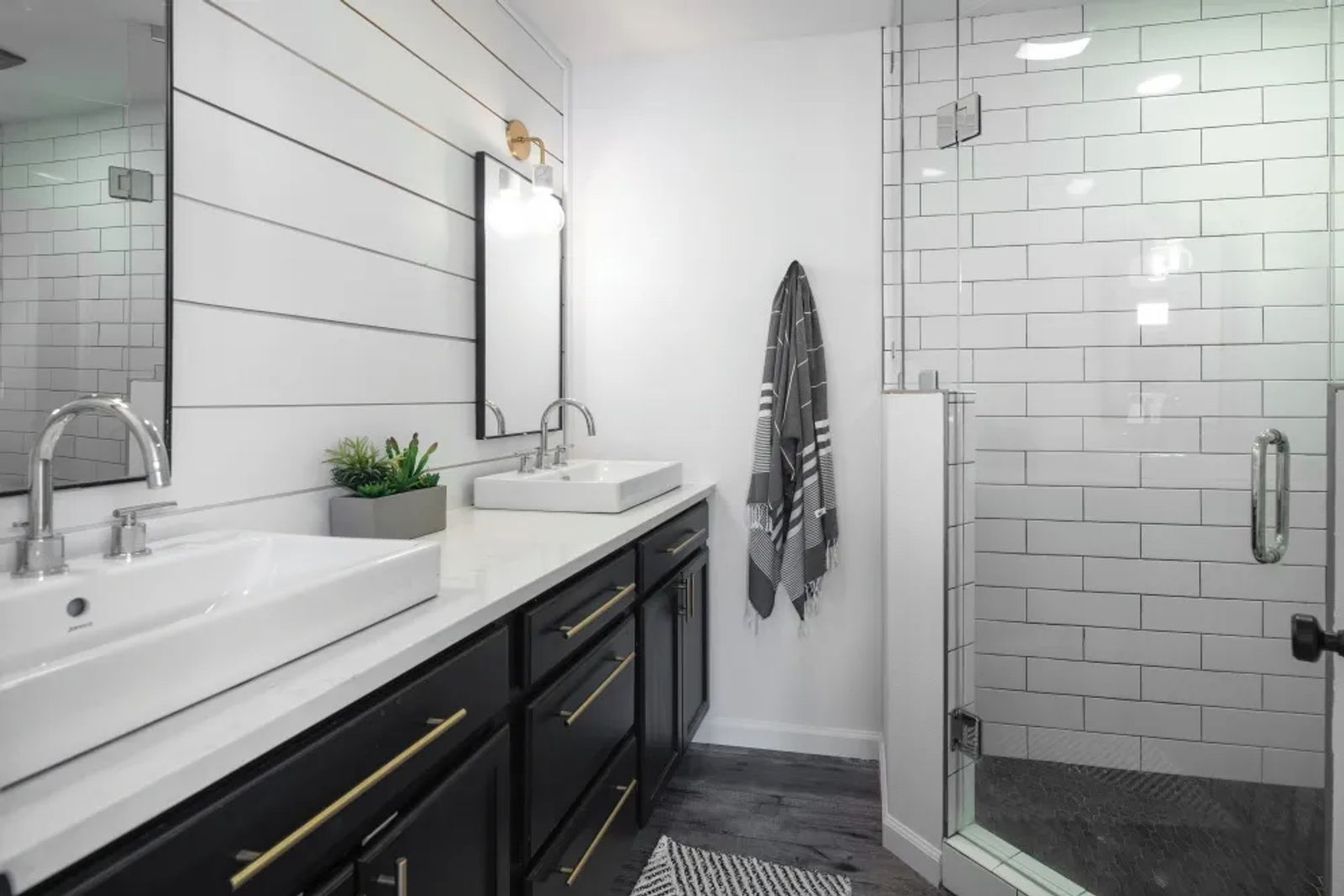 Another room that received a complete overhaul is the couple's master bathroom. A beautiful black, gray, and white aesthetic with splashes of brushed brass feels like stepping into a mod boutique hotel.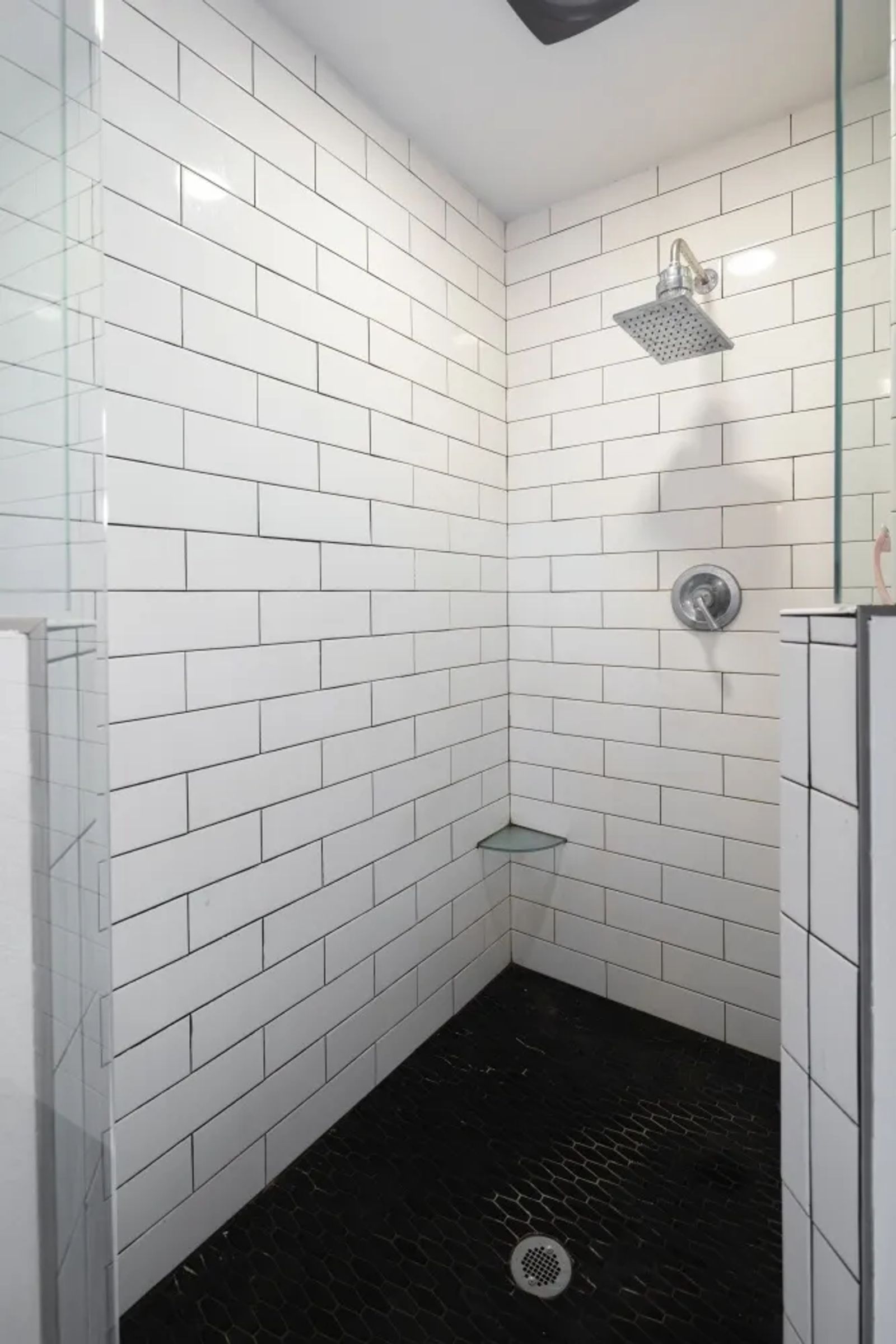 The floor-to-ceiling tiled corner shower is timeless and beautiful.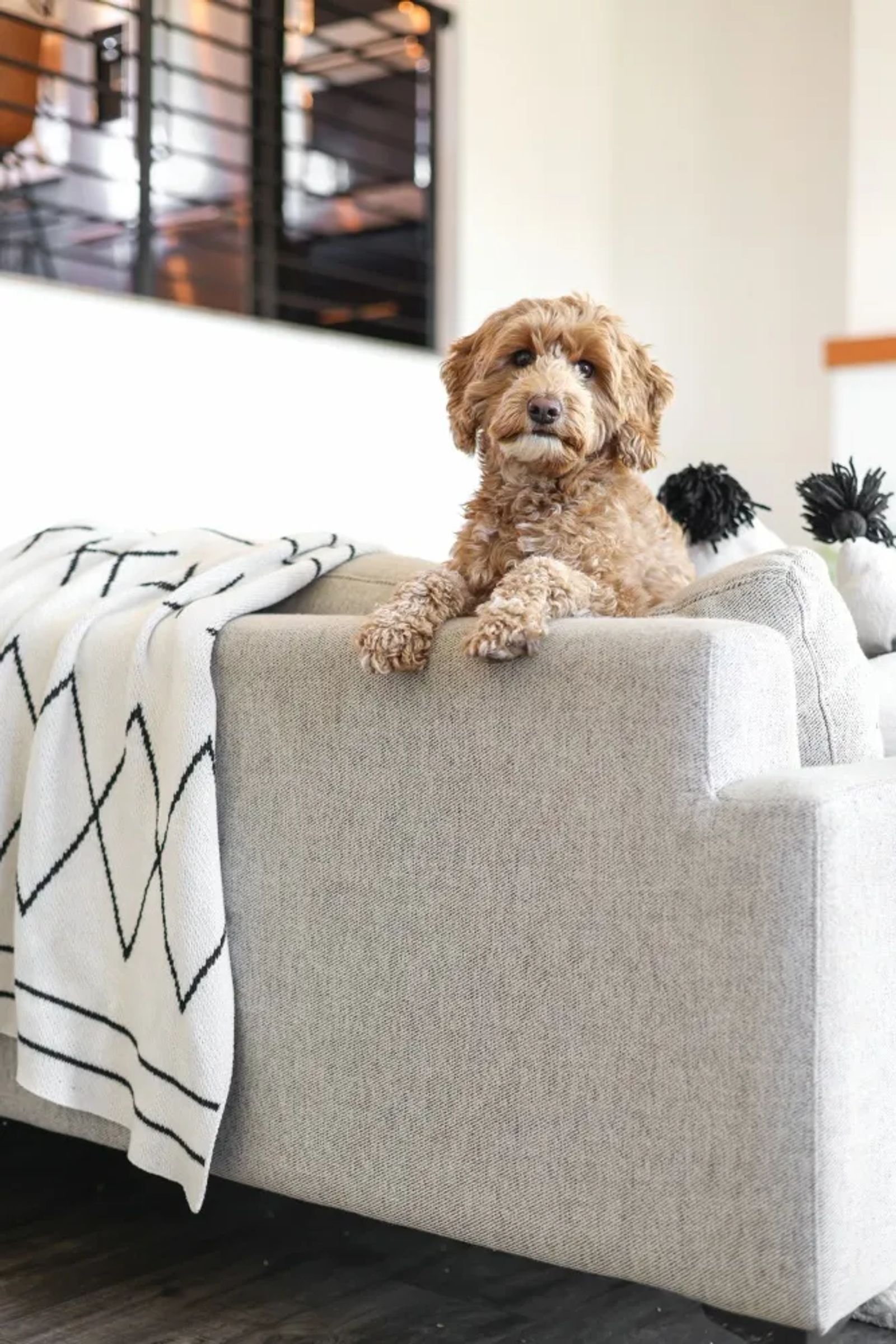 Ollie, a mini labradoodle, perched on his favorite spot on the couch
Special thanks to the following contractors for their part in the Huskey home renovation-
NB (Nick Borich)- Cabinet painting
Fred's Appliance 
Countertoppers- countertops
Floor Trader- flooring
Metro Electric/Kreiter Electric- wiring
Dan Brocklebank- tiling & fireplace
Meet the Team- Brian & Rae Huskey
Billings natives Brian and Rae Huskey will celebrate 5 years of marriage in July. Brian has been in the real estate business for over 10 years and is an Associate Broker of ERA Real Estate in Shiloh Commons. He loves working with people and is dedicated to his craft, striving to go above and beyond with his clients. Rae, a former elementary school teacher, left her teaching career at the birth of their youngest daughter, and recently joined her husband in the real estate world, assisting and helping with their business' marketing side. Rae has enjoyed learning about real estate from Brian and is excited about their partnership moving forward. She also recently received her staging certification, which has been a fun experience as she has always had a passion for homes and interior design, Rae has loved learning the "why" behind design rules. Together, they make up The Huskey Real Estate Group.
Originally printed in the May 2021 issue of Simply Local Magazine
Never miss an issue, check out SLM's digital editions here!