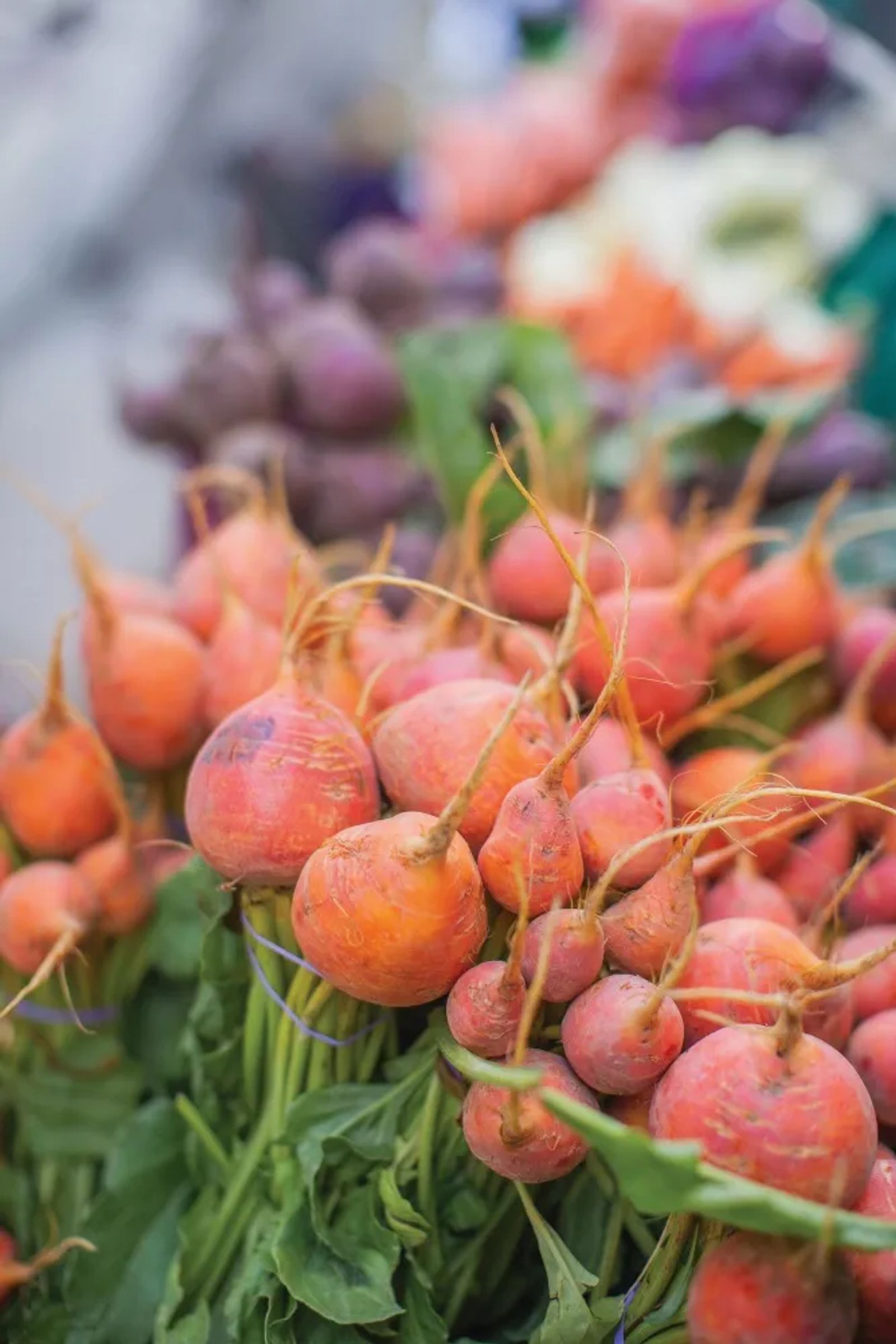 photo by Lovely Hitchcock
August 2020 | by anna rogers
"Food is not just fuel. Food is about family, food is about community, food is about identity. And we nourish all those things when we eat well." -Michael Pollan
We all know we should eat "healthy" foods. The problem is, there's so much conflicting information about what it really means to eat healthy. Is healthy gluten-free, dairy-free, fat-free? Or is it carb low and fat heavy? Or no carbs at all? Should we eat keto, or paleo, or eat for our blood type? What about vegetarian or vegan? It's tough, right? And the wonderful Internet, with all of its resources from around the world right at our fingertips, screams a different tune in each article and research paper we click.
The other problem with the term "healthy" is that it can have the sad connotation of food that just doesn't taste good. And who wants that? Not me.
Instead of using the term "healthy eating," I prefer a lifestyle of "eating well." This means the quality of the food on the plate is good and nourishing, but it also means that the food is savored, enjoyed in good company, and that the plate's contents represent a story of community – an effort and energy exerted by each individual whose work made the meal possible.
The story begins with the sowing of a seed or the calving of new life and continues through the tending, the nurturing, and problem-solving. It is the freezing walks through the snow to feed hay and the sweat on the brow at harvest; the hope that is felt with every new bud and the pride that beams when work comes to fruition. The story is the journey from the place the food was raised to the home where it will be enjoyed. It includes the chopping, the soaking, the baking, the grilling, and finally, the moment when the table is set, hands are folded, thanks is given, and our bellies are filled.
Community Connections
Where do we start on the path to eating well? Easily enough, we start with our neighbors – a connected web of ranchers, growers, butchers, farmers, bakers, and purveyors that already operate in our local sphere.
Billings has two great organizations that centralize efforts and make purchasing nourishing food easy, even delivered to your doorstep – the Yellowstone Valley Food Hub and the Produce Depot.
Yellowstone Valley Food Hub
The Yellowstone Valley Food Hub "offers direct access year-round to delicious, quality food from nearby farms and ranches. Farm fresh food and a relationship with the people who grew it is better for our health, our environment, and our community."
"Through the YVFH, we can strengthen our community, keep Montana food and dollars in the state, protect Montana environment and livelihoods, and nurture a robust, resilient regional food system," says Michele Schahczenski, General Manager of the Food Hub.
The YVFH brings local food right to the community's fingertips, with an online ordering system and local pick-up spots in Billings, Red Lodge, and Absarokee. The Hub even offers Montana-made jams and sauces, locally baked bread, cheese products from a Montana dairy, and much more.
But the Food Hub is about more than just great products. "Food is a biological necessity, but it is also a core aspect of our social lives. Dinner time is where families come together; food is how we celebrate holidays, and comfort each other. What we feed ourselves and our loved ones is a deeply personal decision. Knowing your farmer or rancher means you can ask how that food was raised and create a real relationship with the people who work incredibly hard to raise it. Just by deciding to buy locally and take a little more time to understand where your food comes from, you are becoming a part of the conversation about how we can keep Montana's rural communities, soils, and water supply vital and productive for years to come. Connecting with farmers and ranchers means connecting to what it means to be a Montanan," says Michele.
Produce Depot
The Produce Depot, located in downtown Billings, is another incredible option for centralized purchasing of produce. With a storefront location plus pick-up and delivery of pre-made bags, the Produce Depot is changing the way people purchase produce in Billings.
Shortly after opening their storefront in downtown Billings in late 2019, the Depot would have a line down the street. The people of Billings clearly loved the produce and the prices, and out of this demand, the idea for pre-made bags was born. Despite voiced doubts about a business model like this succeeding in Billings, the Produce Depot fills about 500 bags per week.
A bag from the Produce Depot includes a mix of seasonal fruits and veggies that gives you an amazing bang for your buck! The company "is structured with an emphasis on supporting local growers and producers (when available), our relationships with regional and global sources allow us the opportunity to provide year-round, high quality produce, in any quantity… Our mission is to provide a simple, convenient way for our community to have affordable access to quality produce and other local products."
A Farmer's Perspective
Organizations like these offer a support network for local producers. Zac Earl Farms is a small, urban, family farm that supplies produce to the Produce Depot and sells directly through other local avenues. It's small producers like Zac Earl Farms that make eating well in Billings possible.
By purchasing food from the Produce Depot, Yellowstone Valley Food Hub, or direct from markets in the area, the community can build a relationship with producers and gain an understanding of where their food comes from and what goes into its production.
"We believe strongly in growing completely pesticide-free, organic food. We only employ all-natural pest control methods like insect netting and the propagation of beneficial insects. We also use a no-till method of sowing to preserve the soil's natural biology," says Zac Barnhart.
"We hope our small little 'urban farm' encourages others to try to cultivate their own garden and realize that you don't need a lot of space to grow your own food."
Through local partnerships, shared knowledge, and a personal passion for growing and enjoying food, we can all play a role in creating a robust regional food system that allows the Billings community to thrive.
RECIPE
Easy, Yummy Breakfast
Brought to you by the Yellowstone Valley Food Hub and Produce Depot
WHERE TO PURCHASE:
Yellowstone Valley Food Hub: yvfoodhub.com
Ordering closes every Tuesday at midnight, and food is ready for pick-up or delivery every Thursday evening.
Pick-up Details:
BILLINGS
Shrine Auditorium (5:15-5:45pm)
Produce Depot (4:30-6:30pm)
Swanky Roots Billings (4:30-5:30pm)
RED LODGE
Red Lodge Ales (6:15-6:45pm)
ABSAROKEE
Absarokee Evangelical Church (7:45-8:15pm)
Order online – one-time orders or subscriptions available.
Wednesday & Saturday pre-made bags available for pick-up or delivery!
Pick-up at storefront in downtown Billings: 2815 Second Ave. North.
Zac Earl Farms
Purchase for individual sale, when available, at Swanky Roots. We also supply our fresh, locally grown produce to Project Lunch, the Produce Depot, The Fieldhouse, and Swanky Roots. You can show your love by supporting the businesses that support us. The best way to stay up to date on what we're doing or where we'll be next is to follow us on social media @zacearlfarms.
Originally printed in the August 2020 issue of Simply Local Magazine
Never miss an issue, check out SLM's digital editions here!