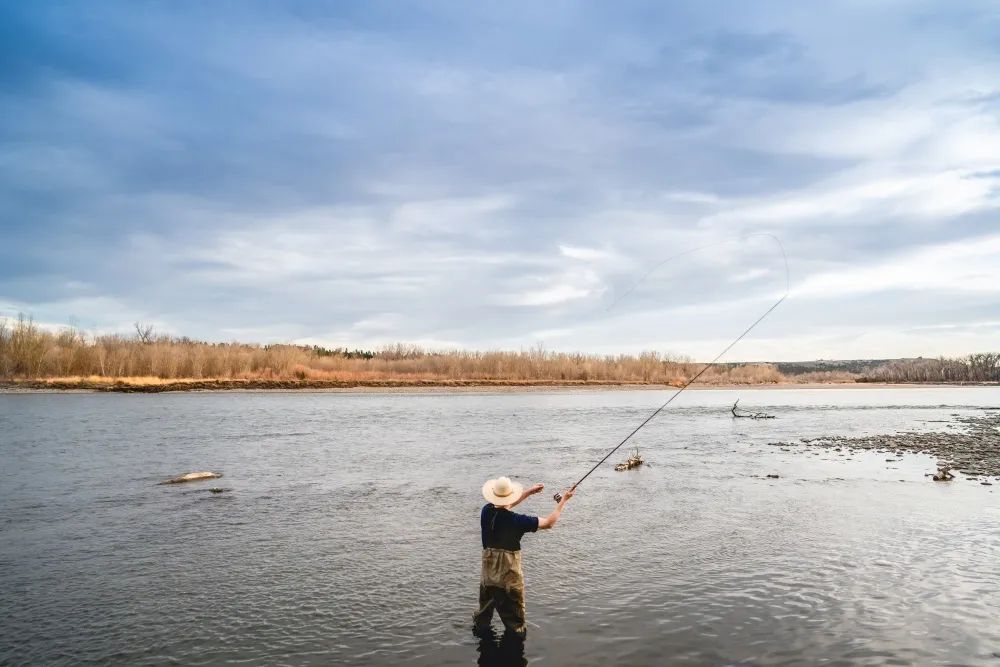 Fly Fishing: Beyond Beginner's Luck
June 2022
article & photos by jamie blotske
"In Montana, there are three things we are never late for. Church, supper, and fishing."
-Paul Maclean, A River Runs Through It
Director Robert Redford crafted a masterpiece with his 1992 movie release, A River Runs Through It, starring Craig Sheffer and Brad Pitt. It is a beautiful story of two brothers growing up in the mountains of Missoula, as they learn the art of fly fishing from their father, who also happens to be reverend of the local Presbyterian Church. The entire movie is a beautiful balance of life and fishing lessons, which often go hand-in-hand. The scenery shots in this film are breathtaking, to say the least. Montana's beauty is on full display, making it very easy to see why its residents are so deeply in love with the place they call home.
While the movie's storyline is mostly about brothers Norman and Paul Maclean - and the opposing personalities that lead them down different life paths - the river is undoubtedly a main character in and of itself. As the common thread that holds them together, their love for it is what brings them back, no matter how much time has passed or how much distance stands between them. Fly fishing is their passion, and after watching the film, you want it to be yours, too.
WHERE DO I START?
Billings happens to have a plethora of fly-fishing resources! Those looking to get into the sport are in luck as Billings is home to several fly-fishing shops, instructors, and outfitters. When it comes to the basics, Billings Parks and Recreation offers a "Learn to Fly Fish" course in the spring and summer. Fly fishing instructor, Brett Arnold, describes the class as "beginner level entry into the vocabulary and information on items needed to get started without too much investment," adding that the only gear a beginner would need is a rod, reel, and, as he jokingly put it, "flies that catch fish, not fishermen."
So far, so good, right? It sounds pretty straightforward; however, after watching A River Runs Through It (and if you haven't yet, stop what you're doing and go watch it now!), we are all well aware that there is an art to fly fishing. Unfortunately, it doesn't come as naturally as we'd like it to. On our first try, we can't expect to be as majestic as Brad Pitt, standing on the river rocks of the Gallatin, showcasing the perfect fly cast into the pockets of trout-infested pools. "Persistence and education," Brett replies when asked his number one beginner's tip. As anything in life goes, practice makes perfect, and fly fishing is no different.
ASK THE EXPERT
In communicating with Brett, it was easy to see that he has a wealth of knowledge on the subject. As a Montana native, I grew up fishing on a cast and reel rod with nightcrawlers. While I am familiar with pulling rainbows out of the Stillwater River, I know nothing when it comes to the techniques of a fly fisherman. In reaching out to Brett, I had to ask the most basic questions, as any beginner would.
Q: What exactly is fly fishing?
A: Fly fishing is a traditional way of catching fish with representations of the actual insects that fish eat in their natural habitat.
Q: Why would fly fishing be preferred over cast and reel?
A: Fly fishing is more of a "less impact" way of interacting with nature to avoid the manifest destiny observation.
Q: What is the best time of year for fly fishing? Best time of the day?
A: Year-round, all times of the day. Fish are opportunistic. They are constantly feeding.
Q: Which nearby rivers do you recommend?
A: Colder water than what we have in Billings. The Bozeman area is a great place to fly fish due to the water temperatures year-round.
Q: What resources would you suggest for a beginner?
A: The Curtis Creek Manifesto. It is a great read on a time-honored tradition that is informative and amusing.
SIGN-UP TODAY!
Class is in session! There is no better time than now to begin pursuit of becoming Montana's next fly fisherman (or fisherwoman). The outdoor space is wide, the rivers are many, and the fish are plentiful. So, what are you waiting for? Contact Billings Parks and Recreation by phone (406-657-8371) or online (www.billingsparks.org/program/learn-to-fly-fish) to grab your spot in Brett's beginner course. Classes start as early as June 6, 2022.
Just when you thought you couldn't love Montana any more than you already do, you grab a fishing pole. There's a whole new world waiting to be discovered in the river. As you stand at its edge, watching the ripples roll by, listening to its rushing yet peaceful waters, breathing in its mountain air mist, feeling the warmth of the summer sun. Magic.
And the cherry on top? That rainbow trout on the end of your line, breaking water, giving you the first glimpse at the prize soon to be yours. At this moment, Paul Maclean's famous last words ring ever true, "Oh, I'll never leave Montana, brother."
ADDITIONAL LOCAL RESOURCES
Originally printed in the June 2022 issue of Simply Local Magazine
Never miss an issue, check out SLM's digital editions here!