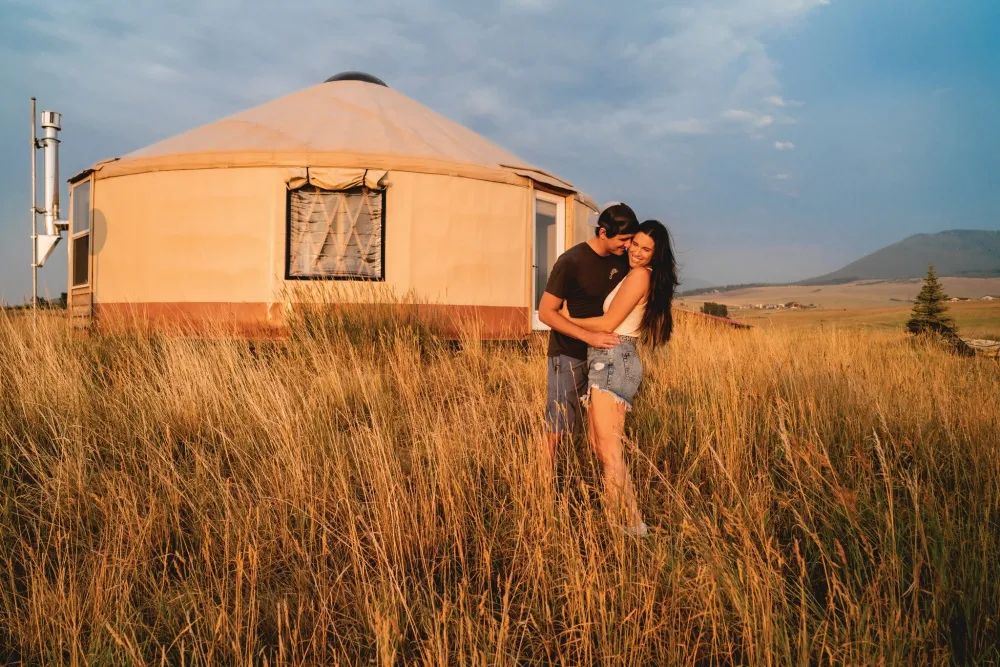 Escape the Ordinary: A Romantic Getaway at the Yonder Yurt
June 2022
article & photos by jamie blotske
The sun isn't the only thing heating up this summer! Summertime has a way of bringing out the romance in all of us. The longer days, extra sunlight, and the rising temps seem to be a recipe for love. And what better way to celebrate your loved one than by whisking them away for a unique and unforgettable romantic getaway?
Whenever my husband and I get the chance to escape for the weekend, we search for something other than a typical hotel room. There are plenty of ways to ditch the standard stay in Montana in exchange for a unique experience. Not sure where to look? You're in luck because I've got just the thing you're looking for!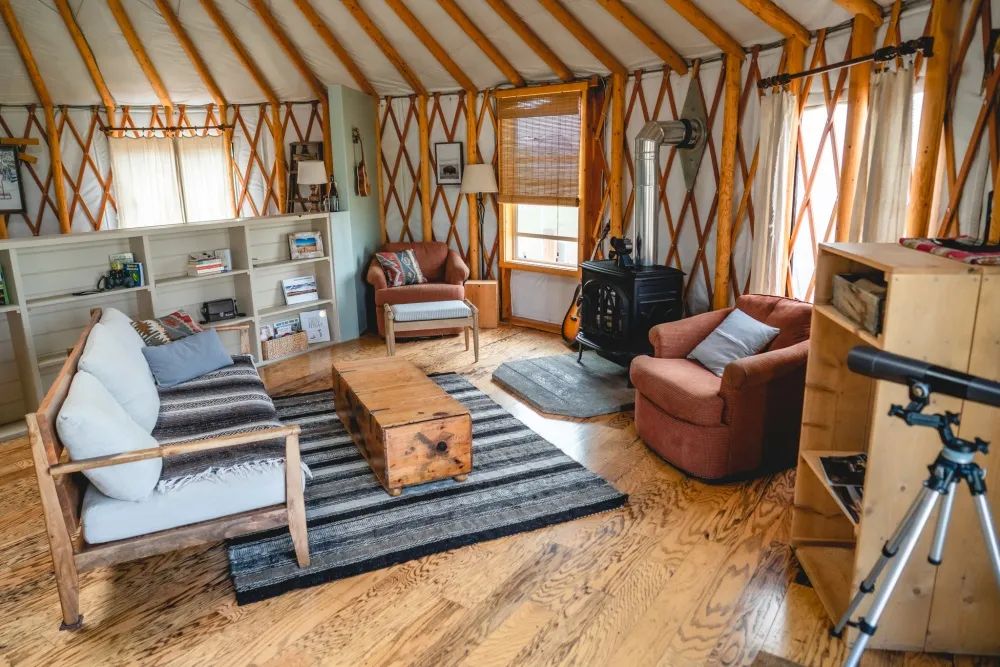 Inside the Yonder Yurt
The Yonder Yurt, near beautiful Bozeman, MT, is a gift to those that stay there. Nestled in the foothills of the Northern Rockies, this adorable yurt sits on 5 acres of land with unbelievable panoramic views of the mountains. Not only a treat for your eyes, it's also a gift for your significant other in that it creates an atmosphere for quality time and intentionality. Far enough removed from the hustle and bustle of life, you can give each other your undivided attention. The Yonder Yurt allows you to escape reality and its distractions, providing you and your partner the space and time for heart-to-heart conversations, emotional bonding, deep connection, and even the potential to reignite a fiery passion.
Owners Ryan and Rae Byrnes built the yurt in the summer/fall of 2016, and as most building projects go, it took way longer than planned. Its original intent was to "serve as a simple, temporary home; one we could build on our own and afford without a mortgage," Rae explained. She went on to say that they had initially planned to live in the yurt full-time while building a more permanent home up the hill from the yurt. Rae laughed as she said, "We kept getting pregnant! We quickly outgrew the space." As a family of four with 2-year-old daughter Ayla and baby brother Silas, the Byrnes family bought a home in town, pushing off their plans to build their forever home. For now, that is…
The Byrnes had always envisioned the yurt serving as a guest house for family and friends, so it was an easy decision when the time came to list it on Airbnb. "We were excited and ready to share the space with others!" Rae exclaimed. The Yonder Yurt officially went live to the public after some friends moved out of it in August of 2020. "We're currently working on continuing to improve our guests' experiences while staying at the yurt. We have loved being able to offer our guests a memorable getaway. Sharing this space so near and dear to our hearts has been more fulfilling than we realized it would be," Rae said.
When asked what their favorite thing about the yurt is, Rae responded, "Being so immersed and connected with nature. Hearing the wind against the fabric walls, listening to the elk bugling or the sandhill cranes flying overhead. Watching the clouds slowly pass by through the dome and being surrounded by Montana's breathtaking views." While Ryan loves the cozy sense of shelter and warmth, even on the coldest and windiest Montana winter nights.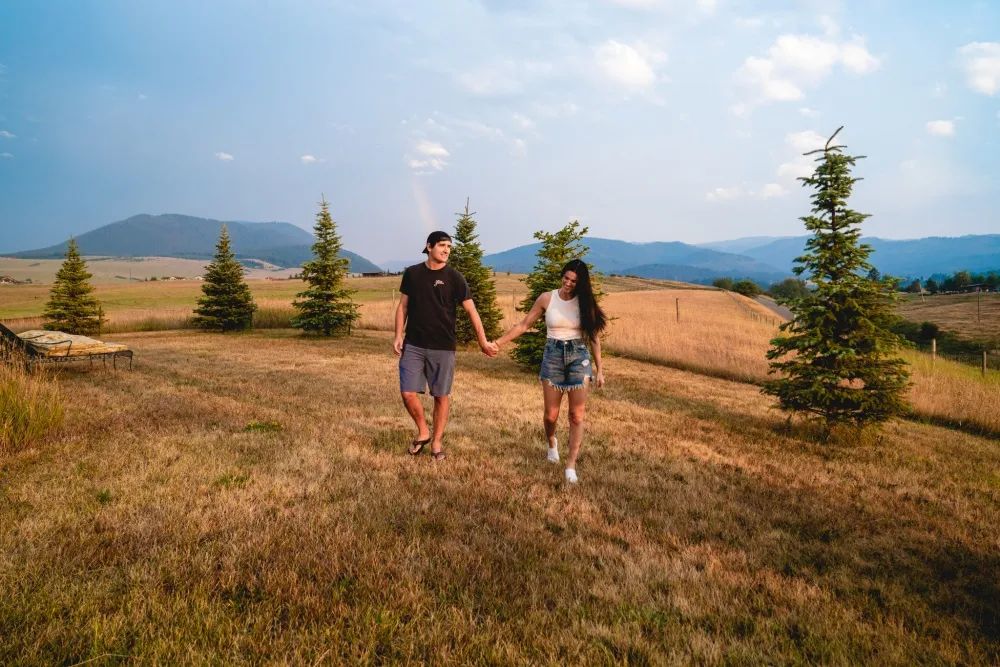 Chet & Jamie Blotske at the Yonder Yurt
My husband, Chet, and I enjoyed staying at the Yonder Yurt for our 10th wedding anniversary in July of 2021. The second we stepped inside, we knew we were in for a weekend of relaxation, rejuvenation, and, well, you guessed it... romance! The yurt is quaint and quiet, with all the essentials you need to live comfortably. The little touches, though, were most noteworthy, making quite the impression on us both. For example, the lavender spray for the pillows and sheets scent me into a peaceful state of tranquility each night as I drifted into a deep sleep. We drank locally roasted coffee in the mornings, played card games, took naps in the afternoon, dunked Oreo cookies in milk, and binge-watched episodes of the 1960's Star Trek with William Shatner at night. As parents of small children, it was the ideal space to let loose, have fun, and reconnect as friends; the foundation that holds a marriage together.
Your paradise awaits! Surprise that special person in your life with a getaway they will never forget! The gift of time and experiences keeps on giving as the memories made carry on into eternity.
Originally printed in the June 2022 issue of Simply Local Magazine
Never miss an issue, check out SLM's digital editions here!