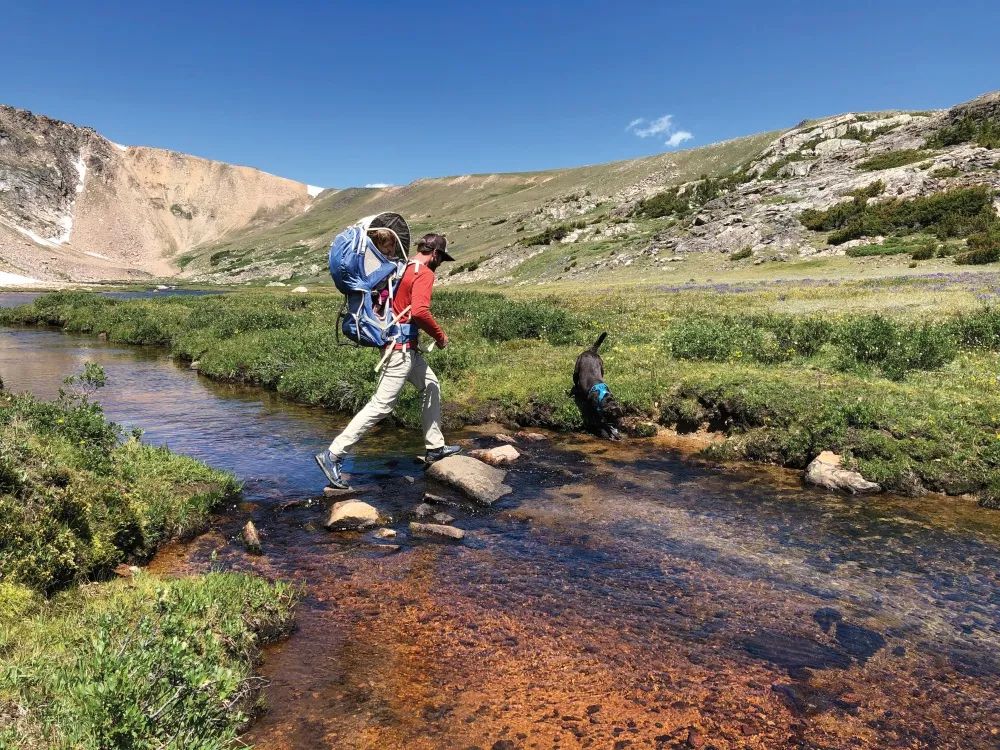 Trail Etiquette 101: Leave No Trace Makes Nature a Better Place
April 2022
article & photos by Maria Weidich
For many, the act of socially distancing ourselves means spending more time outdoors. While this is a fantastic thing, the recent uptick of those visiting our public lands has made a noticeable, and in some ways harmful, impact.
As we approach the peak hiking and camping season, it's always a good idea to refresh ourselves with the Leave No Trace Principles. By collectively abiding by these seven simple guidelines, we will protect and maintain our natural spaces for generations to come.
1. Plan Ahead and Prepare
Educate yourself on the rules and regulations of where you are traveling. Are permits required? Are campfires allowed? Are there known hazards you'll encounter?
Check the forecast and be ready for any kind of weather and emergency.
Get a map and compass and know how to use it. Avoid flagging trees or building rock cairns for navigation.
Repackage your food to limit waste and shave a little pack weight.
Tell someone your trip plan and when you expect to return.
2. Travel and Camp on Durable Surfaces
Stay on the existing trail and avoid cutting switchbacks.
Use established campsites and refrain from making new ones.
Camp on durable surfaces at least 200 feet from lakes, rivers, and streams.
Minimize your impact by keeping your campsite small.
3. Dispose of Waste Properly
Pack it in, pack it out.
Check your campsite (or snack-break site) before leaving for any spilled food or trash. This includes banana peels and apple cores, which take months to decompose fully. Make it look like you were never there.
Deposit human waste in a six to eight-inch cat hole at least 200 feet from any water source, campsite, or trail. Properly bury and disguise it when finished. Pack out all toilet paper and feminine hygiene products. There's nothing worse than walking along and finding used toilet paper scattered on the trail or in the campsite.
Pick up after your dog.
Be aware of overflowing trash bins at trailheads and campgrounds. The pandemic may have strained staff and services, causing these receptacles to overflow. Consider packing your trash all the way home and disposing of it in your garbage cans.
To wash dishes, carry dirty water at least 200 feet away from any water source. You can use a small amount of biodegradable soap, but no soap is best. Be considerate of those who will use the area after you.
4. Leave What You Find
As they say, "Take nothing but pictures, leave nothing but footprints." Leave rocks, plants, and historical artifacts as you find them. Allow others to enjoy them, too.
Refrain from building structures, trenches, rock cairns, or carving your initials on trees.
5. Minimize Campfire Impacts
If fires are permitted, use established fire rings or pits.
Use dead and down firewood that can be broken by hand. Keep fires small and in control.
Ensure your campfire is completely out before leaving the site. Remember to pack out all trash. Leave nothing in the fire ring for the next person to see or critter to consume.
6. Respect Wildlife
Do not follow or approach wildlife; always observe from a safe distance.
Do not feed animals.
Properly store your food, trash, and toiletries to prevent attracting wildlife.
Be respectful of wildlife during vulnerable times like mating and nesting season.
Control your dog at all times, especially when encountering other people or horses on the trail.
7. Be Considerate of Other Visitors
Quite simply, treat others as you'd like to be treated. Be respectful of other hikers and staff you might encounter.
Whether hiking, running, or riding, practice good trail etiquette and yield to others on the trail. If you encounter horses or pack stock, step to the downhill side of the trail, avoid quick movements, and always give them the right of way.
Avoid playing loud music. Protect the peace and quiet that many seek while spending time outdoors.
Be courteous of where you set up camp in relation to other campers.
If we all put these common-sense guidelines into action, we can minimize our impact, enjoy the outdoors responsibly, and help maintain the beautiful and wild lands we call home. Happy Trails!
For more information, visit www.LNT.org © Leave No Trace.
Originally printed in the April 2022 issue of Simply Local Magazine
Never miss an issue, check out SLM's digital editions here!