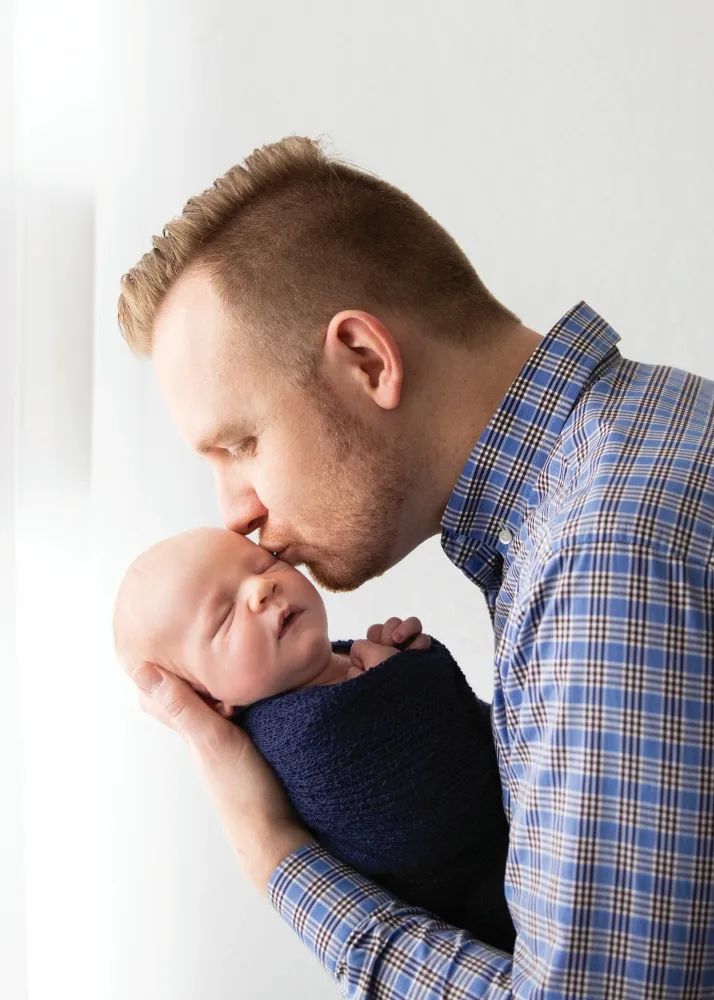 First Time Fathers: The Best is Yet to Come
June 2022
by maria weidich | photos courtesy of the dimock family
Dada, Daddy, Dad. It's a full-time, permanent job that demands long hours in a high-volume, fast-paced environment. No previous experience is required, but on-the-job training is offered continually. While there is no monetary compensation, the position has excellent benefits, opportunities for personal growth, and, with time, promises to pay dividends. 
All kidding aside, becoming a father is a life-defining moment and can evoke mixed emotions. Along with excitement and happiness, it's perfectly normal to feel a sense of overwhelm, uncertainty, and even fear with the news of having a baby, even if this is something you and your partner have always wanted. 
Things will drastically change. Your relationship with your partner will evolve. Sleep will be sacrificed. Everyday activities will take twice as long. Free time won't be as abundant. Family finances might need to be reevaluated. But, as dads everywhere can attest, the benefits of becoming a father far outweigh the burdens.  
Zach Halgren is a Family Nurse Practitioner at Billings Clinic and moderates a no-cost Dads 101 class for expectant fathers. As a father of five, Zach knows a thing or two about being a dad. The online forum covers the role of a support person during pregnancy, basic childcare, intimacy issues, financial matters, and time and stress management. It also gives expectant dads a chance to connect with other men embarking on this new journey. While information is abundant for expectant mothers, it's not as prolific for dads. "Most childbirth classes focus solely on the mother," Zach said. "This leaves the father asking themselves what they are supposed to do. I give them ideas about the process from a dad's perspective and how they can help out." Zach's wife Jessica, also a nurse and Billings Clinic's Childbirth Education Coordinator, adds, "Dads as supporters, partners, advocates, and nurturers are so important to the success of these new family units, which is a huge focus of the class." 
"There are certainly a lot of emotions that rush over you when you find out you are going to be a dad," Zach said. "Many feel excited but also overwhelmed at the prospect of becoming a father for the first time." He says many expectant dads fear not knowing what it's going to mean for them. "Most new dads worry if they will be a good enough dad. Are they going to be able to give their child everything they need? There are also concerns about how their life will change and if they can make those role changes." 
Steve Dimock, a Billings father of two young boys, can attest. "Initially, the emotions of becoming a dad were a mixture of disbelief and relief. But shortly thereafter, the fear set in." 
The purpose of Dads 101 is to help ease such worries expectant dads might have. "One of the main focuses of the class is allaying those fears by exposing them to different topics and giving them an idea of what it's like to be a dad, from delivery on," Zach said. He hopes they will come away from the class feeling more comfortable and excited about being a dad. "I emphasize how much they will love being a dad, despite their fears and the challenges they will face. I also reassure them that it will be the most rewarding and fulfilling thing they've done if they commit to being the best dad they can be, in the good and the bad times." Dads can't just show up for birthday parties and graduations and expect to develop a strong and trusting relationship with their children. Zach emphasized, "Being there for those difficult times in a kid's life will develop a relationship of trust and love." 
Steve agrees. "Historically, I think fathers have often taken a back seat in raising a child. By allowing myself to become an integral part of their lives, I've found that traits which perhaps were stereotypically maternal extend into the paternal." Without a doubt, becoming a father changed Steve deeply. "Beyond experiencing one of the most natural loves I've ever had and learning to extend my patience and calm, I have found myself becoming more introspective. I have become more questioning as to why I think and believe the things that I do as I wrestle with how to present these topics to my boys." 
Steve's advice for soon-to-be-dads? "Learn to be calm. The day will come when you are challenged by them. Being a kind but firm hand to them will pay exponential dividends as they grow older." He added, "Do a little reading. As long as the source is reputable, you don't need to reinvent the wheel with your parenting style." 
To learn more about Billings Clinic's Childbirth Education Classes, visit billingsclinic.com. 
10 WAYS TO BE A GREAT DAD 
Respect your child's mother 
Spend time with your children 
Listen first, talk second 
Discipline with love 
Be a role model 
Be a teacher 
Eat together as a family 
Read to your children 
Show affection 
Realize a father's job is never done 
Source: fatherhood.org 
Originally printed in the June 2022 issue of Simply Local Magazine
Never miss an issue, check out SLM's digital editions here!